The latest Nations in Transit report, published by Freedom House, registered more falls in democracy scores than at any time project's 23-year history: 19 of the 29 countries included in the report saw their overall democracy scores decline. For the second year in a row, there are more consolidated authoritarian regimes in the CEE region than there are consolidated democracies.
Poland recorded the largest decline as a consequence of the government's takeover of the judicial system, the politicisation of public media and campaigns against nongovernmental organisations (NGOs). Hungary also saw a steep drop in its score. Elsewhere in emerging Europe, Macedonia, which saw the first improvements in its scores since 2010, and Estonia which recorded the highest score in the region, are the bright spots of the latest report.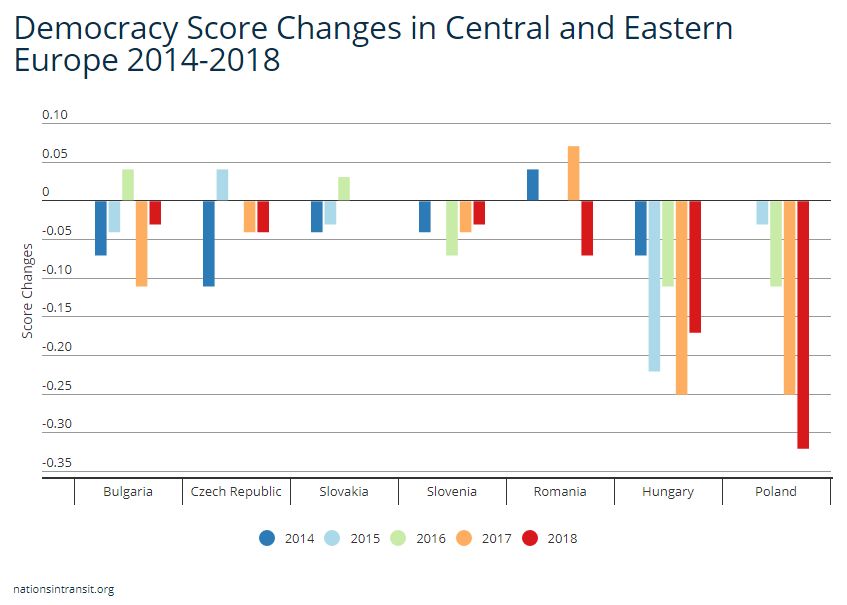 "Illiberalism has spread far beyond Poland or Hungary," notes Nate Schenkkan, project director of Nations in Transit. "Members of government and presidents in almost every country in the Nations in Transit coverage area now regularly smear NGOs and independent media outlets as agents that serve foreign interests and harm the nation. Politicians' attempts to delegitimise all critical voices presage legislative efforts to eliminate checks and balances."
"The fragile postwar status quo established in the Balkans is also fraying", he continues. "Dysfunctional institutional arrangements in Bosnia have left it unable to move forward on joining the EU. Aleksandar Vučić in Serbia and Milo Đukanović in Montenegro have captured their respective states, turning them into mechanisms for distributing patronage that in turn strengthen their parties' grip on power."
According to Jovan Bliznakovski, associate researcher at the Societas Civilis Institute for Democracy (IDSCS) in Skopje, the new Macedonian government is strongly committed to breaking up the state capture of the outgoing ruling coalition.
International and domestic observation missions noted some improvement in Macedonia's electoral process, particularly in the media environment. By the end of 2017, several media outlets biased towards the former ruling coalition had altered their reporting towards a more balanced and objective tone.
The report also raises concerns about the fact that in many countries the most important political figure is often active behind the scenes. This informal power undermines institutions and places real decision-making beyond the reach of voters, journalists, and the law itself. In Poland, the chairman of the ruling Law and Justice party, Jarosław Kaczyński (pictured above), officially acts as a mere member of parliament, chairing no committees and wielding no special authority.
In Moldova, the oligarch Vladimir Plahotniuc acts as chair of the Moldovan Democratic Party, which combined with his private wealth and media holdings enables him to direct not only his party, but also a large part of the opposition.