Defiant, resilient, and courageous, Ukraine has for the past year been an international symbol of freedom. Now, more must be done to ensure its definitive victory.
So often has Moscow changed the goals of what it continues to insist is a "special military operation" that it's difficult to gauge exactly what its current intentions in Ukraine are.
A leading Kremlin propagandist, the editor-in-chief of Russia Today Margarita Simonyan, recently suggested that consolidation of the Ukrainian territories illegally annexed by Russia last year (Donetsk, Kherson, Luhansk, Zaporizhzhia; none of which is entirely under Russian control) was now the extent of Moscow's ambitions.
---
---
Simonyan is one of many Kremlin insiders on record as claiming that Kyiv would fall in three days, despite Moscow's denials that it ever suggested such a swift victory was possible.
Objectively, it has long been clear that Russia's initial plan when it launched its invasion at 4am on February 24, 2022, was to occupy Kyiv before Ukraine had a chance to respond, arrest its president and government and replace them with a compliant, Moscow-friendly administration.
But Kyiv did not fall in three days, Kyiv did not fall in 365 days. It's unlikely Kyiv will ever fall. Whatever Russia's current goals may be, it has long since abandoned any plans to march on Kyiv.
'We have become used to madness'
Life in the Ukrainian capital is as normal as can be for the capital of a country at war. Cafes, restaurants and bars do good business, offices – many serving the country's IT sector, whose resilience has matched that of Ukraine itself – are packed with workers, public transport runs as efficiently (or otherwise) as ever. There are no shortages in shops and supermarkets.
Beyond the occasional sound of the air raid sirens that send people scurrying to shelters (often the metro), the only signs that all is not well are the legions of generators that line the streets. Over the past couple of weeks however the loud hum of these noisy power banks has been mostly absent, as the once frequent blackouts caused by Russia's deliberate targeting of Ukraine's energy infrastructure abate. So quickly has Ukraine been able to repair its energy infrastructure that it may soon be able to export energy.
Indeed, one Ukrainian tells me that things are almost too normal.
"I sometimes feel that we have become far too used to this madness," says Veronika Radchenko, a student. "Is this how life now is, with calm here in Kyiv but war in the East? I am scared that this could go on forever." 
Radchenko is not alone in being concerned. Ukraine's leaders have long known that realistically, their armed forces cannot definitively defeat Russia – which for Ukraine means driving Russia out of the occupied territories (including Crimea, annexed by Moscow in 2014) – with the levels of military support they are currently receiving.
The decision this month to send Ukraine tanks was welcome, but their numbers are relatively small, and will limit Kyiv's options on the battlefield. Ukraine has also yet to receive any weapons that allow it to target Russian forces inside Russia itself, such as long-range missiles. There is now, belatedly, talk of providing Ukraine with fighter jets – the UK appears to be the most keen – but a final decision could be months away. Delivery will likely take even longer. Joe Biden's surprise visit to Kyiv on February 20 was a welcome show of support but did not offer much that was new.
Consequently, the notion that at least some of Ukraine's allies want to offer enough support for the country to survive, but not win, is pervasive in Kyiv, along with the sense that eventually, it could be forced to negotiate an end to the conflict on Moscow's terms.
Ukrainians, not least the country's president, Volodymyr Zelensky, are desperate to avoid such a scenario. In Brussels earlier this month, he outlined his own 10-point peace plan which calls for the withdrawal of all Russian troops, restoration of Ukraine's borders, and a special tribunal for the prosecution of Russian war crimes – and made it clear that anything less would be unacceptable.
Unlikely heroes
Zelensky, an actor best known for starring in a popular TV series, Servant of the People, playing a schoolteacher who becomes president, has changed our understanding of conflict leadership forever, not least the role of social media, which he has skillfully used to mobilise Ukrainians and internationalise their cause.
"The moment that really made him was when, in the first days of the invasion, he went out on to the streets of Kyiv with his prime minister, the speaker of parliament, and his advisor, telling the world that they are still there, and that they aren't going anywhere," says Matthias Luefkens, a social media expert. "It's a totally different style of leadership to what we have been used to."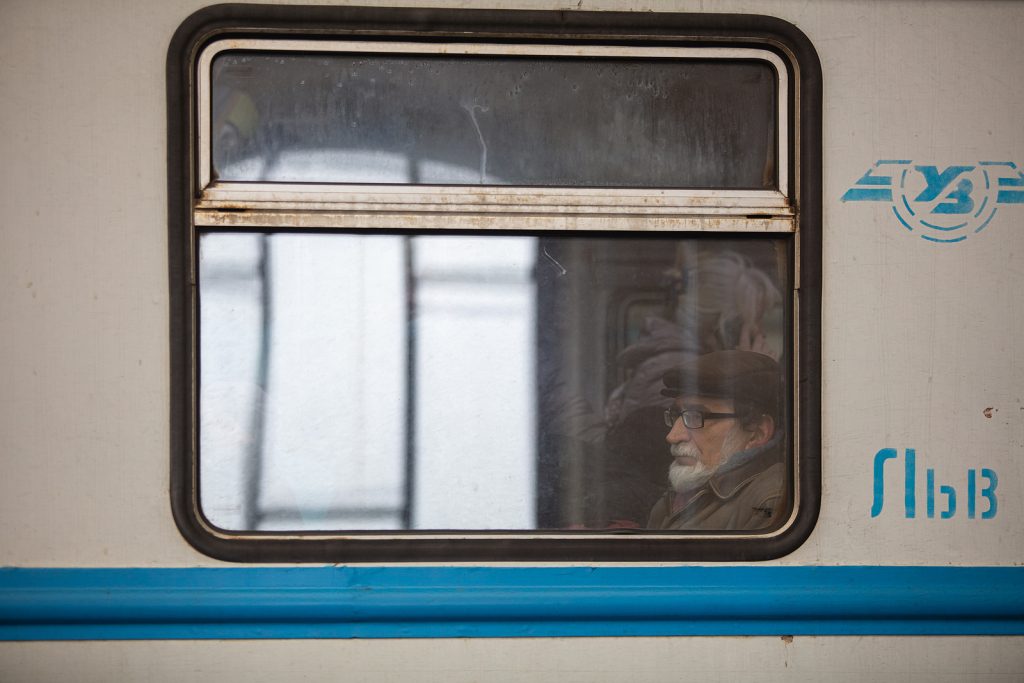 The war has made some other unlikely heroes too, such as Oleksandr Kamyshin, the head of Ukrainian Railways, UZ. In the early days of the invasion the railways facilitated the evacuation of millions of people to safety. They have since become the backbone of Ukraine. With flights grounded, everything must be moved by rail: people, grain, goods, post. Global leaders no longer arrive in Kyiv on their private jets, but on one of Kamyshin's trains.
Adhering to timetables has become a symbol of normality. The departures board at Kyiv station meanwhile lists trains to the occupied territories; Donetsk, Luhansk, Sevastopol. Kamyshin will ensure that those services are ready to run the moment those destinations have been liberated, just as trains ran to Kherson a day after its liberation in November. Last month UZ even relaunched an old, cross-border service into Romania for the first time in years.
"Ukraine's railways are indestructible," Kamyshin said in January.
What comes next?
In recent weeks, talk of a major new Russian offensive – perhaps timed to coincide with the first anniversary of the invasion – has dominated much of the military analysis of the war.
Earlier this month, Ukraine's outgoing defence minister, Oleksiy Reznikov, said the country was anticipating a new Russian offensive later in February. And yet while Russia has of late been pouring reinforcements into the east of the country, it almost certainly lacks the munitions and manoeuvre units required for successful offensives, according to an intelligence update from the UK Ministry of Defence, released last week.
"It remains unlikely that Russia can build up the forces needed to substantially affect the outcome of the war in the coming weeks," said the update, which did – however – acknowledge that, "it's highly likely Russia has been attempting to re-start offensive operations in Ukraine since early January this year, and almost certainly with the goal of capturing the remaining Ukrainian-held parts of Donetsk oblast".
Even if such an offensive was launched – and it proved to be successful – would Simonyan's assertion that consolidation of the annexed territories was now all Russia sought to achieve turn out to be correct? Would Russia's dictator, Vladimir Putin, halt his forces there and sue for peace? It's unlikely. Putin will continue to attack Ukraine as long he has enough domestic support to do so. The current appalling attrition rate of Russian soldiers – as many as 2,000 men for every 100 yards gained in human wave assaults, according to NATO intelligence – appears to have done little to dent that.
Recent Estonian intelligence suggests that Putin believes the West will eventually abandon Ukraine – wishing thinking on the dictator's part. But if Ukraine continues to be merely drip-fed arms and munitions, enough for solid defence but without the capability to launch its own offensive to liberate the occupied territories, then it's difficult to see the war ending anytime soon – at least without a shoddy peace deal that favours Moscow. The fears of the Kyiv student Veronika Radchenko, that "peace in Kyiv and war in the East" will become normalised may be well founded.
---
Unlike many news and information platforms, Emerging Europe is free to read, and always will be. There is no paywall here. We are independent, not affiliated with nor representing any political party or business organisation. We want the very best for emerging Europe, nothing more, nothing less. Your support will help us continue to spread the word about this amazing region.
You can contribute here. Thank you.