It was not all that long ago that self-driving buses were little more than science fiction, accepted in futuristic films and novels but never given much credence as actual solutions to the challenges of urban mobility.
That's now changed, and like so many innovative developments that were once the reserve of a writer's imagination, the real thing looks set to be even better – and far more useful – than fiction.
As a result of a partnership between Tallinn University of Technology (TalTech) and Silberauto Estonia, self-driving buses are about to become a part of everyday life on the streets of the Estonian capital. The autonomous shuttles, known as Iseauto, are set to start operating in Tallinn by June 15, as part of a wider push towards creating a smarter and more sustainable city.
The project began in 2017, as TalTech looked to commemorate its 100th anniversary with plans for developing an autonomous shuttle bus.
It focused on developing a fully autonomous vehicle that follows a pre-defined route and can operate on public roads in normal weather conditions. A vehicle meeting the criteria was unveiled in 2018. Since then, the Iseauto shuttle has become a star.
Auve Tech is a start-up that grew out of the project and now develops and manufactures the shuttles, and along with Modern Mobility, Fleet Complete and TalTech decided to try its luck by participating in the EU Horizon 2020 FABULOS project. It paid off. After winning an application for pre-commercial procurement, 3 pilot shuttles will operate in Tallinn and in Lamia, Greece. This will see the project reach its third and final phase, where the shuttles are placed in real life scenarios, in different environments and very different countries.
Prior to Iseauto's international success, the prototypes were publicly tested in cooperation with Tallinn Zoo and the city's Open Air Museum, and received positive responses from the public. For the team, passenger experience plays a key part in determining success, and comfort is paramount – particularly as self-driving vehicles are new to many.
"People are curious, and the shuttle itself is definitely an eye-catcher and is always turning heads when operating in public," Paula Adamson from Auve Tech tells Emerging Europe. "We believe that a huge part of integrating the shuttles into our daily lives is to make them common for people and build trust into our solution so that people feel safe. This way, we actually pave the way towards enhancing the future of mobility."
Raivo Sell, the project's manager at TalTech tells Emerging Europe that the team actively collects user feedback from pilots to ensure that Iseauto can be seamlessly integrated into the daily life of Tallinners. So far, the results have been positive, "as most people feel confident after couple of rides," he says.
TalTech is responsible for the innovation of new functions such as teleoperation over 5G networks, cybersecurity and predictive autonomous driving. "We are also focusing on safety, validation and verification methods together with the International Alliance for Mobility Testing and Standardisation  (IAMTS)," says Mr Sell.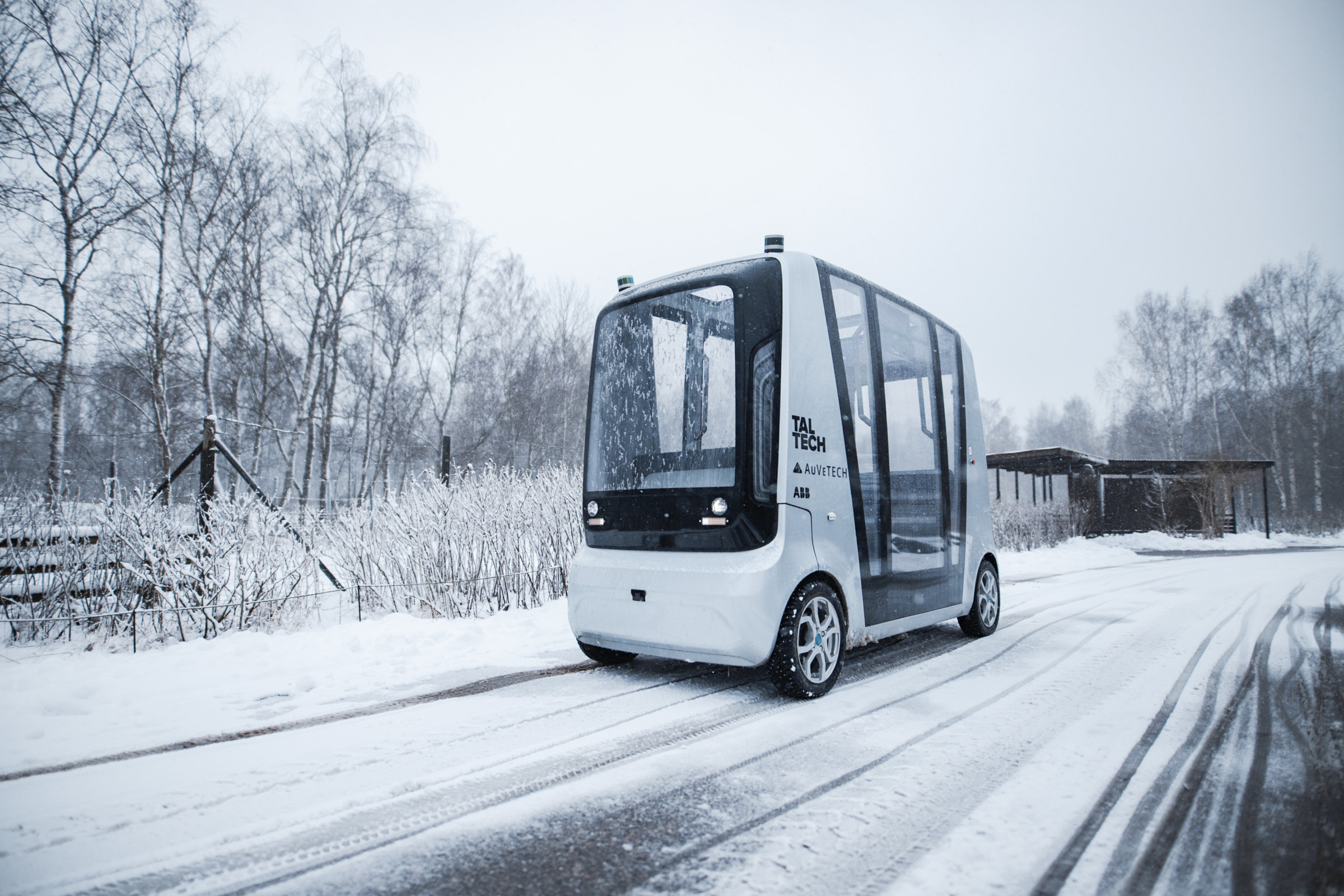 –
"We also wish to take autonomous transportation to the next level and lose the safety operator from the shuttle," Ms Adamson adds. "With the help of teleoperation, a fleet of shuttles can be operated from distance by one operator, and this will make the solution even more sustainable and cost-effective." This technology will be tested in the series of pilots over the summer.
"The removal of the safety operator brings the user experience to a completely new level," says Mr Sell.
Autonomous machines are not new for TalTech, and the university has consistently led the way in the field of robotics. However, it has been collaboration with industry that has allowed the Iseauto project to take the next step. This provides a valuable model exemplifying the success of pairing research ideas with manufacturing to ensure that cutting edge innovation can be put to general use.
The FABULOS project helped: "It was a huge milestone for us in understanding how this solution could be best implemented into use and have a positive impact on the infrastructure and the mobility," says Ms Adamson.
As the climate crisis mixes with rapidly growing populations, cities are dealing with more pollution, and road congestion caused by private vehicles. Projects like Iseauto, which provide alternative smart solutions where they are so desperately needed, could be hugely important in a post-Covid-19 world, with so many climate activists now calling for real, sustainable change.
"When we look at the amount of interest in autonomous transportation and smart mobility solutions, it is clear that new solutions are needed and people are placing a lot of hope into them," says Ms Adamson. "We work hard in order to meet these expectations and offer solutions that are not only exciting, new and interesting, but actually make a difference."
Iseauto's development has not been seamless. Autonomous vehicles are relatively new and regulations often struggle to keep up with new technologies.
"I would say that the biggest challenge is to make sure that we offer sufficient input to get these regulations changed for the future, while also being very responsible in doing so and making sure that we have taken all aspects into consideration so that autonomous transport will be as safe as possible," says Ms Adamson.
Estonia's innovation-friendly environment ministry has aided the project significantly, being flexible and willing to support Iseauto, with expert groups established by the ministry and open cooperation with other authorities.
"For example, last week Iseauto passed road authority tests and was approved to start tests on the open road," says Raivo Sell, emphasising the close relationship with Estonian authorities. "On the other hand, we help the authorities to develop and improve their evaluation and certification processes to assess the safety of autonomous vehicles and remote operation."
From this, it is clear that the Iseauto project is a sign of a smart future in more ways than one. Its technology points the way forward, but just as importantly it serves as proof of the power of collaboration between industry, university research departments, and government.
That's smart.
—
Unlike many news and information platforms, Emerging Europe is free to read, and always will be. There is no paywall here. We are independent, not affiliated with nor representing any political party or business organisation. We want the very best for emerging Europe, nothing more, nothing less. Your support will help us continue to spread the word about this amazing region.
You can contribute here. Thank you.