Slovenia leads emerging Europe in the latest Social Progress Index, a comprehensive overview of the quality of life around the world that looks beyond GDP and other traditional measurements of success like income and investment, to measure 50 social and environmental indicators to create a clearer picture of what life is really like for everyday people.
Slovenia scores 87.71 on the index, and ranks 22nd globally, above Italy in the second tier of the 163 countries included in the index. In a number of fields, including gender parity in secondary education and plant habitat protection, the country leads the world. Slovenia is followed closely by Estonia (87.26/24th) and Czechia (86.69/25th). Unsurprisingly, Estonia is a global leader in access to digital government, while Czechia offers world-beating access to quality healthcare.
Other countries in the emerging Europe region which find themselves in the second tier include Poland (84.32/31st), Lithuania (83.97/32nd), Latvia (83.19/35th) and Slovakia (83.15/36th).
Put together by the Social Progress Imperative, the index defines social progress as the capacity of a society to meet the basic human needs of its citizens, establish the building blocks that allow citizens and communities to enhance and sustain the quality of their lives, and create the conditions for all individuals to reach their full potential. It is built on the idea that past efforts to measure progress simply haven't created a sufficiently nuanced picture of what a successful society looks like.
The index doesn't measure people's happiness or life satisfaction, focusing instead on actual life outcomes in areas from shelter and nutrition to rights and education. This exclusive focus on measurable outcomes makes the index a useful policy tool that tracks changes in society over time.
Most of the countries of emerging Europe are found in tier three, including Croatia (81.92/39th), Hungary (81.02/40th), Bulgaria (79.86/43rd), Romania (78.35/45th), Belarus (77.00/47th), Armenia (76.46/50th), Serbia (75.54/52nd), Albania (75.41/54th), Georgia (74.85/56th), Montenegro (74.42/58th), Ukraine (73.38/63rd), North Macedonia (73.16/65th), Bosnia and Herzegovina (72.74/66th), and Moldova (72.58/68th).
Kazakhstan is the only country in Central Asia to feature in the second tier, with a score of 72.66, placing it 67th globally, while Azerbaijan, with a score of 64.11 and 104th place is the only emerging Europe country down in tier three.
Worldwide, Norway has the highest social progress ranking, of 92.73, and South Sudan (31.06) the lowest.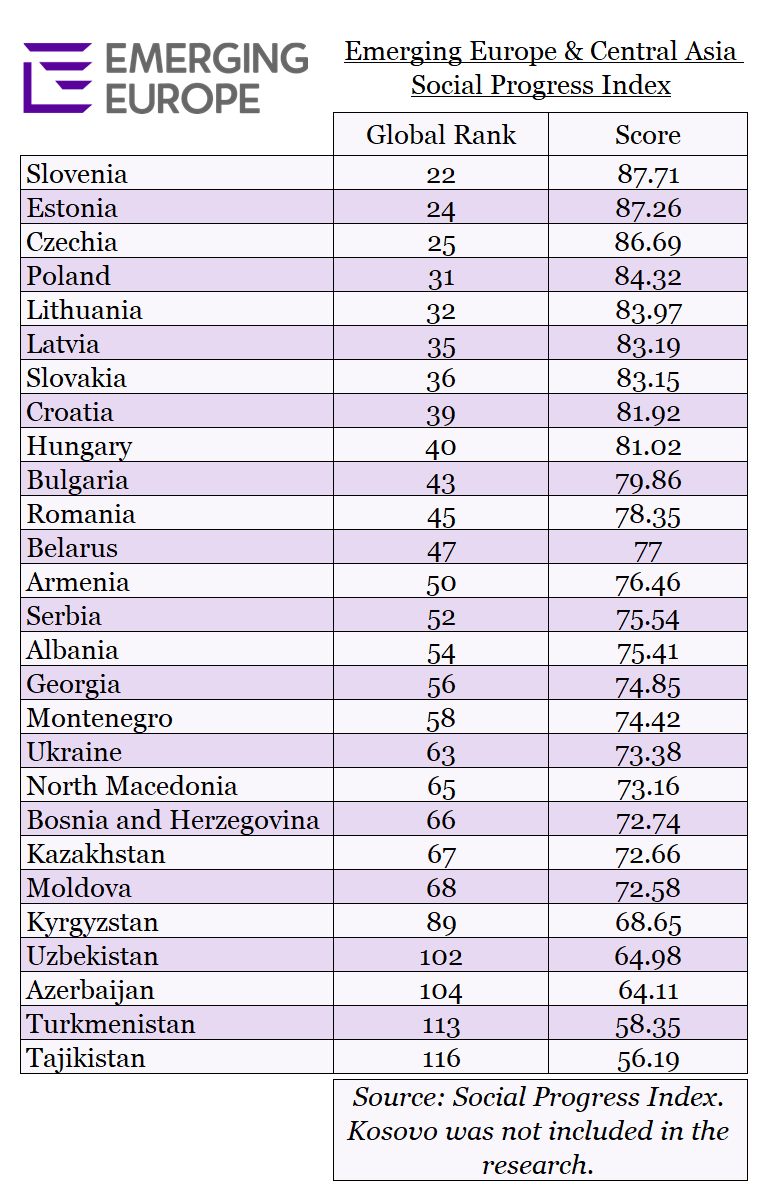 —
Unlike many news and information platforms, Emerging Europe is free to read, and always will be. There is no paywall here. We are independent, not affiliated with nor representing any political party or business organisation. We want the very best for emerging Europe, nothing more, nothing less. Your support will help us continue to spread the word about this amazing region.
You can contribute here. Thank you.