When Clark Curtis, a former director of communications at the College of Computing and Informatics at UNC Charlotte learned that his old friend Mirsad Hadžikadić was running for president of Bosnia and Herzegovina he approached him about the idea of documenting his story. In typical Hadžikadić style he said "go for it." Clark interviewed Hadžikadić via Skype throughout the election campaign and documented those conversations at gcomm.blubrry.net. Clark also had the opportunity to spend the final week of the presidential campaign and election day in Bosnia and Herzegovina with Mirsad and his team.
Born in Banja Luka (of then Yugoslavia), Mirsad Hadžikadić came to the United States in 1984 to study for and ultimately receive his Ph.D. in computer science from Southern Methodist University where he was a Fulbright Scholar. With degree in hand, he became an Assistant Faculty Professor of Computer Science at the University of North Carolina at Charlotte in 1987. In 1989, he returned to his native country with every intention of staying and pursuing his computer science career there. However, things had changed; the country that he had left five years ago was transitioning from socialism to capitalism. It seemed that, in his words, "no one cared about research and development," which was his passion, so he returned to the United States.
His return to the US set him on a 30-year path at UNC Charlotte towards an illustrious career in academia and business. This is when I had the opportunity to work for him. He used his passion for research and development to bring together academia, industry and federal agencies with the aim to advance computing simulation, analysis, and modeling by addressing hard-to-solve world problems in a systemic approach. Never forgetting his roots, he founded and served as President of the Advisory Council for Bosnia and Herzegovina in Washington D.C. and the Bosnian-American Academy of Science and Arts.
Political maelstrom
So why would a distinguished American academic decide to return to his somewhat chaotic native country and enter the ethically challenged (and, in Bosnia, somewhat dangerous) world of Balkan politics? Fascinated by the political maelstrom, I interviewed Hadžikadić to find out. The answer, in part, lies with a phone call Hadžikadić received in the fall of 2017 from a dear friend in Bosnia asking, "how about you competing for the seat on the presidency?" Mirsad says this was the first time that he had ever consciously considered such a move. After ruminating on the idea, he sought the advice of others, the majority of whom said it couldn't be done. Undeterred, he remembered the words of his friend: "there may not be another election within Bosnia as we know it because it will probably disintegrate." That disturbing thought, he says, is what motivated his decision. "If that is so, who am I—that I, because of the comforts I have, decided not to even try?" said Hadžikadić on his decision to run for president. Thus began his quest to run for the Bosnian presidential council seat.
Hadžikadić arrived in Bosnia and Herzegovina in mid-May of 2018 as a relatively unknown, underfunded independent caudate with a young, raw, and primarily volunteer campaign team. He had just over three months to spread his vision throughout the country. Hadžikadić knew, in his words, that "the politicians that are in charge are not concerned about the wellbeing of the country—they are just concerned about the wellbeing of themselves and their parties, and I wanted people to recognise that that has to change. We had to worry about the country first and then our political party."
Hadžikadić's message was that he wanted people to "wake up" and realise that the current political structure could not go on forever; together they had to overcome the sense of entitlement, as the entrenched parties were siphoning resources and spreading them among the members of their parties to the exclusion of everyone else. Campaigns were always based on fear-mongering, which is how the entrenched parties got their members to rally together and vote as a block, regardless of consequences. Hadžikadić believed that this process leads to nowhere and would come to an end eventually, either with an incumbent president's new vision or with the end of the country. His reasoning for this dire prediction was that the entrenched parties cannot produce a meaningful government; they only produce people who are dependent upon them and propagate corruption as a result. His message also emphasised that he would not use fear as a campaign tactic. Rather, his message centered on hope and how concrete actions can help affect the future. He said, "let's turn to the future, not forget the past—but let's not bring the past back every election cycle. Let's turn towards the future and let's use the understanding and mutual collaboration and the fact that because we are diverse. We are richer from that experience." The goal of this strategy was to change the conversation, to celebrate diversity among the people as sources for strength, rather than touting propaganda that differences are to be feared or scorned. He emphasised, "the change starts with you, it needs you, it requires you. You cannot sit on the fence and just watch the battle. You have to participate in the battle."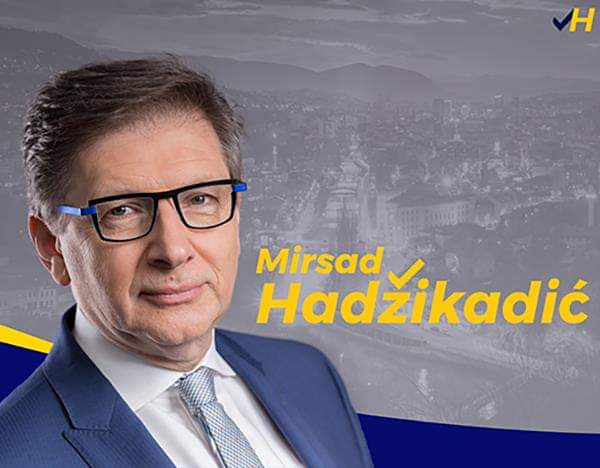 Social media
In the months before the October 7 presidential election, Hadžikadić carried his message to town hall meetings and rallies across the country. Since the governing parties (and his rivals) controlled a media blockade of national media outlets, he turned to Facebook as a primary source of communication. By spreading his message through social media, his campaign was quickly gaining traction, especially among young voters. However, there were still many who were interested, but not yet willing to show their full support; others would not embrace the message out of fear or apathy. But, the tides of change started becoming evident about six weeks before election day. The message was still captivating the imaginations of the young and some of the original skeptics were swayed to Hadžikadić's cause as well. As an outsider, I witnessed his popularity first hand as I walked with him on the streets of Sarajevo the day before and of the election. He could't walk more than 20 yards without being stopped and thanked by young and old alike for what he was doing, often requisitioned for a handshake, hug, or photograph.
Even though Hadžikadić did not win the presidential election, the results were unprecedented for a relatively unknown, underfunded, independent candidate. He received ten percent of the vote, finishing fourth among the six candidates nationally and third in Sarajevo. These results have served to fuel the passion and hopes of those who have committed themselves to this historic movement of change, a democracy in the making. The Platform for Change Movement has been established, and an all-encompassing platform has been written. The focus now is the 2020 local elections and then the presidential elections in 2022. Change has now become a reality for many, not just a dream or an afterthought.
Reading the people
Since the election, Hadžikadić has reflected on his vision of change and hope for his country that he loves so dearly. Like any true scientist, he needed to review and evaluate the entire process, determining what worked and perhaps what could have been done better. In the end, he said, "I was right to listen to my read on the situation and my read of the people. The results of the election validated my strategy to be myself and to focus on the things that were important. It was great that we had an honest and positive campaign, and we were spot on when we decided not to attack or smear the other candidates."
Regarding what could have been done differently, Hadžikadić wishes that his campaign team had focused on raising more money much earlier in the process. With more money, they would have had more professional help and less reliance upon volunteers. Though he quickly added that the volunteers were advantageous in their own way. He said they were fresh, positive, energetic and understood they were a part of something different. He also recognises that he should have announced his candidacy six months earlier than he did. Doing so would have increased his visibility in the race and probably increased his base supporters.
In the end, he told me, "I would have liked to have won, but that was really unrealistic. What I wanted to happen from the beginning and proved to be realistic, was that I wanted to change the political discourse, which happened, to have a name recognition, which happened and to establish with whom we could create this new political option, which happened. I think this was an excellent result."
—
The views expressed in this opinion editorial are the author's own and do not necessarily reflect Emerging Europe's editorial policy.