The organisers of European Youth Capital 2025 want to motivate young people to stay in Ukraine, to motivate young people who left the country to return, and for young Europeans to visit and experience what Lviv and Ukraine have to offer.
Ukraine's cities have each had their own claim to fame over the centuries. Among them, Lviv has set itself apart as the country's cultural capital. More recently, since Russia invaded Ukraine last year, the city has become a sanctuary for those fleeing the war.
In 2025, Lviv will add another title to its arsenal as it becomes Ukraine's first European Youth Capital (EYC). The title is awarded by the European Youth Forum and aims to empower young people and strengthen European identity.
---
---
The story started in 2018 when Lviv became the first Ukrainian Youth Capital. It gave a boost to the youth sector, as well as establishing the city's first youth centre and annual youth event.
Despite conflict, the hard-working team at TVORY! Lviv, which led Lviv's EYC bid, has continued its vital work to open the city to Europe.
"In 2018 we decided Lviv is the first Ukrainian Youth Capital, so why not become European Youth Capital? It's an opportunity to show Lviv to the world," says Maria Pihura, head of the Lviv – EYC 2025 office.
For its long-term vision, Pihura and her team have set itself several strategic goals – the creation of Ukraine's first municipal youth strategy, a local youth council, and a municipal youth fund exclusively for youth projects.
"We would also like to create more infrastructure like youth centres, like the office for the EYC, the 'Urban Centre' for street culture which we'd like to open for the EYC, and a volunteer club to contribute to sustainable volunteering," Pihura tells Emerging Europe.
The project's programme has three overall ambitions – to motivate young people to stay in Ukraine, to motivate young people who left the country to return and live, study and work there, and for young Europeans to visit Lviv and experience what Ukraine and the city have to offer.
Pihura believes that the EYC is an opportunity to make Lviv's youth and tourist sectors stronger.
"I think the title can also contribute to tourism," she says, noting that the project is supported by Lviv's city council.
"I hope 2025 will be peaceful and I want people all over Europe to visit Ukraine. Our programme could make our city a place where young people make their projects a reality. This way we can contribute to the economy. People stay here, develop and contribute to our city."
TVORY! PR manager Yulia Martyniuk cites the success of the 2022 EYC, the Albanian capital Tirana.
"Through the EYC programme [Tirana] increased the number of visitors to the city and, very importantly to me as PR manager, they combined the city's brand with EYC branding," she says.
Youth spirit at times of war
Young people leaving the country is a major problem for Ukraine. It has impacted young Ukrainians' mental health and finances. For Pihura, this will be a key challenge.
"Young people are not so eager to return if they've lost everything and we understand this, we understand we can't change the situation," she says, adding that the project can however contribute to better education and job opportunities.
TVORY!'s team has shown what Ukrainian resolve can achieve. When the war broke out, they established a volunteer headquarters and humanitarian hubs which coordinated volunteers across the city.
As the number of internally displaced youth increased, they reopened their youth centres, equipped with generators to provide safe places to study and work.
Martyniuk adds that: "We are trying to make our youth centres a safe place. We have bomb shelters. We want to make these safety spaces really flexible with internet connections and meeting rooms."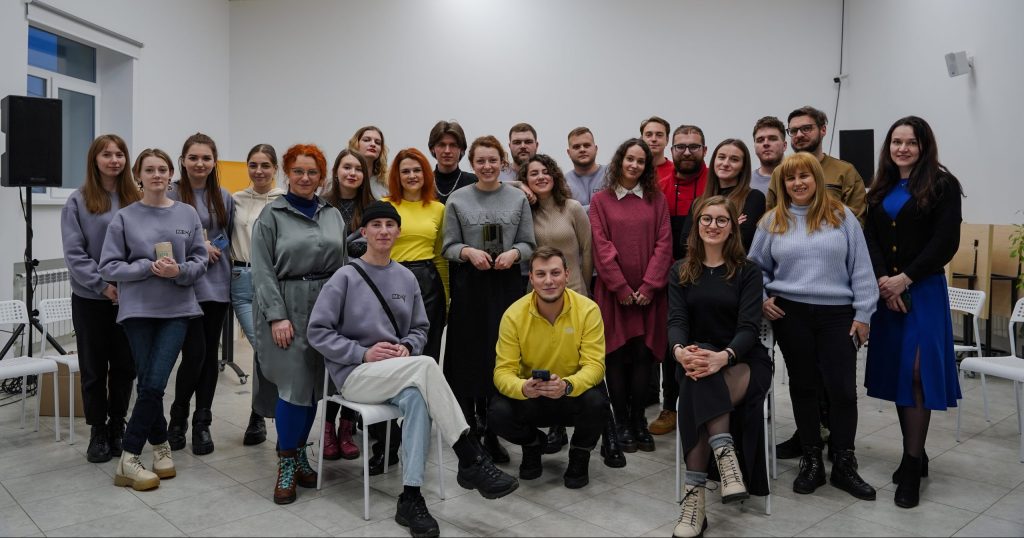 The TVORY! Lviv 2025 team
A brand in the making
The team has already started working on the programme for EYC, including a brand they hope will persist after 2025. According to Pihura, the current focus is on the EYC office, which could connect Lviv's youth with the rest of Europe.
"We have the venue, it's old, it dates to 1920 and used to be a cinema but it hadn't been used in two years. We've started renovation works and we really need financial support for this. We want this youth centre to be modern and youth friendly, to correspond to the needs of the people and be safe. We want it to be inclusive for people with disabilities," she says.
She also stressed that her team needs support to spread information about Ukraine and the work of its NGOs.
"It's important we remind people that there's a war and show the world that we live here, we develop and we strive to become members of the European Union. That is why we need to build partnerships with organisations that would like to organise projects together, apply for EU funds and exchange experience. We'd like to build a network across Europe."
For the TVORY! team, the most important thing is peace. For Pihura, an ideal 2025 would be, "a lively, vibrant, busy city. It would be a success if our youth centres continue to work, there continue to be events. I'd like to see lots of young people coming to Ukraine, lots of projects with actual results with tangible impact, and lots of youth spaces."
The city of… lions?
Martyniuk notes that there a lot of stereotypes about Lviv. It is a city of beautiful architecture, coffee, chocolate, and as the name might suggest, lions. Neither she, nor Pihura, has any intention of leaving.
"We are at the stage of developing the brand and we wanted to find new meanings for Lviv and not use these stereotypes. I'm not originally from Lviv but I feel like I'm at the right place here. It's like home," says Yulia.
"Young people are getting up early, they're going out, working, studying, going to funerals almost every day, hiding in bomb shelters. It's the Ukrainian vibe."
She hopes that through the EYC they can show the world this "Ukrainian vibe".
Drawing on her recent experiences abroad, she wants the project to show that Ukrainians have not lost hope.
"We just want to say we're not sitting around, we're working every day on the ground, trying to motivate ourselves to work harder and not let the situation wear us down."
As a final note, Pihura and Martyniuk have a message for Europe.
"Come to Ukraine, come to our city," they say. "We have great bomb shelters, so we can show you how it looks around here, safely. You can see how different Ukraine can be. Also, continue supporting Ukraine. Only together with the support of all of Europe can we win this war."
---
Unlike many news and information platforms, Emerging Europe is free to read, and always will be. There is no paywall here. We are independent, not affiliated with nor representing any political party or business organisation. We want the very best for emerging Europe, nothing more, nothing less. Your support will help us continue to spread the word about this amazing region.
You can contribute here. Thank you.

---