August 28, 2018, was not a particularly eventful day in world history. There was a breakthrough in science related to the Higgs boson, which boosted support for the standard model in physics, but by and large the wider world went about its business as usual.
For a few friends and I however, the day will remain one of the landmark moments of that summer and quite possibly of our lives. It was the day – following months of preparation – that we did what we had thought was impossible – we visited every tram stop in Bucharest in a single day. All 257 of them. And lived to tell the tale.
The birth of this idea did not take place the night before. Planning started back in February, and indeed, the first time I had attempted anything similar was in 2010. Back then, at the age of eight, I was exposed to The Tube, an ITV documentary series on the London Underground. One of the episodes focused on the attempt of Geoff Marshall and a friend of his to claim the Guinness World Record for completing the Tube Challenge – visiting every station on the London Underground in the shortest time possible.
The Tube Challenge is the oldest and most prestigious of all transit system-related challenges. The first record was set by George Hurst and Jane Barwick, who took and 18-hour, 35-minute trip across the 264 stations in March 1960. To the best of my knowledge, the only other metro systems to have been featured in the Guinness book are New York, Paris, and Berlin. However, the eight-year-old me was so amazed by the idea of people racing around a metro system for fun, that I begged my dad to take me out and try completing the Bucharest Metro Challenge. And complete it we did.
The history of the Bucharest Metro Challenge is an article in itself, but the bottom line for now is that the current record, set in July 2017, belongs to me (and a friend, Toma Sacuiu). Shortly afterwards I wondered if we could do the same thing on Bucharest's trams.
So in early 2018 I sat down one evening and calculated whether or not the Bucharest Tram Challenge could be completed in a single day. After a few hours looking at timetables and doing some maths, it all checked out – it was indeed possible, with an hour to spare.
My fellow Bucharest Metro Challenge record holder Toma was sceptical, and backed out. In his place came my old friend Matei Avrinte, and classmates Cristi Rosca and Ovidiu Borzan. This ended up being the final team.
We stocked up on drinks, croissants and sandwiches the night before, and on the morning of the challenge woke up at 4:30am. I called an Uber and picked up the other members of the team so we could make the 6am tram leaving from Piața Presei, in the northern part of the city.
Everything ran smoothly at first and we slowly ticked off the stops one by one. The early morning involved a jog to catch a bus, so we wouldn't have to backtrack (repeating sections that have already been visited), sprinting to catch a No. 24 tram at Damaroaia in the far north of thc city, and thinking about the civilising effect of public transport. As I said about Mezes, at the very northern end of route No. 45: "It's a bit of a wasteland, but at least they've got a tram."
After completing the stops in the northwest of the city, we headed down into the city centre. It was here that a tram driver told us off, saying "we shouldn't be riding trams all day." Little did he know that's precisely what we were doing. At a McDonald's on Strada Buzesti our first major setback occurred – we went for a bathroom break, but the tram we were meant to catch arrived two minutes early. Ovidiu tried persuading the driver to wait for us, but even with belts undone as we ran along the pavement we couldn't make it in time.
We managed to recover however, and it was while waiting on the pavement for the No. 44 at Cismigiu Park that the best photo of the day was taken. I badly wanted a shot of all four of us, and I wondered if it were possible to balance my phone on the number plate of a car parked opposite. It was, but as we got into position a tram arrived. The shot shows us all looking left towards the approaching tram. It couldn't have been planned better.
Venturing into the once-thriving industrial area beyond Militari, I couldn't help but notice how alien our surroundings were. Large swathes of land were cleared to make way for massive factories during the communist period, and presumably the tram we were on would have been full of workers 40 years ago. These days however, nobody associates Bucharest with industry, and trundling alongside barely-used factories felt like passing through Pripyat, the abandoned city next to the Chernobyl power plant. People still commuted to these far-off places, but it felt serene in a bizarre sense as chirping birds nearly drowned out the sound of the occasional passing car, and nature had effectively taken over man's creation. It felt slightly eerie because it was peaceful, when it shouldn't be.
To get back into town, we hopped on the metro for five stops (any form of public transport can be used for shortcuts, say the rules) and took the No. 41 southwest to Ghencea. The No. 47 then took us back into the heart of Bucharest, Piața Unirii.
A phenomenon everyone doing transport challenges encounters at one point or another is 'hitting the wall.' This is when the mental and physical effects of being on trams or trains for an extended period of time really gets to you, and your brain shuts down. It was on the No. 47 that my three companions hit the wall. I was to hit it a few hours later.
Upon arrival at Unirii, I told Ovidiu it was exactly noon. Thinking it was four o'clock, he promptly summed up our mood with an exhausted expulsion of the f-word.
We ticked off the stations in the southern half of the city, barely managing to catch our breath on the ageing trams in nearly forty-degree heat. The trams lack air conditioning and basic forms of ventilation, and all passengers must rely on occasional gusts of wind blown in through the windows for a moment of reprieve.
Ferentari is perhaps the most infamous of Bucharest's neighbourhoods. Everyone will tell you it's not safe, and there are probably hundreds of stories and criminal records that back this up. Although there were a few dodgy characters who accompanied us along Calea Ferentari, including a few unsolicited DJs and a man shouting at someone over the phone, one thing Ferentari does have and other places in Bucharest don't is a public standpipe. Which we obviously used.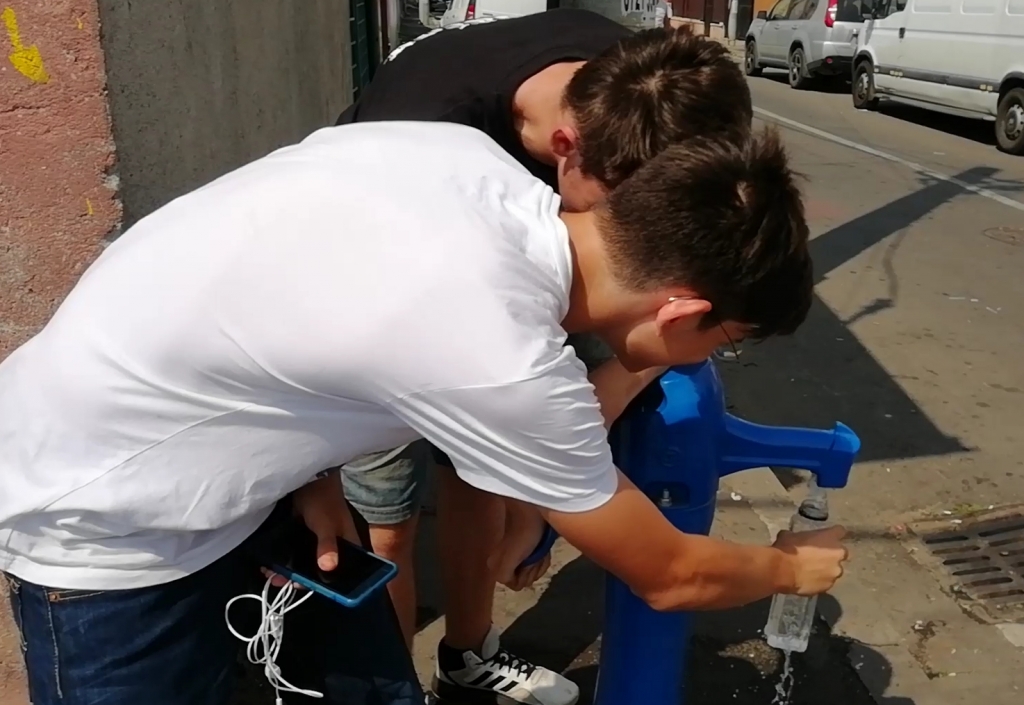 It was after this however that the stress of pulling off something so grandiose really got to Cristi and Ovidiu, and we bid farewell to them after returning to central Bucharest. It was now up to me and Matei to see through what we had started.
It was late afternoon by this point, and what followed were long stretches where not much happened. By this, I mean getting on a tram to the end of the line, then getting on another tram to the end of the line. The wall I was fearing had now truly been hit.
We were boosted by a replenishment of supplies by my girlfriend Stefania Brezan, and upon arrival at Republica in the east of the city, we faced our biggest test. I had discovered that it was possible to run from one tram terminal to another by going through a supermarket complex and then crossing some railway tracks. This one-kilometre sprint of ours in searing afternoon heat was the most gruelling part of the challenge, but we made the connection easily.
Most of the network had been ticked off by this point, and after visiting Pipera – the beating heart of Bucharest's new industry, all skyscrapers housing IT companies and the like – we caught the evening rush hour on the metro. For a period of two hours, progress was going to be slow as more people crowded onto all means of transport, desperately trying to get home.
Small delays here and there were trumped by a twenty-minute wait beneath the Basarab overpass, where I penned the first ever serenade for a tram, in a desperate attempt to summon it. Its title was Unde este Tatra? (Where is Tatra?)
Tatra of course refers to the type of tram we were waiting for, which gets its name from a mountain range in the Czech Republic. But if you look at the word for long enough after endless hours on public transport, it takes on the form of a girl's name.
After more trams and more running, easier now as the sun had set, late at night we boarded the No. 21 and arrived at the end of Bucharest, in the northeastern Colentina neighbourhood. We had done it, after precisely 17 hours, 48 minutes and 14 seconds. The obligatory "Yes!" was shouted, man-hugs took place and we headed back home. To us at least, what we had achieved was massive.
I turned our adventures into a short film, Tramspotting, the mockumentary of the year. Producing that short film took about as much effort as the tram challenge itself, and by now half my school must have watched it.
As I stated at the end of Tramspotting, I believe cities are defined by their modes of transport. How is Bucharest defined by ageing trams? They're old, they're not always reliable, but they'll eventually get you to your destination and they serve nearly every corner of the city. Much like Bucharest itself, the tram system is not perfect. But some of it is great, it's home, and there is potential for it in the future.
I also believe public transport the most authentic way of seeing the city. Granted, it's because you genuinely see all of it, but also because you get to experience all the architectural styles Bucharest has to offer. You get to see how people actually live, the effects of the communist regime and the small pockets here and there that survived it. So if you're one of those people who thinks that 'the tour bus is for plebs,' get in touch and meet me at Piața Presei at ten to six one summer morning.