After living in Poland's capital Warsaw for almost a decade, I finally made my way to Poznań. It was a trip which was long overdue. The city itself is beautiful: the architecture and colourful buildings in the old town square brighten up even the gloomiest of days (and to be honest, Poznań has its fair share of those).
While architecture, history-packed walks around the city and beery lunches are usually enough for most visitors, city breaks can be more of a challenge for those of us with kids. Many cities are utterly unprepared for anyone under the age of 10. I was delighted to discover that Poznań is different.
On our first day there, we took a walk around Lake Malta, created in 1952, and which offers myriads of activities for kids of all ages, me included. Our first stop was to check out the Maltanka Miniature Railway which offered a fun trip around the lake to Poznań zoo. My eldest, Kareem (five) was hugely excited to see the train and really wanted to take a ride. However, we missed the time slot so had to instead walk around the lake. Fortunately for us the 500-metre Adrenaline Mountain Luge was open and with a top speed of 40 kilometres per hour it was definitely something Kareem and I had to try. Initially a bit apprehensive about the ride, Kareem soon got over his fear and insisted that I refrain from using the brakes so that we could go faster. Following that we continued our walk around the lake and ended up at a playground designed around a nautical theme, equipped with a galleon-shaped climbing structure where every kids inner pirate could shine.
Back in the city itself we took Kareem to the Poznań Croissant Museum, where his first question – or rather statement – was, "I only want to go and do the tutorial if I can eat the croissant." The staff there were great, and while they did not have a tutorial in English planned for that day, they went out of their way to explain the process to my mum, who was accompanying us and who does not speak a word of Polish.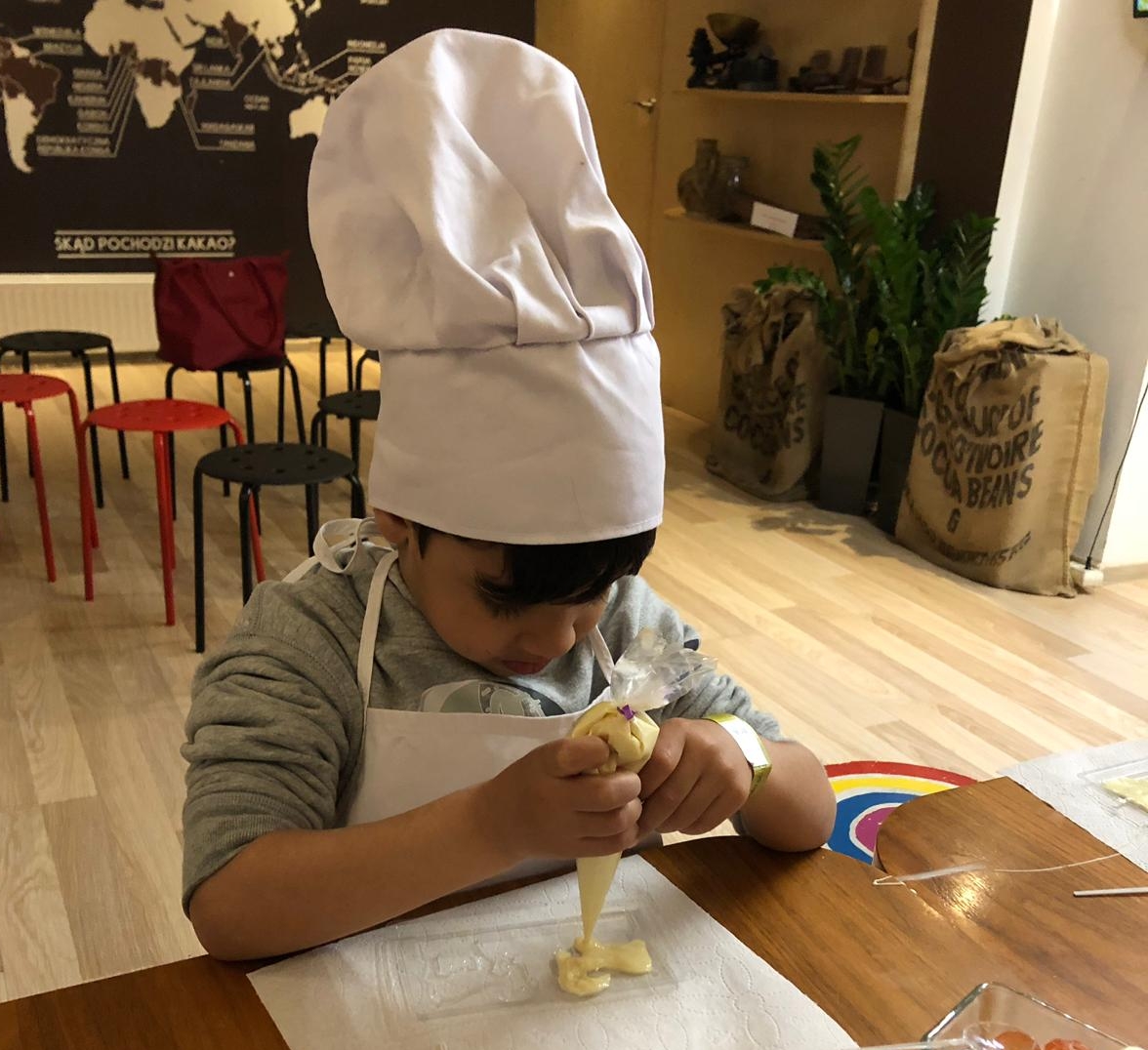 After the Croissant Museum, we decided to have a coffee while we waited for our workshop at the Chocolate Museum to begin. Kareem, being a lover of all things sweet, wanted to have an ice cream for lunch so we walked into Naleśnikarnia Gramofon.  While they did have ice cream, the woman behind the counter did something extraordinary: she recommended that we try the place across the street because it had better ice cream. Unfortunately, that place was closed, so we headed back to Gramofon where the ice cream may be average but the staff are unquestionably fab.
The Chocolate Museum was a lot of fun for both my mum and Kareem, he enjoyed it so much that by the time we left, he had chocolate all over his face, much like that of Augustus Gloop from the original Willy Wonka and the Chocolate Factory. Again, much like the Croissant Museum, they did not have an English workshop planned but the staff went out of their way to explain the process to my mum.
All in all I found the people of Poznań to be much friendlier than those in Warsaw, and there were a lot of things for us to do. The only downside to the city (at the moment at least) is that there is a lot of roadwork going on, which makes the traffic something of a nightmare (it's why we missed the miniature train). I'll be back – when the roadworks are finished of course – if only because I owe Kareem a ride on the train.