Completing the sentence "Before I die…", which was written on a massive blackboard at the heart of Sziget this year, became one of the must-dos for music lovers attending the festival. Everyone left something, and by the end of the week the blackboard was full of messages, drawings, and declarations of love.
Now in its 26th year, the Sziget festival in Budapest remains one of Hungary's main summer attractions. It has long served as a bridge which links different kinds of music, and this year's edition attracted an all-time record of 565,000 visitors. Among the headliners there were Kendrick Lamar, Gorillaz, Lana Del Ray, Mumford and Sons, Dua Lipa and Arctic Monkeys.
But Sziget is not just about headliners: seven days full of theatre, cabaret, art and traditional music from all over the world brought people together from over 100 nations to experience the 'Island of Freedom', as it is called.
Island of freedom, generosity, acceptance and selflessness I would add. For seven days visitors in Hungary could leave behind the giant billboards railing against George Soros and his migrants' army and enjoy a colourful environment full of peace and love.
Within the Artzone, local creatives offered workshops and opportunities to put together your own designs in five minutes. Or in the amusement park you could try original games and pastimes from 19th-century funfairs.
"Sziget is a truly unique global festival. We are so proud to have seen 565,000 people from all over the world join us here in the heart of Budapest," Tamás Kádár, Sziget's CEO commented afterwards. "An international celebration of the arts, with artists from over 63 different countries performing over the seven days. The DNA of the festival – openness, love and respect – could be found in every stage, in performance and every Szitizen, and we will continue to lead the way with our love revolution."
What makes the Sziget festival so special are all the little moments that I happened to see: a pair of sunglasses on the ground, kindly returned to the owner; a sick guy, helped by total strangers; two girls holding hands and smiling at the camera.
The high temperatures of the first few days gave way to heavy rain during the last night. But it didn't stop the festival. We all gathered under big, colourful umbrellas, all singing Four out of five, while one of the most awaited bands was about to perform on the main stage, the Arctic Monkeys, an epic close to a fantastic week.
And for all those who missed the main stage, the party was going on everywhere: boys and girls from different countries and with different looks were dancing to African tribal songs; local singers; DJs until the sun rose.
Just as it did 26 years ago the Sziget festival still serves its main purpose, building bridges and closing the gaps between different cultures. We all left something on that island, our name carved on a tree, a lost t-shirt in the mud, maybe a bag full of our belongings. But what is more important is what Sziget left us: a concrete example of being one.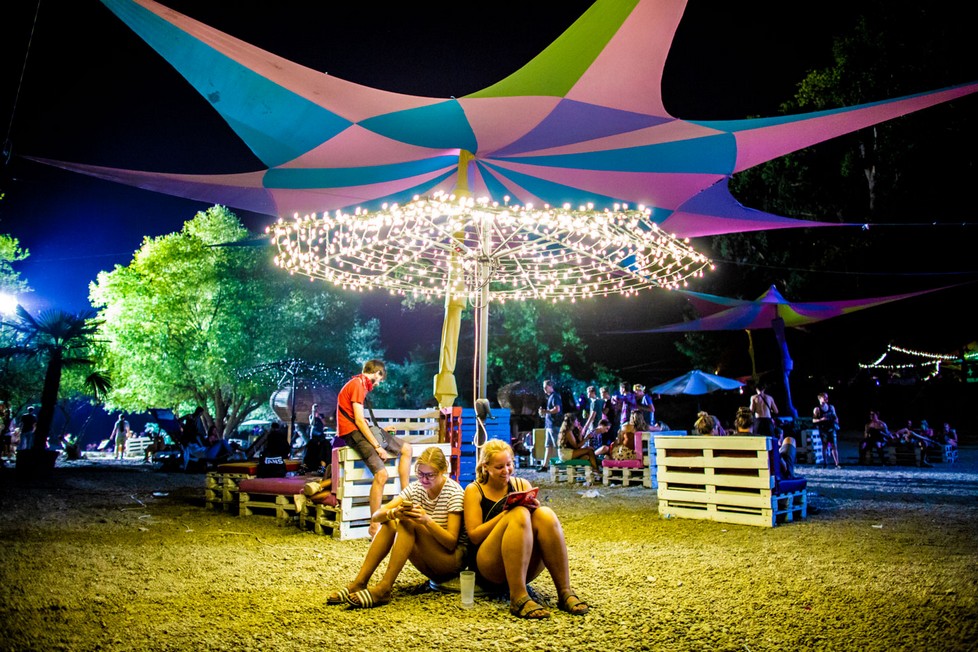 —
Photos: Rockstar Photographers (@rockstarphotographers)