It's about 6am on December 30. It's dark and freezing with quite a lot of snow around. I am at Tbilisi bus station waiting for a bus to Telavi in Georgia's wine region of Kakheti when I spot a marshrutka with a plate that has Yerevan, or Еревань, written on it.
"Where's the damn bus?" I mutter, envying those who are already getting on the white Mercedes Benz and will soon enjoy the heat inside. Five minutes later I am one of them. "Okay, Kakheti will wait for me! I'll go there one day! Now, I am headed to Armenia's capital."
Easier said than done. The 275-kilometre drive across the Caucasus on the dual-carriage road, covered in snow, takes some seven hours. Normally, I would take a nap but the circumstances make me refrain from that. We're going through the mountains with hardly any fences on the side of the road. Even though the temperature inside the minibus reaches Sahara highs and I am about to strip off my clothes, a fellow passenger, a red-haired lady in the front seat still has her hair-matching fur coat zipped up. The driver is chain smoking and the speakers are blaring out Celine Dion's hit which assures me that "my heart will go on and on."
At the border I realise I have abandoned my fully-paid guesthouse in Telavi and set off toward the unknown. Using my Georgian sim card I google restaurants I could go to for a late lunch upon arrival. "I'll find accommodation later, nothing to worry about. I've done it before," I think to myself. Trip Advisor recommends Vinograd, "a cozy and warm wine lodge with authentic gastronomy." And the vast majority of reviews are excellent. I'm up for it.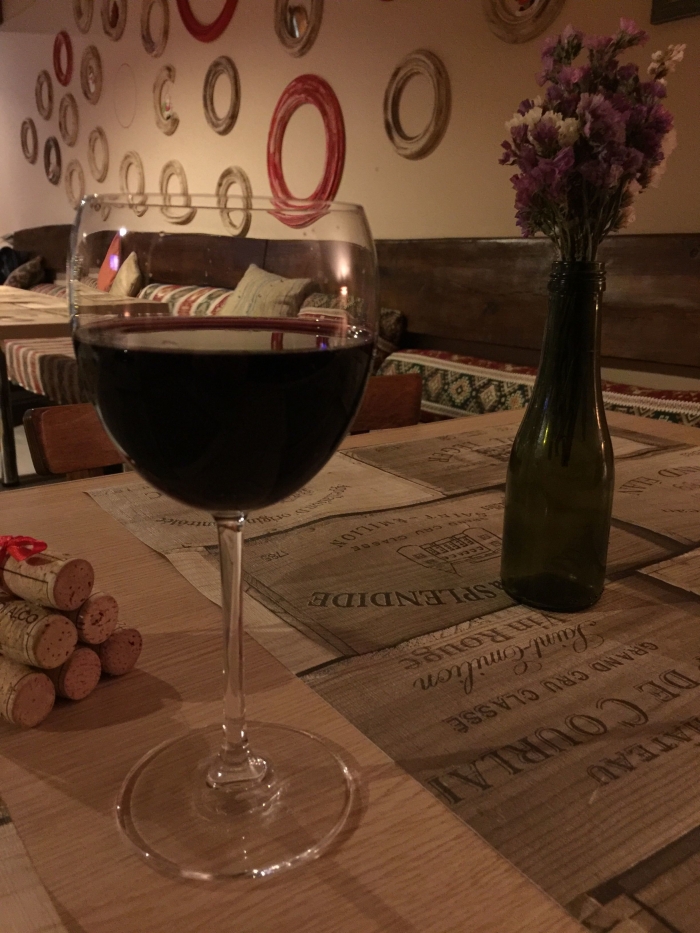 "How is it possible that the place is empty?" I ask the lovely waitress when I enter. She smiles and ushers me to the table. Five minutes later we are talking about Armenian dishes and drinks. The food is absolutely amazing and apart from serving wine she makes me try Armenian brandy. Then she calls her friend asking if she has a place to stay. It turns out he does — a nice small hostel in an old Soviet-style block.
"I'll take it!" I say and less then a half hour later I meet Susana, the owner, a lady in her late fifties with a warm and never-ending smile and joyful eyes. She's in the middle of watching one of her most favourite Russian films but she offers me tea and starts a conversation clearly challenging my non-existent Russian. Having learned about my Polish background, she starts listing her favourite Polish singers, including, Anna German, a Soviet-born Polish singer, immensely popular in Poland and in the USSR in the 1960s, who eventually died in a car crash in Italy in August 1967.
"The human fate is not a fable, nor a dream, the human fate is just a normal dreary day, the human fate carries with it sorrow and tears, but despite that, fate can be changed for better or worse. So smile, at every single moment, smile, for a joyful day, do not wait, for the end will come, before you smile even once," Susana recites the lyrics of Anna German's The Human Fate.
Fast forward 24 hours, I am celebrating the New Year at the Marriott with a view on Yerevan's central square. And I am smiling and I am enjoying it and drinking to life! "Was it fate that made me choose to get on the bus to Yerevan?" I wonder.