The Baltic Sea may not be as warm as thte Med or the Aegean – to say the very least – but the thousands of beaches in the region are amongst the widest, wildest and sandiest in all of Europe. Many are also quite often deserted. Even during high summer you need not worry about somebody knocking over your sandcastle on the endless stretches of white beach. Although the wind might. Here are six of the best.
Nida, Lithuania
The Curonian Spit, formed around 5,000 years ago (according to Baltic mythology by a giantess, Neringa), is a UNESCO World Heritage Site which stretches from Klaipeda in Lithuania to Kaliningrad in Russia (it is one of very few UNESCO sites shared by two countries). Home to the highest sand dunes in Europe the spit also hosts Lithuania's most exclusive destination, Nida, a small resort close to the Kaliningrad border famed for its wooden houses. An artists' colony in the late 19th and early 20th centuries, Nobel Prize-winning writer Thomas Mann had a home here.
Mändjala, Estonia
The island of Saaremaa is home to Estonia's sandiest beaches, particularly the stretch from Mändjala to Järve, around 10 kilometres from the island's capital, Kuressaare. The shallow water at Mändjala also makes it one of the warmer beaches in the Baltic, although everything's relative. Surrounded by pine trees there are sand dunes galore to be explored, and it's a popular destination for paddleboarding and kitesurfing.
Lahemaa National Park, Estonia
Lahemaa is one of Europe's most important conservation areas, and the large, forested Kõrvemaa region is home to moose, wild boars, brown bears, lynxes, foxes and other wild animals. The coast is covered with rocks and boulders, used each year by cranes as a stopover on their way south. The best of the park's sandy beaches is Võsu, where the water is as clear as the Aegean. Don't expect it to be all that warm though: it's one of the most northerly beaches in Estonia.
Jūrkalne, Latvia
Almost entirely untouched by civilisation, the beach close to the Latvian village of Jūrkalne, around 200 kilometres west of Riga, is a must for anyone looking for a truly wild experience. With bluffs up to 20 metres high, and in permanent flux due to erosion, Jūrkalne offers some amazing Instagram opportunities, walks – not all of them particularly easy – with great views and a genuine chance to get back to nature. The Jūrkalne bluffs are part of the Suiti Cultural Space, which was included in the UNESCO World Heritage List in 2009. (The Suiti are a small Catholic community in predominantly Lutheran and Orthodox Latvia).
Łeba, Poland
On a sunny summer day the vast expanse of soft white sand at Łeba, northwest of Gdańsk, almost feels tropical. Until you dip your toe into the water, of course. The beach is part of the Słowiński National Park, sometimes referred to as the Polish Sahara. The high, moving sand dunes of the park are home to a number of lakes that attract several rare species of bird, including the white-tailed eagle, the eagle owl, cormorants, and the black stork. The shallow lakes, particular the vast Lake Gardno, are perfect for sailing and windsurfing.
Świnoujście, Poland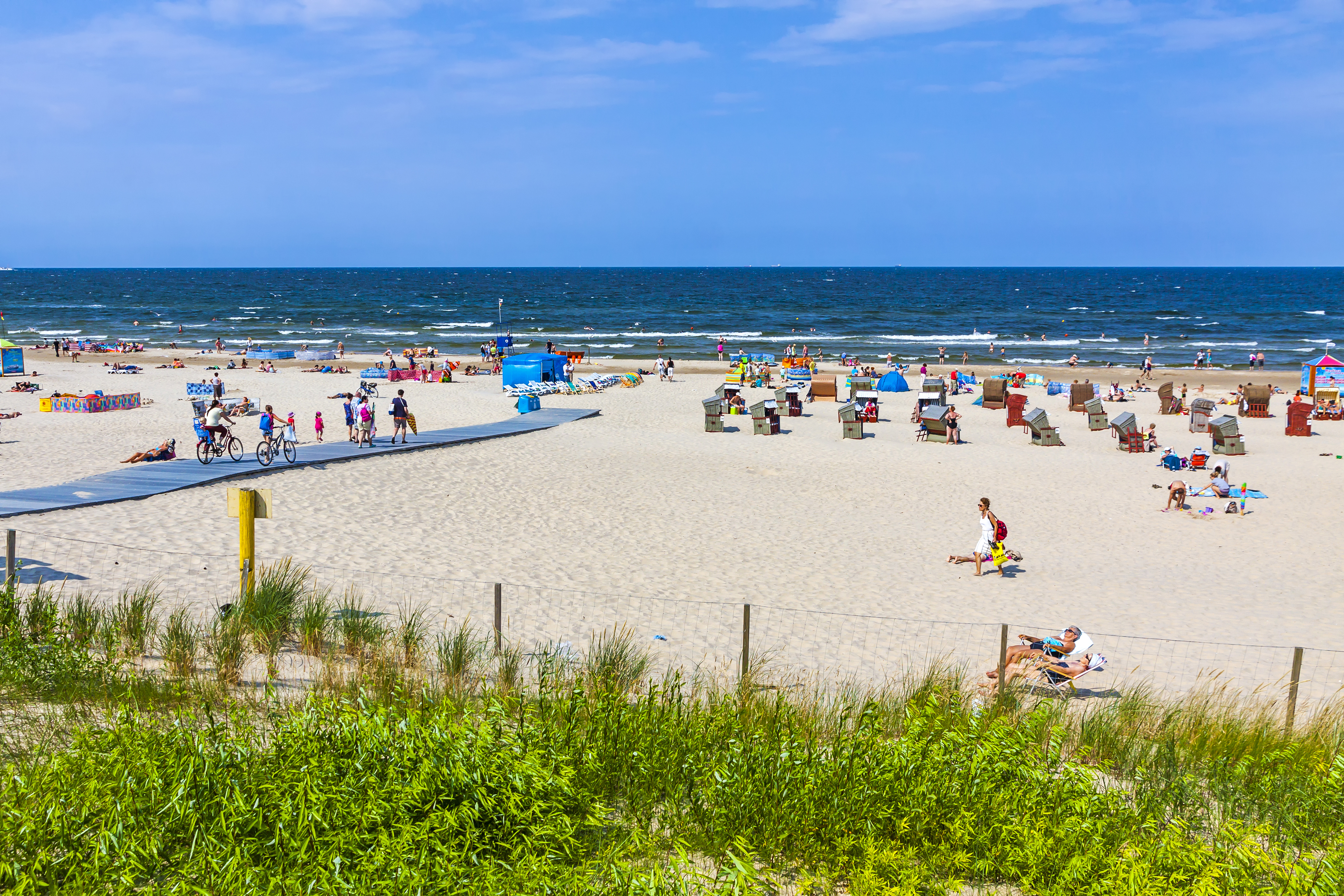 Although nowhere near as deserted as some of Poland's other beaches, no list of great Baltic seaside retreats is complete without Świnoujście, north of Szczecin on the border with Germany. The widest beach in Poland, its shallow descent into the sea makes it perfect for families, and the water is as warm as it gets in this part of the world. Karsiborska Kępa, an island just south of the resort, is a protected nature reserve and another hotspot for birdwatchers.
—
Unlike many news and information platforms, Emerging Europe is free to read, and always will be. There is no paywall here. We are independent, not affiliated with nor representing any political party or business organisation. We want the very best for emerging Europe, nothing more, nothing less. Your support will help us continue to spread the word about this amazing region.
You can contribute here. Thank you.