With the first snows of the winter having already fallen across emerging Europe, many people's thoughts would have already turned to winter holidays, and to skiing. While for many the countries of the region are not the first to spring to mind when planning a ski trip, there are in fact a number of very good ski resorts in this part of the world. From Jasna in Slovakia to Tsakhkadzor in Armenia, many offer some superb, rugged skiing amidst fantastic scenery, usually at prices well below those in Western Europe. Not that the low cost is the only attraction. For a new breed of adventurous skier, jaded perhaps by the increasingly busy motorway pistes of France, Switzerland, Austria and Italy, the search for fresh powder, for empty slopes and for new experiences is the real draw.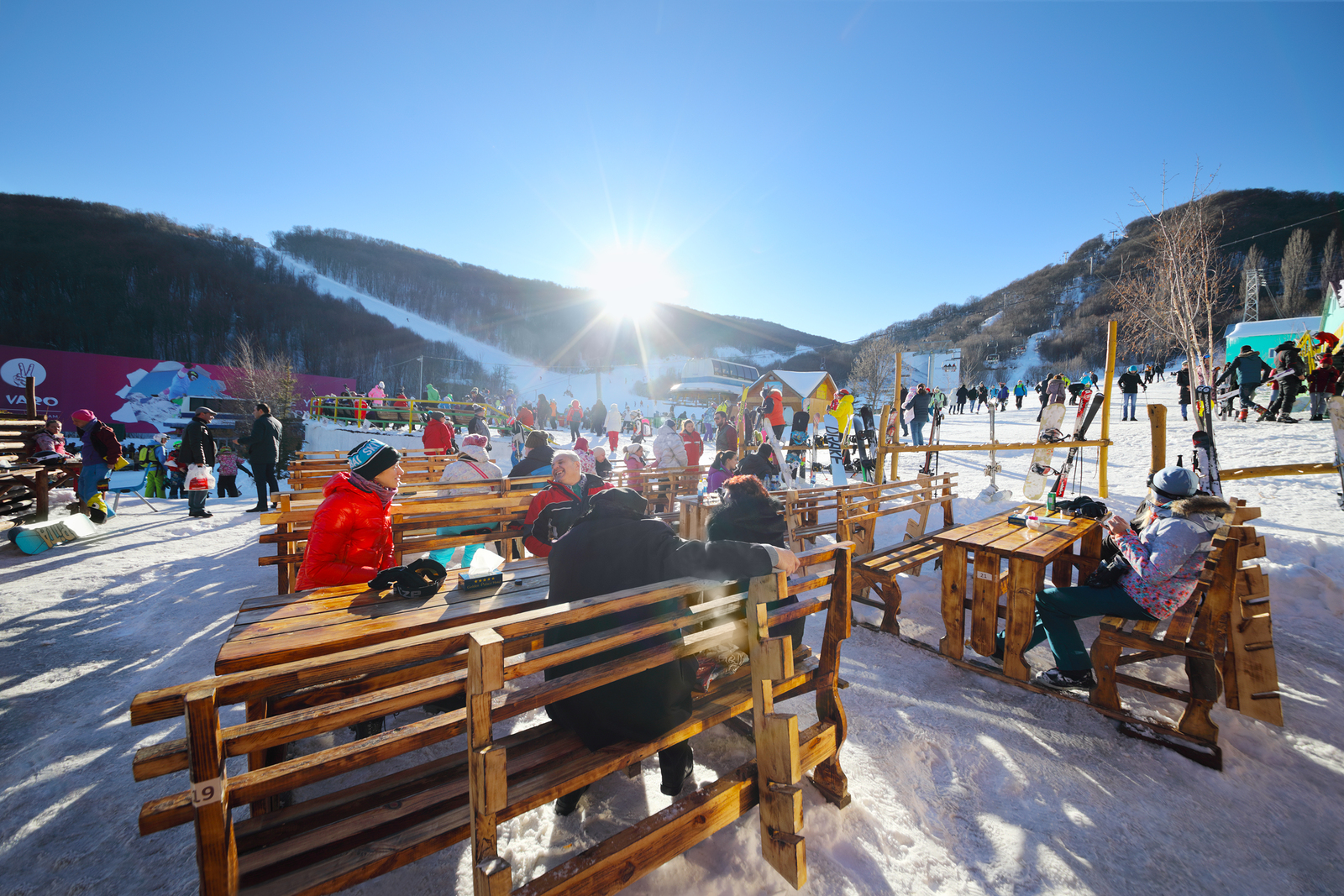 Armenia
Yes, you can ski in Armenia. The country's only real resort of any size, Tsakhkadzor (perhaps best known as a summer retreat) is just over an hour's drive from the capital Yerevan, set at an altitude of 1900 metres. The resort's lift network rises to the top of the Teghenis mountain at over 2800 metres, and the terrain up here is steep, offering some seriously challenging skiing: throughout the resort there is little for beginners. While some of the lifts could do with upgrading (queues can be long at busy times) the snow record is good and you can often ski until the end of April. The lift pass is cheap, gives access to 35km of pistes and the views from the top of the mountain are sensational. There's even a Marriott hotel at the foot of the slopes. The most disappointing aspect are the mountain restaurants, which are few and far between and relatively expensive.
Azerbaijan
Boasting more than 1000 metres of vertical drop, Azerbaijan's leading ski destination, Shahdag is a modern resort featuring state-of-the-art lifts, dominated by the monolithic Shahdag hotel at the foot of the slopes. There are 12 lifts in all and around 30km of skiing, all of it set quite spectacularly above the treeline. While it doesn't snow all that much in these parts, the entire resort is covered with the latest in snowmaking technology, guaranteeing snow for most of the winter. What you get instead is sunshine: fans of spring skiing will love the place. Shahdag is three hours by car from Baku, while slightly further away is Azerbaijan's equally spectacular, equally modern (although slightly smaller) second resort, Tufandag.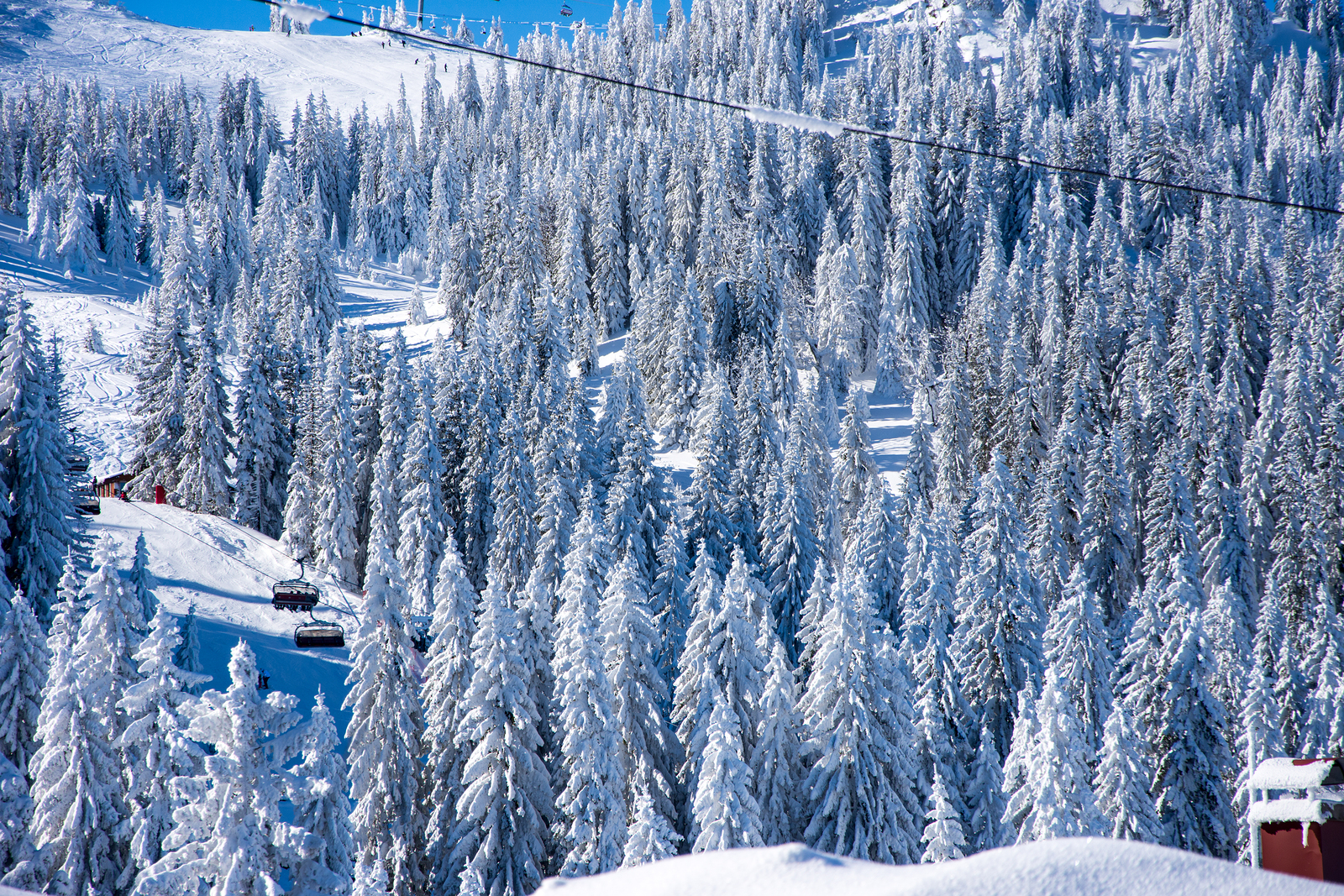 Bosnia
It's easy to forget that Sarajevo hosted the Winter Olympics in 1984, and Bosnia's best skiing is just 30 minutes drive from the centre of the capital, at Jahorina. There are over 30km of pistes, including the Olympic women's downhill, slalom and giant slalom routes. The men's events were held at Bjelasnica on the other side of the city. Both of Sarajevo's ski areas have seen much investment in recent years, although Jahorina is currently the best of the two, boasting new lifts and shorter queues. Another, smaller resort – Ravna Planina – is even closer to the city centre, but it offers very limited skiing. While all three of Sarajevo's ski areas boast snowmaking equipment, snow cover can still often be an issue. Those of you with long memories will recall that the men's downhill back in 1984 was delayed over a week due to a lack of snow.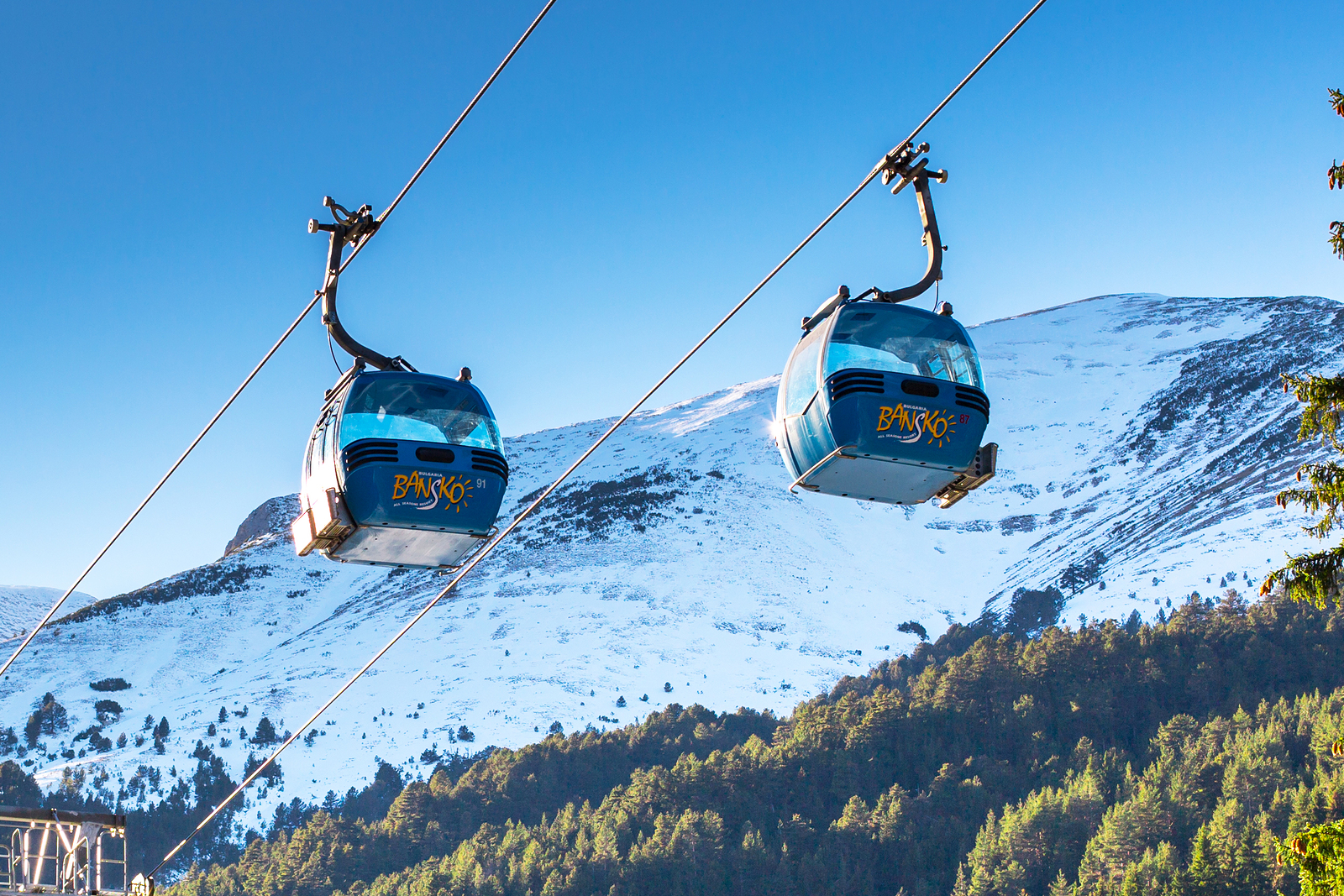 Bulgaria
Probably the best-known skiing destination in emerging Europe, Bulgaria's three main resorts, Bansko, Borovets and Pamporovo have been staples of the winter holiday brochures for four decades. All three resorts have seen upgrades in recent times, most recently Pamporovo which has extended its ski area and linked up with neighbouring Chepelare. While none of the skiing in Bulgaria is particularly challenging, and there is little off-piste, it's all easily accessible from either Sofia or Plovdiv airports and prices remain amongst the lowest in Europe. Our pick of the Bulgarian resorts this year is Bansko, not least as there are so many activities off the slopes, making it perfect for mixed groups which may include people who do not ski. The town's many mehana offer great food – specialising in lamb dishes – and its narrow streets are charming, meriting exploration. One tip: the gondola up to the ski area gets very busy around 10am. Make sure you arrive early. And for anyone on a business trip in Sofia with a few hours to spare, note that there is a half-decent ski area in the city's suburbs, on Vitosha mountain.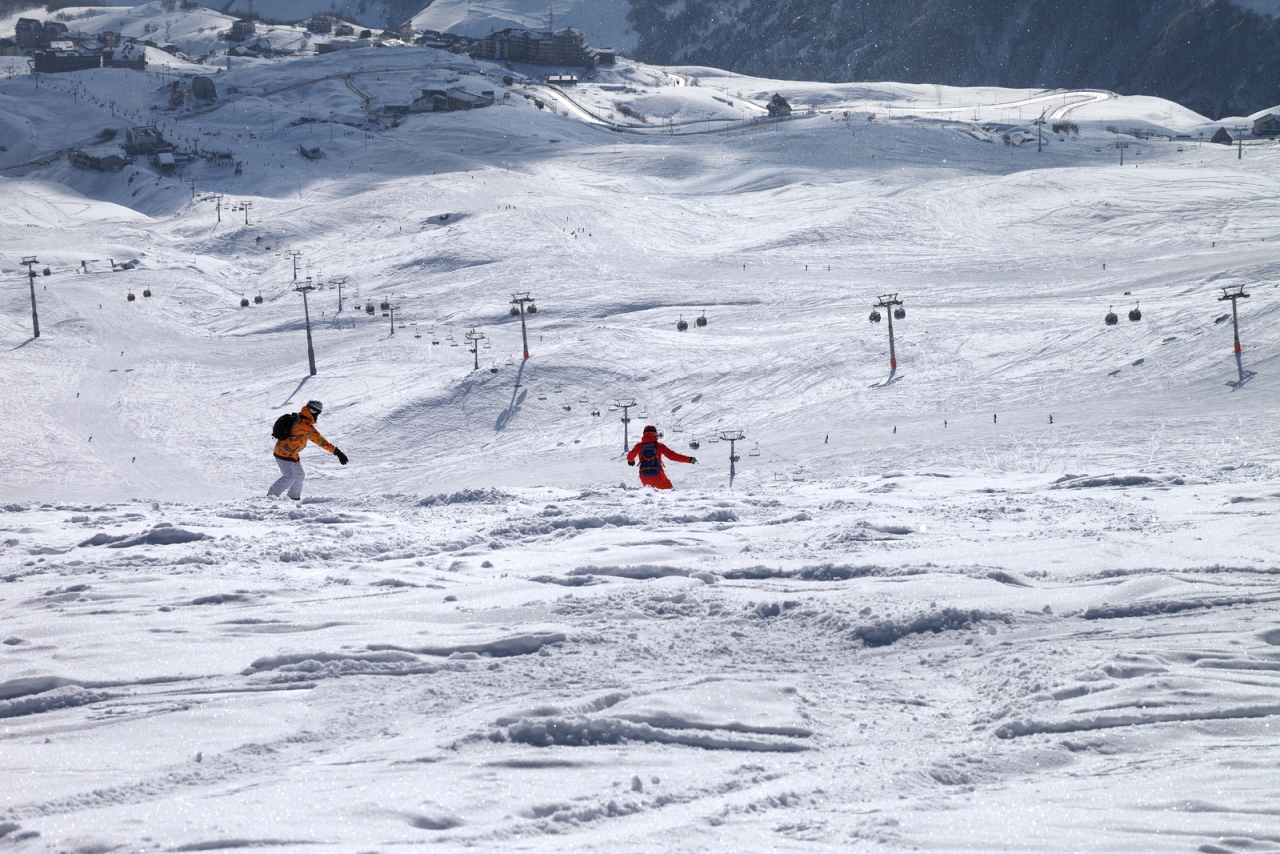 Georgia
At risk of annoying the Slovenes, the Slovaks, the Bulgarians and just about everybody else on this list, I hereby declare that emerging Europe's best skiing is in Georgia, at Gudauri . Boasting a top elevation well over 3000 metres the resort offers both long, cruising blues for the smart set as well as tough blacks – and Europe's cheapest heli-skiing – for adrenaline junkies. Four new lifts are set to open this winter – three chair-lifts and a gondola – opening up even more skiing and linking Gudauri with the resort of Kobi on the other side of Mt Sadzele. The lift pass is incredible value (just over 50 euros for a week), and it's all less than two hours from Tbilisi. Our only complaint is that for a purpose-built resort the layout can be awkward (a lot of the accommodation is a long walk from the lifts), but most hotels and apartment complexes offer shuttle buses to and from the slopes. Once on the piste however, you are in a white paradise that is hard to beat. And with the exception of Georgian public holidays you are likely to have the place for yourself. For how much longer remains to be seen: Gudauri, like Georgia as a whole, looks set for a tourism boom as more flights link Tbilisi with Western Europe. We suggest booking a trip for this winter. And remember: you read about Gudauri here first.
Kosovo
There are plans to spend almost half a billion euros on developing Brezovica as an international ski resort: ecological concerns as well as Serbian objections (there are issues over land ownership) may delay those plans, however. Until then, it will remain a very old-fashioned ski resort worth visiting if only to say that you've skied in Kosovo. The chair-lifts are old, the slopes are poorly groomed and the access road becomes blocked at weekends: there is virtually nowhere to park near the slopes and so you could end up walking a long way in your ski boots if you don't arrive early. Once you do make it to the top of the mountain however, it is easy to see the potential of the place: snow is guaranteed, and there is vast scope to create a rather special ski area here. It's less than two hours from either Prishtina or Skopje.
Montenegro
There are currently seven places to ski in Montenegro, and the country is keen to develop winter tourism further. The largest, and best resort is Kolašin 1450, a 90-minute drive north from the country's capital Podgorica, generally snow-sure from December to April. With a modest 20 kilometres of mainly gentle, tree-lined slopes served by seven lifts (including a brand new chair-lift for the 2018-19 season) the resort is currently off the radar of most European skiers, but that could soon change. The Montenegrin government has high hopes for winter sports: an entirely new resort is being built further up the mountain at Kolašin 1600, which will increase bed capacity (currently there are few accommodation options), and tens of millions are currently being spent on creating what will be the largest ski area in the Western Balkans, all part of a major plan to develop the Bjelasica region.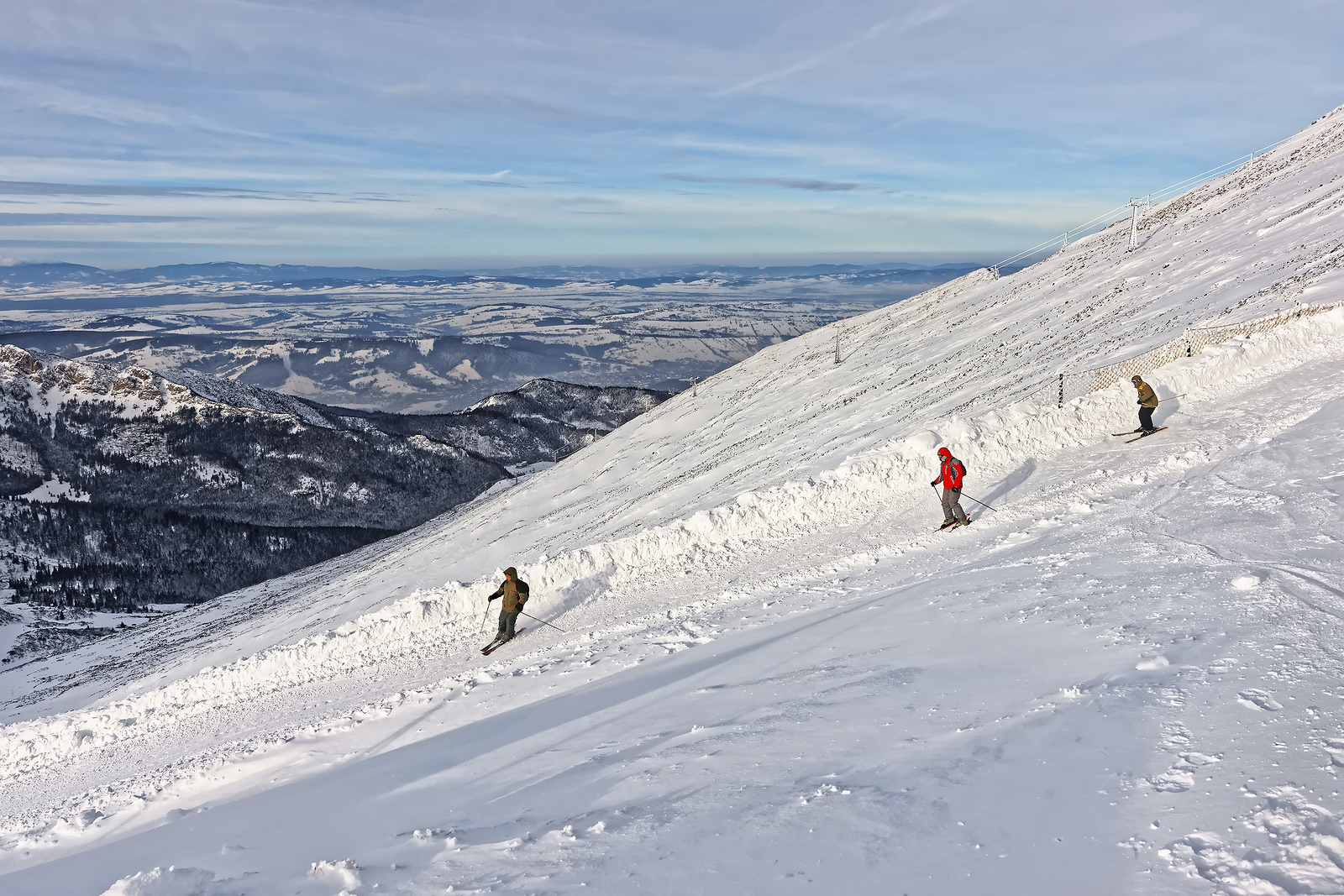 Poland
Poles are crazy about ski jumping, and Zakopane is the country's ski jumping capital. Competitions are held all winter, the highest calibre being the World Cup event which takes place at the end of January. Alas, when it comes to more conventional skiing, you will almost certainly leave Poland with the impression that it could be fantastic, if only they could get their act together. Zakopane in the Tatras is a good base for exploring a number of different ski areas, of which the closest (and biggest) are Kasprowy Wierch and Gubałówka, on either side of the town centre. The two areas are not connected however, and despite the recent installation of new chair-lifts, the crowds and lift queues remain the stuff of legend. Zakopane does have plenty to offer away from the slopes, however, including great food and drink, and for groups and families including non-skiers, it's a superb choice.
Romania
Poiana Brasov (which in the 1950s went by the unfortunate name of Poiana Stalin) has been welcoming skiers for more than 70 years, Sinaia longer than that. Both resorts (neither of which is more than two and a half hours from Bucharest) offer a small yet decent amount of skiing: 25km at Poiana and 40km at Sinaia. Both resorts have seen much investment in recent years, and have upgraded their lift systems. The only real downside is cost (lift passes are relatively expensive for this part of the world) and unreliable snow cover (Romania, contrary to popular belief, has very dry winters). Both resorts are also susceptible to long queues, and on holiday weekends the main road linking the Romanian capital to the mountains can resemble a giant car park. To get the best out of skiing in Romania take a day or two during the week just after a heavy snowfall: you will have the slopes to yourself. Better still, combine a day's skiing with a visit to the wonderful Transylvanian city of Brasov, not 20 minutes from Poiana Brasov.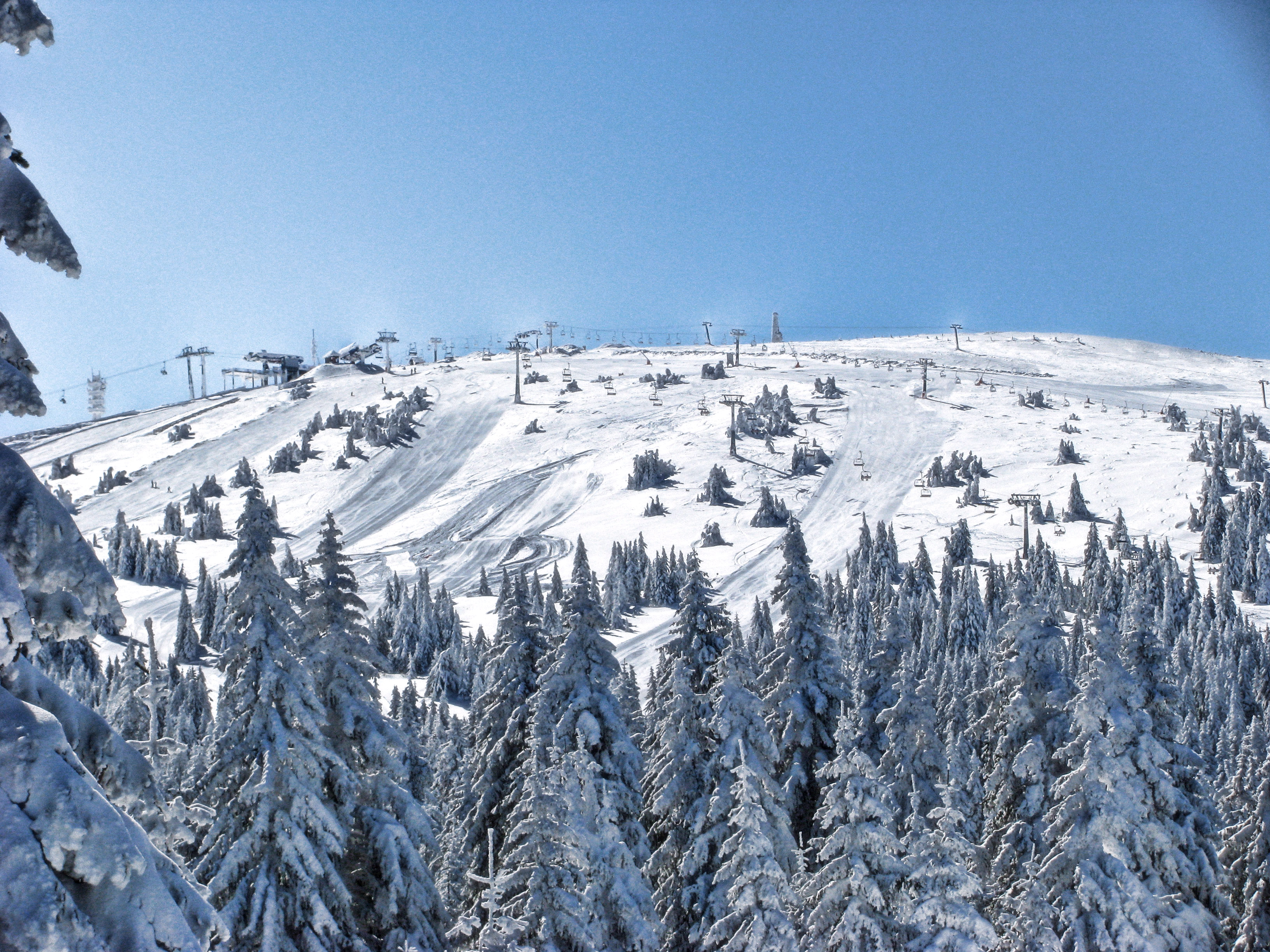 Serbia
Kopaonik, on the border of Serbia and Kosovo, offers 55km of tree-lined pistes. Runs are quite short but good fun, and there are few crowds: the resort is very well designed and the lift system, which has seen investment in recent years, including a new six-seat chair-lift, keeps queues to a minimum. The highest slope barely tops 2000 metres, but snow cover is usually guaranteed until the end of March. Accommodation is good value, and there is plenty to choose from. Access, however, is a problem: it's almost five hours from Belgrade, longer from Podgorica. Prishtina is in theory far closer, but as you are not allowed to cross the border directly from Kosovo to Serbia, you need to go via Montenegro.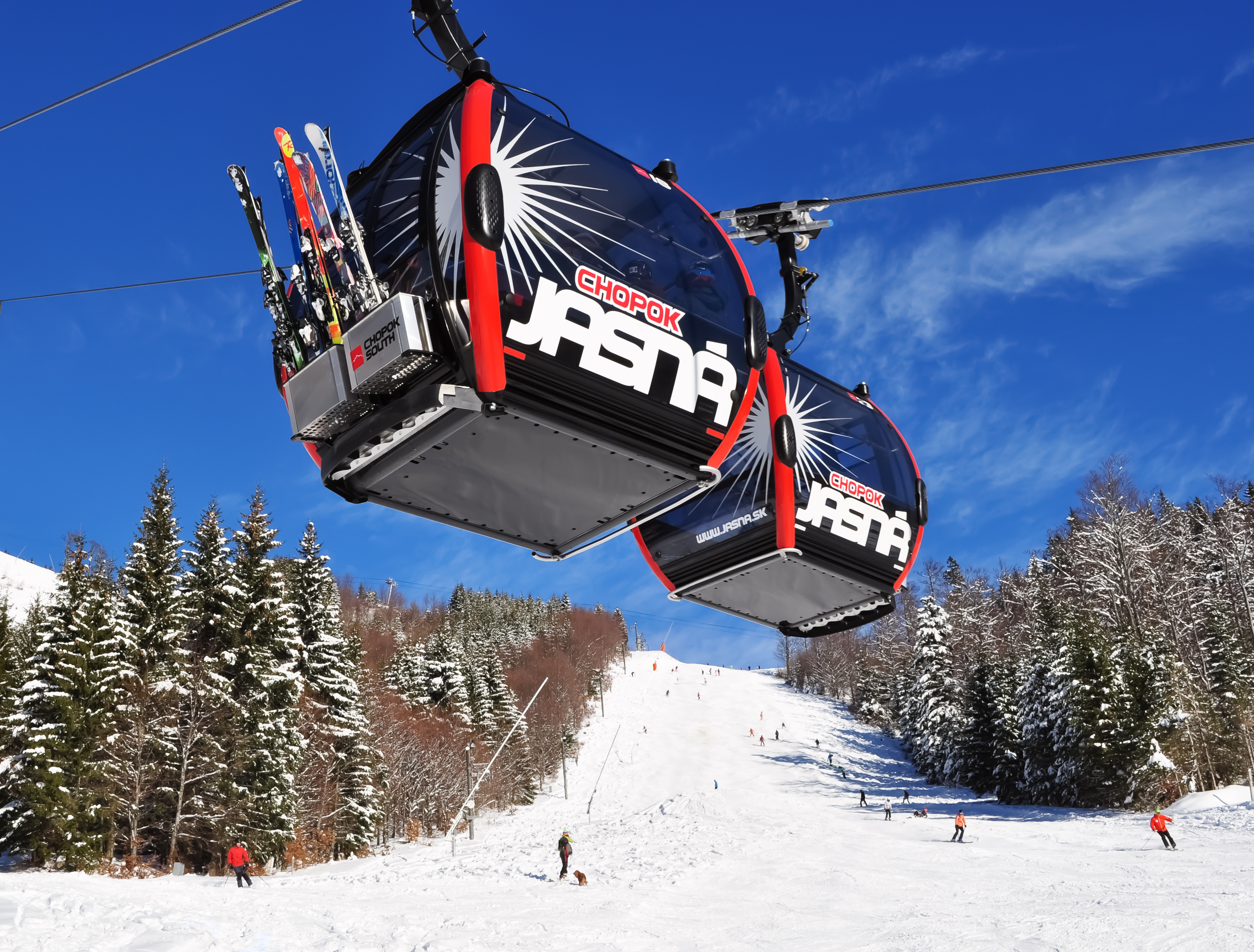 Slovakia
Slovakia over the past few years has made giant strides towards becoming a serious destination for skiers. Resorts are dotted across the High and Low Tatra mountains, my pick of which is Tatranska Lomnica north of Poprad, and Jasna to the south. Jasna is the largest resort in the country and offers some very good skiing, but the lift pass is pricey and it can get very crowded at weekends. While the skiing at Tatranska Lomnica is not as extensive, it's a more relaxed resort and a great weekend destination. It's also home to probably the most difficult ski terrain in the country. The surrounding villages are packed with cabins and bed and breakfasts, all offering great homemade food amidst some of the most superb forests emerging Europe has to offer. Slovakia also remains hugely keen on cross-country skiing: just about every village has a groomed track.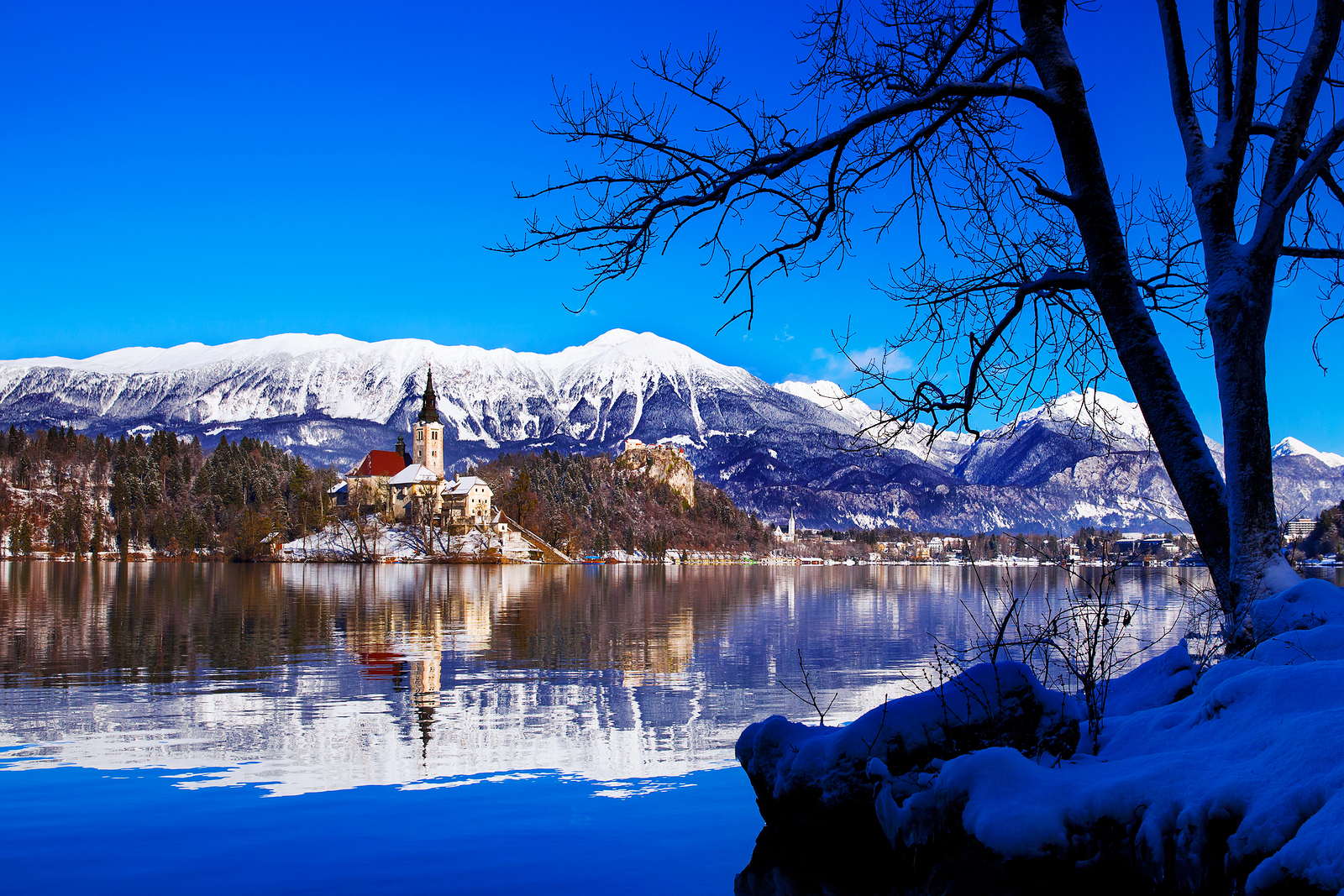 Slovenia
As locals will be the first to point out, you don't merely come skiing in Slovenia, you come for a whole winter experience. After all, if there is a more picture postcard perfect place on earth than Lake Bled when covered in ice and snow, then I have yet to see it. Kranjska Gora is the country's best-known, and largest resort, famous for the slalom World Cup races held here each year and superb cross-country tracks. In my opinion however, there is far better (and less crowded) skiing to be had at the other ski centres in the country, particularly at Vogel near Bohinjska Bistrica and Slovenia's highest resort, Kanin, which now has direct access from the town of Bovec on the other side of the Triglav National Park. This being Slovenia, no resort (with the exception of Bovec) is much more than an hour's drive from Ljubljana.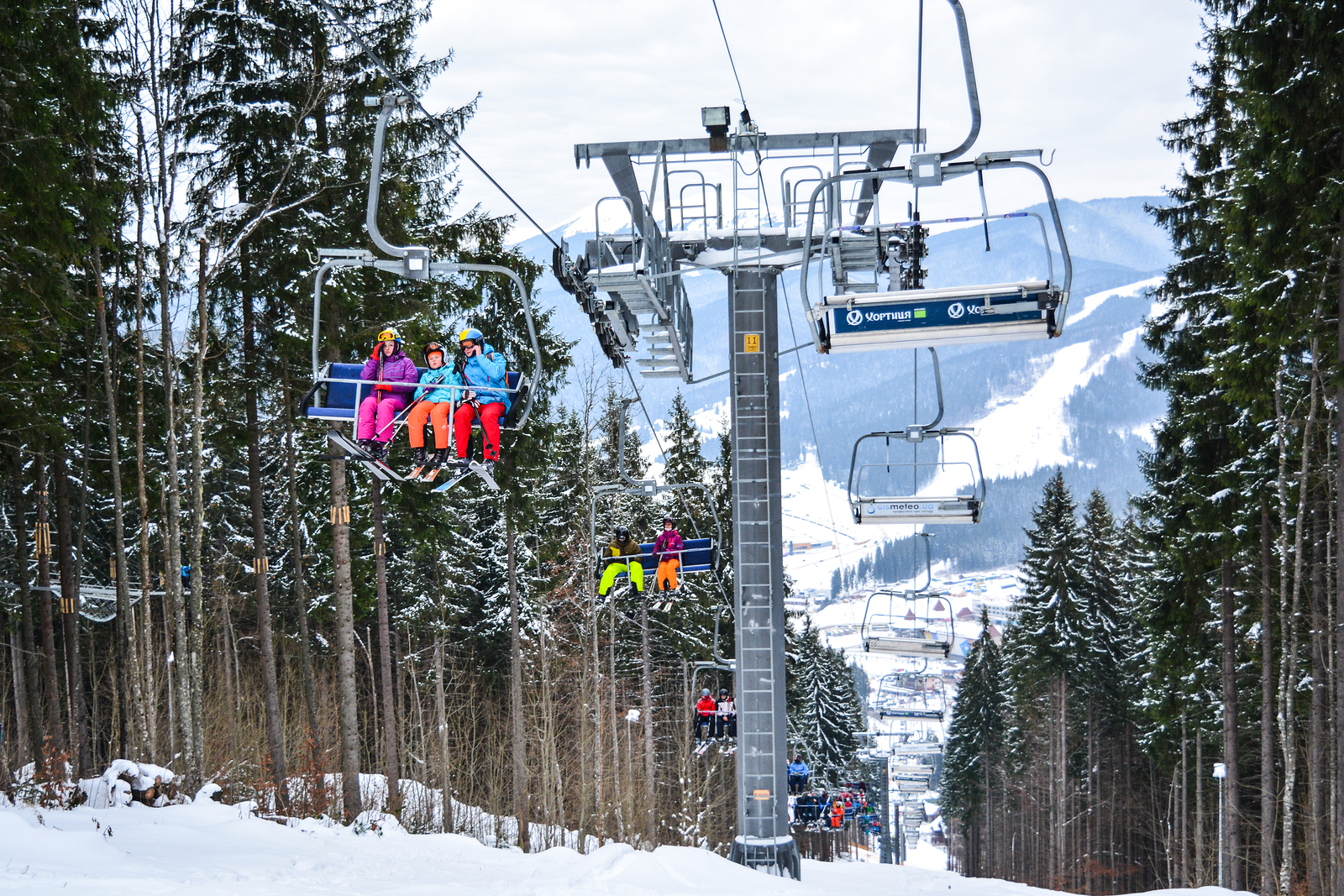 Ukraine
One of the best-kept secrets on the emerging Europe ski-circuit is the almost immaculate resort of Bukovel. There are more than 60km of pistes, and while the resort's elevation is not the highest (the top lift reaches a modest 1372 metres) the resort's latitude makes it one of the most snow-sure in the whole region. What's more, all the slopes – most of which are tree-lined and sheltered from the elements – are equipped with snow cannons for when nature fails to supply enough of the white stuff. There is a good range of accommodation, and prices are very cheap. Now the bad news. One of the reasons Bukovel has remained something of a secret is its inaccessibility. It is more than four and a half hours drive from the nearest international airport, Lviv, and the roads in this part of world are not the best. Should the airport at Ivano-Frankivsk (less than two hours from Bukovel) open up to international flights (it currently only serves domestic flights from Kyiv) expect skiing in Ukraine to take off.