A creatively apt series of self-portraits, providing an intimate insight into life with depression, has won the Moscow-based Uzbek artist Arseniy Neskhodimov the 2020 Wellcome Photography Prize. The series, titled Prozac, is a powerful portrayal of his experience, that avoids stereotypes and clichés.
Born in 1981, Neskhodimov says he has been prone to depression since the age of 20. Finding antidepressants unhelpful, he decided to get out of Moscow and find somewhere he could be happier, chronicling his own experiences. But the depression followed him.
People imagine that depression is like ordinary unhappiness, only more so. It isn't. And the things we typically do to cheer ourselves up can't be relied on as treatments. Neskhodimov tried a change of scene to get away from his troubles, but to no avail. He now thinks depression has to be understood and treated as an illness, although he isn't sure how.
Like many people living with depression Neskhodimov was prescribed Prozac. After deciding it wasn't for him he turned to photography to translate his first-hand experience into something others can relate to.
"What I am trying to depict is that wherever I go I cannot find the perfect place to be happy because such a place doesn't exist. I have tried to visualise my perception of depression and this somehow allows me to move forward," he says.
"My self-portrait stories are a kind of therapy that help me fight off the attacks of despair and loss of meaning, especially in this difficult pandemic time," Neskhodimov explains. "I've been trapped at home out of a job for three months and the only thing that brings some sense into my life is to keep taking pictures."
In one photo, taken in his parents' basement, Neskhodimov lies buried under a pile of Christmas trees that were briefly admired but then thrown away, no longer wanted. This is how the new year begins for them – with all the potential of their life wasted.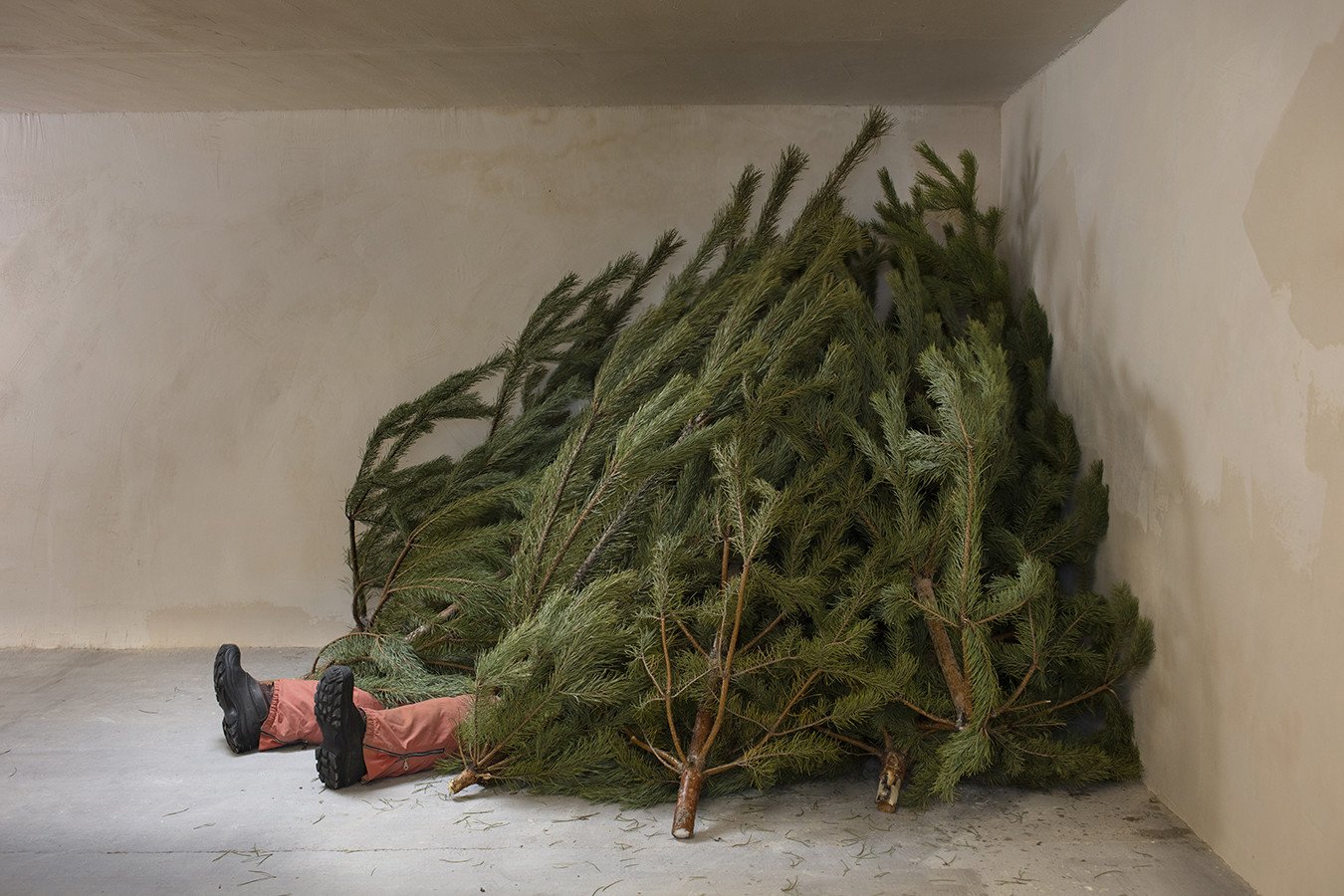 In another, he takes a swim in the sea at Sharm El Sheikh. He is afraid of deep water, worried that sharks might eat him, but the picture proves there is nothing around to pose a threat. Nonetheless, the doubt and the darkness still surround him.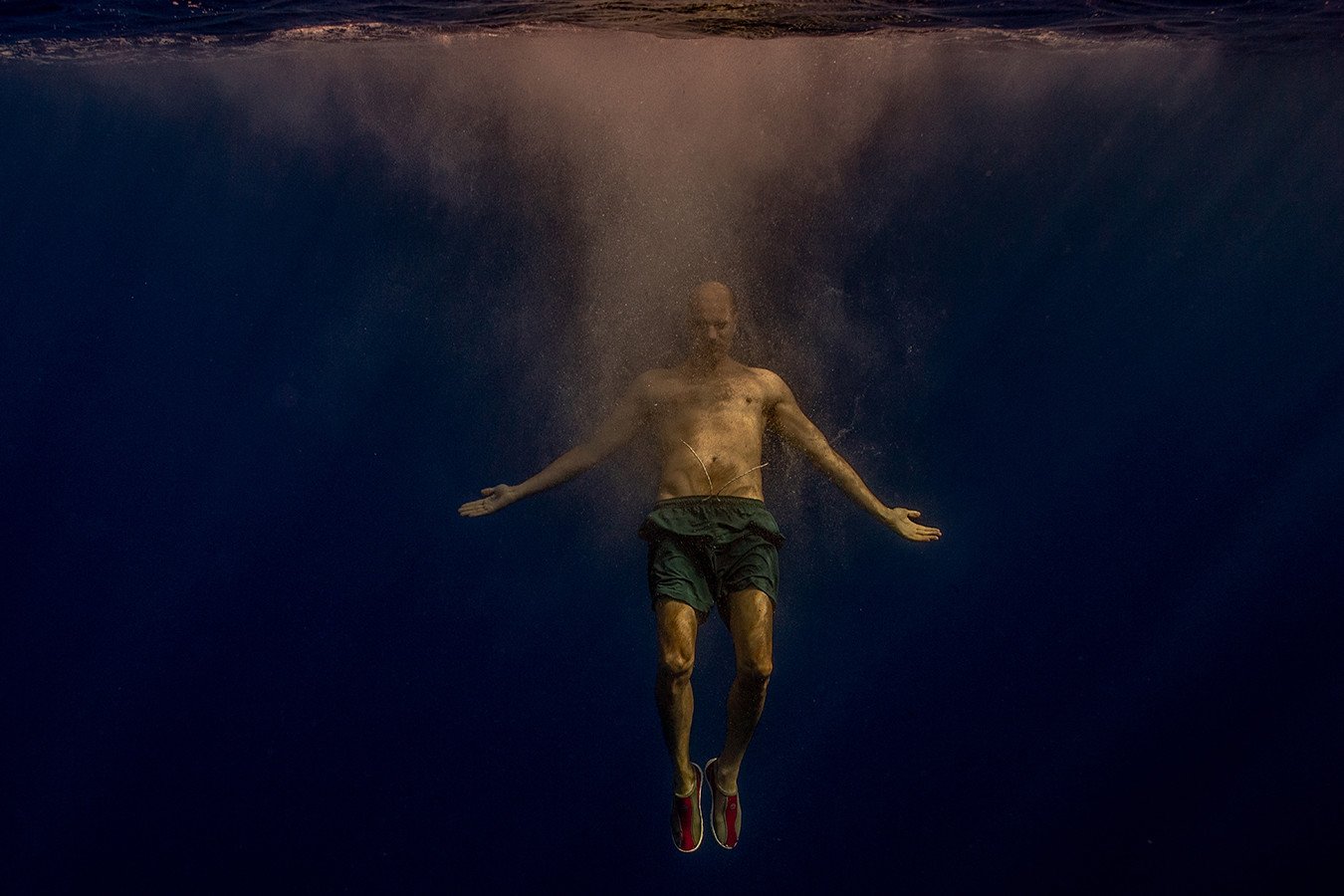 Neskhodimov's winning photos were selected from 25 shortlisted entries that tell provocative visual stories about the health challenges of our time. Besides being named overall winner, for which he receives a 15,000 UK pounds prize, he was also the winner in the mental health category, which comes with a 1,250 UK pounds prize.
John Moe, a writer and Wellcome Photography Prize judge, said: "It appealed to me as somebody who has written a book about depression and hosted a show about depression for years, but can still not really define it… Where I've struggled with words I can now point to some of these photos and say 'Oh depression, it's this guy in this room.'"
The series was also praised by Wellcome's Miranda Wolpert for highlighting "the complexity of both emotions and coping mechanisms underpinning each person's journey with their mental health. Neskhodimov's visually arresting series manages to convey both the ongoing pain he experiences and the strategies to cope – including humour and creativity."
Jeremy Farrar, director of Wellcome and chair of the judges' panel, added: "Unfortunately mental health is still in the shadows despite being a subject that we're all touched by, whether directly or through our friends and family. When subjects stay in the shadows they remain stigmatised, but by bringing them out into the open this power is lost – helping reinforce it is normal and we can talk about it."
—
Top photo: Self-Portrait in Hotel Rauf, Sharm El Sheikh. All photos by Arseniy Neskhodimov.
—
Unlike many news and information platforms, Emerging Europe is free to read, and always will be. There is no paywall here. We are independent, not affiliated with nor representing any political party or business organisation. We want the very best for emerging Europe, nothing more, nothing less. Your support will help us continue to spread the word about this amazing region.
You can contribute here. Thank you.