A digital mindset will be crucial to helping SMEs recover from the international trade slump caused by Covid-19. Governments will need to play their role too.
Just how much will the economic crisis affect exports from emerging Europe this year? A great deal, according to a recent Focus Economics Consensus Forecast.
The forecast predicts exports from the 23 countries of the region to decrease 14.25 per cent, although some will be worse hit than others. The 11 CEE-EU countries will see a 10.6 per cent drop, while Armenia, Belarus and Azerbaijan look set to be hardest hit with 15.5, 18.7 and 26.2 per cent reductions in exports respectively.
"The current Covid-19 economic crisis will certainly have a significant effect on international trade: according to the IMF, it is expected to shrink by some 10 per cent in 2020," says Dionizy Smoleń, director in the public sector team at PwC Poland.
"Nonetheless, we believe there is a real opportunity for an upturn in international trade growth in the coming years if organisations seize the opportunities for transformation. E-commerce presents a major channel for recovery and even increasing trade flows during the pandemic. According to data from eMarketer, the global online shopping market is expected to grow by 16.5 per cent in 2020."
Going online
Trade shows have been essential sales and communication tools all over the world for many centuries. Whereas around 20 per cent of German companies exhibited goods abroad 15 years ago, the figure is now twice as high. However, 2020 has seen the mass cancellation of trade fairs. In a good year, such events generate 28 billion euros in revenue for convention centres, hotels, restaurants, airlines and other service providers in Germany, which has four of the world's ten largest venues.
This year, revenues have dropped by two-thirds.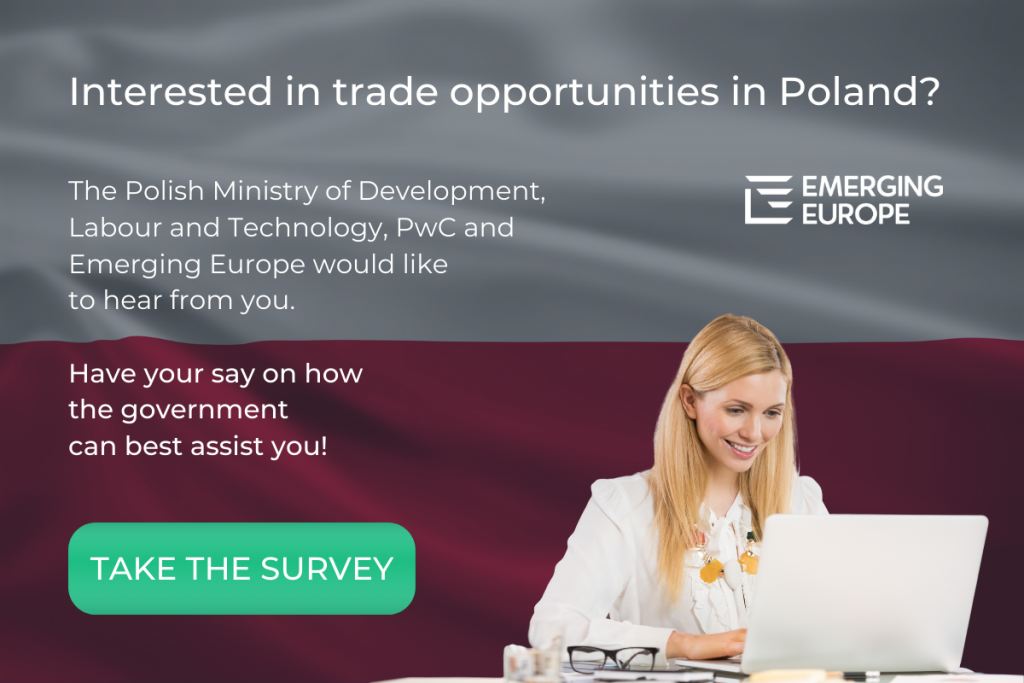 Rafał Glazik, financial manager at the Gdańsk International Fair Co., says that the uncertainty related to planning – not only in the event industry but in general – does not help businesses operate and has forced organisers move some of their events online.
"Not being confident that an event will – or will not – take place at a given time, sudden changes connected with new restrictions, rescheduling, are challenging," he tells Emerging Europe. "Another challenge is to find a quality and well-priced tool that will guarantee a high-quality fair. There is still room for improvement here: prices vary from a few thousand to a few hundred thousand euros and unfortunately not many providers can prove their experience and guarantee quality."
We are yet to see how this will affect the future of trade fairs. According to the ifo Institute, even after Covid-19, trade fair companies will have to prepare for business to be more difficult. Almost 40 per cent of the German industrial companies that have exhibited at trade fairs in the past intend to reduce their participation in such events.
Permanent trends?
For small and midsize companies (SMEs), trade fairs have been a window on the world. They could be, however, complemented by digital solutions. According to a Facebook and Small Business Roundtable survey run among 86,000 small businesses in the United States, 51 per cent of businesses increased online interactions with their clients to adapt to the crisis.
Also, 36 per cent of self-employed personal businesses that use online tools report that they are conducting all their sales online, and 35 per cent of businesses say that have changed operations to expand the use of digital payments.
A survey in Hungary, released in June, indicated that while 24 per cent of small and medium firms intend to return to their pre-Covid business method, as many as 41 per cent would rather continue with the business model developed during the pandemic.
"Access to knowledge and relevant information is also the key to helping companies find their niche on foreign markets and start exporting," says Paweł Oleszczuk, manager in the public sector team at PwC Poland. "During the pandemic, more than ever we can see an increase in different trade promotion events being organised digitally, thus enabling the participation of a number of companies that in the past were not able to take part. Online events such as webinars, trade fairs and conferences will be important to helping companies find their way to economic recovery in the future and should be widely promoted through means such as business portals."
Governments taking the lead
Governments play a major role in helping SMEs and this role starts by realising the importance of their digitalisation for economic growth, job creation and productivity.
Incorporating SME digitalisation should be high on the policy agenda as they are a powerful game changer for the economy. It enables SMEs to transform and compete on a larger scale and reach global markets by doing business online.
"The last three quarters have shown that the role of trade and investment promotion agencies (IPAs) has never been more important. With a mass cancellation of international trade and investment-related events, they need to find innovative ways of providing businesses with reliable and up-to-date information about business opportunities," Peter Ryan, principal at Ryan Strategic Advisory, tells Emerging Europe.
"Those that did this well were agencies that embraced digital channels to communicate seamlessly with those firms already on the ground, while luring new ones with a well-rounded value proposition."
Emerging Europe's investment promotion research, published in June, showed that amidst the spring lockdown, only about 40 per cent of websites run by investment promotion agencies across the 23 emerging Europe countries provided some information and guidance about IPA support during the pandemic
Only two agencies offered additional innovative technology solutions to support investors during the Covid-19 crisis.
—
Unlike many news and information platforms, Emerging Europe is free to read, and always will be. There is no paywall here. We are independent, not affiliated with nor representing any political party or business organisation. We want the very best for emerging Europe, nothing more, nothing less. Your support will help us continue to spread the word about this amazing region.
You can contribute here. Thank you.