Catch up quickly with the stories from Central and Eastern Europe that matter.
---
Russia's war on Ukraine
Britain this week accused Russia of plotting to sabotage civilian tankers loaded with Ukrainian grain by planting sea mines on the approaches to the country's Black Sea ports.
Based on what it said was declassified intelligence, the UK said Russia did not want to directly attack merchant ships using Ukraine's newly created humanitarian corridor with missiles, but instead try to destroy them covertly.
Russia would then seek to blame Ukraine for the loss of any shipping in an attempt to evade responsibility, the British Foreign Office continued, and the UK said it was going public in order to deter Moscow from carrying out the plan.
James Cleverly, the UK foreign secretary, accused Russia of the "pernicious targeting" of civilian shipping: "The world is watching – and we see right through Russia's cynical attempts to lay blame on Ukraine for their attacks."
Merchant ships carrying Ukrainian grain for export have been under threat since July, when Russia pulled out of a year-long initiative designed to safeguard food exports despite the war between the two countries.
A Russian attack on a village in the north-east of Ukraine killed 48 people on Thursday and injured at least six more.
The presidential chief of staff, Andriy Yermak, and Kharkiv governor, Oleh Syniehubov, said Russian forces shelled a shop and a cafe in the village of Hroza in the Kharkiv region at about 1pm, the Associated Press reported.
A six-year-old boy was among those killed in the attack, Syniehubov said, and one child was also among the wounded.
Local sources say the cafe was crowded because a memorial lunch was being held for a villager who recently died.
On Thursday, it was reported that Russia has signed a deal for a permanent naval base on the Black Sea coast of the breakaway Georgian region of Abkhazia.
Russia's Black Sea Fleet, based in Sevastopol on the Crimean peninsula, which Moscow annexed from Ukraine in 2014, has been repeatedly targeted by Ukrainian forces since the 2022 Russian invasion of Ukraine.
Aslan Bzhania, the self-styled president of Russian-backed Abkhazia, said an agreement had been signed for a permanent naval base in the Ochamchira region.
"This is all aimed at increasing the level of defence capability of both Russia and Abkhazia, and this kind of interaction will continue," said Bzhania, who met Vladimir Putin on Wednesday.
Western military powers are running out of ammunition to give Ukraine to defend itself against Russia's full-scale invasion, the UK and NATO have warned.
Admiral Rob Bauer, NATO's most senior military official, told the Warsaw Security Forum on Wednesday that "the bottom of the barrel is now visible". He said governments and defence manufacturers now had to "ramp up production in a much higher tempo". Ukraine fires thousands of shells every day and most now come from NATO.
The admiral, who chairs NATO's Military Committee, said decades of underinvestment meant NATO countries had begun supplying Ukraine with weapons with their ammunition warehouse already half-full or even emptier.
"We need large volumes. The just-in-time, just-enough economy we built together in 30 years in our liberal economies is fine for a lot of things – but not the armed forces when there is a war ongoing."
UK Defence Minister James Heappey told the forum that Western military stockpiles were "looking a bit thin" and urged NATO allies to spend two per cent of their national wealth on defence, as they had committed to do.
Ukraine, Poland and Lithuania agreed on a plan they hope will help expedite Ukrainian grain exports, officials said on Tuesday, with needy countries beyond Europe potentially benefitting from speedier procedures.
The deal means that grain inspections will shift from the Ukraine-Poland border to a Lithuanian port on the Baltic Sea, according to a statement from the Ukrainian farm ministry.
The move seeks to facilitate the transit of Ukrainian exports through Polish territory, the statement said, without providing further details.
From the Lithuanian port of Klaipeda, where the inspections for pests and plant diseases will take place from Wednesday, the grain can be exported by sea around the world.
While the stated goal is to hasten Ukrainian grain exports, the agreement may also help defuse tensions over grain prices between Ukraine and Poland a time when some international support for Kyiv's efforts to throw back Russia's invasion may be fraying.
---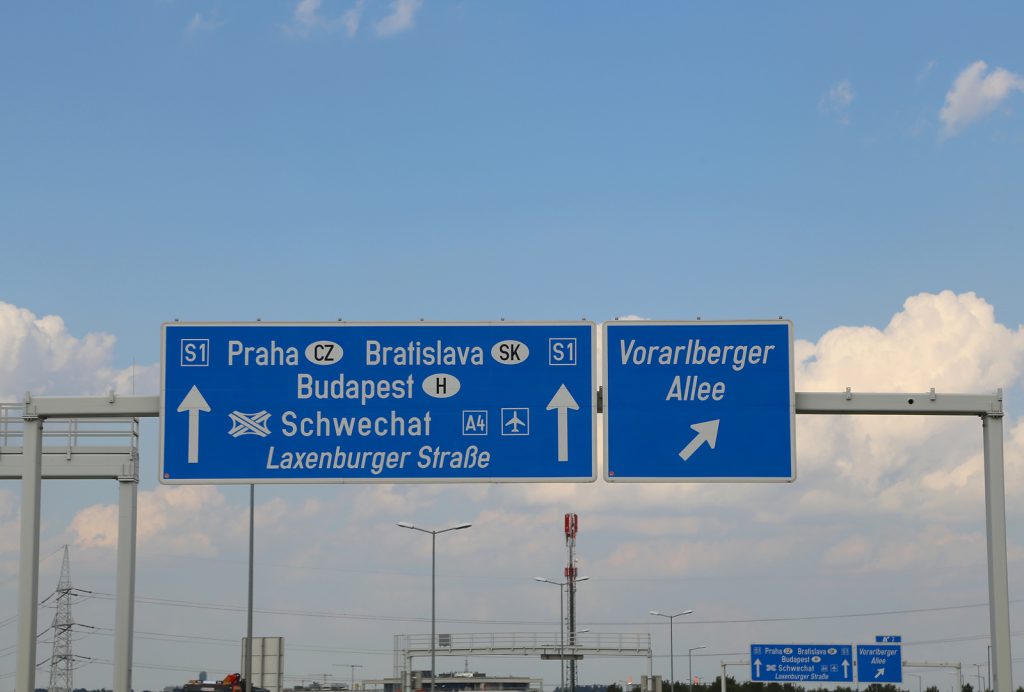 A road sign on Austria's border with Slovakia
---
Other news from the region
Europe's Socialists are under mounting pressure to boot out Robert Fico, who is poised to return to power in Slovakia after his Smer party won last weekend's election on an anti-Ukraine ticket. Fico, who is in poll position to form a coalition government, was booted out of government amid an anti-corruption uprising in 2018 but has now surged to victory by proposing to end military support to its neighbour Ukraine and criticising the EU's sanctions on Russia, setting off alarm bells in Kyiv and Brussels.
Four ex-leaders Nagorno-Karabakh have been detained by Azerbaijan's State Security Service and taken to the capital Baku, it was reported on Tuesday. However, three other former leaders of Karabakh have reportedly arrived safely in Armenia. Azerbaijan took control of Nagorno-Karabakh after three decades in a lightning military operation on September 20, and vowed to prosecute the "criminal" separatist leadership. Almost all of the 120,000 or so inhabitants of Karabakh have since fled to Armenia.
The European Commission is preparing to release billions of euros in EU funds to Hungary currently frozen because of rule of law concerns, in a move that could secure Budapest's support for an increase to the bloc's budget and significant financial assistance to Ukraine. Releasing the funds, which have been frozen since last December, would mark a victory for Prime Minister Viktor Orbán, who has vowed not to agree to any increase in the EU budget until Hungary's access to it is restored.
Czechia and Austria said on Tuesday that they are temporarily reintroducing checks along their borders with Slovakia in an effort to stem a flow of migrants. In separate announcements, both countries said that the measure will become effective on Wednesday and remain in place for 10 days initially. Austrian Interior Minister Gerhard Karner said at a hastily arranged press statement that the aim is to prevent smugglers from using alternative routes, the Austria Press Agency reported.
Poland must clarify allegations that its consulates in Africa and Asia sold temporary work visas to migrants for thousands of dollars each in a scheme that could undermine free travel in Europe, a senior European Union official said on Tuesday. European Commission Vice-President Margaritis Schinas said that, "If third-country nationals have been allowed the right of free movement within Schengen, without respecting the appropriate conditions and procedures, this would amount to a violation of EU law, in particular the EU visa code."
A Belgrade court on Tuesday ordered the release of Milan Radoičić, the top official of the main ethnic Serb political party in Kosovo, who had been detained in Serbia a day earlier for his involvement in a deadly confrontation with Kosovar police late last month. Radoičić was detained on Monday after he admitted to organising and participating in the events that sparked a shoot-out at an Orthodox monastery in Kosovo that left four people dead.
The Bulgarian government this week promised coal workers—who have been blocking roads in protest—that it would not take any administrative decisions to close coal-fired power stations until 2038, leaving the matter entirely to the free market. "These coal-fired power plants, regardless of whether they are state-owned or private, will have the freedom to operate freely (until 2038), and the market will decide whether they will remain in operation," Prime Minister Nikolay Denkov said.
Hungarian scientist Katalin Kariko and US colleague Drew Weissman, who met in line for a photocopier before making mRNA molecule discoveries that paved the way for Covid-19 vaccines, won the 2023 Nobel Prize for Medicine on Monday. "The laureates contributed to the unprecedented rate of vaccine development during one of the greatest threats to human health in modern times," the Swedish award-giving body said in the latest accolade for the pair.
---
Unlike many news and information platforms, Emerging Europe is free to read, and always will be. There is no paywall here. We are independent, not affiliated with nor representing any political party or business organisation. We want the very best for emerging Europe, nothing more, nothing less. Your support will help us continue to spread the word about this amazing region.
You can contribute here. Thank you.

---