Catch up quickly with the stories from Central and Eastern Europe that matter.
---
Russia's war on Ukraine
Ukrainian President Volodymyr Zelensky made a surprise visit to NATO headquarters on Wednesday, urging the military alliance to maintain its flow of weapons to his country for its war against Russia, even as much of the West turns its attention to the brutal outbreak of violence in Israel.
Top NATO officials sought to reassure Zelensky, pledging more than two billion US dollars in additional military aid to be delivered before Ukraine's winter sets in. Zelensky's visit to the military alliance's headquarters in Brussels was a stark reminder of the 19-month-old conflict on NATO's doorstep, amid concerns that the war in Israel, which broke out this past weekend, could eventually divert resources from Ukraine.
Zelensky said that he was counting on Ukraine's strong relations with the United States and the European Union to ensure that assistance to his country would continue. Still, he urged nations to rally behind the Israeli people, and compared the assault by Hamas to Russia's invasion of Ukraine.
Earlier in the week, Zelensky replaced the commander of Ukraine's Territorial Defence Forces, which have played an important role in helping defend the country since Russia's invasion.
Part of the armed forces, the Territorial Defence Forces' roles include protection of critical facilities, combating sabotage and enemy intelligence forces, and maintaining security in Ukraine. They must also ensure defence while the full deployment of the main armed forces is under way.
General Ihor Tantsyura, who had been in the post since May 2022, was removed and replaced with Major General Anatoliy Barhylevych, who since last year has been serving as chief of staff of troops in eastern Ukraine. No reason was given for the decision.
Turkey, Romania and Bulgaria are discussing the creation of a joint force to clear any mines that drift into their waters from Russia's war against Ukraine, according to three officials familiar with the talks.
The three NATO members are still working out the details but may set up the unit as early as next month. Zelensky called on Tuesday for steps to ensure Russia does not turn the Black Sea into a "dead zone" for shipping after Moscow quit a United Nations-brokered deal allowing safe Ukrainian grain exports.
Since the collapse of that deal, Ukraine has used its Danube ports of Reni and Izmayil on the border with Romania to ship food to the Romanian Black Sea port of Constanta.
However, on Thursday, Ukrainian authorities said a fresh wave of Russian drone strikes on Danube port installations critical for Kyiv's grain export caused damage and injuries, as Romania urged Russia to stop its attacks after again finding debris on its territory near the border with Ukraine.
---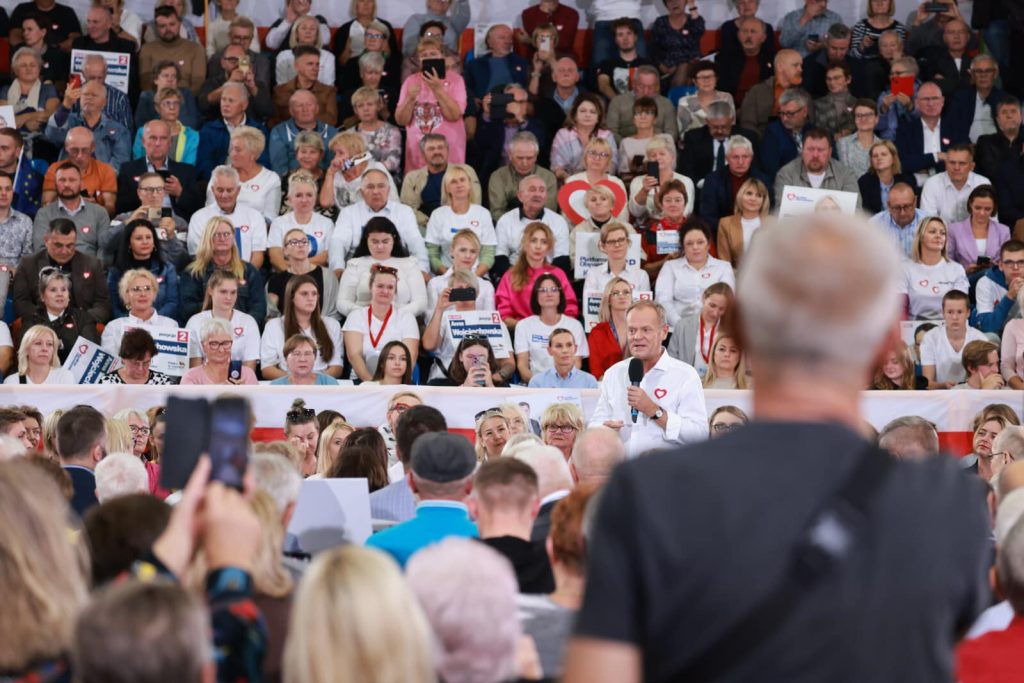 Donald Tusk campaigns ahead of Poland's election. Photo: Donald Tusk official Facebook page.
---
Other news from the region
Poland votes in a parliamentary election on Sunday with the ruling Law and Justice (PiS) party, seeking a third term in office, holding a small lead in polls over the opposition Civic Coalition. However, neither PiS, polling on around 34 per cent, nor the Civic Coalition, on 31 per cent, will be able to govern alone. For PiS, the most likely coalition partner is the far-right Confederation party, while Civic Coalition would need to bring together the centrist Third Way party with the Left party. An inconclusive vote, and a repeat election, is a real possibility.
Slovakia's populist former prime minister, Robert Fico, has said he has reached agreement with Hlas, a moderate breakaway party from his own Smer-SD party, and the ultra-nationalist Slovak National party (SNS) to form a three-party coalition government that could return him to office for a fourth time. The new government is expected to scale back support for Ukraine in line with Fico's campaign pledges to halt military aid to Slovakia's eastern neighbour, and to move the country closer to Hungary in a further regional shift away from political liberalism.
NATO will discuss damage to a gas pipeline and data cable running between member states Finland and Estonia, and will mount a "determined" response if a deliberate attack is proven, NATO Secretary General Jens Stoltenberg said on Wednesday. Damage to the Balticconnector pipeline and telecommunications cable was confirmed on Tuesday after one of the two pipeline operators, Finland's Gasgrid, noted a drop in pressure and possible leak on Sunday night during a storm.
President Aslan Bzhaniya of the Georgian breakaway region of Abkhazia has announced that Russia will establish a naval base in Ochamchira 'in the near future'. Bzhaniya said that Sukhumi had reached an agreement with Moscow to establish the base to increase the defensive capabilities of both Russia and Abkhazia and that he had discussed with Putin the possibility of Abkhazia joining the Union State, a supranational union between Russia and Belarus.
Kosovo's minister of economy said the government will not continue allocating state money to cover energy bills in the Serb-majority north, where consumers have not paid for their electricity since the war ended. The electricity bills for the Serb municipalities of North Mitrovica, Leposavic, Zvecan, and Zubin Potok, were included in the electricity bills of all Kosovo citizens until 2017, when the Kosovo Constitutional Court ruled that it was a human rights violation. Since then, the bills were paid by the Kosovo government to the cost of around 12 million euros a year.
Seven of Serbia's opposition parties sent a letter to EU diplomacy chief Joseph Borell saying the EU should not impose sanctions on Serbia for a September 24 armed incident in northern Kosovo but on Serbian president Aleksandar Vučić. Vučić has denounced the calls for the EU to sanction him and his associates, calling the move unheard-of and a sign of its defeatism. "They wrote to someone to impose sanctions against the leader of their country because they cannot beat him in any other way," Vučić said on Wednesday evening.
Azerbaijan and Iran have laid the foundation for a Baku-financed transit route connecting eastern Azerbaijan with its exclave of Nakhchivan through Iran in a groundbreaking ceremony for a bridge connecting the two countries over the River Aras. Iran's Minister of Roads and Urban Development, Mehrdad Bazrpash, announced that Azerbaijan and Iran would establish a border crossing near the abandoned town of Aghband, close to the point in which the borders of Iran, Azerbaijan, and Armenia meet and that Azerbaijan's embassy now-closed in Tehran could resume its work soon
Greece is threatening to hold up Albania's progress towards European Union membership, in the latest development in a row over the imprisonment of an ethnic Greek mayoral candidate in Himare, a town of fewer than 10,000 on the Adriatic coast with a large ethnic Greek cohort. Fredi Beleri was elected mayor while in prison, but has not been sworn in because Albania's courts have turned down five applications to release him or to allow him to be sworn in while imprisoned. Beleri, who won by just 19 votes, is accused of buying eight of them.
Hungarian banks are introducing an interest cap on mortgages in response to government pressure that represents the latest intrusion on monetary policy. OTP Bank, Hungary's largest lender, on Monday started offering mortgages with a maximum interest of 8.5 per cent, significantly lower than the 13 per cent base interest rate. The government has urged lenders to do more to spur a recovery from a year-long recession or else face the prospect of higher taxes.
Uzbekistan Railways this week signed a contract worth 320 million euros with Škoda Group for the supply of 30 four-car broad-gauge electric trains—similar to those supplied to Estonia and Latvia and with onboard WiFi, ergonomic seating, and air conditioning—at Škoda's headquarters in Pilsen, Czechia. Production of the trains will take place at Škoda's plant in Ostrava with partial assembly taking place in Uzbekistan with financing from Czech banks and the national Export Guarantee and Insurance Corporation (EGAP).
---
Main photo: Volodymyr Zelensky is greeted by Jens Stoltenberg at NATO HQ on Wednesday. © NATO.
---
Unlike many news and information platforms, Emerging Europe is free to read, and always will be. There is no paywall here. We are independent, not affiliated with nor representing any political party or business organisation. We want the very best for emerging Europe, nothing more, nothing less. Your support will help us continue to spread the word about this amazing region.
You can contribute here. Thank you.

---