"Craftsmanship may suggest a way of life that waned with the advent of industrial society – but this is misleading. Craftsmanship names an enduring, basic human impulse, the desire to do a job well for its own sake. Craftsmanship cuts a far wider swathe than unskilled manual labor: parenting improves when it is practiced as a skilled craft, as does citizenship." So writes Richard Sennet in his book The Craftsman, in which he underlines the natural instinct for humans to carry out skilled manual labour, whether they are doctors, lawyers or computer programmers.
While appearances may suggest that handicrafts are dying out, as a consequence of globalisation and technological development, in a world where stores and shopping malls offer the same things everywhere: the same clothes, the same shoes, the same smells, in a well-defined niche, a renaissance of craftwork is taking place.
"Artistic craftsmanship, by combining the senses of taste, beauty and dexterity, nourishes the creative industry that is a growing, energising and driving factor in the development of local economies in some of the most advanced urban areas in Europe," writes Giovanni Bettarini of the European Union's Innocraft project.
"It is of fundamental importance to keep crafts rooted in a network of city workshops and develop their multiple interactions with quality trade and tourism," he adds.
Christmas fairs and weekend markets are open-air exhibitions of what countries can offer when it comes to local products. And young people are fighting for the survival of this art.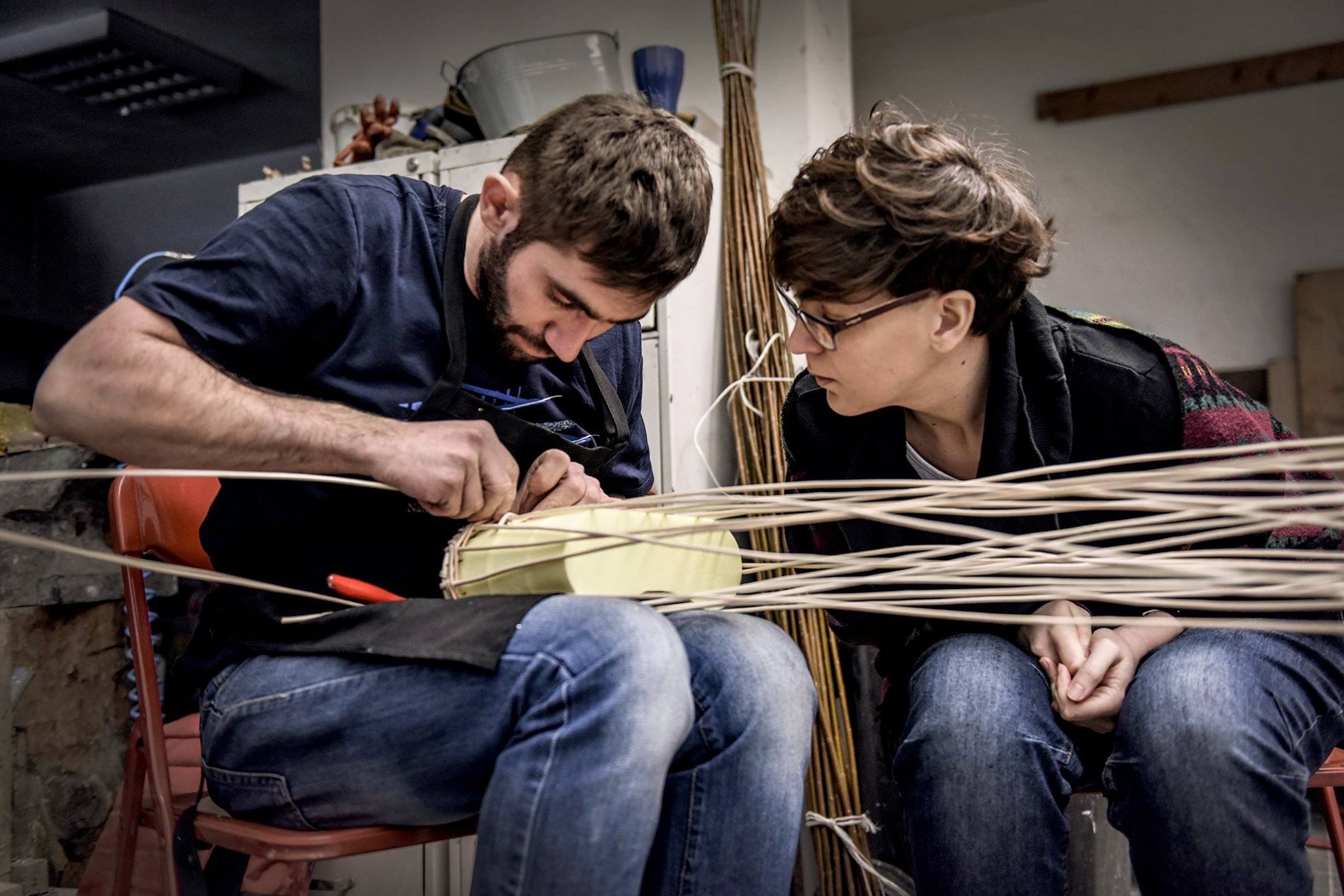 Basketry is last to die
"Serfenta exists so that basketry can live" is the motto of the Polish Serfenta association, founded in 2009 by a group of young people who care about the craft, the skills and the connections between tradition and the present day. The project started in Poland, but it soon crossed borders, seeking out basketry traditions in many other countries, inclduing Ukraine, the Czech Republic and Germany.
"Basketry is one of the oldest, if not the oldest, crafts in the history of humanity," Paulina Adamska, head of Serfenta, tells Emerging Europe.
"This is also a universal theme, found everywhere in the world. We like the feeling of independence, self-reliant work, bringing to life, simplicity – all this is fascinating. What is more, we see the pleasure behind the creative use of our hands," she continues.
Serfenta today organises many different activities to strengthen and allow basketry to thrive.
"Basketry in Poland is an occupation for the older generation, the masters who gained their knowledge step-by-step. This is very precious for us," says Mrs Adamska.
"After years of experience, we've become convinced that direct support for artisans is the most effective method to ensuring this art survives. This means organising the process of sale and linking Polish producers with customers from the whole world. We've established friendly relationships with many craftspeople, which are essential in a business like ours. Thanks to our work, you can buy exceptional objects that used to be beyond your reach. Serfenta guarantees hand-made production based on Polish traditional design and the ideas of fair trade," she explains.
007 wears Hungarian
Along with basketry, shoemakers represent another old tradition that is trying to survive. Hungary once had a thriving leather industry and a reputation for shoemaking. Unfortunately, after the Second World War shoemakers started to slowly disappear, and only a dozen or so are left. But today Hungary is home of one of the most famous shoemakers is in the world.
In fact, from his little workshop in Miskolc, a little town 100km from Budapest, Attila Kovács made shoes for Sir Roger Moore, alias 007, for an event that brought the actor to Budapest in 2010. For the special occasion, he inscribed the words James Bond 007 in the soles of the shoes.
Mr Kovács learned the job from his father who was taught by his father. Each pair of shoes takes 60 hours to be completed and thanks to this devotion, Mr Kovács took first, second and third place at the last European Championship of Handmade Shoes in 2016, an event held in Wiesbaden every three years. Besides, Mr Kovács always tries to mix modernism and tradition, including a typical Hungarian motif in every shoe he makes.
Handicrafts as a national brand
Local crafts can also shape the image a country has abroad. A tiny cute old lady sewing in front of a wooden house evokes positive thinking. And this was the dream of Elena Vechkanova, founder of the Three Snails Corporation, an online marketplace born in Ukraine and now linking more than 1,500 artisans from all over the world.
"I used to be a passionate traveler. When I was 26 years old I visited a new country or at least a new city every two weeks. And every time I met new people I had a problem to get answers about my country." Mrs Vechkanova  tells Emerging Europe.
"Some people knew about boxing and football players, about corruption and economic problems, but nobody could remember something really essential and nice about Ukraine. While France evokes Champagne or the Champs-Élysées, the Swiss banks, chocolate and cheese, the British royalty or their beautiful capital, I was always unsuccessfully searching for something good about my country. The truth was that we had nothing a nation could be proud of. And I dreamed that one day I would find something amazing about my country," she says.
Her dream came true when she realised the great potential of handcrafts in Ukraine, a country that even in the 21st century, when the most of things are mass-produced and made of artificial materials, still keeps alive the craft traditions of its ancestors.
"Besides being natural and beautiful, those things were soulful and meaningful because the secrets of their manufacture were kept through centuries and created a very strong connection between generations," she continues.
Unfortunately most of the people she talked to couldn't make a living from handcrafts, being unable to sell online and consequentially being forced to move to a different country looking for better opportunities. But the numbers in Ukraine are encouraging: seven million people, 17 per cent of the total population, use different handicraft techniques in their daily life and 64 per cent of Ukrainian women make handicrafts as a hobby.
"I'm an entrepreneur by nature, the mom of two daughters and wife of a jewellery designer. I never did anything by hand. Instead, I always enjoyed sport and any kind of work which required management skills like hiring a team, organising sales and everything about marketing and advertising. And I learned that there should always be someone managing a business behind a creative person," she says.
"This is because management is too much for creative people. Three Snails is all about the management. Artisans and producers are usually too busy with creating, they feel stressed when they try to sell or manage social media by themselves. Three Snails is a place where artisans can forget about photo shooting, sales management, logistics, advertising, client support in different languages."  The artisans pay nothing for these services as revenues are based on the commission taken from the customer after a purchase is complete.
"I started Three Snails like a dream for every small unknown artisan from any country to make his or her business big. But a few years ago I fell ill with multiple sclerosis. And in 2017 I underwent a six-month successful treatment programme in India. During my treatment I managed to visit continental and south India, Thailand and Bali. I've found that Asian artisans are also very gifted and also do amazing things and have the same problems with sales, because they don't speak English and don't know how to start sales online. And now I'm proud that Three Snails is not for Ukrainians only. Now it is a marketplace for the producers from undiscovered and unfamiliar countries," she adds.
Due to economic problems, the local market for selling handicrafts in Ukraine is weak. Most Ukrainians are very cost conscious do not want to pay more for handmade objects.
"Because of the low margins and small sales volume, a lot of artisans and small producers close their businesses, being unable to make their living from it. The only way to make this sector survive is boosting their sales on the global market by letting Europeans and Americans know about the wonderful quality of real handmade goods," she concludes.
Saving local crafts
Making other people aware of this market is a must if we do not want these arts to disappear. In 2017, the Heritage Crafts Association put together a list of endangered crafts, which totalled 165 in the United Kingdom alone. Local artisans today face many challenges related to recruitment, training and an ageing workforce. Therefore the Heritage Crafts Association recommends governments to take action to encourage local arts.
"Today, in the face of the ICT revolution and economic globalisation, we are rediscovering the value and dignity of manual labour, also as a source of employment and quality work," says  Giovanni Bettarini, underlining the importance of handicrafts in the contemporary world.
"New developments and trends in the post-industrial economy emphasised by the economic crisis of recent years are changing paradigms radically. The purely intellectual professions do not seem to offer a strong demand for labour while technological evolution might actually enhance highly creative skill in craftsmanship and decentralised production," he concludes.