The fintech industry has been a key part of Ukraine's resilience in the face of Russia's brutal full-scale invasion. Andrii Kryvoshapko, CEO of NovaPay, part of the Nova Post group, talks about the challenges his firm has faced, and its plans for a post-war future.
Like many Ukrainians, Andrii Kryvoshapko is keen to point out that Russia's war on Ukraine did not begin in February 2022, but in February 2014 with the invasion and subsequent annexation of Crimea.
"That was in the east of Ukraine," he explains. "But a lot of people in the capital and elsewhere were already thinking about how to deal with the Russian threat in the future."
---
---
The company Kryvoshapko leads, NovaPay, part of the Nova Post group, whose businesses also include the international logistics firm Nova Global and Supernova Airlines, was no exception. It prepared an anti-crisis plan—and hoped it would not be needed. Nevertheless, when Russia invaded again, it was able to keep its operations running.
"From the first hour we understood that we had to keep on working," says Kryvoshapko. "We have a lot of clients and in this very chaotic time people didn't understand if they could still use cards. In the first few days some hotels or shops said they would not accept cards because they were afraid there would be problems with the banks.
"The National Bank of Ukraine stepped in to work directly with the banks and everybody soon understood that the system was still working. But more than 10 million people moved in just a few days and many bank branches were closed, so our terminals became the only way to top up cards. Our turnover increased dramatically, but we had to make cash collections from our branches while cities were being bombed."
Nevertheless, "we lost a lot of cash from our branches throughout Ukraine; many of them with all their equipment looted," Kryvoshapko adds.
Adapting every day
Nova Post started out as a delivery company, initially in Ukraine and later around the world. NovаPay was then created as a servicing company for Nova Post, to cover financial transactions between businesses and individual customers.
Eventually it became clear however that NovaPay had to develop its business model to suit the modern world, and not, as Kryvoshapko puts it, "get stuck in the classical banking way of doing business".
In the early 2010s, it developed financial services for individual and business clients. "We had to adapt back then, and now we're having to adapt every day," he says.
"Some regions were occupied in the first few days, but our people and our branches were there—with equipment and cash. It was a very hard and interesting time because all the decisions we needed to make were very new to us.
"But we got over the shock quite quickly, and our customers did not experience any problems."
That's just as well. NovaPay is Ukraine's non-banking largest money transfer system, with a 45 per cent market share, according to the National Bank of Ukraine. Its payment infrastructure is one of the five most important in the country.
In 2022, NovaPay facilitated 335 million transactions with a total volume of 167.7 billion hryvnia (around 4.18 billion euros). It paid 738 million hryvnia (18.4 million euros) in taxes and fees to the country's budget.
The economic rear
As the war continues, the perception of Ukrainian business is, broadly, one of companies merely attempting to survive.
Kryvoshapko makes it clear this is not the case, talking up the future and describing an "economic rear", and the need to support employees and citizens during these incredibly difficult times. Not without reason was NovaPay voted the fintech employer of the year at the Ukrainian Fintech Awards 2022, as well as the best collaboration between logistics and fintech firms.
As a result, things have been far from static since Russia launched its full-scale invasion, and over the past year many of NovaPay's processes have been streamlined and sped up.
Expansion into Europe was already under discussion in 2020 as NovaPay explored new markets. In the short-term it is likely to concentrate on the Ukrainian diaspora, now spread across the continent, with a significant majority in Poland.
Kryvoshapko sees it as a "social mission" to open Nova Post and NovaPay branches, to help people understand that even though they are stranded abroad, they have not lost touch with their homeland. Nova Post Group intends to invest 10 million euros by 2025 to establish 200 operating centres in 30 countries.
"NovaPay will also provide a lifeline for funds to travel between families who are separated, and companies that need to keep their cash flow moving," says Kryvoshapko. Currently, there are Nova Post branches in Poland, Romania, Germany, Czechia, Moldova and Lithuania, and other countries in the region are likely to appear soon. NovaPay meanwhile has also applied for an EMI (Electronic Money Institution) license from the Central Bank of Lithuania which will allow it to operate across the European Union.
"The license will allow us to provide financial services of the highest quality to individuals and business clients—both Ukrainians in the EU and Europeans themselves," says Kryvoshapko.
---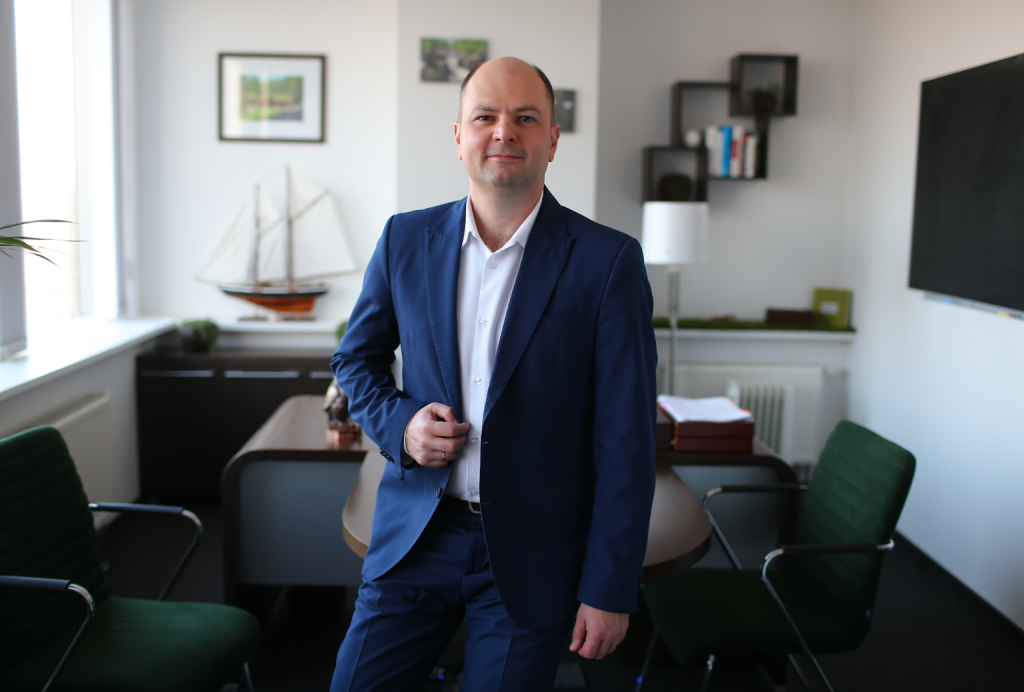 Andrii Kryvoshapko, CEO of NovaPay
---
Ukraine's backbone 
The resilience of the firm's team and its ability to adapt, develop, and continue to grow mirrors that of Ukraine itself, which—despite the Russian invasion—has managed to speed up its digitalisation push, even exporting some of its technology abroad.
A significant part of this has been Diia, first launched in October 2020. Diia, which means Action in Ukrainian, but is also a clever play on an acronym for The State and Me is a web service, mobile and e-governance app used and trusted by tens of millions of people.
Even within its first year, Diia was being used by six million Ukrainians, with over 50 government services accessible. By December 2022 there were more than 20 million users, and the number of government services had jumped to 70, including the issuing of ID cards, biometric passports, student cards, driver's licenses, vehicle registration certificates, vehicle insurance policies, tax numbers, and birth certificates.
"For fintechs and banks looking to onboard or verify customers, Diia has become the go-to app," says Kryvoshapko.
"Right now, Ukraine is one of the most digitalised countries in the world in terms of financial services, and NovaPay has been a part of that," he adds.
"Diia, and the knock-on effects of widespread digitalisation came about just in time, given that the population needed to get to grips with technology, and that the invasion was not far behind. In part that came from positive educational initiatives, something else that NovaPay has been involved in."
Not just another neobank
Kryvoshapko is similarly pragmatic about the approach of NovaPay, where he and his team are looking at new solutions which will allow it to work equally effectively both offline and online. The firm has been reliant on generators in many of its 3,500 branches across the country, and on Starlink.
"But we have to be very careful," he says. "When you're thinking of changing the model—which we were already considering three years ago—there can be more problems than benefits if it's not done properly."
"We are among the few players in the market who are dealing with a significant number of SMEs, and big retail clients, so we can create synergy for them," he adds. "And of course, our general model is to absorb the best benefits of the neobanks."
But Kryvoshapko is adamant that NovaPay will not become "just another neobank".
"We want to make something quite unique for the customer," he says.
When the war is over
Kryvoshapko says that in some ways he is more afraid about what happens when the war is over than he is of the present.
"I can't think of another country that has faced so many difficulties in the last 50 to 60 years, where all the solutions in the world aren't exactly suitable to solving our problems."
From the perspective of NovaPay, however, he's more optimistic, saying that the mindset of Ukrainians will also change significantly, especially as those in the financial sector will have to embrace new ideas at a whole different scale.
"We'll be exploring more, and making more experiments," he says.
"I think everybody now understands that Europe is not very far from us. More precisely, Ukraine is Europe. And because of the huge number of people from Ukraine now living in Europe, Ukrainians will establish businesses in Europe. After the war, Ukrainian businesses will be far more international. NovaPay, I am sure, will become an example of such an international business of Ukrainian origin."
---
Unlike many news and information platforms, Emerging Europe is free to read, and always will be. There is no paywall here. We are independent, not affiliated with nor representing any political party or business organisation. We want the very best for emerging Europe, nothing more, nothing less. Your support will help us continue to spread the word about this amazing region.
You can contribute here. Thank you.

---