European Council on Foreign Relations founder Ivan Krastev speaks about Poland's recent election, war in Ukraine, and the implications for emerging Europe's role in the wider world.
Throughout his distinguished career, which now spans three decades, Ivan Krastev has been a tireless advocate for the emerging Europe region, a champion of democracy, rule-of-law, and of civil society's role in creating open, prosperous countries.
Krastev chairs the Centre for Liberal Strategies in Sofia, Bulgaria (which he founded, in 1994) and is a permanent fellow at the Institute for Human Sciences, IWM Vienna.
He is a founding board member of the European Council on Foreign Relations (ECFR) and was for several years a contributing opinion writer for the New York Times. He is the author of several books, including the widely acclaimed After Europe, in which he highlighted the threat posed by populism to the EU's continued existence.
---
---
Indeed, populism was one of the themes of a discussion Krastev held with Emerging Europe's Andrew Wrobel in Brussels on November 8, part of the Future of Emerging Europe Summit and Awards. Krastev was in the European capital to accept the Princess Marina Sturdza Award, given by Emerging Europe to eminent individuals from the region who have contributed to its prosperity, science, culture and peace.
Citing Poland as an example, Krastev highlighted how the Law and Justice (PiS) governments of the past eight years ended decades of compromise.
"Traditionally, Poland as a society held a 'soft' conservative cultural consensus on everything," he says. "But then, the conservative government decided to radicalise some of these positions. It radicalised abortion legislation, it weaponised issues such as gay rights. To focus on the policies of the government risks losing sight of the fact that Poland itself has become more liberal during the party's time in power."
A more self-confident emerging Europe
On the many disputes that PiS—which lost its parliamentary majority in a general election in October—orchestrated with the European Union, Krastev says that the party was, "always far more interested in what should not happen in the EU, than what should happen".
This can partly be explained by a lack of self-confidence, Krastev believes, who also suggests that things are changing, pointing to the large turnout of young people which shifted the result of the Polish election in favour of the opposition, led by Donald Tusk (pictured above), a former prime minister and European Council president, who now appears set to become prime minister once again. 
"PiS weaponised history, insisting that Poland must always be fighting on two fronts—against Germany and Russia—and portraying Tusk as being in the German camp," he says. Now, Krastev suggests that a fresh start, at a crucial moment, could be pivotal for Poland, for emerging Europe, and for Europe as a whole.
"The relationship between Poland and Germany is as important as the relationship between France and Germany," Krastev says. "Mistrust of Germany is understandable given its Russia policy prior to the war [in Ukraine]. But we now have a real opportunity, with a confident Poland, a confident Romania also, to create a moment in which emerging Europe can start talking about the kind of Europe it wants to see, and not always be on the defensive."
"And don't forget," he adds, "Tusk is one of few Europeans who knows how the EU works. It gives emerging Europe a totally different voice."
Nevertheless, Krastev believes Europe, particularly emerging Europe, will face challenges in the next 10 years due to demographic changes, leading to a decline in its global influence.
"European GDP as a percentage of global GDP is going to decline over the next 10 years, even if we are doing well," he says. "To believe that we are going to grow as much as India is going to grow in unrealistic." 
---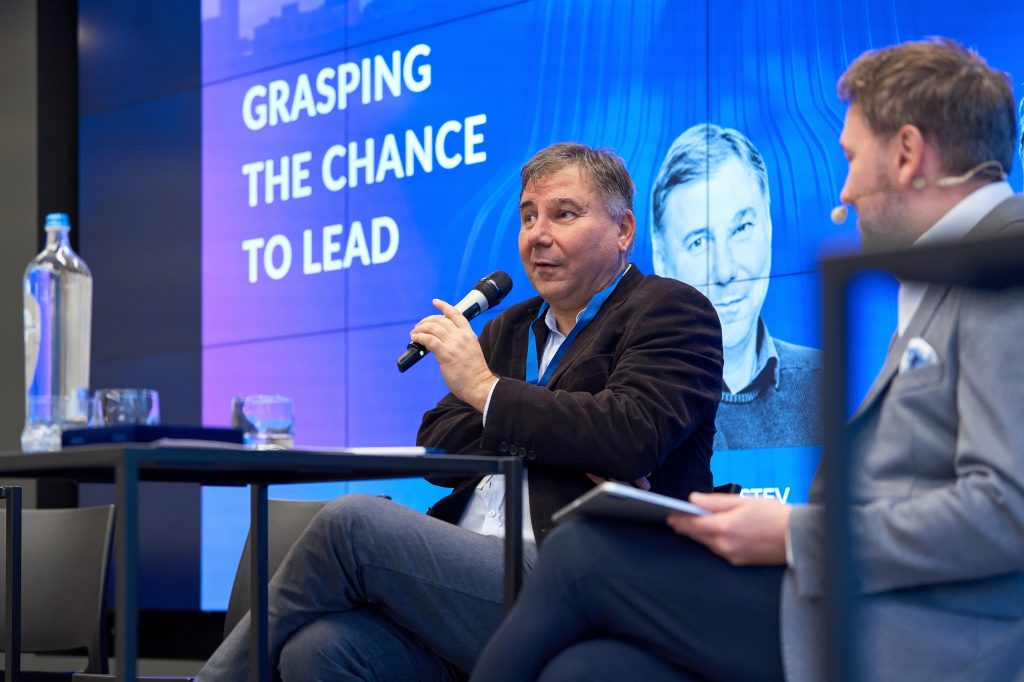 Ivan Krastev speaking with Emerging Europe's Andrew Wrobel
---
Krastev on Ukraine
When it comes to Russia's war on Ukraine, Krastev believes that Europe is not as united as it should be, and that the divisions are not merely between East and West—there are divisions within emerging Europe itself.
"We are having a Europe moment and a nationalist moment at the same time," he says. "Nationalist movements in Europe are on the rise, with some countries identifying more with Ukraine than Russia, while others are more divided and loyal to their nation states."
Krastev also argues that European unity is at risk due to the ongoing crisis in Ukraine, citing Germany's reliance on Russian gas and the West's reluctance to provide military aid. "When the war started, Ukraine had enough ammunition for six weeks. Germany for two days. At this very moment, Russia is producing more ammunition than all the Western countries together. If it wasn't for the South Koreans, [Ukraine] would not have enough shells."
Krastev concludes optimistically, however, arguing that societal transformations can occur through unexpected means, and at unexpected times—such as war.
"[The war] has transformed some of the most corrupt parts of the Ukrainian society," he says. "People who before the war would not do anything without a bribe are now risking their lives on a daily basis. They have become national heroes."
---
Unlike many news and information platforms, Emerging Europe is free to read, and always will be. There is no paywall here. We are independent, not affiliated with nor representing any political party or business organisation. We want the very best for emerging Europe, nothing more, nothing less. Your support will help us continue to spread the word about this amazing region.
You can contribute here. Thank you.

---