Many of the problems facing Europe's cross-border railways can be put right with simple, relatively cheap solutions, says campaigner Jon Worth. 'We know how to do this, it's just a question of making good political decisions.'
As part of his project to address the problems facing travellers crossing the European Union's borders by train, Jon Worth has spent the past 18 months crossing just about every EU internal border—hundreds of them.
The founder of Trains for Europe, set up initially to address the absence of night trains in Europe, Worth has since become a campaigner for better railways in general, particularly those that cross borders.
---
---
His project, as he told Emerging Europe's editor, Craig Turp-Balazs, at the Future of Emerging Europe Summit, was partly born out of personal need—and frustration. 
"I'm based in Berlin and I've worked across Europe for more than a decade," Worth said. "And I have tried to do all of my work trips without flying. And after getting stuck at far too many borders year after year after year, I started to ask myself the question, who's actually trying to put these problems right?"
The answer, says Worth, was nobody.
"The European Parliament did, in 2015, publish a report saying that there are 15 places in Europe where, with very little money, you can improve the cross-border railway connections. But when I looked into how many of these 15 places had seen improvements, the answer was just one, on the German-Czech border where two kilometres of cross-border line had been reopened," said Worth.
"So that's been the project, to go to these places, to meet local people, to understand their needs, and try to work out what the European Union can do to put things right. And much of it can be put right with quite old technology. We know how to do this, we know how to make it work. It's a question of good quality political decisions."
On, and off, the rails
Worth believes that the current problems with the railways in Central and Eastern Europe date back to the political changes of 1989 and 1990.
"Most of Central Europe suffered a decline in the total number of public transport passengers on both buses and trains," he said. "People moved to being able to purchase their own vehicles and there was massive, understandable investment in road infrastructure."
However, Worth points out that some countries have now reached the bottom of the curve and are once again investing in their railways as the number of passengers increases.
"Poland is doing interesting things with both intercity rail and regional rail, Czechia is doing excellent work—including international trains—and Slovakia has seen the biggest increase in passenger satisfaction in its railways of any of the EU 27 over the past decade," Worth said, adding that Slovenia has also made "enormous progress" over the past couple of years.
Then there those countries which still have much to do.
Worth admits that there are three countries in the EU that, "give me massive, massive headaches". These are Latvia, Croatia, and Romania.
"Romania has an incredible railway network that will get you to pretty much any city, but you see a chronic lack of investment over a long period of time," Worth said. "I have travelled the length and breadth of Romania over many years and you just never know what's going to happen. There is an immense opportunity there, but there's a hell of a lot of work that needs to be done in order to make that happen."
In Croatia meanwhile, "everything from Zagreb towards the Adriatic coast is chronically slow despite the promise of investments in infrastructure there," Worth said.
Latvia's issues, according to Worth, are with rolling stock. "They've failed with procurement twice, leaving the country with old trains, many of which are no longer usable. Between the capital Riga and the second largest city of Daugavpils there isn't really a properly functioning railway. People switch to the bus instead."
Rail Baltica, a much-heralded project linking Tallinn in Estonia with Warsaw in Poland, might one day change that. But Worth is not holding his breath.
"What is Rail Baltica for?," he asks. "Is it a high-speed intercity railway connecting the big cities? Is it a freight railway to take trucks off the roads? Or is it a project to connect the regions of Lithuania, Latvia and Estonia with the big cities?
"The answer, depending upon who you ask, is all of those things." 
---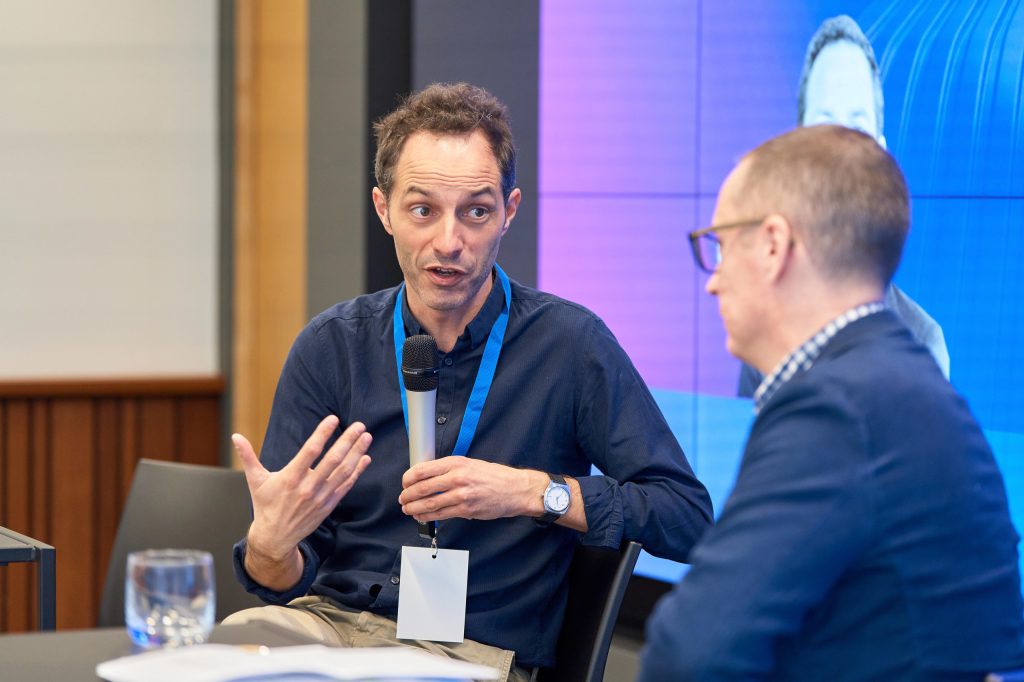 Jon Worth (left) in conversation with Emerging Europe's Craig Turp-Balazs
---
Trains for Ukraine
Russia's war on Ukraine has brought to light the problems involved in crossing some of the EU's external borders too. Ukraine's railway gauge is wider than most of the EU's which creates compatibility issues at border crossings—finding a solution has been pushed to the top of the agenda given the need to export Ukrainian goods and produce that might otherwise have gone via the Black Sea.
Worth says that there are essentially three ways of resolving the problem.
"Either you load whatever is on the train, be that passengers or freight, from one side onto another; it's slow and cumbersome. Second, you buy a very expensive train where the wheels can be adjusted for the different gauge of lines, something that Spain has been doing. The third option, which is what the European Commission has been proposing, is that you rebuild Ukrainian lines to the European standard gauge."
The difficulty with this third option is that it is expensive and time-consuming. "It can't be done in the short term, and you probably can't even easily do it in the medium term," said Worth. His immediate solution for passengers is to ensure that trains arriving from Ukraine match the timetable of departing trains in Poland, and for freight the improvement of transshipment terminals at the border.
"And in the medium term, you need to look at dual gauge trains that can run right the way through. These are quicker, much easier solutions than what the European Commission has been proposing with regauging Ukrainian lines," Worth said.
Whatever solution finally gets the green light, it is clear that the EU—and national governments—need to prioritise and invest in better railways to improve cross-border connectivity and facilitate seamless travel within Europe.
And Worth might soon be in a position to do more than campaign for better railways—he hopes to return to Brussels next year as an MEP for the German Green party.
---
Unlike many news and information platforms, Emerging Europe is free to read, and always will be. There is no paywall here. We are independent, not affiliated with nor representing any political party or business organisation. We want the very best for emerging Europe, nothing more, nothing less. Your support will help us continue to spread the word about this amazing region.
You can contribute here. Thank you.

---