After 2019's pivotal elections for the Polish parliament, the Sejm, in which the ruling Law and Justice party (PiS) kept its hold on power, albeit slightly weakened, Poles will soon have to make another choice, this time for president.
The first round of voting will be held on May 10, with a second round run-off two weeks later.
The newly elected (or re-elected) president will then be sworn in on August 6. 
While initial predictions tip incumbent, PiS-supported Andrzej Duda (pictured above) to win a second term in office, his re-election is not a foregone conclusion.
Emerging Europe has therefore decided to take a closer look at who is running and, more importantly how significant to the race, starting with the current occupier of the Pałac Prezydencki.
Andrzej Duda
A lawyer, Mr Duda has been in politics for little more than a decade. His career began with an unsuccessful attempt at becoming mayor of his native Krakow, before going on to serve as a PiS MP and later as an MEP in Brussels. In 2015, Mr Duda surprisingly unseated the incumbent president, Bronisław Komoroswki, winning the second round of voting by fewer than 600,000 votes. Like PiS itself, he draws much of his support from the east of Poland.
While Duda has not been afraid to steer away from PiS at times, he has by and large kept to the party line and opponents have criticised his lack of independence. After announcing his 2020 candidacy in February, PiS leader Jarosław Kaczyński endorsed him as the "dream candidate" and as a guardian of the Polish constitution.
Mr Duda himself declared: "It is very important to me that Poland's growth, which has been advancing so well in recent years, continues. It is equally important to me that the current government – which in my opinion is governing the country very well, very efficiently in terms of economics, but also in terms of fulfilling electoral promises – is able to continue its mission, presenting good legislative proposals that will be accepted by the president, because we have the same electoral manifesto."
However, a few elements of his campaign have shown that he wants to win support from more centrist voters. A few days after announcing his intention to seek re-election, he indicated that he would be willing to sign a law allowing civil partnerships for same sex couples, the exact opposite of his party's stance on the matter. Given that no PiS government is ever likely to propose such a law, however, his comments can be viewed as meaningless.
Nevertheless, with support of around 44 per cent, Duda is the candidate to beat.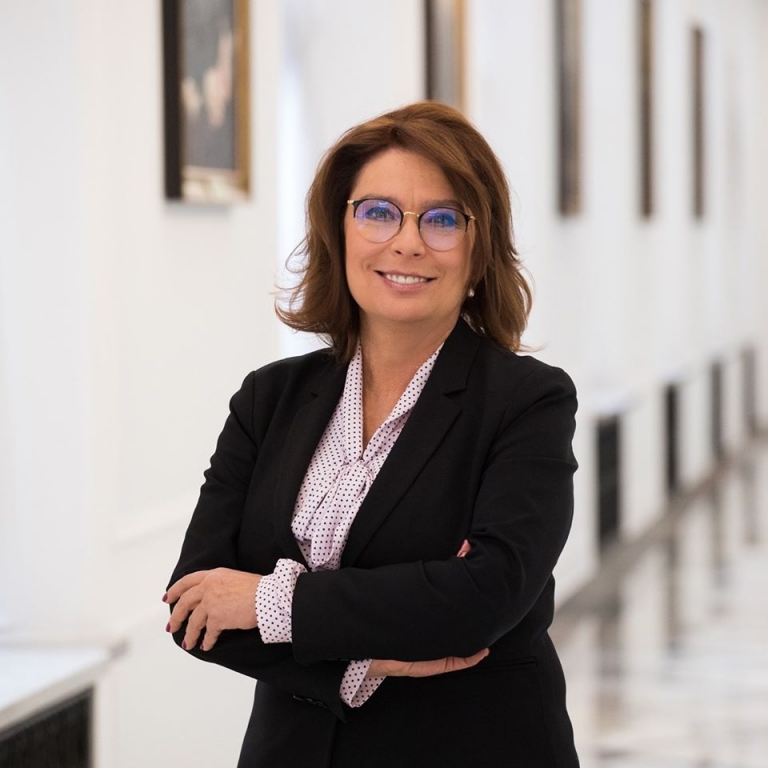 Małgorzata Kidawa-Błońska
Ms Kidawa-Błońska, the candidate of main opposition party, Civic Coalition (PO), is the first woman in Polish history to have a serious shot at the presidency.
Educated as a sociologist, Ms Kidawa-Błońska worked in the literary department of the popular Karol Irzykowski film studio, and has spent much of her career in the film industry. She is married to a film director, Jan Kidawa-Błoński.
Her career in politics began in 2001, and after serving as a councilor in Warsaw was elected to parliament in 2005.
From 2014-15 Ms Kidawa-Błońska was spokesperson and secretary of state in the governments of Donald Tusk and Ewa Kopacz. She then became speaker, and later, deputy speaker, of the Sejm, a post she continues to hold.
Ms Kidawa-Błońska appears to have won the PO nomination by being the most popular and least divisive figure in the party. However, she has a large task at hand, given that the party under-performed in the last parliamentary and EU elections and that many votes will be split across the various opposition candidate all vying to make the second round.
Her manifesto is moderately liberal, toeing a line between appealing to progressive voters while not alienating conservatives. She has promised to legalise same sex civil partnerships, while vowing to respect the current law on abortion, which is one of the most restrictive in Europe. 
Ms Kidawa-Błońska has also vowed to implement a "concrete package of changes" on everything from the economy to health and has suggested that religion should be taught in church rather than school in a push towards secularisation. She has also begun to make a habit of declaring that under her presidency "the constitution and the law will be respected", a clear jab at Mr Duda who has faced mounting criticism over the government's judicial reforms. 
"I want the principle in both politics and in everyday relations between people to be 'look for the common ground'. Because only in this way will we build Poland in which everyone will feel at home," she said, when launching her campaign.
PO is still seen as not having done enough for poorer Poles when in office, particularly in the country's east. This might make things difficult for Ms Kidawa-Błońska, especially as many see PiS as successfully having carried out its electoral promises. PO has also suffered from an identity crisis in recent elections, trying too hard to appeal to everyone, resulting in policy ambiguity that leaves voters unexcited. 
With a strong 26 per cent of the vote in current polls, she is nevertheless the most likely opponent for Mr Duda in the second round.
Robert Biedroń
The candidate for the leftist Lewica Razem alliance, Mr Biedroń is currently an MEP representing the Wiosna (Spring) party, modelled on Emanuel Macron's En Marche, which formed an alliance with Lewica Razem before the 2019 Sejm election.
Previously, Mr Biedroń served as a member of the Sejm for the Palikot Movement. He then went on to become the mayor of Słupsk in 2014, becoming the first openly gay mayor in Poland.
Despite having suffered a number of severe homophobic attacks throughout his career, he has continuously been a strong advocate of LGBT rights, cooperating with various activist organisations as a vocal supporter. His activist history stretches beyond LGBT issues to refugee advocacy groups. 
Mr Biedroń's policies are more notably leftist than other candidates, and he has promised to reform the pharmaceutical market, the coal industry, to improve efficiency in the courts and fight social exclusion while vowing to introduce social benefits such as a minimum monthly pension of 1600 zloty (375 euros). 
Mr Biedroń is also attempting to capitalise on the urban-rural divide in Poland, arguing that sustainable development should not exclude smaller towns. 
He has also backed reforms to increase women rights, the rule of law and further separation of church and state. 
"Poland will take another step in the direction of a modern welfare state, where not only big cities, but also smaller towns and villages are appreciated; a country with a strong position in the European Union, based on the rule of law and real national community," Mr Biedroń said when announcing his candidacy. 
He has, however, faced criticism for not upholding his promise to forego his MEP seat in order to focus on Poland. Others also saw the launch of his Wiosna party as a poor strategic move which split the anti-PiS opposition. 
Biedroń is currently sitting on around nine per cent in the polls, a clear candidate for the left and a clear opposite choice for critics of PiS. It remains to be seen if he can persuade enough PO voters to back him.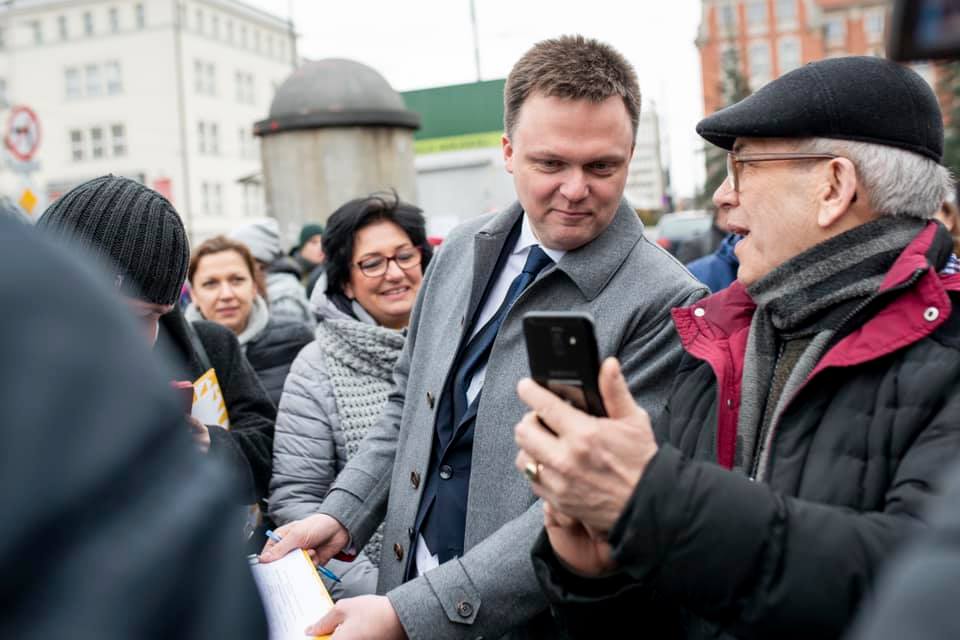 Szymon Hołownia
Mr Hołownia, an independent, is a newcomer to politics. 
An award-winning journalist who started at the daily Gazeta Wyborcza, Hołownia is now a contributor to the Catholic weekly Tygodnik Powszechny, said to be the voice of the church's moderate wing.
Hołownia is, however, best known to the majority of Poles as as the presenter of the long running talent show Mam Talent (I've Got Talent). 
A devout Catholic, Mr Hołownia nevertheless has centrist views. He has yet to publish a manifesto, saying he will only do so only after he has spoken to Poles across the country.
He has, however, echoed other opposition candidates, vowing to unify the country. 
He has declared that the time has come "for a man who – coming from the bottom – can repair what was destroyed from above. I want a president who will unite a divided people". 
It is clear that Hołownia will also portray himself as the anti-establishment candidate, proclaiming that the system can only be fixed by "someone from the outside." 
Like Ms Kidawa-Błońska, he has voiced his support for the current abortion law, despite being criticised by the right-wing of the Catholic church. He also wants local governments to withdraw from resolutions on so-called LGBT free-zones and establish a National Climate Council to fight climate change and reduce the country's reliance on coal.
Unquestionably a possible surprise package, Hołownia is currently polling at around eight per cent. 
Władysław Kpsiniak-Kamysz
Mr Kpsiniak-Kamysz is the candidate for the centre-right Polish People's Party (PSL). 
From 2011-2015 he acted as the minister of labour and social affairs in the government of Donald Tusk and Ewa Kopacz. Since 2015 he has served as an MP and the president of the PSL. 
His manifesto is mainly conservative on social issues, sighting his main goal as "bringing back the notion of community," echoing his rivals remarks for unity, albeit with a more nationalist agenda. 
"Hate has cut our country in half. Poland must be cured of hatred and probably needs a doctor for this. Poland has to be sewn back together with surgical thread so that it does not divide," Mr Kpsiniak-Kamysz has said. 
Having practiced as a physician, Kpsiniak-Kamysz belives he is the man to carry out such an operation. His campaign is heavily focused on healthcare reform, including an increase in spending and implementing a 'pact for healthcare'. He is also a strong advocate of educational reform, proposing an introduction of scholarship investments for students.
There are further promises of social spending, including tax-free pensions and social welfare handouts. Like many of his rivals, he also wants to "take politics out of the church" through increased secularisation, although he has vowed to protect the "Christian achievements" of Poland in line with its constitution. 
His popularity currently sits at around eight per cent. 
Krzysztof Bosak 
Mr Bosak is the candidate of Konfederacja, the party for Poles who feel that PiS is not right-wing enough.
A prominent political activist for the far right All-Polish Youth organisation, he is also the youngest candidate in the race at 37. His political career began in 2005 when he was elected an MP for the League of Polish Families, the youngest MP in Polish history. 
His manifesto is eurosceptic and socially conservative. Notably, he has voiced support for anti-LGBT protests and "traditional Christian values", and has panned what he calls "the liberal, post-modern agenda of 'self expression' and 'continuous redefinitions'." 
Economically, the Konfederacja candidate has said that he would refuse to sign any bill increasing taxes and rejects the fiscal policies of both PO and PiS, saying that, "it is an illusion that you can build a welfare state on increasing public redistribution", as this hinders "capital accumulation".
Mr Bosak argues that the other conservative and right-wing parties are not doing enough to represent genuine conservative views, presenting himself as the most viable option to those who feel these parties have neglected their voter base. 
Significantly, Mr Bosak is aiming to grab votes from the conservative wing of PiS. Regardless, his polling is currently the lowest of all candidates, sitting at around five per cent.
—
All photos are from the candidates' official Facebook pages.