As both demolition and construction continue, Tirana's denizens continue to live in the physical and aesthetic vestiges of its political history.
Tirana is a city of contradictions, juxtapositions, and construction. The city is one of the densest in Europe, but there is green everywhere—streets are shaded by mature trees and balconies overflow with vines that spill down apartment blocks into the messy net of wires that hang above every street.  
Indeed, electrical wires are precariously zip-tied to signposts at neck height outside even the newest of glass buildings—a sight that would give safety inspectors a minor stroke in many countries but is commonplace in Tirana.  
---
---
Cranes and skyscrapers abruptly punctuate the courtyards housing traditional, shingle-roofed Balkan homes that fill the side streets connecting the boulevards radiating out from Tirana's centre: Skanderbeg Square. 
Albania's history of Ottoman and Italian occupations, then decades of communist rule, is visually apparent throughout the city, but nowhere is it more prominent than in Skanderbeg Square, named for the national hero who successfully repelled multiple Ottoman sieges.
In its southeast corner sits the city's landmark clock tower and the Et'hem Bey Mosque—covered inside and out by ornate frescoes of beautiful natural scenery. Both the tower and mosque were built by the Ottomans in the late 18th and early 19th centuries.
The south of Skanderbeg Square meanwhile is flanked by museums and government ministries housed in yellow and red Renaissance Revival buildings that appear to have been airlifted from Naples.
Italian colonisation of and influence on Albania preceded Benito Mussolini's 1939 invasion and occupation, and much of the layout of Tirana's city centre dates back to the work of Italian urban planners and architects in the 1920s and 1930s.
The grand Dëshmorët e Kombit Boulevard—also designed by Italians and flanked by Romanesque umbrella pines—runs from the Renaissance Revival portion of Skanderbeg Square south to Mother Teresa Square. Before it was named for Albania's best-known nun, the square was named for the Italian king Victor Emmanuel III, and it is still flanked by Italian fascist-era architecture that now houses the University of Arts, Polytechnic University of Tirana, and National Archaeological Museum.
The socialist architecture of the Enver Hoxha regime fills the remainder of Skanderbeg Square—and much of the rest of the city. The Palace of Culture of Tirana—encompassing both the National Library and the National Theatre of Opera and Ballet—stands in the square's east and the National History Museum occupies its north.
The brutalist Pyramid of Tirana—formerly the Enver Hoxha Museum, then a NATO base during the Kosovo War, then a nightclub—lies to the south of Skanderbeg Square along Dëshmorët e Kombit Boulevard. The Pyramid is now under renovation and will house an IT and cultural hub offering free afterschool software, robotics, animation, and music classes to teenagers.
The Blloku neighbourhood lies to the southwest of Skanderbeg Square. Once home to the residences of Albania's politburo, ordinary Albanians were restricted from entering the area under communism, but like the Pyramid, Blloku is now reclaimed. Boutiques, restaurants, and cafes fill its streets, and tourist guides often cite it as the 2022 European Youth Capital's liveliest district.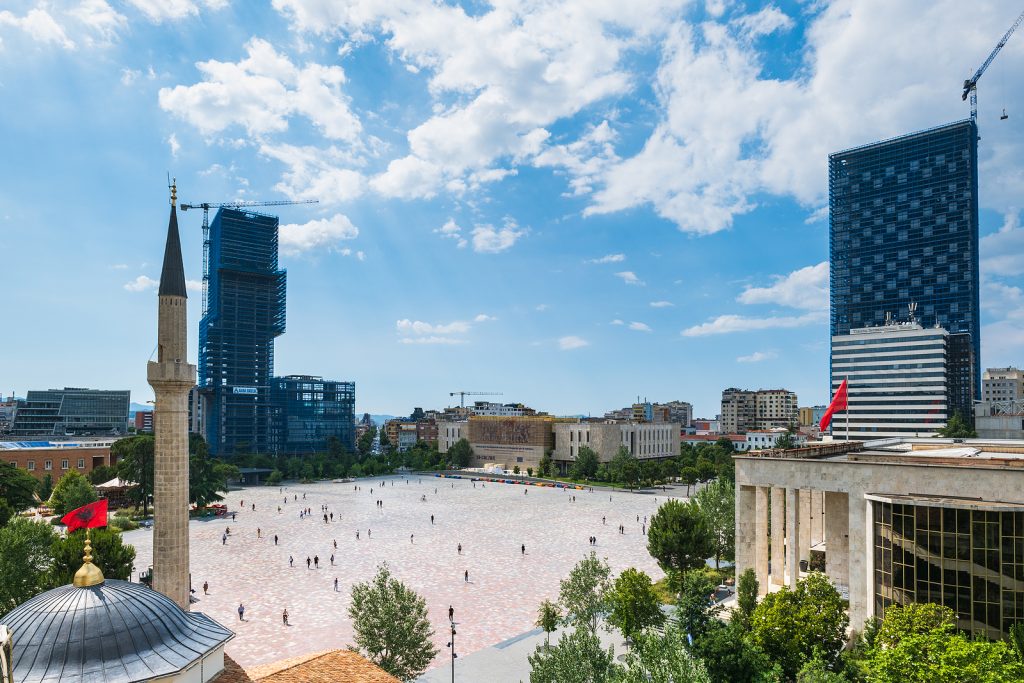 A sprawling city
Since the economic and social upheaval of the 1990s, the migration of Albanians from rural areas to work either abroad or in the capital has intensified. Tirana grows by around 30,000 people each year, and Tirana's metropolitan area is now home to a third of the country's population.
That growth has manifested increased sprawl. "There used to be small parks all over the city," one father playing with his son at a playground in the Grand Park of Tirana tells me. "But the small parks all got developed. Now, we have to come here, into the city centre, for my son to play."
Private car ownership—banned for decades—skyrocketed after the fall of communism, and commuting through the sprawl by car contributed to hazardous levels of air pollution.
"You would find some new neighbourhood built without proper planning and often the existing roads would get jammed because of the sudden rise of population in that area," Enejdi Zeqo, a 28-year-old resident of Tirana, tells Emerging Europe.
The city's government has made it a priority to re-concentrate construction into the central core and promote alternatives to car use. Skanderbeg Square, which had become a congested roundabout to accommodate drivers, was made a pedestrian zone in 2017, and bike lanes are now common through the city centre.
"Almost every main road now has bicycle and bus lanes, making these better choices to get around the city," Zeqo says. "Some of the most important schools and roads are being reconstructed and with better conditions than before. And the green areas of the city are more usable, such as the Grand Park, with more walkways, bicycle lanes, sports courts and a better infrastructure overall."
Tirana's Mayor Erion Veliaj has installed over 30 playgrounds across the city—including one in the Grand Park, which is the largest of its kind in the region.
In 2016, the city launched its Tirana 2030 initiative. "We wanted to create a small, very dense urban centre and preserve as much as possible of the suburban and rural territory," Joni Baboci, an advisor to Veliaj on planning and architecture, said in 2021. "So the plan pretty much forbids development for residential reasons outside of the core, and incentivises people to build in the centre."
Now, new towers ring Skanderbeg Square, with more under construction, making what Zeqo calls a "weird and absurd contrast" to the immediately adjacent historical buildings. Much of Tirana 2030's vision was designed by Italian architect Stefano Boeri and includes the planting of millions of trees in an "orbital forest" set to encircle the city.  
Criticism
However, in order to realise the plan and make way for new construction, many older buildings will or have been demolished. This has brought the city a great deal of criticism.
When the modernist National Theatre, built during the Italian occupation, was slated for demolition, protesters occupied it for over two years in the hope of saving it. Artists, academics, and architects signed petitions and the Danish architecture firm engaged to work on the theatre's successor withdrew from the project.
"Some of my friends participated in the protests," Zeqo says. "But the problem was that there was no proper information about what was going to happen and the protests were mostly organised by the opposition. There was a lot of doubt if it was all happening for the right motives or if it was just a political excuse to oppose government projects."
Eventually, police used pepper spray to forcibly remove demonstrators and destroyed the landmark in the dead of night during a Covid-19 curfew in May 2020. While Albania's Prime Minister Edi Rama (once mayor of the city) supported the demolition, then-president Ilir Meta called it, "a moral crime that cannot be granted amnesty". The EU delegation to Tirana, which had called for dialogue between protesters and authorities, criticised that the demolition went ahead without this meaningfully occurring.  
As both demolition and construction continue, Tirana's denizens continue to live in the physical and aesthetic vestiges of its political history.
They have reclaimed Blloku's social space, and their vining plants and electrical cables continually reclaim the city's walls and streets.
Even if unable to give sufficient input prior to megaprojects, those who call Tirana home will no doubt continue to make it home through their own means.
"Overall, it seems like Tirana is going in the right direction, but there is still a lot that could be done to make it better," Zeqo concludes. 
---
Unlike many news and information platforms, Emerging Europe is free to read, and always will be. There is no paywall here. We are independent, not affiliated with nor representing any political party or business organisation. We want the very best for emerging Europe, nothing more, nothing less. Your support will help us continue to spread the word about this amazing region.
You can contribute here. Thank you.

---