Tirana's National Arena is the venue for the final of the UEFA European Conference League, the first time that the country has hosted such a high profile sporting event. It's a sign of the Albania's, and Tirana's, progress.
Few cities in emerging Europe have changed as much over the past three decades as the Albanian capital Tirana, which on the evening of May 25 will take centre stage as it hosts the final of the UEFA European Conference League, to be played between Italian side Roma (coached by Jose Mourinho) and Dutch team Feyenoord.
---
---
At first, the transformation of Tirana that came about after the fall of communism was chaotic: hundreds of illegal buildings appeared in the city centre to accommodate the tens of thousands of people who flocked to the city to seek fame and fortune.
During the communist period, Albanians had needed special permission to live in the capital, and few were given it.
Colour revolution
The next transformation was one of colour: Edi Rama, a former basketball international, artist and now Albania's prime minister, was elected mayor of the city in 2000 and set about brightening up what was – without being too unkind – one of the most grey, grimy and ghastly cities in the region.
Rama achieved this by having many of the standard four-storey communist-era blocks that make up the vast majority of the city's housing stock painted in a variety of garish, colourful, snazzy designs. The transformation of these prefabricated apartment blocks became an almost overnight sensation and was soon attracting tourists to Tirana, a city until then generally swerved by international travellers.
Rama also gave the green light to a number of high-rise apartment and office complexes: under the communists, no building could be higher than four storeys.
In 2008 Rama commissioned an ambitious renovation of Tirana's enormous central Skanderbeg Square (pictured above) which, despite being surrounded by a number of symbolic buildings, including the 18th century Et'hem Bey Mosque with its slender clock tower, the Palace of Culture and the National Opera, had become a mess, dominated by cars and alienating for pedestrians.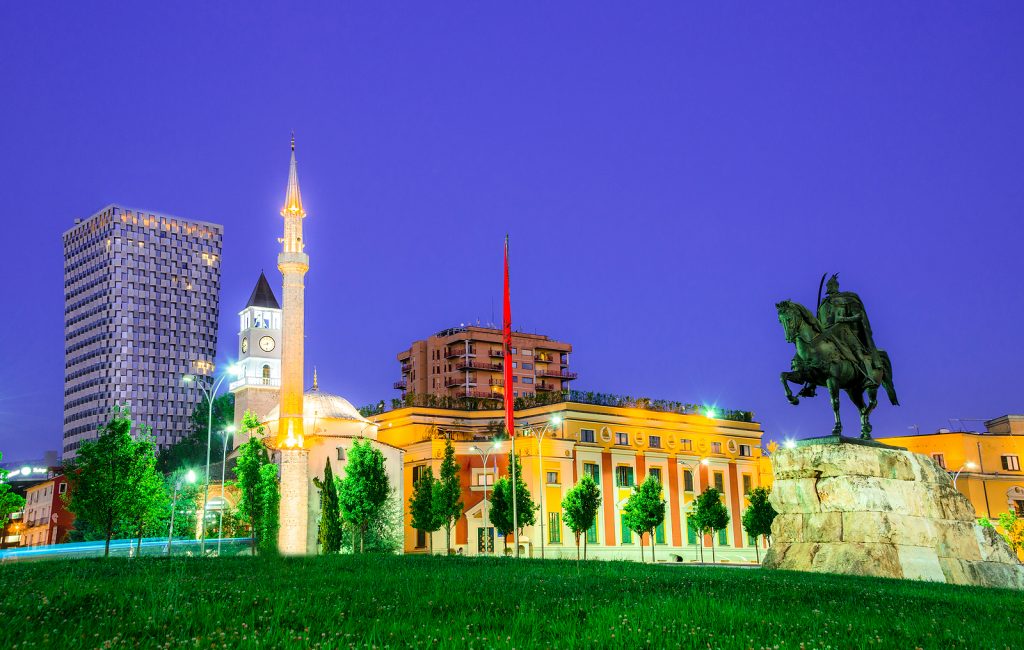 The plan to make Skanderbeg Square greener and more people-friendly was not entirely popular however, and is said to have contributed to Rama losing the mayoral election in 2011. His successor, Lulzim Basha, suspended the project.
In 2016, another mayor, Erion Veliaj, took over the running of the city and revived Rama's plans, adapting them to include a new project which, wholly financed by state funding from Kuwait, had three main aims.
First, it sought to create a large area exclusively for pedestrian use, eliminating traffic and concealing parked vehicles in an underground car park. A second objective was to highlight the value of the historic buildings surrounding the square, and to endow them with a unitary order. Finally, the presence of vegetation in the square was substantially increased.
Tirana is now one of only three cities in Europe developing a Green City Action Plan, an initiative of the European Bank for Reconstruction and Development (EBRD) which addresses urban issues and increases resilience against climate change.
In 2018, Skanderbeg Square claimed the European Prize for Urban Public Space awarded by Barcelona's Centre of Contemporary Culture, beating projects submitted by 179 cities from 32 European countries.
Veliaj says that the project has made Skanderbeg Square "a destination, rather than a place of transit".
Qemal Stafa: Gone but not forgotten
Roma will play Feyenoord at another of Tirana's recently completed urban renewal projects: the country's national stadium, opened in 2019 with a match between the Albanian and French national teams. (It is somewhat unfortunate that a Frenchman, Corentin Tolisso, had the honour of scoring the first goal at the impressive new stadium).
France would go on to win the game 2-0, in front of a capacity crowd of 22,000, which included the president of UEFA, Aleksander Čeferin, as well as PM Rama.
Officially named for its commercial sponsor Air Albania but more commonly known as the Arena Kombëtare (National Arena), the stadium was designed by an Italian, Marco Casamonti: fitting, perhaps, given that it was built on the site of the Qemal Stafa Stadium, completed in 1946 and also originally designed by an Italian, Gherardo Bosio.
Bosio was a fascist who worked in Ethiopia before relocating to Albania in 1939. Much of the layout of central Tirana (including Mother Theresa Square) owes much to Bosio's designs, while the official residences of both the Albanian president and prime minister are also his work.
His original vision for a Tirana stadium was typical of Italy's grandiose imperial ambitions: neoclassical in appearance and clad entirely in marble. When construction began late in 1939, Count Galeazzo Ciano – Mussolini's son-in-law and Italian foreign minister – symbolically laid the first stone.
The war and Italy's subsequent capitulation in 1943 meant that Bosio's vision was never fully realised. When the stadium was completed in 1946 by Albania's new communist rulers it was far more spartan than he had intended. Marble was used on just one side of the stadium, which was dedicated to Qemal Stafa, the founder of the Albanian Communist party who was murdered by the Italians in 1941 at the age of just 22.
Unusually, perhaps uniquely in emerging Europe, Stafa's name was not erased in the aftermath of the fall of communism: Albania's national stadium carried his name until it was demolished in 2016, having fallen into disrepair. The country's national team had by then for a couple of years been forced to play at a much smaller but more modern ground in Elbasan.

While some locals would have preferred Qemal Stafa to be renovated as opposed to demolished (it was, after all, a national monument and part of Bosio's grand plan for the centre of the city), Albania's surprising qualification for the 2016 European Championships in France propelled Albanian football into the international spotlight for the first time in history, as well as bring in prize money that could be used to develop the site.
Developed over four levels, the new stadium reflects the history of the city through an innovative and contemporary interpretation that links citizens' needs and the historical value of the building, giving origin to new urban and social synergies. A tower in the one of the corners (which hosts Albania's first Marriott hotel) is the highest in the country, while Bosio's original neoclassical entrance has been preserved in the new design.
As for Qemal Stafa, he is gone but not forgotten. One of the four stands at the new stadium has been named after him.
---
Unlike many news and information platforms, Emerging Europe is free to read, and always will be. There is no paywall here. We are independent, not affiliated with nor representing any political party or business organisation. We want the very best for emerging Europe, nothing more, nothing less. Your support will help us continue to spread the word about this amazing region.
You can contribute here. Thank you.