Director Agnieszka Holland's latest film, The Green Border, is not to the liking of Poland's ruling party.
This week I have been in contact with the Emerging Europe Council to discuss the nominations for this year's Professor Günter Verheugen Award and the Princess Marina Sturdza Award.
It is always a great opportunity for me to exchange views and ideas with the Council members and share the development at Emerging Europe, but also to talk about the region and how certain individuals originating from it, and from across the world, have supported the region's social, economic, democratic and scientific and cultural environment. Recipients of both Awards thus far include Kristalina Georgieva, Carl Bildt, Sir Suma Chakrabarti, Katalin Karikó.
---
---
This year my discussions with the Council happened to take place in the same week that last year I had the privilege of meeting the 2022 Laureates of the Professor Günter Verheugen Award and the Princess Marina Sturdza Award, Sir Malcolm Rifkind and Agnieszka Holland.
I met Holland, a renowned Polish film director and the president of the European Film Academy, early one evening in the laid-back Stolica Café at the old Iluzjon Cinema, full of families with kids, hipsters and cinema lovers, located in Warsaw's Mokotów district.
We talked about Poland, Russia's invasion of Ukraine, war, democracy, immigration and her newest film, The Green Border. She explained how important it was to present the topic to a global audience. The film features a family of Syrian refugees, an English teacher from Afghanistan, and a border guard. They all meet on the Polish-Belarusian border during the most recent humanitarian crisis in Belarus.
I also mentioned that Grupa Granica, a Polish NGO helping migrants on the country's eastern border, won the Democracy, Human Rights and the Rule of Law Initiative of the Year 2022.
From criticism to triumph
Last week, Holland's newest film came under a lot of criticism in her home country. Zbigniew Ziobro, the minister of justice and general prosecutor, wrote on X (formerly Twitter) that, "in the Third Reich, the Germans produced propaganda films showing Poles as bandits and murderers. Today they have Agnieszka Holland for that…" without even seeing the film.
That post was one of several similar posts from, among others, Krystyna Pawłowicz, a judge of the Constitutional Tribunal who in theory should be completely impartial and apolitical, and Patryk Jaki, a member of the European Parliament.
Agnieszka Holland's most prominent work was related to the Holocaust—the pain of which she knew personally as her father's family perished. She made three films on the subject.
The first, in 1985, Angry Harvest, which was an Oscar nominee, explored the intimate struggle between an escaped Jewish woman and a Polish farmer who shelters her. Her black comedy based on the memoir of Solomon Perel, Europa Europa, another Oscar nominee, tells the story of a Jewish teenager who stumbles into an opportunity to survive by passing as a gentile. And finally, In Darkness, again an Oscar nominee, is based on true events and tells the story of Leopold Socha, a sewer worker in the city of Lviv (previously within Poland's borders) who used his knowledge of the sewage system to shelter a group of Jews.
Holland's Green Border premiered at 80th Venice International Film Festival taking place in early September, received a standing ovation, the Special Jury Prize at the closing ceremony several non-statutory awards.
"At 74, Polish film-maker Agnieszka Holland has lost none of her passion—or compassion—and this brutal, angry, gruelling drama, in sombre black and white, is recognisably the work of that director who made Europa Europa in 1990," the Guardian's Peter Bradshaw wrote in his review.
Holland read a statement prepared by Grupa Granica: "I was asked to read this message: The events narrated in the film are still happening. While we sit here, there are still people hiding in the forests deprived of dignity, safety and human rights. Some of them here in Europe will lose their lives. Not because Europe does not have enough resources to help them, but because it has decided to refuse help."
"If we go further on this road … the European Union, Europe, the continent of freedom, democracy (and) human rights will disappear. It will change into some kind of a fortress," she said later.
---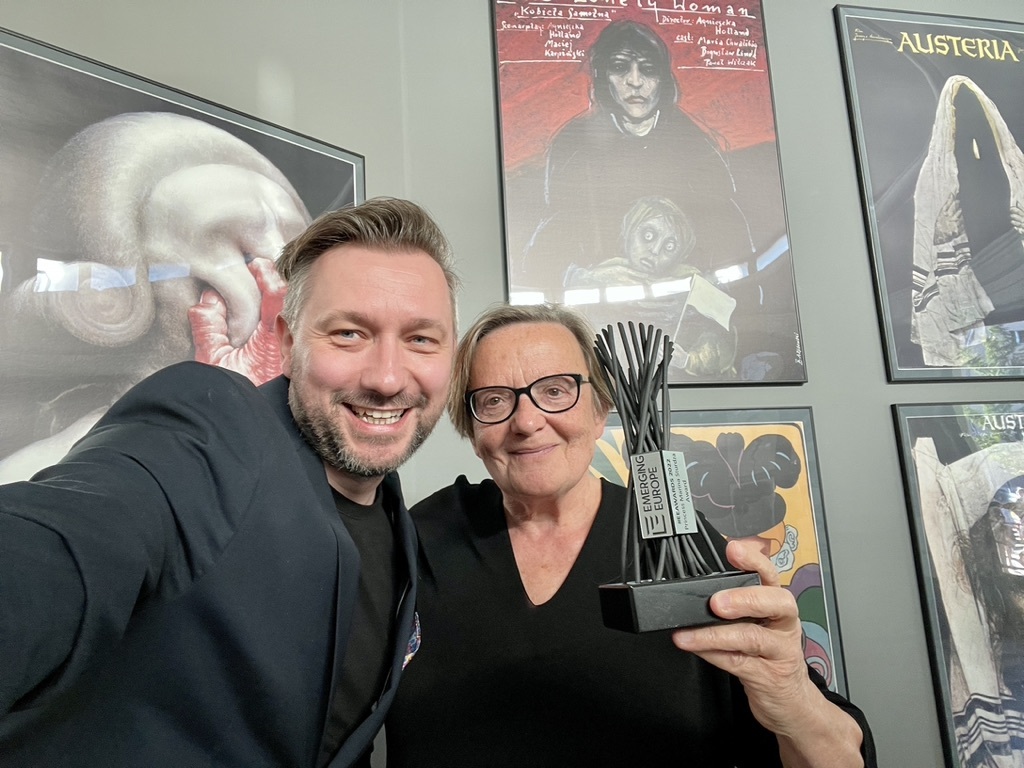 Agnieszka Holland with her award (and Andrew Wrobel)
---
Demystifying immigration
All these events coincided with yet another case, this time of corruption at Poland's Ministry of Foreign Affairs. The Central Anti-Corruption Bureau (CBA) said that hundreds of people may have secured work visas using the services of an intermediary who had connections at the ministry and who was rewarded generously for his services.
It is alleged that the intermediary offered the documents to citizens of Saudi Arabia, Qatar, the United Arab Emirates, Taiwan, Hong Kong, India, the Philippines, etc.
Paradoxically, Poland's ruling party, Law and Justice, wants to ask voters in a referendum—set to take place on October 15, the same day as the general election—if they support accepting "thousands of illegal immigrants from the Middle East and Africa" as part of a European Union relocation plan.
In June, the EU reached a consensus on key asylum and migration laws in the bloc. The agreement means member countries would either have to take in their share of asylum seekers or pay into a joint EU fund. Poland, along with Hungary, have rejected the EU asylum seeker proposal. Poland's arguments are related to increased risks of terrorist attacks, the country being very homogeneous and Islam being an unknown tradition.
According to demagog.org, a fact-checking organisation, in 2022 Poland issued 610,999 visas, including 77,289 to citizens of Muslim countries, mainly from Turkey, Uzbekistan and Kazakhstan. In the same year, Poland issued 365,490 work permits, including 135,602 (or 37 per cent) for people from Muslim countries, mainly from Uzbekistan, Turkey and Bangladesh. Also, almost 185,000 people from Islam-dominated countries entered Poland while only 1,746 were denied entry. Finally, 386 individuals who were granted Polish citizenship in 2022, originated from Muslim countries. 
How are these people any different from those who just like the family of Syrian refugees in Holland's film are struggling for a better life?
Maja Ostaszewska, a lead actress in The Green Border who herself went to the forests on the border in 2021 to help the migrants, said the film was not making a political statement.
"It asks the eternal question. What would you do if someone came knocking on your door … You can open your door, you can help, or you can decide to pretend not to see," she said.
This is one of the aspects the Award for the Democracy, Human Rights and the Rule of Law Initiative and the work of the recipients of the Emerging Europe Awards are meant to highlight. For humanity's sake, and the emerging Europe region's future.
---
Unlike many news and information platforms, Emerging Europe is free to read, and always will be. There is no paywall here. We are independent, not affiliated with nor representing any political party or business organisation. We want the very best for emerging Europe, nothing more, nothing less. Your support will help us continue to spread the word about this amazing region.
You can contribute here. Thank you.

---