Looking for cheap, reliable internet? Most of emerging Europe and Central Asia can deliver. You might want to swerve Turkmenistan, however.
The cheapest individual broadband internet package in the world is found in Ukraine, costing just 6.41 US dollars per month, according to a new study from Cable.co.uk, which compared 3,288 fixed-line broadband deals in 211 countries between October 29 and December 9.
Indeed, five of the top ten cheapest countries in the world are found in the former USSR, including the Russian Federation itself with an average package cost of just 7.50 US dollars per month, as well as Kazakhstan, Moldova and Belarus.
At the other end of the scale, however, is Turkmenistan, another former Soviet republic, where the average price of a monthly broadband package is 164.48 US dollars. Only nine countries and territories worldwide have higher average prices.
Eritrea is the world's most expensive country to get a fixed-line broadband package, with an average package price of 2,666.24 US dollars per month.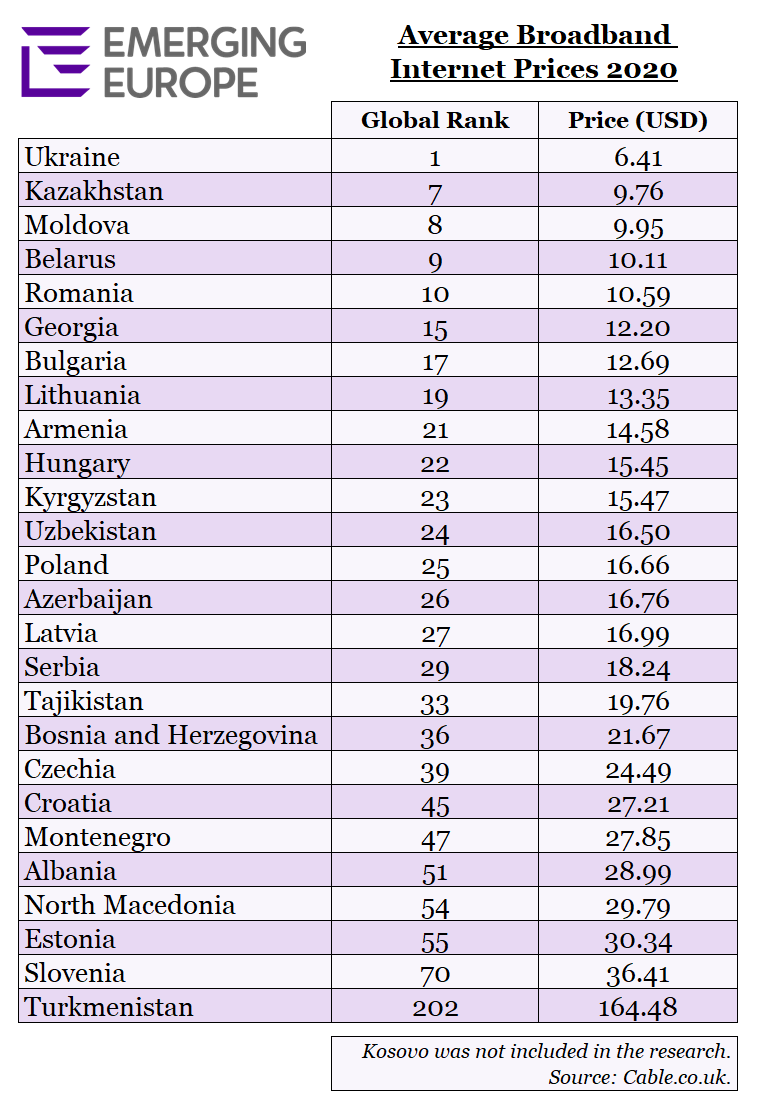 Upgrades
Commenting on the findings of the research, Dan Howdle, consumer telecoms analyst at Cable.co.uk, said: "For the first time since taking these yearly measurements, the average cost of a broadband package globally hasn't fallen. Whether or not this is related to the pandemic and other, destabilising global events is a matter for further study, however. We have also seen a substantial number of countries upgrading their infrastructure in the last 12 months, with available speeds of 1Gbps becoming increasingly common.
"As in previous years, however, the countries with slow, patchy broadband infrastructure that supplies only a fraction of the population tend to be the most expensive, and their growth in terms of available speeds either slow or non-existent."
Most of emerging Europe and Central Asia performs very well in the study, with all of the countries in the two regions finding themselves in the top 70 worldwide.
The Turkmenistan exception
Turkmenistan, where not only is the internet expensive but also limited in availability, is the only exception. The country has experienced a number of problems in its efforts to upgrade telecom infrastructure in recent years, and the telephone network remains poorly developed. Many rural areas have no fixed-line coverage, leaving the relatively antiquated mobile network infrastructure as the only platform for voice and data services.
Fixed broadband penetration in Turkmenistan therefore remains limited in scale and nature. Services are extremely slow, although when the Trans-Caspian cable is completed the country will secure additional international internet capacity which should see an improvement in the quality of services.
While state-owned communications company Turkmentelekom has reportedly developed software for a national e-mail system, some rights groups have suggested that the move will only serve to increase state surveillance of the internet.
In January, Radio Free Europe/Radio Liberty (RFE/RL) reported that the government allegedly already uses imported, privately developed surveillance equipment to track and block websites, identify people which use services to bypass blocks, intercept phone calls, and block mobile messengers.
RFE/RL and the Turkmen Initiative for Human Rights (TIHR), an exile group, have also reported that the government has started blocking all Virtual Private Networks (VPN) services.
According to an exile-run news website, Turkmen.news, by the end of July most VPN servers were not accessible.
—
Unlike many news and information platforms, Emerging Europe is free to read, and always will be. There is no paywall here. We are independent, not affiliated with nor representing any political party or business organisation. We want the very best for emerging Europe, nothing more, nothing less. Your support will help us continue to spread the word about this amazing region.
You can contribute here. Thank you.