No matter what Europe does this winter, it is going to be a difficult few months. They will likely serve as a stark reminder that Europe has neglected diversification for expedience.
As the fighting in Ukraine reaches a strategic stalemate, the conflict's impact on energy markets is intensifying.
The price of gas is going up, supplies continue to tighten, and the prospect of shortages, and even blackouts across Europe, seem ever more likely.
---
---
Now, every European government is working overtime to address the issue, making long overdue investments in new technologies, and infrastructure to find a solution before it reaches a crisis point.
Even before Russia's invasion of Ukraine destabilised global energy supplies, European energy markets desperately needed a technological upgrade, systems were too carbon intensive, and inefficient.
It has also been clear for some time that Europe's reliance on Russia came at the expense of this investment – it should not have required a geopolitical crisis to instigate the wealth of commitments from Europe we are seeing today.
In particular it is difficult, now, not to question the years of investment in Nord Stream 1 and 2 as Europe slowly reduces its dependence on Russian supplies, and the scenario of a total cut off by the Kremlin appears more likely. Time and money that should have gone into developing Europe's renewable infrastructure was instead funnelled to a pipeline with serious security challenges that also brought with it an overdependence on one supplier.
Now, finally the EU and its members are making the right moves, recognising the importance of diversifying energy supplies, particularly around hydrogen.
The EU has announced 5.4 billion euros worth of subsidies for the development of new hydrogen technology value chains. It is also investing an additional 300 euros million in hydrogen research and is calling for universities and research institutions to present innovative solutions to over 41 hydrogen research topics.
These initiatives are expected to drive private investments into the energy sector, and it is believed that 8.8 billion euros will enter the economy as companies fight for a stake in the new emerging hydrogen market.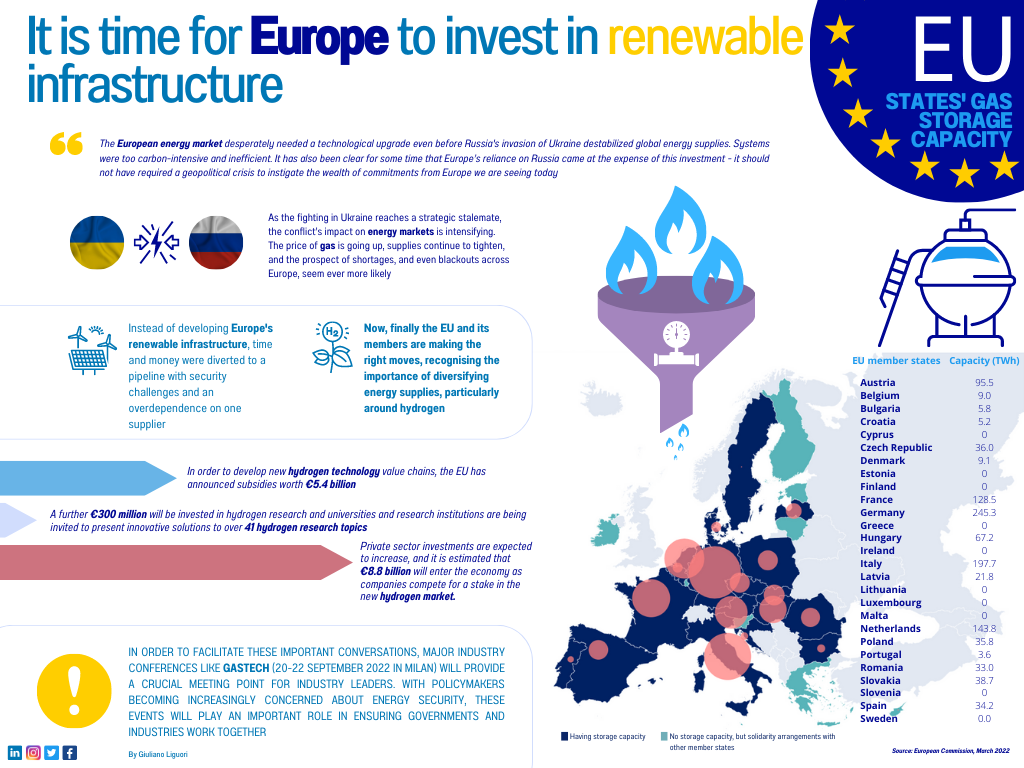 A resilient and renewable focused energy future
These are positive developments, but investment alone will not move the needle.
For the industry to utilise all the subsidies provided by the EU, the international body must also change the structure of the investment environment to make it attractive for private investments. This includes adjusting the legislation for hydrogen development, liberalising technological exchange with allies and making sure that the taxation in the green sector does not disincentivise market activity.
On a wider scale, the EU energy industry should conduct a diligent review of the latest technological advances to make sure it stays ahead of other competitor markets. Mechanisms should be put in place to prevent any possible cyber-related threats that come from hostile third countries, something that has proven to be a major vulnerability in recent months. To achieve this, an alliance between industry, research institutions and governments should be reconsidered and intensified.
In facilitating these important conversations, major industry conferences like Gastech, currently taking place in Milan this week, will provide crucial meeting points for the industry to discuss the way forward. With policymakers more concerned with energy security than ever before, these events will play a significant role in ensuring governments and the wider sector operate in tandem.
While Europe may have been forced into action, it is still likely to struggle to meet demand in the winter. Russia's threat to completely shut down crucial pipelines is likely to put pressure that Europe's long-term plans simply cannot address.
In the short-term, smart investment in LNG supplies and infrastructure, as well as energy storage, and a host of other short-term solutions, such as the extension of nuclear plants set to be decommissioned, will need to be explored to address winter shortages.
Ultimately, no matter what Europe does this winter, it is going to be a difficult few months. They will likely serve as a stark reminder that Europe has neglected diversification, for expedience, and that it can no longer only rely on traditional sources of energy for its security. It must now make the decisive decision to wholeheartedly invest in a resilient and renewable focused energy future.
---
Unlike many news and information platforms, Emerging Europe is free to read, and always will be. There is no paywall here. We are independent, not affiliated with nor representing any political party or business organisation. We want the very best for emerging Europe, nothing more, nothing less. Your support will help us continue to spread the word about this amazing region.
You can contribute here. Thank you.