Freedom of movement has always been at the core of EU's very existence. Any pullback on this principle especially towards its newer member states will generate frictions and tensions that the Union can't afford.
Hardly has there ever been a time when so much hinges on the European Union being united. Sandwiched between two major conflicts—the war in Ukraine to its east and the conflict in Gaza to its south—the EU needs coherence and cohesion on all fronts.
One of the more contentious yet fundamental issues that the EU needs to sort out is the Schengen area.
---
---
The Schengen area represents the pinnacle for freedom of movement within the European Union. Yet recently it has come under pressure as more and more states temporarily reintroduce border controls using a clause in the treaty which allows to do so whenever they deem necessary. The broad conditions stipulated in the Schengen Treaty allow for various interpretations by each member state.
Such loose ends have always plagued Schengen since its inception in 1985 yet the Schengen enlargement process is turning out to be the biggest bone of contention amongst EU member states.
Why aren't Bulgaria and Romania part of Schengen?
South-Eastern Europe's Bulgaria and Romania have yet to make it into the Schengen area. The two aspiring nations have been trying to get in for years, yet their efforts were recently quelled by the Netherlands and Austria.
Joining Schengen requires from candidate countries the application of common standards in controlling external borders, sharing of security information, and efficient police cooperation.
The governments of both Romania and Bulgaria insist that they met the necessary criteria years ago. The European Commission and the European Parliament have both been urging all member states to vote them in and have repeatedly confirmed that the candidates meet all technical conditions. More recently, the European Peoples' part (EPP), the largest group in the European Parliament, this week affirmed its support for the accession of Romania and Bulgaria to the Schengen area.
---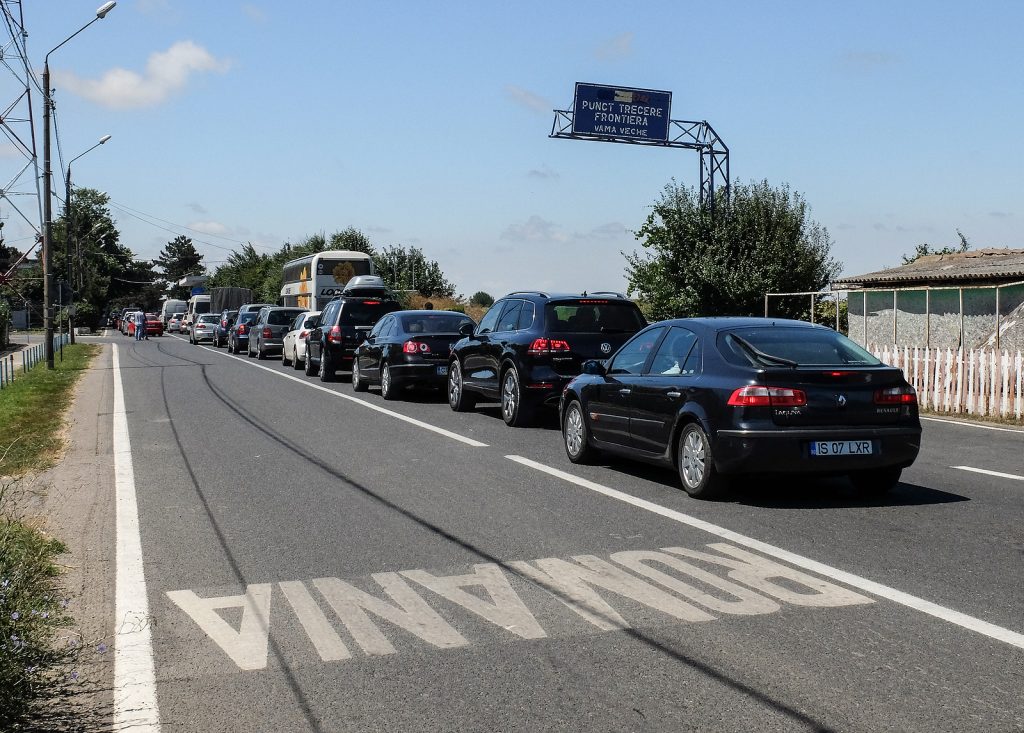 Vehicles waiting to cross the Romania-Bulgaria border
---
This is where country politics comes in, namely that the approval of a new Schengen member has to be rubberstamped by unanimity. The final go-ahead comes from the Council of the European Union, which gathers ministers from the 27 EU countries, expressing and representing the position of their member state's executive.
While EU heavyweights such as Germany and France voiced their support for Bulgaria and Romania to become full member states, unanimity was breached by the Dutch parliament urging the former PM Mark Rutte to veto the two applications arguing the prevalence of corruption and organised crime.
Another veto came from Austria after Chancellor Karl Nehammer said an enlarged Schengen area would make Austria unable to cope with a new influx of migrants coming from Turkey via Bulgaria and Romania. Neither Bulgaria nor Romania share a common border with Austria. More so, according to Frontex, Romania—as well as the entire EU's eastern border—does not represent a major migratory risk.
Officials in Bucharest and Sofia cry foul over the veto, accusing Austria and the Netherlands of unfair treatment and double standards.
Impact on South-Eastern Europe and the EU
Because of border checks and added shipping costs, Romania loses two billion euros annually, according to local shipping companies. Bulgaria's finance minister argues that the loss from Bulgaria's delayed membership in the Eurozone and Schengen is between four and five per cent of the country's GDP.
The European Parliament has also highlighted the economic burden of keeping both countries outside Schengen.
Romania is an entry point for grain coming from Ukraine into the EU. Delaying transport across EU borders of Ukrainian goods might possibly lead to bottlenecks and impact prices.
With more than a decade waiting at Schengen's doorstep, the two bids have become a source of frustration for successive governments in Sofia and Bucharest. This could in turn bring about a rise in populist sentiment and euroscepticism in both countries, as frustration builds up among the wider population.
The EU doesn't need member states thinking that they have been unfairly treated. With its future at stake, with the entire world sitting on a powder keg, the EU's 27 member states need unity and cohesion above all else.
---
Unlike many news and information platforms, Emerging Europe is free to read, and always will be. There is no paywall here. We are independent, not affiliated with nor representing any political party or business organisation. We want the very best for emerging Europe, nothing more, nothing less. Your support will help us continue to spread the word about this amazing region.
You can contribute here. Thank you.

---