Historically, China has never been an important partner of the CEE region. Trade and FDI data show that the EU, especially Germany, plays the dominant role. This holds true for Serbia as well. However, the economic and geopolitical rise of China, the deterioration of political relations between individual member states and the EU and political debates surrounding Brexit have led to a new orientation of foreign relations towards the largest Asian state.
The 16+1 format (of which Serbia is a member country) is intended to strengthen cooperation between China the CE/SEE countries in investment, transport, financing, training and science. Although the cooperation was first initiated in 2011, some time before the BRI (Belt and Road Initiative) was launched by Chinese president Xi Jinping, the objectives are converging. For China, the CEE region and Greece represent a gateway to Europe, whereby the Balkans (Macedonia, Albania, Kosovo, Serbia and Bosnia and Herzegovina) shall be a major hub for the maritime silk road, as one of three corridors which are of relevance for CEE. As such, the Balkans, and consequently Serbia, have been a focus of China as an extension of the BRI in Europe and its presence has become visible.
The BRI and other projects financed by China should improve infrastructure capacities, strengthen energy security and indirectly add to export growth. In Serbia, the central project within the Belt and Road Initiative is the modernisation of the Budapest-Belgrade railway which should be finished by 2023. The project is worth 1.8 billion US dollars, whereas the Serbian section, from Novi Sad towards the Hungarian border, is worth 1.1 billion US dollars. Only recently the Serbian government has signed several agreements with China to strengthen bilateral cooperation in the fields of innovation and infrastructure. As part of this agreement, Serbia and China's Power Construction Corporation will cooperate on the construction of a new metro network in Belgrade, which is expected to start in 2020.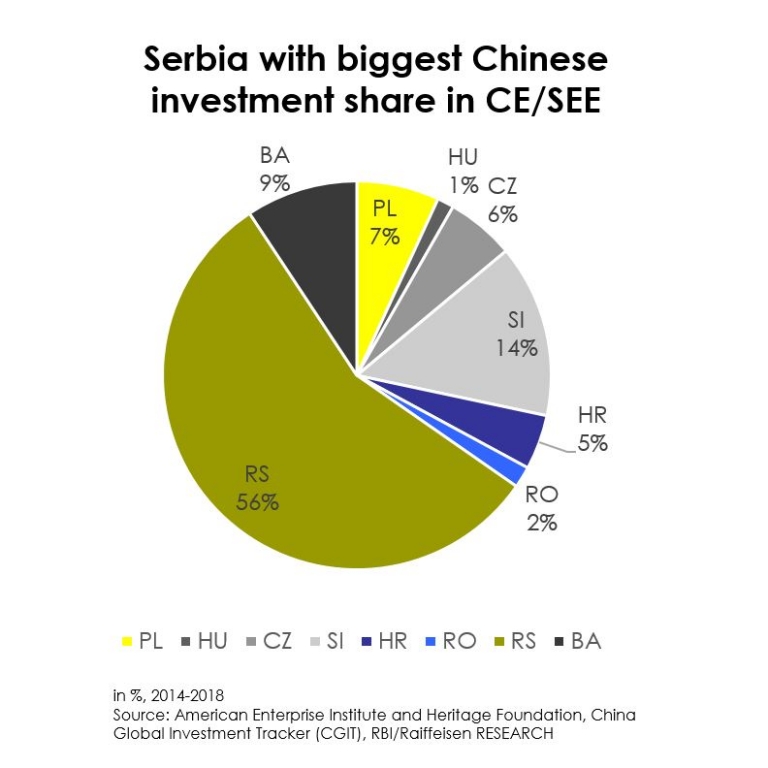 Further, China is increasing its presence as an investor on the market, via the purchase of state-owned enterprises, but also via greenfield investments. The share of Chinese investments (including Hong Kong) in the total country's FDI grew to 20.3 per cent in 2018, up from six per cent in 2017 (but starting from a very low level). Chinese investors are targeting mines, steel mills, thermal power plants, bridges and highways and increasingly investments in vehicle spare parts and components producers. The HBIS group became the largest Serb exporter in 2018, only two years after acquiring steel producer Zelezara Smederevo, taking the place of FIAT, the biggest exporter since 2013. However, the EU's introduction of a temporary import quota on steel and steel products from June 2019 will weaken the growth of HBIS.
At the end of 2018, the market was entered by Zijin, which acquired copper producer RTB BOR, paying 306.9 million euros, and Vinci, which took under concession the state-owned Nikola Tesla airport in Belgrade, paying a concession fee of 500 million euros.
Apart from infrastructure projects within the Belt and Road Initiative, Chinese investors are starting greenfield investments. Shandong Linglong will start producing tyres, whereas Minth Automotive Europe will produce car components.
To sum up, according to the China Global Investment Tracker (CGIT), Chinese investment and construction contracts in Serbia have amounted to 8.5 billion US dollars since the start of the Belt and Road Initiative. Thus, within the CEE region, Serbia´s share is around 20 per cent. Serbia plays an even bigger role when comparison is made with just the CE/SEE sphere: here, 56 per cent of all Chinese investments have been made in Serbia.
—
Lydia Kranner, an expert research analyst for China and global topics in the Economics Department at Raiffeisen Bank International in Vienna co-wrote this article, which first appeared at Discover CEE.