The whistleblower complaint by a US intelligence official about President Donald Trump's phone call in July with Ukrainian President Volodymyr Zelensky has stirred discussion of Ukrainian-US relations in both Ukrainian and Russian media.
While it was not immediately clear from the complaint which foreign leader President Trump's dealings involved, on September 19, the Washington Post revealed it was President Zelensky. The investigation led to the launch a formal impeachment inquiry into President Trump, and the White House later released a memorandum of the phone call between the two presidents.
The Atlantic Council's Digital Forensic Research Lab (DFRLab) analysed the most prevalent narratives that circulated in Ukrainian and Russian media in the week following the Washington Post's article. Ukrainian media – often journalists moonlighting by writing op-eds – focused on the consequences of the call for Ukraine's public image abroad; pro-Kremlin Russian outlets, meanwhile, exploited the incident as an opportunity to characterise Ukraine has an untrustworthy and corrupt diplomatic partner.

Narratives pushed by Kremlin-owned TV channels in Russia
In the Russian information space, the DFRLab analysed talk shows aired by the top three pro-Kremlin TV channels – Rossiya 1, Perviy Kanal, and NTV – and identified three narratives regarding broader Ukrainian-US relations.
Narrative: Ukraine is interfering in the US presidential election; both Ukraine and the United States are corrupt
Pro-Kremlin TV channels intensively pushed a narrative about Ukraine's interference in the US elections. Perviy Kanal claimed that, when opponents accused Donald Trump of having backchannel communications with Russia during the 2016 presidential election campaign, the entire political establishment treated this accusation as objective fact. Additionally, the author claimed that, when Trump allegedly demanded an investigation of Ukrainian interference – a conflation with Trump's actual request regarding the supposed corruption around Biden – into the affairs of the United States, he was accused of violating the US Constitution.
Rossiya 1 talk show co-host Yevgeny Popov claimed that Zelensky turned out to be the one interfering in the US elections, not Russian President Vladimir Putin. He also insinuated that the US political establishment does not care about the annexation of Crimea and Russia's hybrid war against Ukraine at all and "money was allocated to Ukraine for only one reason: to convince Zelensky to investigate Joe Biden's son's business in Ukraine," which the Ukrainian President agreed to do.
NTV also claimed that Biden's ongoing presidential campaign is funded with Ukrainian money and asserted that Trump had fired his National Security Advisor, John Bolton, because the latter had failed to compel President Zelensky to investigate Hunter Biden.
Narrative: Biden's family was involved in a corruption scheme in Ukraine
Pro-Kremlin TV channels claimed that the Biden family was undoubtedly involved in a corruption scheme in Ukraine, but none of the stories provided evidence to support the allegation.
NTV aired a video that claimed that, in 2015, then-Vice President Joe Biden had pushed the Ukrainian government to boost extraction and production of natural gas; his son Hunter Biden was then made a board member of the Ukrainian gas production company Burisma. Thus, Biden's family had direct financial interests in Ukraine and the TV anchor concludes that this case is worth investigating in order to expose how Joe Biden tried to cover up corrupt schemes in which his son was allegedly involved.
Rossiya 1 suggested that investigation into the Burisma case started immediately after the new government came to power in Ukraine and that the company's board membership made a decision to include western figures, who aided in the cover-up. According to this false narrative, when Joe Biden heard that Ukraine's then-Prosecutor-General Viktor Shokin had launched an investigation (which he had not in fact done), he flew to Ukraine and demanded that then-President Poroshenko fire Shokin. The then-deputy Prosecutor-General under Shokin, Vitaliy Kasko, recently clarified that the probe into Burisma had been suspended prior to the elder Biden's demand that Shokin be fired. Furthermore, Biden wanted Shokin to leave his position because the latter had sabotaged an investigation into Burisma.
Perviy Kanal accused Hunter Biden of using his position to obstruct anti-money laundering investigations against Burisma in the United Kingdom and Ukraine. In reality, however, British officials closed the Burisma case because of lack of cooperation from Ukrainian officials. Indeed, two months before Hunter Biden joined the company, British authorities asked Shokin to share information about Burisma case as a part of a corruption investigation, a request the then-Prosecutor General ignored.
Narrative: Donald Trump is not Ukraine's friend
The pro-Kremlin TV channels also pushed the narrative that the Trump Administration does not perceive Ukraine as a close ally, and that Trump himself is not interested in maintaining close ties with Ukraine. Rossiya 1, for example, asserted that Trump is lukewarm in his attempts to solve the ongoing conflict in eastern Ukraine because, in 2016, then-President Petro Poroshenko had helped the US Democratic Party collect evidence against Trump during the US presidential election.
Along the same lines, NTV picked up the unverified story reported by the Washington Post based on an interview with an anonymous former US administration official, who allegedly quoted Trump as saying that "what [the United States] was doing in Ukraine was pointless and just aggravating the Russians… and who cares about Ukrainians?"
According to NTV, Trump's ignorance of Ukraine's problems with Russia was the reason why he had not set a specific date for a meeting with Zelensky as of September 21, though they ultimately met on September 23. Pro-Kremlin outlets intensively amplified this narrative. This allegation is false, however, as Trump set up a meeting with Zelensky for September 1, 2019, in Poland but reportedly canceled the trip because of Hurricane Dorian's impending landfall in the United States.
Narratives within Ukraine
The news media in Ukraine did not react differently to the phone call to the US media coverage on the incident. The DFRLab identified narratives, however, regarding the implications of the phone call for Ukraine's relationship with its diplomatic partners.
Narrative: There was no political pressure on Zelensky, and diplomatic calls should be confidential
This narrative emerged when the Ukrainian Minister of Foreign Affairs Vadym Prystaiko gave an interview to Hromadske TV, where he said that he was aware of the content of the call but thinks that there "was no political pressure."
During the UN General Assembly, Zelensky commented to Russian channel Russia 24 that the "only person, who can put pressure on me is my son." The message was picked up by Ukrainian and Russian media. Additionally, both Zelensky and Prystaiko stated that the call was confidential. After meeting with Trump, Zelensky noted that he was sure that the White House would publish only Trump's statements.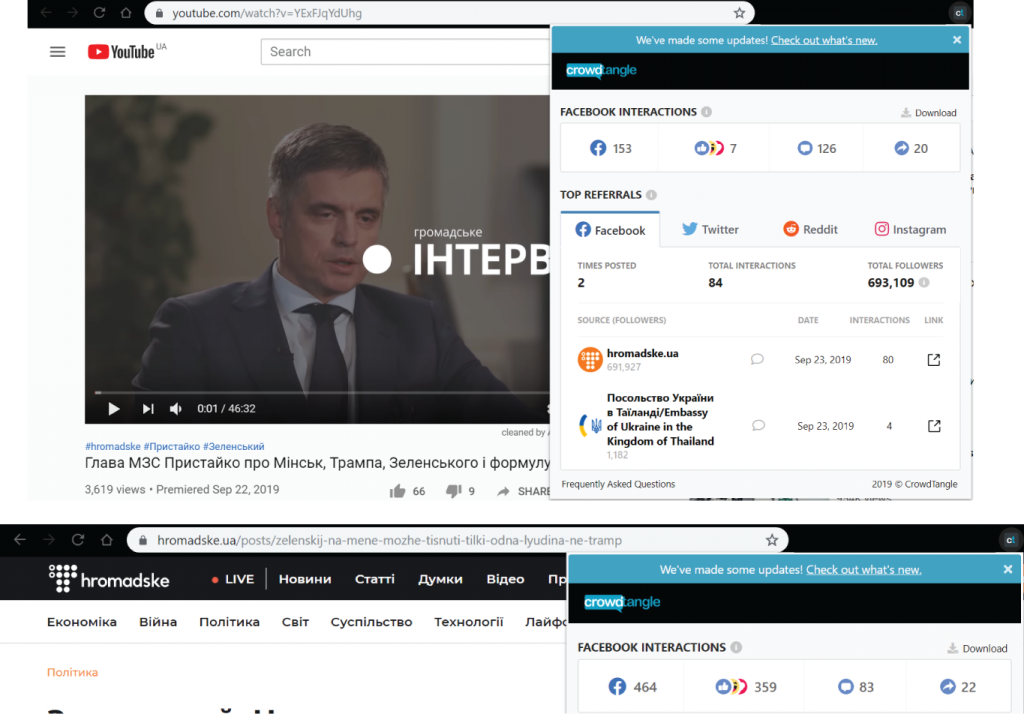 This reaction prompted an op-ed written by Ukrainian journalist Pavel Kazarin, who stated that because Ukraine lacks the same institutions as the United States, Ukrainians may never be privy to the content of the calls. Another journalist, Vitaliy Portnikov, questioned the content of Zelensky's talks with Putin, implying that the Ukrainian President might have betrayed his nation's interests.
Overall, articles that adhered to the government stance received far less engagement on Facebook than those written by independent journalists countering the government narrative.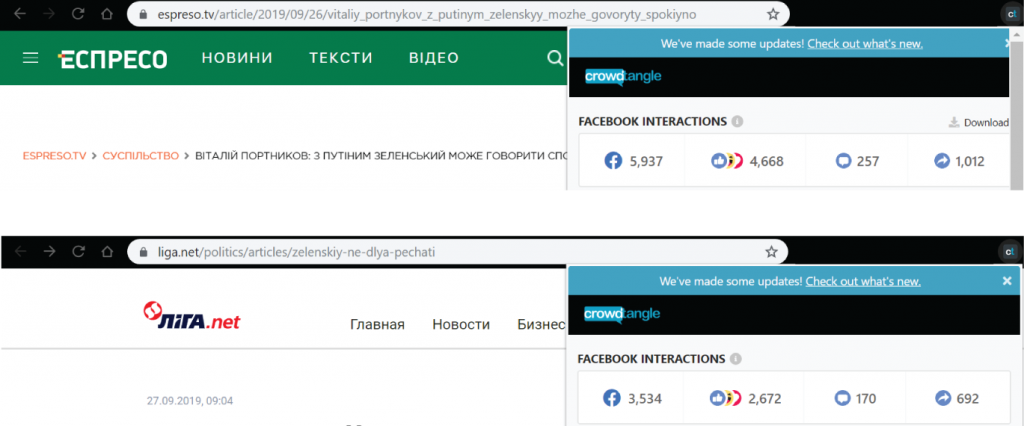 Narrative: The United States is trying to draw Ukraine into its political campaign
This narrative emerged on September 5, when the Washington Post editorial board published an op-ed accusing Trump of compelling Ukraine to aid in his reelection. Several Ukrainian media outlets echoed that Ukraine was being drawn into the 2020 US presidential campaign. The former MFA, Pavlo Klimkin, also expressed a similar view. Some Ukrainian media noted that Ukraine would be perceived as a source of problems in US public discourse and it will be a great challenge for the new Ukrainian administration.
Other sources noted that Zelensky has already taken a neutral position regarding the 2020 U.S. Presidential election and that he should continue to do so.
Narrative: Zelensky is an amateur/Zelensky lost in this scandal
Ukrainian journalists also focused on the negative image of Zelensky imparted by the reporting on the scandal. Yulia Mostova, Editor-in-Chief of Zerkalo Nedeli, argued that Zelensky had failed in his attempt to navigate U.S. politics, angering both Democrats and Republicans. Mostova stated that Zelensky failed to discuss topics crucial to Ukraine, including the US role in the resolution of situation in Donbas and US investments.
Liga.net's Kazarin suggested that Zelensky's amateur approach to diplomacy may negatively affect Ukraine's public image among its European partners, a vulnerability that the Kremlin may then exploit.
Conclusion
As the Trump-Zelensky scandal unfolds, new narratives will likely emerge in Ukrainian as well as pro-Kremlin Russian outlets.
The Ukrainian, Russian, and US media have covered the call between the two leaders from differing angles. While media in the United States has primarily focused on the impeachment and, less frequently, implications for the upcoming US presidential election, Ukrainian outlets have focused on the negative consequences Zelensky's conduct will have for Ukraine's public image with its diplomatic partners. Meanwhile, pro-Kremlin Russian media have exploited the scandal as an opportunity to portray Ukraine as a corrupt and toxic partner on the world stage.
—
This is an excerpt from the DFRLab's full length piece, which can be read here. The article was co-authored by Roman Osadchuk, a research assistant for the Eurasia region at the DFRLab.