Where once Europe was divided, now a cycling route brings people together from across the world.
Part of EuroVelo 13 and running through Austria, Czechia and Slovakia, the Iron Curtain Trail has become the cycling route of 2021.
The approximately 400-kilometre-long trail starts in Gmünd in Waldviertel, Austria, and runs through Czechia to the Slovak capital of Bratislava.
The cycling trail passes through diverse nature and city scenery, connects historical and natural monuments with historical cities and villages.
---
---
"It is hard to believe that until 1989, this idyllic environment was surrounded by fences and watchtowers that prevented people from passing the borders," says Bert Sitters, a cycling journalist.
Until the early 1990s, the Iron Curtain divided Europe into East and West, from the Barents Sea in northern Russia to the Black Sea.
The 10,400 kilometre long route is now accessible by a long-distance cycle path. The full EuroVelo 13 route leads through 20 countries, including 14 European Union member states.
Since 2014, the Slovak cycling club has been in charge of marking the cycling trails as the national coordinator of the EuroVelo trails in Slovakia.
New signs have been put up all along the route, both on the Lower Austrian side (Wald- und Weinviertel) and on the Czech side.
"The Slovak section of the Iron Curtain Trail measures 87.5 km and runs along the Morava river, which forms the natural border between Slovakia and Austria," says Roman Uscký, from the Bratislava tourist office.
EuroVelo is a European network of cycle paths, an initiative of the European Cyclists' Federation (ECF) in cooperation with national and regional partners. It has been under construction since 1993.
Uscký says the Iron Curtain route leads along separate roads without traffic, has minimal elevation and is almost entirely paved on an asphalt surface. "I recommend it for beginners as well as families with children," he says.
"Along this strictly guarded border zone, a Green Belt was created, a territory of valuable habitats that has been preserved thanks to decades of forced isolation. This Green Belt is the backbone of a unique combination of natural and cultural heritage, which will serve as a living monument to history for future generations," he adds.
More than 130,000 people cycled the route in 2020 (primarily domestic visitors, as the borders were closed due to Covid-19 restrictions), Uscký says.
"In 2019 we measured 275,000 visitors on the Freedom Bridge, which is the crossing point between Slovakia and Austria. We expect similar data this year due to the reopening of the borders."
For those of you tempted to pedal in their tracks, here's a stage-by-stage guide.
---
Stage 1: České Velenice/Gmünd – Litschau, 38 km
Gmünd-Eibenstein-Steinbach-Alt Nagelberg-Groß Nagelberg-Brand Nagelberg-Finsternau-Litschau
From Gmünd, the route leads off in a northerly direction. As you progress along the route, the narrow-gauge railway comes and goes en route to Litschau; in summer, diesel locomotives travel the route between Altnagelberg and Heidenreichstein. The cycle trail leads through Finsternau, along a diverse route of woodland and scenic views, to Austria's northernmost town of Litschau.
Stage 2: Litschau – Slavonice, 35 km
Litschau-Schandachen-Leopoldsdorf-Parten-Návary-Veolov-Landstejn-Stare Mesto pod Landstejnem-Kadolec-Slavonice
From Litschau, the route continues via Schandachen, Leopoldsdorf and Parten bei Reingers to Czechia.
Stage 3: Slavonice – Drosendorf, 39 km
Slavonice-Fratres-Rappolz-Neuriegers-Piesecne-Zupanovice-Desna-Schaditz-Nonndorf-Autendorf-Drosendorf an der Thaya
After crossing three borders, the trail takes you past the golf and horse riding village of Autendorf and into the medieval Drosendorf. The town is situated on a high-lying promontory, surrounded on three sides by the Thaya river. This is the only town in Austria whose city walls have been fully preserved. The main square is framed by baroque façades and old burgher houses.
Stage 4: Drosendorf – Hardegg, 35.5 km
Drosendorf-Unterthürnau-Oberthürnau-Vrantenin-Uhercice-Stalky-Safov-Ruegers-Felling-Hardegg
From Drosendorf head up to the picturesque village of Vratěnín, which lies already within the region of South Moravia. You can visit the castle in Uherčice or you can cool down in the natural swimming pool in Langau in Lower Austria. There is an interesting museum for pearl oysters in Felling. You will leave the Waldviertel region after the village and enter the Weinviertel wine region.
Stage 5 (for sport cyclists and mountain bikers): Hardegg – Znaim, 25 km
Hardegg-Cizov-Lukov-Podmoli-Masovice-Znojmo
From Hardegg, you will ascend across the restored border bridge and through the Podyjí National Park to the visitors' centre of Čížov with well-preserved structures dating from the Iron Curtain. From here it is not far to the royal town and the capital of wine, Znojmo.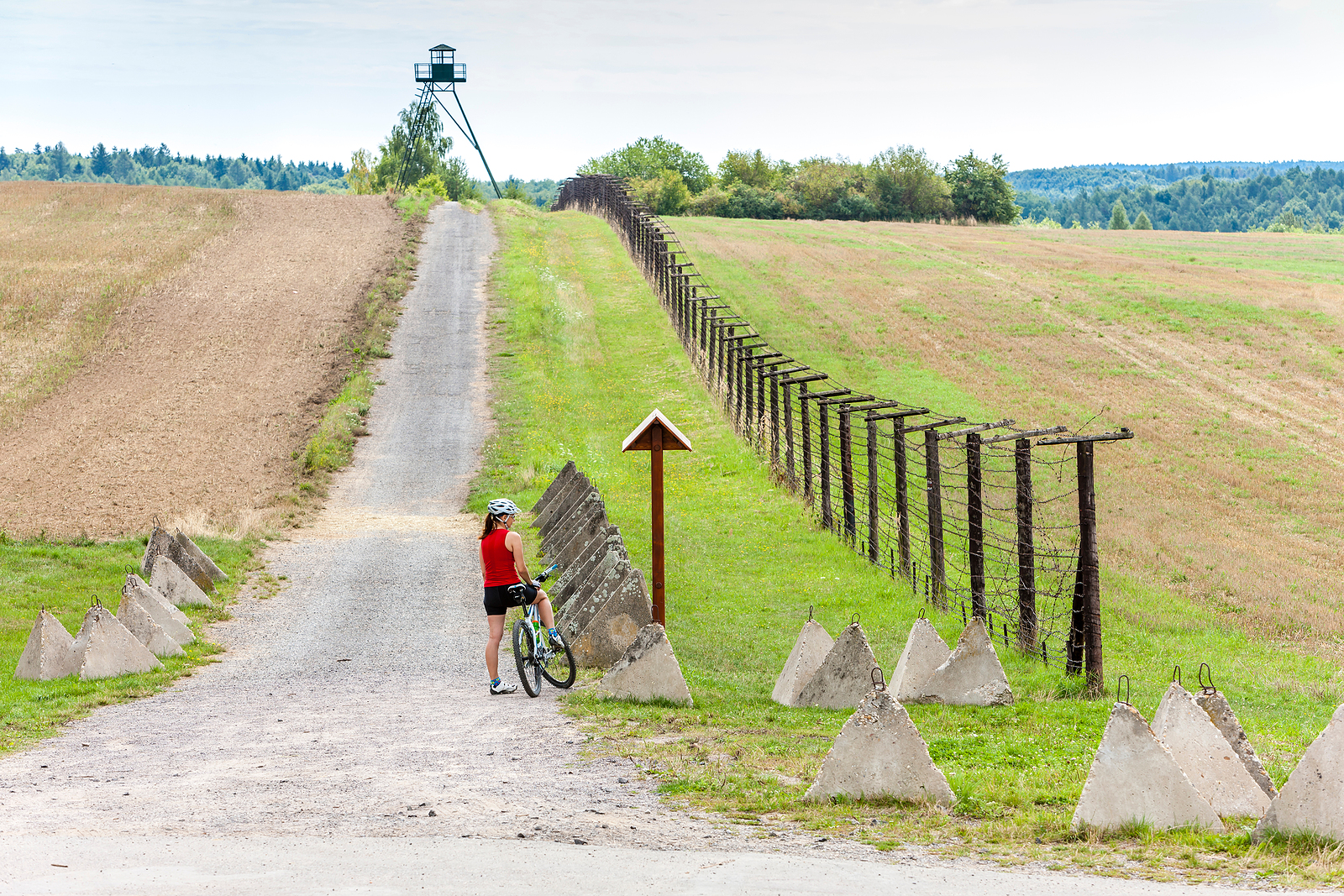 Stage 6: Znaim – Retz, 26 km
Znaim-Konice-Popice-Havraniky-Satov-Mitterretzbach-Oberretzbach-Retz
From the medieval town of Znojmo you will go past the first centre for tourist information and services in Czechia, then you will cross the bridge and climb the unpaved path through Konice to Havraníky. Next will be Šatov with a nice wine-cellar lane, a painted wine-cellar and a bunker behind the village. In Austria, be sure not to miss the wine centre of Retz.
Stage 7: Retz – Laa, 50 km
Retz-Ragelsdorf-Jetzelsdorf-Auggenthal-Haugsdorf-Alberndorf-Untermarkersdorf-Hadres-Seefeld Kadolz-Jaroslavice-Hrádek-Dyjákovice-Hevlín-Laa an der Thaya
From the picturesque town of Retz you enjoy a comfortable ride through the Pulkava River Valley up to Hadres. At 1.6 kilometres long, Hadres is the longest cellar lane in Central Europe. You will pass through Seefeld-Kadolz to the Czech side, followed by Jaroslavice (castle) and past what is the third largest lake in Moravia, and then on to Hevlín and the town of Laa an der Thaya.
Stage 8: Laa – Valtice, 42 km
Laa an der Thaya-Neudorf bei Staatz-Wildendürnbach-Pottenhofen-Mikulov-Sedlec-Uvaly-Valtice
Rested from the thermal spa in Laa an der Thaya, you will set out through a landscape dotted with vineyards to Wildendürnbach, famous for its spiral cellar alley called Šibeniční Vrch (Gallows Hill). From here, past the rest area at the Ottental-Mikulov crossing, it is just a short ride to romantic Mikulov. After Mikulov, the route enters the Lednice-Valtice Cultural Landscape, an area listed among the UNESCO World Heritage Sites. The history of the Iron Curtain is documented at the Valtice Museum, set up in a former customs building.
Stage 9: Valtice – Mannersdorf/March, approx. 64.5 km (31 km bicycle and train)
Valtice-Reintal-Altlichtenwarth-Hausbrunn-Hohenau-SK-Suchohrad-Záhorska Ves-Ferry Crossing-Angern an der March-Mannersdorf an der March
You will go from Valtice through Boří Dvůr up to the Břeclav-Poštorná–Reinthal border crossing. Before entering Austria, you can have something to eat or visit the Liechtenstein House in Břeclav or head to the confluence of the Thaya and Morava rivers, where remnants of the original fence have been preserved. The Iron Curtain Route leaves Czechia near the confluence of the Morava and Thaya rivers near Břeclav and subsequently the route crosses the trails in Austria and Slovakia.
Stage 10: Mannersdorf – Bratislava, 51 km
Mannersdorf an der March-Angern an der March-Ferry Crossing-Záhorska Ves-Vysoká pri Morave-Devinske Jazero-Devínska Nová Ves-Devín-Bratislava
From Mannersdorf an der March you return to Slovakia at Záhorska Ves. The route then continues through fields to Vysoká pri Morave. Further south, you cycle close to the bank of the Morava, and at the small settlement of Devinske Jazero, there is a snack bar. From here you can see the Volkswagen Slovakia plant on the left and an impressive arched bridge on the right, which supports the railway line between Bratislava and Vienna.
---
The Interreg Culture and Nature on the Green Strip project has launched two websites, ev13.sk, ev13.eu, and a mobile app where all visitors can find all the information they need about the cycling trails.
Top photo courtesy Bratislava Tourism Office.
---
Unlike many news and information platforms, Emerging Europe is free to read, and always will be. There is no paywall here. We are independent, not affiliated with nor representing any political party or business organisation. We want the very best for emerging Europe, nothing more, nothing less. Your support will help us continue to spread the word about this amazing region.
You can contribute here. Thank you.