For Ukrainian multimedia artist Masha Reva, getting to the point where she is able to focus on her love of drawing and painting has been a long journey. This year has seen the young artist take time to reflect and grow, and after recent collaborations with Vogue, and up and coming French fashion label Jacquemus, she is truly finding her feet. 
From Odesa, a city on the Black Sea in Ukraine's south, Ms Reva was born to a family of creatives: her father is Mikhail Reva, an artist, sculptor and architect.
"I was lucky to be born into such a family, it's an unbelievable privilege to be surrounded by such kind souls. My father taught me a lot about life and how not to get lost in art and in general," she says. Art has always been in her blood, but as she tells Emerging Europe, starting out wasn't so easy.
"I've always been attracted to drawing, but earlier on I didn't think about being an artist seriously, moreover I've been scared because my father is one, and it was a huge challenge to follow his footsteps."
Instead, Ms Reva decided to follow fashion design which her teenage self saw as "something more crafty and less pretentious". Throughout her 10 years studying fashion, she says that her main ideas came from sketches and drawings, a flat medium, almost as if drawing was nagging away at her to follow it.
After completing her masters at the world-renowned Central Saint Martins in London, Ms Reva came to the conclusion that fashion design just wasn't enough.
"I've realised that there is only one thing that makes me calm and happy – it's the freedom to draw whatever I want and when I want," she says.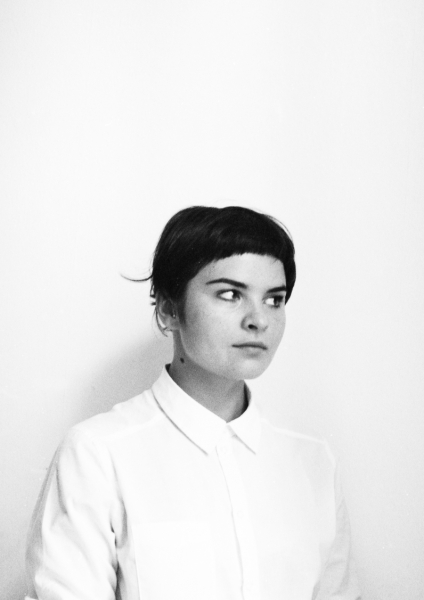 This revelation has since paid off. Her work is reminiscent of Matisse's vibrancy and arabesque lines, and the carnal tones of Egon Schiele, while remaining uniquely her own. Ms Reva's eloquent lines manage to translate abstract faces into intimate snapshots of the subject's character, while maintaining their lively nature.
Her recent work has seen her move onto using the human body as a canvas, coming full circle from fashion design, where the clothes are now painted on. Sweeping blocks of colour, and bold thick lines curve around lips and cheekbones, producing a living and dynamic work of art. A wearable painting.
"I'm constantly searching for inspiration and usually I find it in unexpected observations like things I notice on the streets of Kyiv and when I travel, I'm inspired by people I admire and my family of course," she explains.
This is certainly true of her recent work Bugaz, which is a project close to home. After a busy three years, Ms Reva tells Emerging Europe that she finally found the right time to focus and create work in homage to her childhood in Odesa.
"It symbolises a conversation with me back in the time when I was a child, the shoot tells a story of my childhood dreams and hopes taking place at the beach along the Black Sea, next to my family's summer residency where I grew up," she explains. "I've always wanted to create something out of nothing, to force my imagination to find unexpected solutions and new meanings for objects I use in my shoots. Normally I work with photographers but this time I decided to take over the camera myself."
The project, which was printed in the July/August issue of Vogue Ukraine, captures the colourful yet gritty atmosphere of the seaside. In one of the shots, Ms Reva recreates a mermaid of her childhood with a combination of fishing nets and blue body paint, producing a strikingly whimsical character.
Not long after she finished this labour of love, Ms Reva found herself stuck in Mexico for three months after quarantine struck in the middle of a family holiday. "I am so grateful to have had this time with my family, it taught me a lot."
During her time there, along the Caribbean Sea, she became more aware of the huge problem of garbage that is polluting the world's waters. "We started to collect it with my dad to bring more attention to the topic. Now my dad is creating an exhibition partly dedicated to ecology and our adventures in Mexico."
Sea pollution such as plastic and fishing nets resonate in her work, where they are re-imagined as an artistic medium and given a new lease of life. Yet in this self-portrait remains an allusion to the disparity between the natural and the polluter, in a poetic reminder of human intrusion.
Growing up in Odesa, and being Ukrainian, remains a key influence for Ms Reva, yet she describes that it is one she only began to realise the importance of recently.
When the Ukrainian revolution broke out in 2014, she was midway through her studies in London, and felt the need to take a year out to return back to her home.
"It was a life-changing experience to see people waking up, protesting, helping each other in order to live in a better place, like what's happening in Belarus right now."
As she explains, the alternate perspective that comes from living abroad offers her a fuller appreciation for the powerful force of her home.
"I have to admit that all my experience of studying abroad made my perception of being an artist much broader and deeper, and only after that I realised that actually the energy of the place I grew up is huge."
Ms Reva represents part of a new and upcoming post-revolution generation of Ukrainian youth. One that is finding newfound confidence, inspired by the power of their home. However, her plans go far beyond Odesa and Kyiv. In the coming months she plans to work on more large scale paintings and even a book. And collaborations with Vogue Italia and French fashion labels, work as a creative director, and as an artist mean things are only pointing up and out to the world for the young creator.
"I'm proud to be Ukrainian but I believe that an eye has to travel," she says.
—
Photos: Mashareva.com
—
Unlike many news and information platforms, Emerging Europe is free to read, and always will be. There is no paywall here. We are independent, not affiliated with nor representing any political party or business organisation. We want the very best for emerging Europe, nothing more, nothing less. Your support will help us continue to spread the word about this amazing region.
You can contribute here. Thank you.