One of the world's most renowned classical pianists and a UNESCO artist for peace, Elisso Bolkvadze is preparing for a new role, as an MP with a vision for the role of culture in her home country of Georgia.
Elisso Bolkvadze is in ebullient mood as we speak about her latest endeavour, having been elected as an MP in Georgia's recent parliamentary elections.
But then Ms Bolkvadze is always in ebullient mood: a bundle of energy and good cheer who has brought joy to music lovers across the globe during her distinguished career as a classical pianist, a career that spans four decades.
Read More:
And despite her new responsibilities, she is not planning on closing the lid of her piano just yet, at least not completely.
"I am not going to put my career entirely on hold, I will still give concerts, as I have a few engagements in Germany and Italy scheduled for 2021," she says. "I will do my best to match both my political role and my career as a pianist."
Cultural diplomacy
Ms Bolkvadze believes that her background will help her contribute to educating people about music, as well as engaging in what she calls "cultural diplomacy".
"We are looking forward to be more associated with Europe," she tells Emerging Europe.
"As somebody who has been involved in culture and music for a very long time, I have my own vision about Georgia's role and contribution to Europe's cultural heritage. Georgia is a small but very culturally eclectic and rich country, and I would like to tell the story of Georgia anew."
Ms Bolkvadze is a keen European and equally keen to stress that Georgia itself is a part of Europe. "Our culture is European," she says.
"We are very determined to integrate closer with Europe and our culture plays a key role in this pursuit. My vision is to forge new cultural links with the rest of Europe and to strengthen those which already exist. And we also need to create new opportunities for young people, to keep them in the country."
Bringing people together
Ms Bolkvadze has long believed that the language of art and music bring people together. As the founder of the Batumi Festival, established in 2012 through her charity Lyra, she has brought the world's best musicians to Georgia while offering a platform to young Georgian talent.
"I never wanted Batumi to be just another festival, but a real cultural platform for the Black Sea region, a forum for cultural diplomacy, for international meetings and discussions. A place where everything comes together."
It was working on the festival, and working with government officials, that made Ms Bolkvadze realise she could do so much more for Georgia. She also wants to enlarge the festival, adding more cultural and historical aspects to it, connecting it with tourism and attracting more visitors to Georgia.
Then there's the central Georgian city of Kutaisi, which in 2021 will host the Annual Advisory Forum on Cultural Routes, organised by the Council of Europe together with the Georgian government. "For about a week Kutaisi will become the cultural capital of Georgia," she says. "These steps bring us closer and closer to the rest of Europe."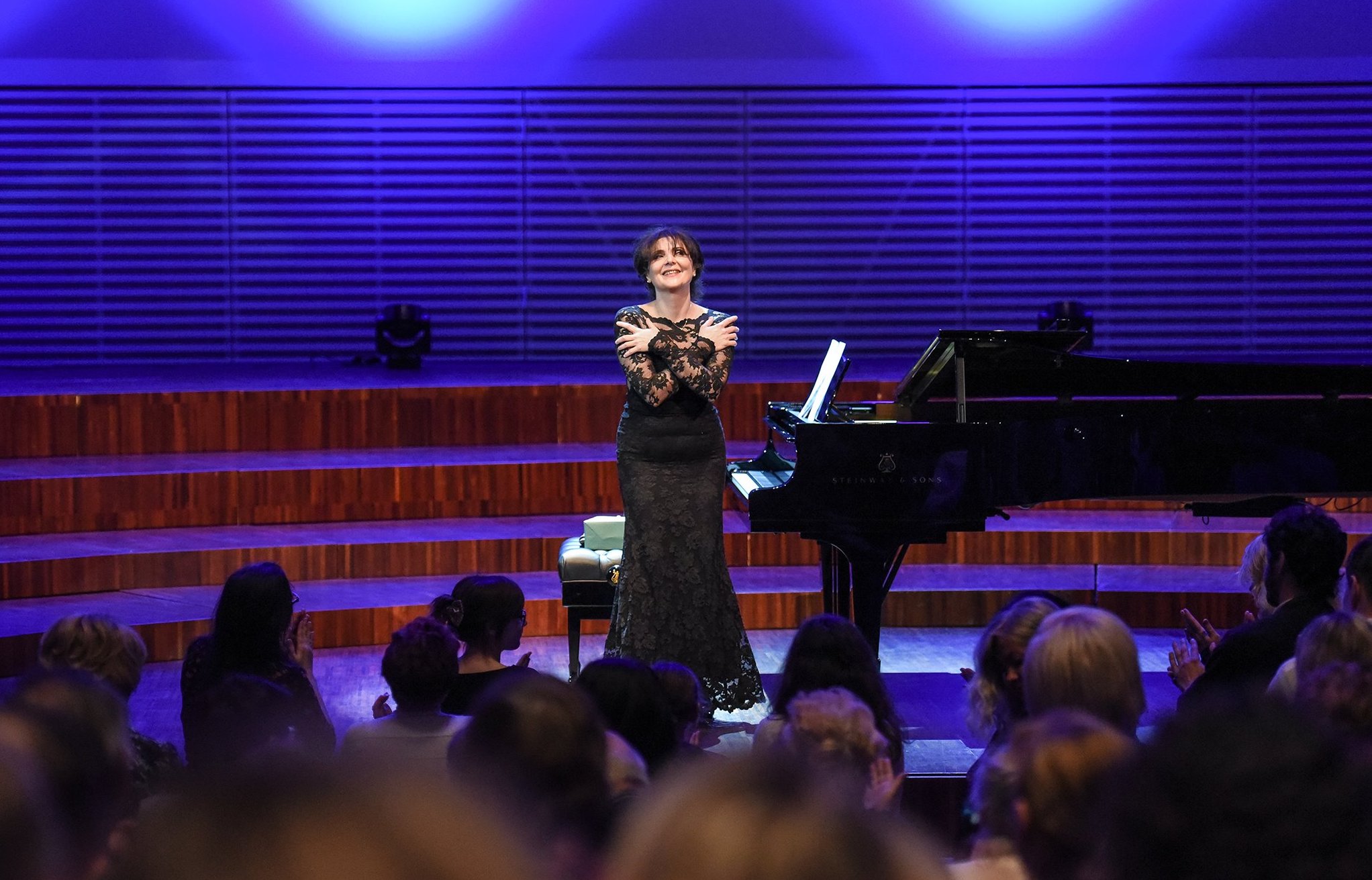 'Music is part of my soul'
It is music that remains Ms Bolkvadze's first love, however. "It is a part of my soul," she says. "Without music my personality would not be fully developed. I might be involved in politics now but it is music that makes me the person I am today. And it all started very naturally. I was just two-years-old when I started singing and playing the piano. I was attracted to the piano at a very early age. Music has been a huge part of my life ever since then."
Ms Bolkvadze feels that playing the piano enhanced her creativity and precision. "The piano is a very complex and precise instrument so you need to be extremely focused on it. That also translates into other things and makes me very organised. When I do something, I give it my full attention. I devote myself to it."
"I still remember my first public performance with an orchestra," she tells me. "I was seven years old. I played Haydn's concerto in E Minor. There was a large audience of about 800 people. All this happened very early in my life and at the time I knew I would become a pianist and I was really determined to achieve my goal."
A cultural family
Ms Bolkvadze comes from a very cultural family. Her father was a poet and ran a magazine with her mother that translated foreign literature into Georgian. The family was constantly surrounded by artists and Georgian culture.
It was soon after the fall of the Soviet Union that Ms Bolkvadze started touring, although procuring a visa for the United States was difficult. Then came Georgia's first war with Russia.
"I am a product of the war and I know what war is. Peace is very important for me: when there's peace, everything is possible," she says.
Ms Bolkvadze gave a number of charity concerts during Georgia's war with Russia in 2008, at Victoria Hall in Geneva, to raise money for young people.
Diplomats accredited in Paris then suggested to Irina Georgieva Bokova, who was director-general of UNESCO at the time, to make Ms Bolkvadze Georgia's first UNESCO artist for peace. Though she has made France her adopted country, "Georgia is my home," she says.
Her political duties aside, what Ms Bolkvadze longs for more than anything right now is to return to the stage, in a packed concert hall.
"As an artist the most important thing is to be on stage," she says. "It places you in another dimension. But this can only happen with an audience."
—
Unlike many news and information platforms, Emerging Europe is free to read, and always will be. There is no paywall here. We are independent, not affiliated with nor representing any political party or business organisation. We want the very best for emerging Europe, nothing more, nothing less. Your support will help us continue to spread the word about this amazing region.
You can contribute here. Thank you.