Narva offers visitors more than a glimpse into Russia—its stunning castle and rich culture deserve being enjoyed in their own rights.
After just over two hours on an eastward train from the Estonian capital of Tallinn, I was greeted with a somewhat unusual sight for a Schengen Area station: passport control. I was on Estonia's, NATO's and the EU's border with Russia. I was in Narva.
---
---
The city rests along the banks of the Narva River, which forms the international border with Russia. The two banks of the river mirror each other: people walked through the snowy parks on each side with their dogs and children.
The Hermann Castle, a Danish fortification sold to the Livonian branch of the Teutonic Order in 1346, stands on the western bank across from the Ivangorod Fortress, built by Ivan III on the eastern bank in 1492. The Hermann Castle's stunning tower was built shortly after the Ivangorod Fortress to monitor the Muscovite side.
Rivals or twins?
Though the stone fortresses standing directly opposite of each other look almost like twins, there are clearly visible signs of geopolitics that are impossible to miss. The Hermann Castle flies Estonia's flag while the Ivangorod Fortress flies Russia's; a recreational centre in the park at the foot of the Hermann Castle flies the Ukrainian and EU flags as well. After Narva removed a Soviet-era T-34 tank from a park last summer, Russia erected an identical T-34 across the river. In December, a Lenin statue was relocated from the museum inside Hermann Castle to a history museum in Tallinn.
The rival fortresses and flags provide television news crews with a clear visual depiction of NATO-Russia tensions. I first learned about Narva as a high school student in the United States from a Public Broadcasting Service piece that did just that. "Since much of Estonia's border with Russia crosses a lake, any future invasion by Moscow is thought likely to come either here or further to the south, next to Latvia," says one BBC piece.
Various travel vloggers have also made popular videos about the city, but I was still surprised by the number of international tourists I saw taking pictures on a midweek afternoon in the dead of winter.
While Narva is Estonia's third largest city, only four per cent of its 59,000 residents are ethnic Estonians. Over 80 per cent are Russians, and 97 per cent speak Russian. Home to citizens of Estonia and Russia alike, roughly 15 per cent of its population is stateless because of gaps in Russian and Estonian nationality laws in the aftermath of the Soviet Union's collapse. While nearly a quarter of Estonia's 1.3 million people are ethnic Russians, Russian-language schools have been a long-standing point of controversy in Estonian politics since it regained its independence from the Soviet Union.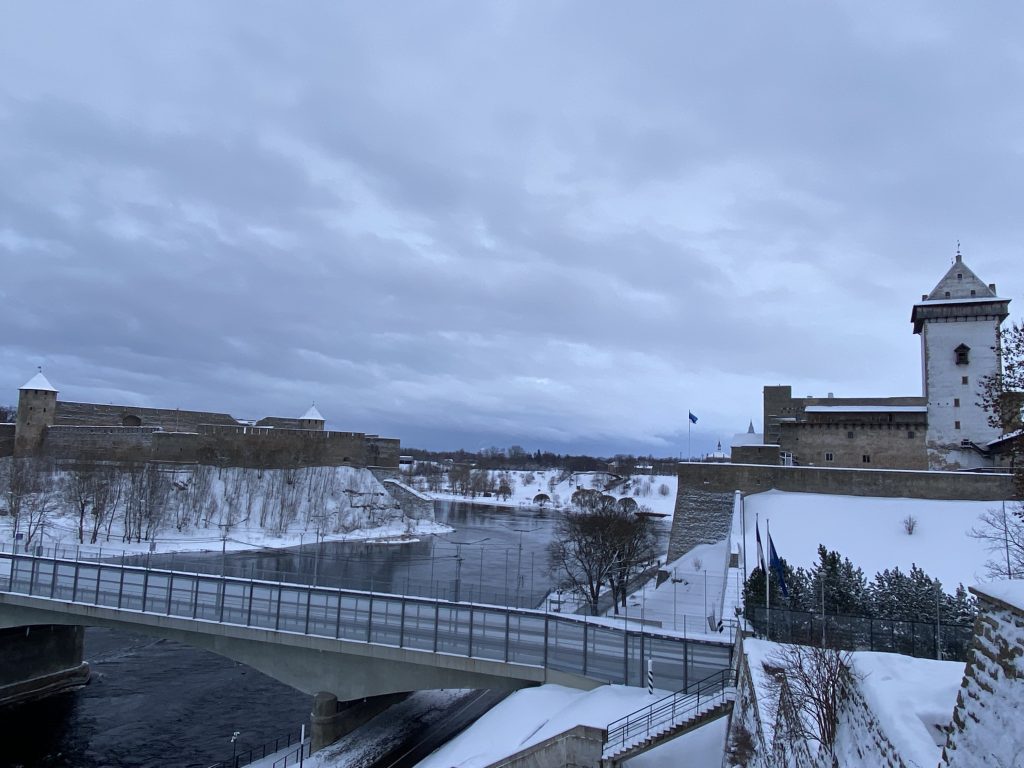 The right reasons
As I walked through Narva's snow-covered downtown and tried some delicious Russian food, I realised that I had come to the town for the wrong reasons. I find borders interesting and have previously made day trips out of visits to the Georgian-Russian and Uzbek-Afghan borders, but Narva deserved to be visited in its own right—not merely for its proximity to Russia.
The Hermann Castle and Ivangorod Fortress are beautiful. Narva's downtown and parks are cosy—especially in the warm glow cast by streetlamps onto the snow. The culture and history are as rich as the caviar and salmon pancakes available in its quaint restaurants.
Narva's status of "geopolitical interest" has led to centuries of militarisation and battles that far predate the modern Estonian and Russian states—let alone NATO or the EU. And its residents have borne the costs, surviving wars and 'population transfers' and ongoing politicisation and statelessness. But they and their city are still here.
---
Unlike many news and information platforms, Emerging Europe is free to read, and always will be. There is no paywall here. We are independent, not affiliated with nor representing any political party or business organisation. We want the very best for emerging Europe, nothing more, nothing less. Your support will help us continue to spread the word about this amazing region.
You can contribute here. Thank you.