With no shortage of walls to paint on and a welcoming local urban art community, Bucharest has recently been the recipient of several foreign urban art interventions, among them pieces of street art by Aito Kitazaki, Vhils, Hedof, Akacorleone, iZZY iZVNE, and J.Ace.
"Graffiti" and "street art" are often used interchangeably. It's easy to understand why. Both terms refer to buildings, walls, and fences turned canvases. With Covid-19 lockdown measures slightly eased, people have started venturing out in high numbers. Devoid of the usual hang outs, as cafés, restaurants, and bars – likely to remain closed until further notice – cities now have the chance to reveal themselves allowing once hurried residents to play the visitor game and take in the open-air museum.
Despite being conflated, the two terms differ in many respects.
First off, graffiti predates street art. Coined by American novelist Norman Mailer, the term "graffiti" stems, etymologically, from "graphein," which means to write in Greek, and "graffare," which means to scratch in Italian. In 1973, after repeatedly following graffiti artists in Washington Heights – a NYC neighborhood situated north of Harlem – Mailer discovered that most were teenage boys who used buildings, rooftops, bridges, and subway trains to spray-paint their "tags" (nicknames followed by the number of the street they lived on).
Over time, this initial form of rebellion evolved, turning a crude freedom of expression into a political manifesto. Graffiti is illegal and, as such, tends to be created during the night. Artists refrain from using their real names, using pseudonyms instead. Graffiti works are typically word-based and are made with spray paint. Additionally, graffiti include stencils, posters (pieces made at home then pasted up), and stickers (small-size posters).
Unlike graffiti, street art is image-based and is either painted with permission or commissioned. The intent is to send an overarching message, not to mark a territory. Street artists work in broad daylight and proudly sign their creations. Since subversiveness and social commentary play a lesser role, street art often leads to gentrification. Consequently, once dissidents, street artists are now gentrifiers who crisscross the world and use their works to change the faces of the cities they intervene in.
A leisurely stroll through the Romanian capital's streets, at times inviting one to wander off the beaten path, reveals magical pieces filled with interesting meanings and the occasional cultural tidbit.
Take for example Aito Kitazaki's manga-inspired work. Part of Lente restaurant's garden since 2019, The Rain, Kitazaki told feeder.ro, a Romanian non-profit organisation that promotes urban culture, that the work draws attention to the 400 words available in Japanese to describe rain (summer rain, winter rain, light rain, weak rain, severe rain, intense rain, rainfall, rain shower, downpour, etc.).
As with many of the murals featured, Kitazaki's work was commissioned by feeder.ro, through its street art-lead urban regeneration programme, Un-hidden Bucharest.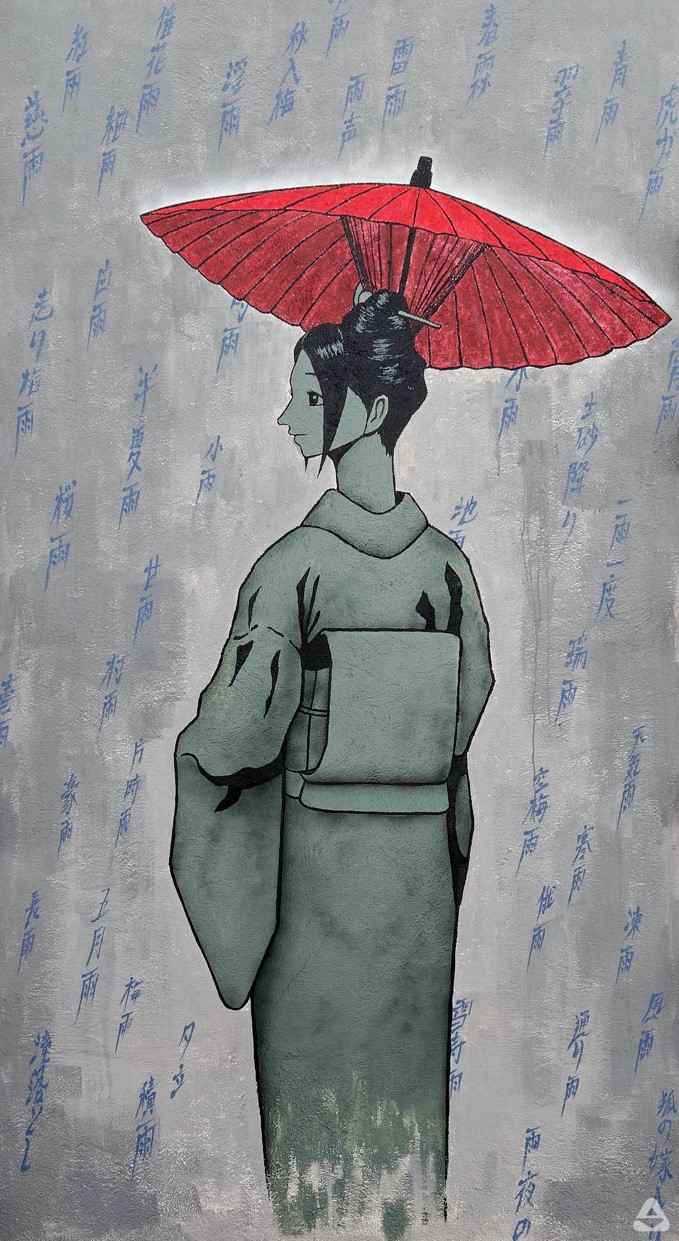 The following portrait of Constantin Brâncuși, Romania's greatest artist, now fittingly graces the exterior wall of Bucharest's National University of the Arts. Completed in 2016, the work bears the signature of Vhils, arguably one of the most important street artists today.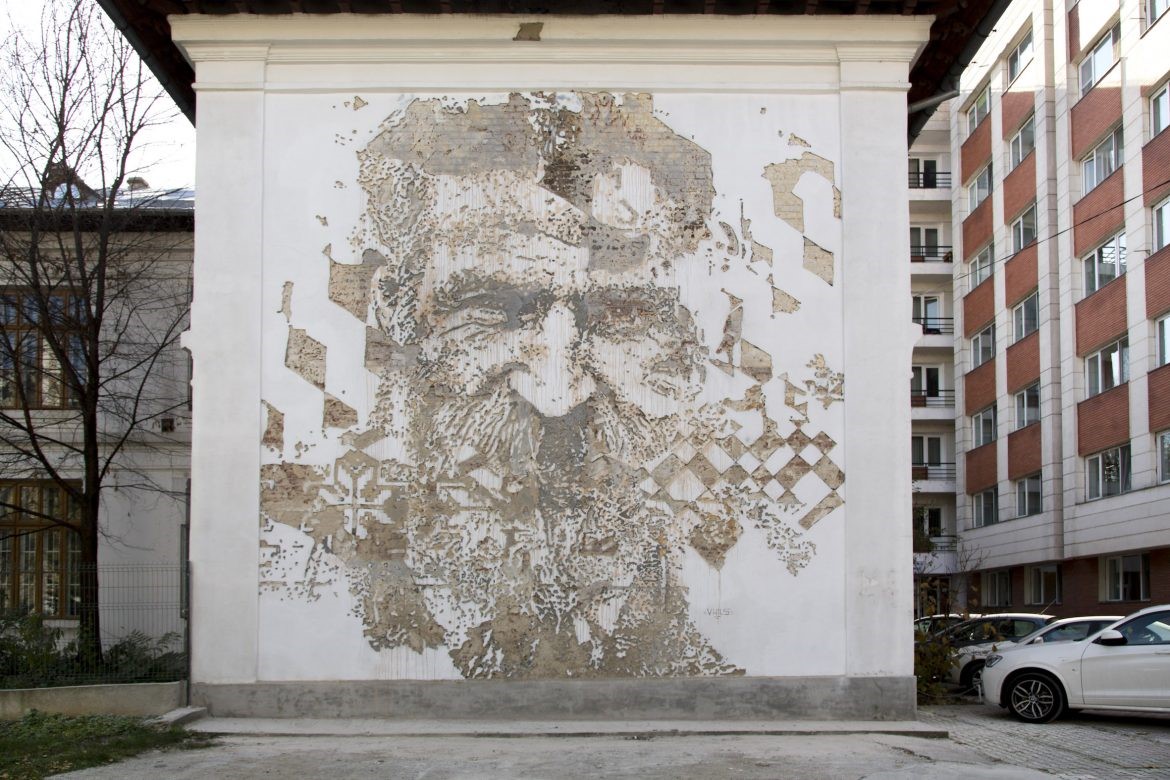 In 2019, Portuguese-Swiss artist Akacorleone painted the entire side wall of a building bordering Cișmigiu Gardens. The result is below.
Across the Cișmigiu Gardens, the Faculty of Sociology and Social Work displays the 2018 work of iZZY iZVNE. The piece consists of six spirals, each containing a cryptic poem.
Scattered around since 2018, there are a dozen palm-size masks created by J.Ace and affixed conspicuously on buildings throughout the downtown area. The artist calls them "small faces in great places."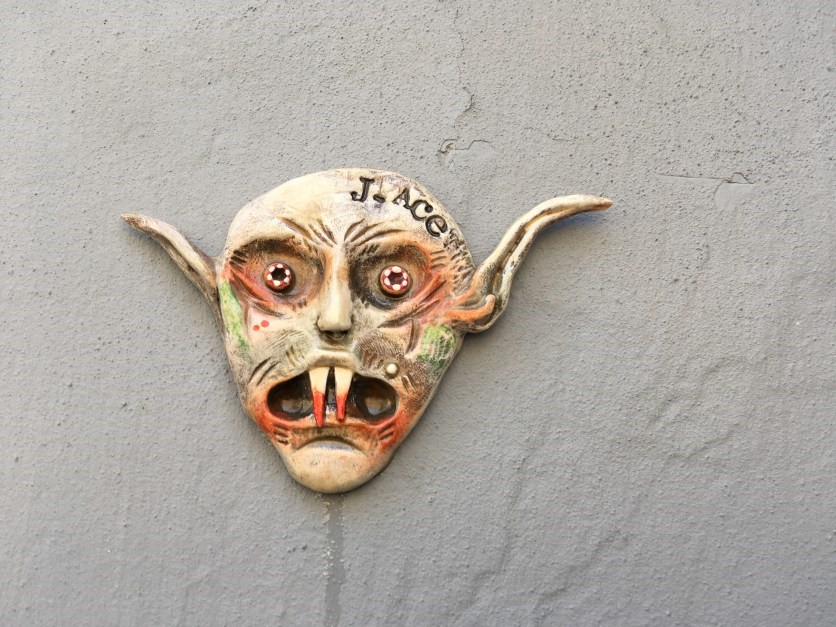 What better way to discover the city than embarking on a pretend treasure hunt? Enjoy your stroll and happy headhunting.
—
All photos copyright feeder.ro. The images can be found (alongside many others) in the organisation's Un-hidden street art in Romania book, launched in November 2019. 
—
Unlike many news and information platforms, Emerging Europe is free to read, and always will be. There is no paywall here. We are independent, not affiliated with nor representing any political party or business organisation. We want the very best for emerging Europe, nothing more, nothing less. Your support will help us continue to spread the word about this amazing region.
You can contribute here. Thank you.