It's a Monday afternoon in a French brasserie in Knightsbridge. I am meeting Princess Marina Sturdza on the last day of her three week visit to London, before she flies back to New York.
"I don't know how much you know about my background," the Princess starts, after a little small-talk about the recent demonstrations in Romania, as two weeks earlier over half a million of her nationals made it onto the streets.
I should have expected this question. In the end, I am speaking to an internationally renowned journalist who has done thousands of interviews with the likes of Karl Lagerfeld or Giorgio Armani. I know she finds it "incredibly careless" when someone comes to interview her unprepared.
Then, I think this is not a regular interview as the Princess is also interested in Emerging Europe and its mission, so I treat it more as an opportunity to discuss the history and the potential of the Central and Eastern Europe region rather than a pure interview.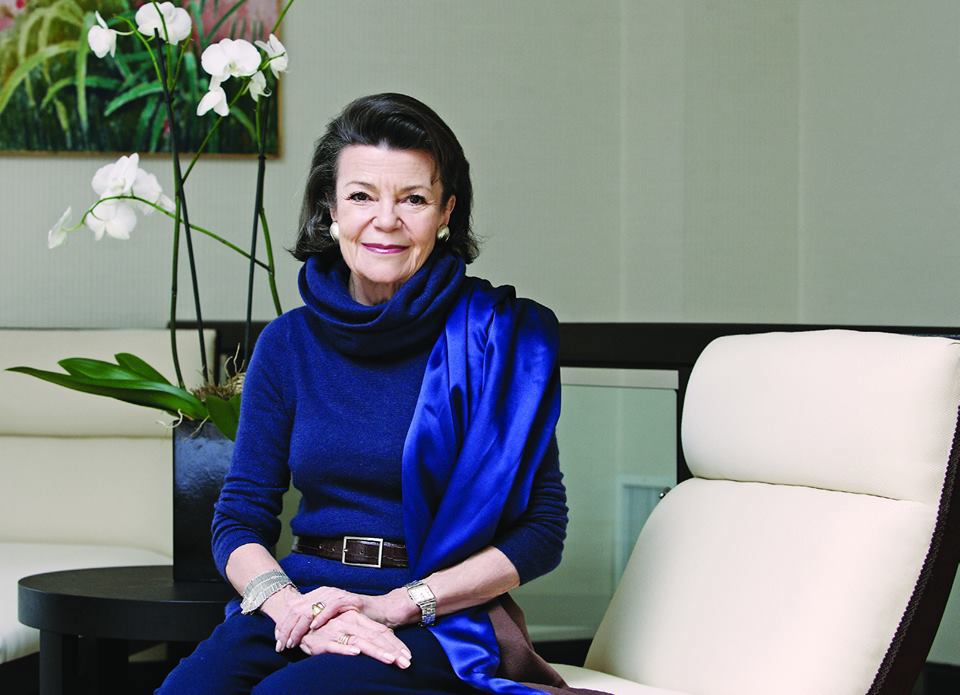 Early days
Of course, describing Princess Marina Sturdza solely as a journalist would be disingenuous. She has been vice-president for Oscar de la Renta, worked for UNICEF, organised major international investment summits and has been a patron of multiple international charities. She also speaks frequently about Romania and its unlimited potential, and it is her relationship with the country that is most inspiring for me. Despite being banished from her native land, she is one of the most enthusiastic advocates for Romania that I have met.
"I have read quite a lot about you but I'd like to hear more from you," I say and I start by asking her about her earliest recollections of her native country.
"It was when I was three years old," she says looking through the window and scanning her memory. "I remember my grandmother. I remember not seeing my parents very much. We didn't in those days anyway as we all had Fräuleins and nannies. I remember being handed around to many people because we didn't really have a stable place to live in anymore."
Princess Marina's family fled the country in 1948. Both her mother and father were members of the reigning family, whose origins can be traced back to the 1540s. Her mother divorced her father and married the biggest industrialist in Romania.
"So really the combination of the three [individuals] could scarcely have been worse. The commercial attaché at the Swiss Embassy was a very close friend of my family and he helped my parents leave the country. They were escorted to the border and given new identities: David and Annie Blumenthal."
The three-year old Marina stayed with her grandmother. The plan was that the commercial attaché would take the child to Switzerland afterwards and the family would be reunited in Zurich.
"When my grandmother received the message that my parents had arrived in Zurich, the attaché got on the train in Bucharest and my grandmother was supposed to put me on that train close to the border, not being certain whether he was on the train or not. I had been drugged so I would not speak Romanian. He did find me and took me to Zurich."
On the move
The family lived in Switzerland for two years, then went to France for some time, then to Italy and finally, with the help of the Red Cross, they went to Canada on a year-long programme of heavy agricultural works.
"We arrived at a pig farm in Alberta. My stepfather, who had really never done heavy manual work, looked after the pigs. I went to a one-room school house where, I think there were 12 grades. Then, after seven or eight months the health authorities were told that the conditions there were very bad and they declared that we didn't have to complete our year. So we set off for Toronto with the little money that we had. We did all the things that refugees do. We had really drawn a line under Romania. We didn't anticipate that anything would change and that we would ever be able to return so we built a new life."
She never told her story to other children in Canada, as she felt different and exotic, compared to her peers.
"I was "the foreign kid", strange; my clothes were different. I wasn't allowed to do the things they all did. I was raised in a very restrictive manner. I wasn't allowed to go to certain parties, to play after school, and more colloquial language would be punished. I didn't tell my story to anyone there because it was inappropriate and it was a situation when you want to look exactly like the others; to be exactly like them and not isolated," the Princess said in an interview a few years ago.
Marina's stepfather eventually become a trade attaché at the Belgian Embassy. In 1970, the Princess got married and moved to Montreal, where the couple lived for eight years. They later moved back to Toronto, where the princess's husband became editor of the Toronto Star, after having worked as the executive editor of the Montreal Gazette.
"I had wanted to be a diplomat, but I became a journalist and worked for about 35 different publications over the years. I began travelling a great deal. I was able to do interviews in different languages. That led to doing a lot of television and becoming an all-around journalist."
Coming back home
The couple got divorced, which led the Princess to think that there were things that she had always wanted to do and that perhaps that could be the time. She travelled extensively, interviewed famous fashion designers and even organised a large charity event with Oscar de la Renta, after which he offered her a job as his vice-president in New York.
"After about two years, I realised it wasn't a place for me. It was very mean and odious, back-biting and wrong. I think I had reached a point when I wanted to do something more for humanity than just earn money. Money per se has no value if it is not connected with achievement and accomplishment."
At the beginning of the 1990s Princess Marina applied for a job at the United Nations and became a marketing manager, responsible for half the globe and then the entire world.
At the time, over four decades had passed since she left Romania. She first saw the country in 1992, three years after Nicolae Ceaușescu, the country's admired, and feared and despised Communist leader and his wife Elena were executed on Christmas Day of 1989.
Princess Marina says Romania had the most repressive communism. Half of her family was annihilated and their names were taken out of the history books, so many Romanian never really knew their history or who had shaped the country.
"I had always resisted the idea of going back. I thought we'd spend years explaining what had happened in each other's lives. I was somewhat intimidated because for decades I had heard about the wonderful lives that everybody would have and I knew it didn't exist anymore. In 1992, I went there with my aunt, Mica Ertegün, the wife of Ahmet Ertegün, the co-founder and president of Atlantic Records. We went from Turkey to Romania. She was rebuilding the Brâncuși Monument together with the World's Monument Fund. She was the one who kept saying you have to see the country; you have to go back."
However, by that time, Marina's perspective on Romania had changed. After the revolution of 1989, the Princess's European friends, especially those from France, taking the common Latin origin of their languages into account, were so open to the country that her resistance softened.
"I am the only woman in the family and I have 17 cousins. When I went back, we met, and it felt like we'd seen each other a few days earlier. It was much easier than I had anticipated but my family had great delusions about what the life of a refugee is like. All they knew was that we were free."
Youth power
When she left the UN, a lot of people told her that the International Herald Tribune was planning to organise an investment summit in Romania; the first economic summit held after the country had had a democratic election.
"I immediately wrote to the Herald Tribune. That was my very first cold call letter to anybody. I wrote that I was Romanian. I would like to help my country. I have the skill set."
Soon after that she was on the plane to Romania where she was thrown into organising an enormous investment summit which seemed like one of the biggest challenges she had faced, but she was in her element.
"The congress took place at the end of October 1997 and I had told the Hilton Hotel manager [where the conference was held] that if ever there was a real problem he had to call me no matter what. One night in Geneva, I get a phone call saying I think the emergency is now; you'd better come. What had happened was that there were 23 trucks stuck at the border."
With a little trick the Princess was able to overcome that challenge too. Always, along the way, she was surrounded by young people, be it a "young and very bright" minister of trade and investment, or her team of young inexperienced people.
"I had about five months to get them up to speed but I decided they were better than the old regime."
This event turned out to be a success, together with a couple of other summits she organised. In 2003, Princess Marina organised the Expanding European Investment Frontier Summit in Bucharest, together with the European Bank for Reconstruction and Development (EBRD).
"The premise of it was that the region would be well-served if they aligned some of their policies, so that the multinationals could work across borders with greater facility. It was well ahead of its time, probably about eight years ahead. And we did it."
Citizen of the world
Over the last two decades, Princess Marina has been deeply involved with charities. She says her entire life has been unpredictable because no one could foresee certain events, for example, the communist regime in Romania or that she would become a refugee.
"But I became adaptable, and I seem to have a philosophy of getting over hard stuff. I try to find solutions and to make changes, if necessary."
When asked where she'd like to be buried she says her ashes will be scattered in several places.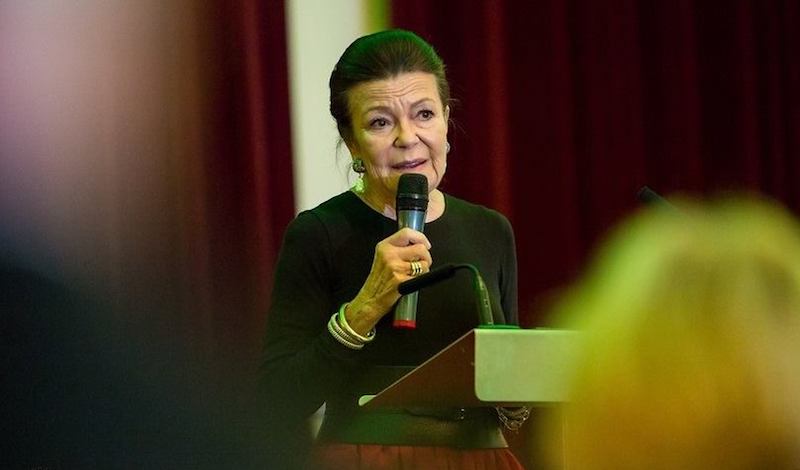 "I am 95 per cent at home pretty much anywhere. I am Romanian but I am also Canadian. I live in the UK and in the US. I have a privileged overview of the whole progression of Romania. It is an interesting perspective. To some degree I think that my global aspect is helpful for the country. If I lived there too much I would begin to participate because you know how things work and you don't fight back any more. I do fight back and I can be quite articulate."
When I say that Romania didn't have a very positive image when joining the European Union, she admits that perhaps the country entered the Block a bit too early, but the enlargement has definitely accelerated progress in the country.
"Romania didn't have much of a profile before. I really think that Romania has arrived at a place where things are inevitably going to change. I think the future is in the young people who are very motivated and they love their country as we all do. Romania is a very seductive place. There is sweetness and authenticity and I am very positive that things will progress. It is a country that I care about profoundly and I will give it all the support I can."
Princess Marina's enthusiasm and belief in the country's favourable future can be quite infectious. Two hours into the interview and we are still talking.
Did we manage to establish "a more profound dialogue and a level of trust" which the Princess aimed at when doing her own interviews? I believe we did, at least on my end, as I look forward to continuing the inspiring discussion when she comes to London next. We might even think of another interview, as "sometimes, the best interview is not when we meet for the first time, but the second or third," the Princess says.