Investors looking for steady, transparent returns – paid monthly – might want to take a look at Estonia's Barin.io.
Barin is an Estonian start-up whose main business model is buying internet assets (be they web pages, apps) and monetising their traffic.
One of the firm's three founders is Toms Bethers, who tells Emerging Europe that he met co-founders Alex Meleshko and Vadim Nester "by chance".
"We all had vast experience in the industry, but every one of us came from a different angle. We started talking about the advertising revenue on the market and realised that with an earn of 50 per cent it was a great business model to pursue," he says.
---
---
"With our common knowledge we thought that we can help others invest too. So we started working together – Vadim took care of the technical aspects of the project, Alex was in charge of all things SEO and I took over the whole business side of making the start-up into an actual business where everyone can join and earn with us with internet advertising."
The Barin team now comprises 11 professionals: developers, SEO specialists, copywriters, designers, and legal.
"We've been working in our field from around 2008 so I can say with confidence that we have great experience and knowledge of the industry.
We also employ a large number of freelancers for various projects," says Bethers.
Besides Barin.io, the team has also developed a successful independent business in advertising (SMM), marketing, web development, and e-commerce.
"What we are offering is a chance to be an investor and earn from advertising revenue without needing any prior knowledge.
"Our investors do not need to do deep market research, as all the work has been done from our side. They can just collect the 25 per cent yearly dividends from their initial investment."
How the business model works
Bethers says that by taking advantage of a booming market, driven by a rise in internet use brought about in part by the Covid-19 pandemic, Barin has built its business around purchasing existing sites with advertising revenue, and then improving them in order to grow revenue and earn more.
"Through our channels and exchanges, we are looking for websites with positive dynamics of traffic and advertising revenue," he says, adding that Barin is only interested in sites that have been active for at least two years.
"After that we study technical input, how transparent income data is and so on.
We buy websites and applications that pay off in two years. This means
the revenue-generating capacity is about 50 per cent per annum. We share half of the returns with our clients, leaving the other half to ourselves – to improve and maintain our websites as well as acquire new ones.
"We modernise the websites and applications we acquire on a regular basis, attracting additional traffic."
The purchase of websites is made through exchanges which act as a guarantee for the two parties: the seller and the buyer.
"It's fairly simple: we confirm the position for the purchase of the website, the exchange freezes funds equal to the cost of the website and at that moment the seller contacts us and starts to provide access to the website (most important of all – the domain).
"After the data connection is completed, both parties notify the exchange of this – and it finalises the payment. At this point, the acquired website is officially ours. After buying the site, our SEO team starts work and we carry out optimisation and efficient, low-cost improvements. After that continues the day-to-day work with the asset and advertisement."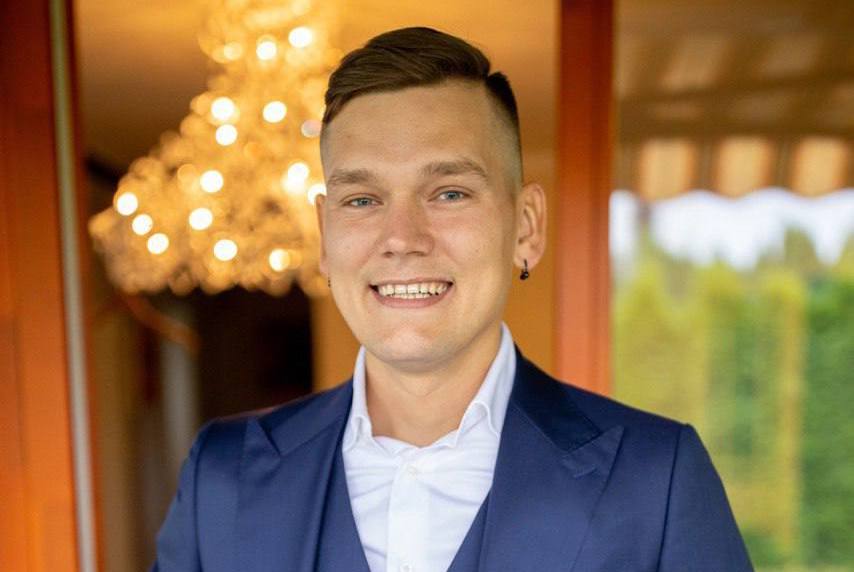 Diversified investments
Barin's main advertisement income comes from the Google and Yandex ad networks, and payments to investors are made every month.
Bethers says that Barin appeals to investors who want a diversified investment that allows them to achieve their financial goals and to make another source of income.
"What we offer is steady, transparent, and pays monthly dividends."
Bethers admits that in a market so full of investing options, projects, and platforms, it was hard to get to the top and be seen next to others.
"One of our biggest leaps happened in Stockholm, where at a blockchain conference I had the opportunity to talk with PWC representatives and showed barin.io – they liked the idea and had some comments about improving our project.
"So, I went back to the office all inspired by our talk and made some changes to the business model. After about three months PWC reached out and told me that they would like to nominate Barin for the Emerging Europe awards in the category Innovation Initiative of the Year. I went to London for the awards ceremony, had an amazing time, made new contacts. That was a push we needed at that time in order to expand our business and do more."
Future plans
Bethers says that the pandemic wasn't a big factor influencing Barin's goals and revenue. He says that some of the start-up's asset traffic did fall but that in a very short period of time, "we successfully managed to get the traffic back, and now it has grown exponentially. Of course, we had some challenges with remote work at the beginning and some of the team members also got sick. But everything went fine, we have adjusted. I want to say a big thanks to my team for being patient. Indeed, if anything, the pandemic has made us more united."
Next for Barin is white label projects.
"Our main plan is to provide some faster solutions to companies or individuals in web development. I can't discuss details at the moment, but we are excited about our idea and hopefully, we will present them next year.
"At the moment we are going through the process of buying two new assets. It's a bit longer than we expected but this could be one the largest purchases in our company's history, so we are being very careful and thorough with it. We hope to finalise this by the end of the year."
---
This Partner Content is for informational purposes only and does not constitute a solicitation, recommendation or endorsement.
The reader should not construe any such information or other material as legal, tax, investment, financial, or other advice as risk is fundamental to the investment process and has to be understood individually by each and every investor before making an investment decision.