One of the few certainties to have emerged from the ongoing coronavirus pandemic is the simple fact that the most serious health crisis in a generation cannot be overcome without innovation and collaboration of governments, pan-global organisations, scientists, businesses, start-ups, scale-ups, civil society and individuals.
"Now more than ever, we need to work together and build on each other's strengths to chart a path forward to a healthier, and more sustainable Europe," Martin Kern, director at the European Institute of Innovation and Technology (EIT), tells Emerging Europe.
"Innovation is at the heart of solutions to the current crisis, turning promising research into impactful products and services, which are urgently needed by European citizens. I am really glad to see that the EIT Health community took up the challenge we are all facing and quickly generated innovative solutions for the EU's economy, society and jobs," he adds.
Unprecedented circumstances
A community of leading health innovators backed by the European Union, EIT Health is a European network of top companies, universities, research and development centres, as well as hospitals and institutes. EIT Health's role is to build an ecosystem that enables the development of healthcare for the future so that European citizens can live longer and healthier lives. It is a network that predates Covid-19 but one which has proven to be agile enough to pivot in order to effectively fight the pandemic.
"The virus went beyond public health capacity globally and it immediately started to change how the world goes about innovating," says Balázs Fürjes, managing director of EIT Health InnoStars, a cluster within EIT Health bringing together innovators in need of education, funding, mentoring and networking tools from Hungary, Italy, Poland and Portugal and additional supporters from 14 regions in Central, Eastern and Southern Europe.
Mr Fürjes says he cannot remember a situation when the entire EIT Health community was focused so deeply on a single topic. "We immediately proved that we are able to set up pan-regional consortia to tackle Covid-19 within a couple of days, organising funding, mentors and the whole environment to work on this problem. This is the most sustainable way of creating innovations. We brought together hospitals, laboratories, industry, universities, and start-ups to one virtual table. No one asked if the idea comes from France, Spain or the InnoStars regions," he adds.
Pulling resources together needs a matchmaker…
One of the EIT Health's projects is a platform that aims to find out directly from experts what resources they need right now and what resources they can share within the EU. EIT Health plays a matchmaking role, facilitating collaboration across regions of the best solutions, making the fight against the virus more effective. Thanks to this dedicated online space, the network has begun to match what it calls "asks" with "offers". More than 30 per cent of these came from the 14 more progressive regions included in the InnoStars cluster and from the so called EIT Regional Innovation Scheme. The first collaborations quickly followed.
"As a medical university, we focus our efforts directly on combating the coronavirus epidemic," says Professor Lucyna Woźniak, vice-rector for research and international relations at the Medical University of Łódź. "However, I am convinced that together we can make this period more productive and contribute to the development of our knowledge in the field of new viruses and methods of fighting them. A good example is the creation of a fast path through EIT Health for Covid-19 initiatives. This is not only evidence of European solidarity, but also the organisational efficiency of the consortium," she adds.
…and a mentor
Kadri Haljan is CEO of Triumf Health, an Estonian start-up that has created a mobile gaming platform for pediatric patients, launched an extension to the platform to relieve the effect of the Covid-19 crisis on children. She says that single countries cannot keep track of the innovation that is being created, and that is why collaboration is critical.
"The international ecosystem that has been built by EIT Health is vital because it also gives additional credibility to start-ups and innovative solutions," Ms Haljan tells Emerging Europe.
"EIT Health and InnoStars are helping in building a local ecosystem and fostering networking across the EU, which for me it is key element for bringing more opportunities to Slovakia region in health domain," says Milan Varga, lead of Innovlab at the Startup Centre of T-Systems Slovakia. "It is also a way to breach the gaps in the healthcare system during the Covid-19 pandemic by using EU community collaboration to help each other."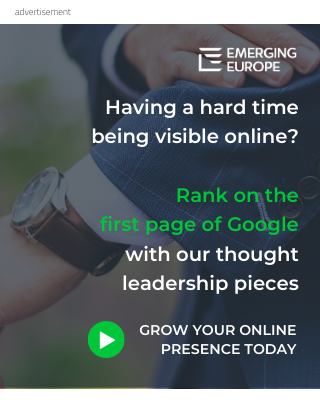 For Daniele Farro, co-founder and CAO of PatchAi, which offers an app monitoring the general population for Covid-19, collaboration with EIT Health helped create assets for the company and drive business development in the right direction. "This aligns with our needs and goals in terms of expanding our product portfolio and making it as scalable as possible on a global level," he says.
"The huge mentor pool of experienced healthcare and business development experts, training sessions and bootcamps provided by the EIT community helped us refine our strategy of entering the European B2B medical education market," says Andrea Herdon, co-founder and CMO of InSimu, a Hungarian app helping practice real-world diagnostic decision-making on virtual patients.
How to fund it
EIT Health has also mapped the community response and highlighted the best practices and pilot projects from the regions. In addition, EIT Health has granted a total of six million euros to 14 projects as a rapid response to fight the pandemic.
In this rapid response initiative, EIT Health evaluated existing budget provisions for planned projects in 2020 and were able to reallocate funds to support promising solutions that may assist in the fight against Covid-19. The 14 projects selected cover biotechnology, diagnostics, digital health and med tech, and will be run by 36 partners. The projects will work directly with healthcare services as part of the consortia so that the solutions can be built in line with clinical needs and implemented without delay.
"One of the projects comes from Poland, an ultrasound lung simulator," says EIT Health InnoStars' Mr Fürjes. "This project permits wide-scale training to improve the capacity of hospital staff in performing lung ultrasound, which can assist in earlier diagnosis of lung pathology in patients, leading to earlier diagnosis of those who may have Covid-19."
The EIT Health ecosystem is also appreciated by multinationals who support customers, governments, academic partners and the broader healthcare community in the fight against the coronavirus with their technology, digital solutions and expertise.
"In collaboration with EIT Health we run and participate in several acceleration programmes, such as Health Venture Lab, StarShip, Catalyst Europe or HelloAI, to enhance international innovation and research in healthcare," says Attila Ferik, senior director, Software Engineering, GE Healthcare.
"These projects were quickly adapted to the crisis, and besides having the training sessions moved to remote, online platforms, webinars will be organised for example about trends in European healthcare, and how the business environment will change after the epidemic. Additionally, with the support of EIT Health we participate and lead numerous activities that aim to bring the latest medical research results and AI to the market to support our customers and the society."
A timely response
More than four years since it was founded, the EIT Health network now consists of approximately 150 partner organisations from three worlds: business, research and education. It has created a vast nation of alumni, networking partners, hubs and other collaborators, 740 accelerated start-ups who have already raised over 205 million euros of investment, has fostered the launch of 55 products and solutions, with hundreds of thousands of people trained in different aspects of healthcare, innovation, wellbeing and active ageing.
"We run against the clock, we need to share resources, share knowledge and pool the best-minded experts to find solutions, which will help us to get back to our normal lives as soon as possible," says Jan Kubalík, chairman of the board at the DEX Innovation Centre in Liberec, Czechia.
"These are unprecedented times and the EIT Health community reacted to the challenges related to Covid-19 very quickly," concludes Sven Parkel, general manager at the Tartu Biotechnology Park in Estonia.
—
Unlike many news and information platforms, Emerging Europe is free to read, and always will be. There is no paywall here. We are independent, not affiliated with nor representing any political party or business organisation. We want the very best for emerging Europe, nothing more, nothing less. Your support will help us continue to spread the word about this amazing region.
You can contribute here. Thank you.