Warsaw's already impressive skyline will soon be able to boast the tallest building in the European Union.
Standing 310 meters tall, the Varso Tower is also set to overtake London's Shard to become the tallest structure in Europe (excluding Russia). For its developers, however, Varso goes beyond its height.
When Slovak developers HB Reavis bought the 1.72-hectare plot on which the tower stands from the Polish state in 2011, the surrounding area of central Warsaw, on the corner of Chmielna Street and John Paul II Avenue, was somewhat desolate. This will not be the case for much longer.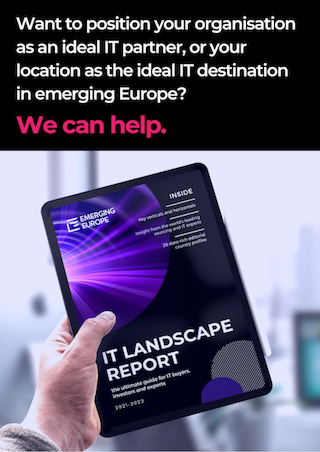 "Once we acquired it, we knew we had to turn it into a landmark project that is also as human-centric as possible," Peter Pecnik, the country CEO of HB Reavis Poland tells Emerging Europe. "Varso Place will provide not only a modern business workplace but also a well-designed and easily accessible public space. It will be a unique place in the heart of Warsaw dedicated to business, residents, and tourists – a place where people will work, go about their everyday business, and unwind in comfort."
Orientating the space towards people is one of the key aims of Varso. Aside from the soaring main tower, which comprises the main 230-metre building and an 80-metre spire, architecture firm Foster and Partners has added two smaller buildings. These, Varso 1 and Varso 2, will be dedicated to establishing a vibrant and bustling atmosphere.
The aim is to completely reconfigure the Wola district, injecting a welcoming and energetic space. "We don't believe that the height of Varso Tower is the key aspect of the project and we never tried to make it taller at any cost; we are more focused on the fact that our project will transform a central area of Warsaw that many citizens have virtually forgotten," explains Mr Pecnik.
The project aims to mix the workplace and commerce with a place for leisure and socialising. Shops, restaurants, and bars on the ground floor will link to Warsaw's central station, while it is hoped that a hotel and the largest co-working and innovation hub in the capital will make it a new focal point of the city.
Despite the Covid-19 pandemic altering our perceptions of socialising and what comprises a workspace, the developers have held firm to the notion that human interaction will remain central to our daily lives.
"When it comes to demand for offices, we don't believe that working from home will become a universal standard, as some predict. Instead, it will be more important for a workspace to be flexible, allowing for greater mobility, more frequent remote working and collaboration in interdisciplinary teams of experts in different fields," says Mr Pecnik.
Providing the right environment for this new trend of flexibility is what remains important. The soulless shoebox office spaces belong to the days of old. Now the key focus is making a space that is healthy and attractive to employees. As many companies resign their office spaces, it is becoming apparent that a routine of video calls is not sustainable. While studies have found that productivity does increase in remote working, co-working spaces and hot-desking are set to replace the conventional office space.
This freedom and flexibility is the kind of business environment that Varso wants to provide and is a trend that developers and architects were taking into account long before the pandemic happened. Rather, they believe that the real challenge will be for the owners of older office buildings which are being left behind for cheaper and less rigid alternatives in the new normal.
In this sense, Varso was one of the few developments actually ready for the pandemic.
"We are anticipating increased interest from tenants in systems that boost user health and well-being, by ensuring proper access control, seamless movement inside the buildings or contactless solutions. We are ready for this as we launched Symbiosy, a service line that offers similar solutions, more than a year before the pandemic."
The designs of the project will also extend beyond the immediate vicinity of the building. New pavements, street lamps, benches, bike stands, signage, and trees are set to completely revamp central Warsaw, in a concerted effort to make the surrounding area greener, more sustainable, and more walkable.
This is not to say the height is irrelevant. Being the tallest building in Europe is "bound to make us popular," admits Mr Pecnik. "The public observation deck at the top of Varso Tower will be a big crowd-puller, situated twice as high as the one offered by today's main Warsaw landmark, the Palace of Science and Culture. Apart from the terrace, Varso Tower will also offer the highest restaurant in Warsaw. We're certain to get some buzz on social media."
The 500-million euro construction is expected to be completed by the end of 2021, and by 2022 the three buildings will be open to all.
Warsaw's skyline looks set to soar for the foreseeable future.
—
Photo: HB Reavis Poland
—
Unlike many news and information platforms, Emerging Europe is free to read, and always will be. There is no paywall here. We are independent, not affiliated with nor representing any political party or business organisation. We want the very best for emerging Europe, nothing more, nothing less. Your support will help us continue to spread the word about this amazing region.
You can contribute here. Thank you.