While we are seeing (positive) changes in Europe in the direction of the CEE region, Ukrainian IT companies have already taken sizeable steps forward themselves.
Our aim is to teach customers how to outsource their IT demands, how to change internally if needed, how to overcome their fears and negative experiences with the correct solutions, says Dr Igor Braginsky, the Founder and President of NIX Solutions. He spoke to Jerry Cameron about the company's development, and how entering Israel has helped the firm conquer international markets.
It seems you have quite a large network of representatives all over the world.
Well, yes, you could say that. We have created a partner-companies chain; we have local representative companies in Israel, the US, Scandinavia and across Western Europe, so we now work with our clients face-to-face which is much more effective.
Israel, which is known for its start-up and innovation scene, sounds particularly interesting. Why did you decide to look at the country?
Actually, we have been co-operating with Israel for a long time. Our first customer was an Israeli start-up project in the "dot-com" era.
Our collaboration with Israeli companies was a unique experience for us. Israeli business has a paradoxical way of thinking, with passion and challenge, which was precisely what we needed to help run our business, and from where we were able to reach international markets. There was no business at all in Ukraine, at that time.
The "dot-com" crash undermined the conditions of Israeli IT. The quantity of projects reduced sharply and we changed our priorities towards the US and Western Europe. When, in 2014, we decided to develop the company further, we decided that Israel was the best place to create our Sales Office. Israel consistently takes first place in international rankings for entrepreneurship, areas of innovation, scientific research, cyber security, and the number of successful start-ups.
Only Silicon Valley surpasses Israel in levels of cyber security and innovations development. Israel also has an advantage in the area of law: Israel is working on all aspects of intellectual rights thoroughly, and also has a number of laws pertaining to cyber technology and cyber security. Clients from some countries find it easier to interact with our Israel office, United Perfectum, when it comes to the legal matters. The Ukraine has some things to learn from Israel, and we are now working on adapting and applying our Israeli experience to Ukrainian realities, in order to improve the conditions of IT business development, and the interaction model area of IT with the government.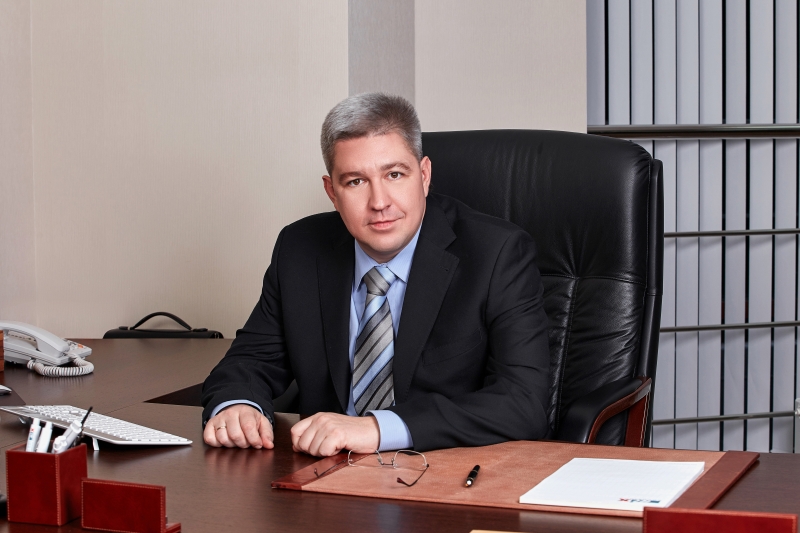 This experience, paired with the fact that you've been operating for over two decades, must be interesting from your clients' perspective.
I would say we are easy to work with. It is the key advantage of being an experienced IT services provider. On top of that, we have hundreds of completed projects, and years of qualitative service to international corporations, which has resulted in unique project and product management experiences. We put a huge emphasis on understanding clients' needs and processes, and work hard to provide a customised offshore Delivery Centre that works just as well as an in-house team, or even better. It is this business value that our key customers already benefit from. We have named it "knowledge as a service".
In other words, we won the client's favour by diving deep into their business model. I will give you an example: our first corporate client in the USA started in 2004 as a small team of three QA engineers. Before NIX, they had tried three different vendors and none of them worked. We proved our service model works; the team expanded to 75 in a couple of years and continued to grow organically as the client's business evolved.
How has IT outsourcing changed over the years, from your perspective?
Many things have happened over the last 20 years and companies working in IT outsourcing have gained different experiences. Of course there have been some negative experiences as well. Over time, the problems associated with working with outsourcing companies have reduced to two critical points: willingness of the company to work with an offshore team (making it outsourcing-ready) and the selection of the correct vendor. Outsourcing is now developing in two key directions: the first, and prevailing one is when a customer hires in-house employees, who are competent in working with offshore teams, and then appeals to the "body shop" to manage everything themselves.
We have decided to develop in a different direction: to become a vendor offering managed services. Because there are not many such vendors, people have had to spend money and resources on creating expertise inside their companies, opening new departments just to work with "body shops" as a result. We rid our clients of such expenses, and offer them an affordable cost-effective solution. Thanks to such an approach, all a client has to do is to delineate their general direction, outline their strategies, and we will use our 20 years of expertise to create the most effective IT solution for them.
Another aspect of IT outsourcing development is in the technical area. For a long time, clients came to us asking for specific technology, and how many Java-developers or C++ specialists we had actually mattered. More lately, the focus on specific applications, web-technology systems and mobile apps has changed. Attention has shifted to UI. User experience has become one of the most important factors. Gradually, IT has grown to the size of Science: Artificial Intelligence, Big Data, Augmented Reality, Virtual Reality, and FinTech; IT has been implemented in such key areas as healthcare and education. It's interesting, now to see what outsourcing of similar projects will look like. For example, we are always ready to offer something interesting.
How do you see the Ukraine on the outsourcing map of the region?
Well, traditionally a common advantage of Eastern European countries has been good education, powerful academic schools, and large numbers of technical universities and colleges. Ukrainian universities stand out, even here. People from all over the world come here to get our education. Because of this, and other achievements, our second-largest city, Kharkiv, can proudly be called the students' capital of the Ukraine, and one of the country's largest IT hubs. Not only technical expertise is important in IT outsourcing now, but also the availability of complex specialists: developers, analysts, and managers with scientific backgrounds. Many of our employees qualified in fundamental sciences, and have diplomas in Physics, Chemistry, Biology, fundamental Medicine and other disciplines.
Another advantage of the Ukraine is that we are a big country with a developed, energetic and professional IT community, which managed to succeed well without government help. We now have established work with government departments and we are strenuously working on enhancing our country's business ecosystem.
By the way, we have formed a strong IT community in Kharkiv, one of the biggest cities in the Ukraine. We regularly hold sectorial summits on the most in-demand technologies, and we are a part of the IT Ukraine Association and the European Business Association IT Committees. We also actively participate in the Kharkiv IT Cluster, and the American Chamber of Commerce in the Ukraine.
So tell me what are the key services or products that you think your foreign customers are most interested in?
Because of the fact that outsourcing spoilt many people and became body leasing, many clients don't even understand what kind of service they need. They perceive outsourcing as very risky and don't expect good results. We offer "knowledge as a service", giving our clients full access to our expertise. Whether our clients face problems for the first time, or whether their business has suffered from the same fault again and again, we have not only already experienced such problems, but we have studied them and created multiple solutions for different situations. This means we can readily offer a solution to meet our client's needs. It is similar to any other product or service: you can come to the shop and get a standard grey suit or you can go to a knowledgeable designer and get a piece that will suit you perfectly.
Clients are more and more interested in performing teams than in individual contractors, in an agile-oriented team trend with which you can create transparent communications. We can already offer you something more than a classical outsource and clients come for it and turn to us not for a specific product development but for the complex service which for example includes Big Data Analytics, as if we were a local company.
Another trend is an interest to software technologies which are very close to the science, for example VR/AR, Artificial Intelligence, Fin Tech. We are already working on a projects with Computer Science background and more and more clients come to us exactly for that.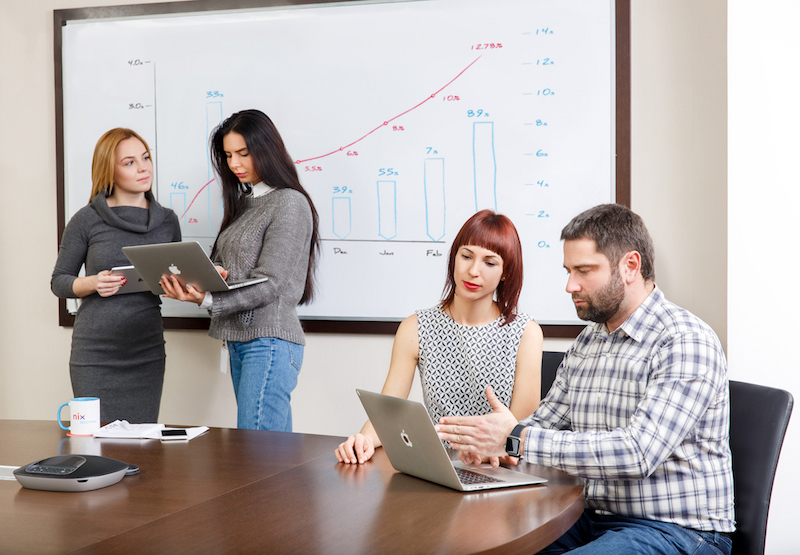 If you look at your competition; what does it look like? Who are your main competitors?
Traditionally, the main competitors of Ukrainian outsourcing companies are Indian companies. India has a reputation as a strong centre for world outsourcing but in practice, the Ukraine can offer specialists of much higher status. The advantage of Ukrainian outsourcing makes us strong competitors in a world IT market: in a developed IT community, we have specialists with complex expertise and scientific backgrounds. We don't just speak English; we have a lot of common cultural values, a similar mentality and a more convenient time zone. We tend to have healthy competition with other Ukrainian companies, and because of this competition, our work conditions only get better and the level of our specialist's skills only gets higher.
Overall, we chose a more difficult way to develop our company and that is why we don't compare ourselves to others. We are not a "body shop" company; we are a company with a managed service structure. Our pros are: flexibility; specialists with professional backgrounds; 20 years of expertise and a unique approach to each client. We share our client's point of view in every project, consider our client's engineering specifics, and we see our success in the success of our clients.
Ukraine has great potential to be an IT outsourcing star. How do you see the development of the sector in the country?
Ukraine is already in the "Top 4 Outsourcing Locations of the World" list, and closer to the top, the better! We offer incredible specialists, who are able to work on complex projects involving scientific tasks, and we can offer IT services of the highest status.
Our main priority now, is to improve the Ukrainian business infrastructure. We participate in many programs, co-partner work with government departments, and adapt our Israel experience to make the Ukraine a competitive business partner in IT, and to develop the most comfortable conditions for our clients.
We invest in education as much as we can. Our company's specialists take part in the development of modern educational programs, we hold internships in the company for students, we work with universities and we deliver lectures and much more.  We have been collaborating with universities for over10 years and have equipped a lot of professionals during this time.
You are a mature company. But tell me how it all started.
Well, I founded the company with three of my friends and classmates in 1994, when we were students at the National Polytechnic University in Kharkiv, Ukraine. It was literally a kind of a garage project. We wanted to earn some extra cash on top of the scholarship. We started with selling self-made software for emerging local markets, like offline B2B search engines for store facilities, and accounting and reports for shops and pharmacies. Our company entered the international IT outsourcing industry during the time of the IT boom, in the late 1990s, using local successes and personal contacts in Israel.
Was it difficult to run the company in the beginning?
It was like sailing a yacht in a storm: all the team together with the captain sharing responsibility for the whole boat. A weak team would disrupt and come to a stop, but a strong team will just sail faster. We learned how to be fast and flexible and to squeeze the maximum out of every opportunity. I'm proud to say that those guys who stood with me in that storm are now the top managers in my business.
In the beginning, all of it was one big "sink or swim" challenge: every client and every project was critical for us. After some time, when we reached the Western market, we faced a significant difference in the level of our business progress and we had to catch up very quickly. I'm proud of Ukrainian companies, ours as well, because we've come a long way from an incipient business to a strong, durable system with widespread laws, ethics and culture. We've now gained a considerable degree of stability and durability, and every new challenge is more of an opportunity to prove ourselves: there is no fear, but there is curiosity, ambition and a will to grow and develop.
If you were to give advice to a company from the CEE region starting from scratch right now, what advice would you give them?
Every day borders between Western and Eastern Europe become less and less important, as so the differences in business approaches, so I don't think that an entrepreneur from the CEE region really needs any advice. Whatever you do, do it with passion; that is my recommendation for a budding entrepreneur in any country of the world. You will succeed only if your job brings you satisfaction, and you never think of giving up.