Start-ups and innovation aren't always about AI and high technology—sometimes they can be based on the oldest crafts in the world. Two Baltic start-ups are putting social responsibility first to empower rural women and put leftover sheep wool to use, one purl at a time.
Innovative start-ups come in all sheeps and sizes.
An environmentally and socially responsible knitwear brand, deeply rooted in the Lithuanian heritage craft, The Knotty Ones recently closed a 250,000 euros bridge round from a group of women investors including Viktorija Trimbel, the managing director of Coinvest Capital—an early-stage venture capital fund; Giedre Dukauskaite, a model and long-time Knotty Ones ambassador; and a new syndicate of female business angels.
---
---
The Knotty Ones' production is mostly carried out locally, based on Baltic knitting traditions, even though 90 per cent of the garments are sold to foreign markets, such as the US, UK, Australia, and Germany.
Co-founded by three female friends, Akvilė Meškauskaitė-Dobrajs, Sandra Pangonyte, and Danutė Rasimaviciute, the start-up provides job opportunities to talented, independently-employed female artisans in rural Lithuania.
These artisans work at their convenience, have spare time for their hobbies, and can combine work with motherhood, while financially supporting their families in less privileged regions of the country.
The Knotty Ones only works with ethical suppliers like local family-run wool farms from around the globe—sourcing natural and high-quality yarns—and all production is animal cruelty-free.
Getting hooked
The company has been successfully growing its international distribution with global partners such as US lifestyle retail giant Anthropologie and Gwyneth Paltrow's goop. The Knotty Ones has also been selling with famous American retailers such as REVOLVE and Free People, and its products are worn by international celebrities and influencers like Hilary Duff and Margaret Qualley.
Since its first investment round in 2020, the knitwear brand has grown five-fold while remaining committed to its core values of sustainability, honouring Baltic knitwear traditions, and empowering women through job opportunities in rural areas of Lithuania. Now, The Knotty Ones plans to continue its expansion by using the 250,000 euros investment to expand into international markets, particularly into the United States, via wholesale and e-commerce.
"We are happy to have attracted Lithuanian investors in this round and are planning an international fundraiser going forward," says Sandra Pangonytė, one of co-founders of the business. "Financial and strategic support we received from the female investors we engaged with is a confirmation we're growing in the right direction—expanding our impact beyond the business."
"We are happy to have brought together a strong community of women — from knitters to opinion leaders, from the founders of the company to the ever-growing team and loyal customers. We now hope to drive all of us towards success."
Breaking the fourth wool
Another Baltic start-up meanwhile, Woola, from Estonia, is bringing sustainability higher up the knitwear supply chain by using waste wool to replace plastic bubble wrap.
In 2020, the start-ups three founders were running an e-commerce business and wanted to find an alternative to the huge amount of plastic bubble wrap—made from polyethylene that takes more than 500 years to decompose—used for packaging.
But they struggled to find sustainable and scalable alternative protective packing options.
After learning that 90 per cent of the wool produced in Estonia every year was wasted, often burned or buried as there was no system or infrastructure for farmers to sell their waste wool for other purposes, they founded Woola to find a solution to both problems.
According to CEO and co-founder Anna-Liisa Palatu, "Bubble wrap has been dominating the packaging industry for ages—but its decline is inevitable. The industry is broken for two reasons: fossil fuel reliance and single-use mindset. We need to get rid of both to make packaging more sustainable."
---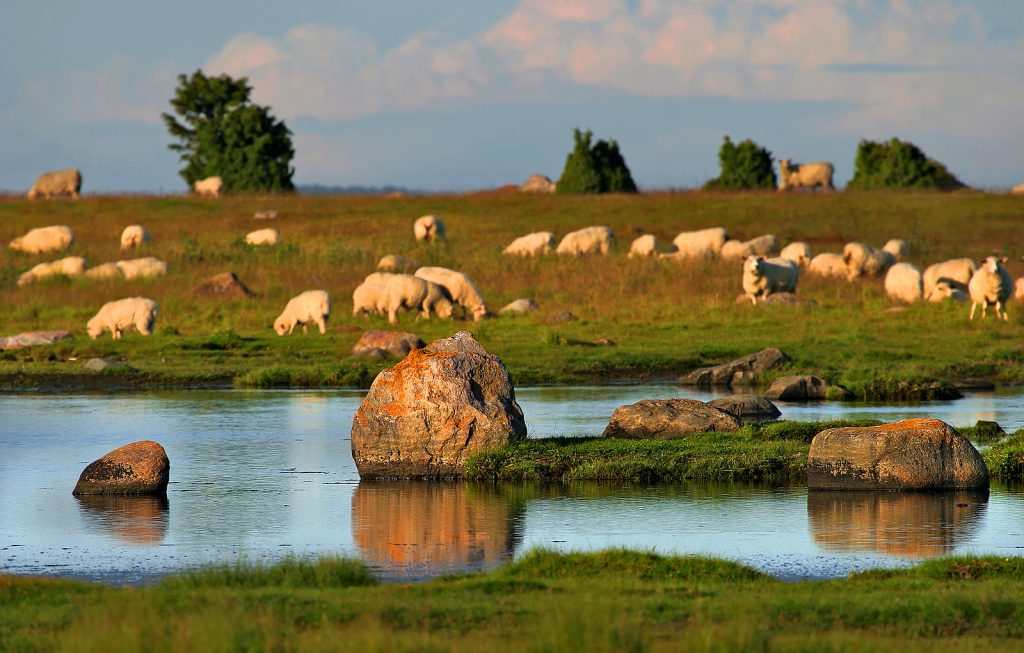 Sheep on the Estonian island of Abruka
---
Wooling the world
Wool's natural elasticity, water repellence, and resistance to temperature extremes make it a perfect material for packing items that need extra cushioning. Woola has developed wool-based packing materials that can be easily substituted for plastic alternatives.
Furthermore, wool-based packing materials can be reused multiple times, so the company has also set up a returns system for customers. Jobs for young people have been created in an area with a lack of employment opportunities, with the available opportunities paying higher than other options and accessible to those without special machinery skills or the ability to take on physically demanding jobs.
Woola has also created a digital platform to facilitate wool exchange in Estonia as well as interaction amongst farmers. Woola soon realised that the problem of waste wool is even more widespread than initially thought—around 200,000 tonnes of sheep wool is left unused every year across Europe. Enough, says Woola, to more than meet the world's global demand for bubble wrap.
Investors agree. In December 2021, Woola raised 2.5 million euros in a seed round led by Future Ventures. In June, meanwhile, it was a winner in the Sustainability and Greentech category at the annual LVMH Innovation Awards in Paris.
---
Unlike many news and information platforms, Emerging Europe is free to read, and always will be. There is no paywall here. We are independent, not affiliated with nor representing any political party or business organisation. We want the very best for emerging Europe, nothing more, nothing less. Your support will help us continue to spread the word about this amazing region.
You can contribute here. Thank you.

---