Billionaire and fervent supporter of sustainability Elena Baturina praises the creative potential of the younger generation.
Sustainability has become the notion that transfuses literally any conversation today. In view of the Covid-19 pandemic, the intention to transform economics, businesses, processes into sustainable ones has become an emergency.
Elena Baturina, Russia's richest woman, the first ever Russian female billionaire, the former head of a formidable construction empire and now a philanthropist and investor, speaks of why she has become supporter of education, innovations and sustainable initiatives.
The latest sustainability-related project Baturina has supported via her humanitarian foundation BE OPEN is Design for Sustainable Cities, an international student competition in support of the United Nations and its Sustainable Development Goals (SDGs) programme.
---
---
"I am genuinely concerned with the topic," she says, "and to embrace this global UN initiative with this competition immediately seemed a great and promising idea to me on so many levels – building awareness, introducing sustainability into educational process, developing solutions, training young professionals able to approach the problem creatively."
Innovative solutions
This is the second competition BE OPEN has co-hosted with Cumulus, the International Association of Universities and Colleges of Art, Design and Media. In October 2019, they launched 'Second Life of Things in Design' and asked the young creatives to focus on solutions for greater sustainability, wiser production and consumption formulated by SDG12. As a result, three winning projects were selected out of a total of 683 submissions from 44 countries, and each received prizes of 10,000 euros, 6,000 euros, 4,000 euros from BE OPEN and Cumulus.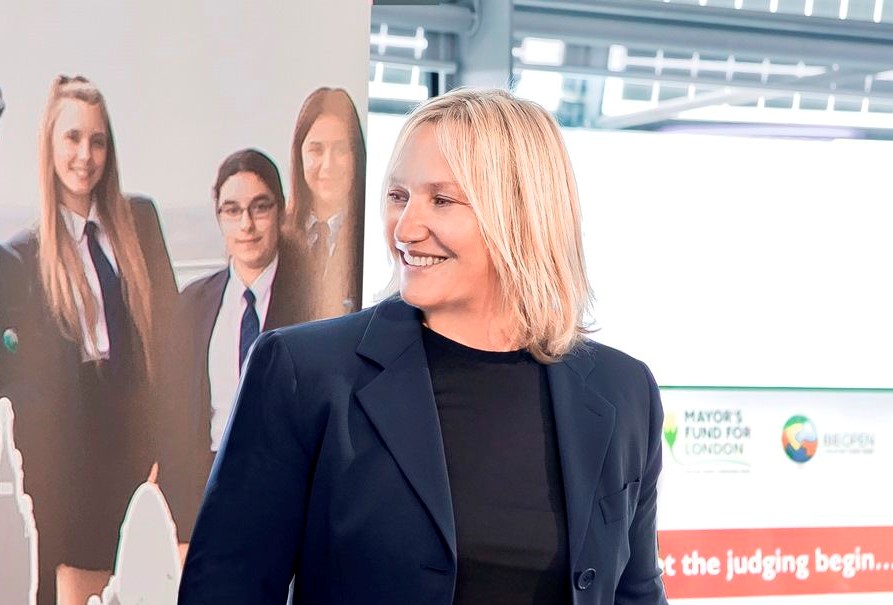 Launched in September 2020, the ongoing competition also aims to promote innovative solutions that embrace the SDG programme. This time, it is a call for ideas from students and graduates of creative courses worldwide who are being encouraged to submit works that demonstrate a design-oriented take on the problems of sustainability formulated by SDG11: Sustainable Cities and Communities.
The participating students will be awarded with both cash and non-cash prizes.
"There is the main prize of 5,000 euros that will be allocated by our international expert jury for the very best entry," Mrs Baturina explains. "The jury will also select the awardee for the Safe City prize: this will be a solution most relevant to relieving existence in a city amidst a pandemic – it will receive 2,000 euros.
"There is also the Public Vote prize of 2,000 euros; for that we will set up an online voting tool for the 50 top entries that we call honorary mentions. And my favourite, my big honour and responsibility is the Founder's Choice prize of 3,000 euros, where I will select the winner based on my own experience."
Then there are the non-monetary benefits. The selection of 50 honorary mentions will be displayed on the competition website in an online gallery, and will be widely celebrated and publicised by BE OPEN, Cumulus and their partners.
The UN's comprehensive plan
Mrs Baturina explains why the SDGs have been chosen as a theme for the series of competitions by admitting that as of today, the United Nations has the most comprehensive action plan to battle the many problems humanity is facing.
"I totally agree with the United Nations Development Programme that everyone is needed to reach these ambitious targets – the creativity, know-how, technology and financial resources from all of society," she says. "Most people think they have nothing to do with global policies, economy or climate issues, and projects like this one can help educate wider audiences that sustainable future is dependent on all of us via the most active, open-minded and fearless demographics."
This determination is not blindly positive though. According to the BE OPEN Founder, the current state of affairs in various parts of the planet makes it unrealistic to achieve SDGs by 2030 – less than a decade away.
"That by no means should discourage us from making the best effort. We must find the way to progress efficiently, while being socially inclusive and environmentally sustainable. This imperative must become in-built into any activity, any project or industry. I think it is quite obvious that the main principles of the SDG initiatives must be introduced into educational processes at all ages."
In cooperation with educational institutions all over the world, BE OPEN has held competitions for young creatives since 2012, with a particular focus on those in the transitional phase between education and employment. This line of the foundation's work aims to scout out emerging designers, artists and architects to showcase their potential, bring their thinking to life and give them support whilst they develop their work.
During these eight years of work, they have seen the participants of these competitions develop their ideas into products, set up studios, find employment, appear on the pages of fashionable magazines, have own exhibitions.
Pride
"It makes us proud and happy to witness their success, and know that we have been a stepping stone in their careers. We are grateful for their support and long-term friendship, as many become part of BE OPEN's creative community, alongside their professors, curators, industry professionals who are also involved in our projects," adds Mrs Baturina.
Unfortunately, last year Covid-19 made it impossible to celebrate the winners of the 2019 competition at a festive awards ceremony that BE OPEN had planned to hold together with Cumulus in Rome.
This year, the pandemic made the topic of the ongoing competition much more important and well-timed. 2020 has highlighted another problem of urbanisation: the impact of Covid-19 will be most devastating in densely populated urban areas, where it is difficult to follow recommended measures such as social distancing and self-isolation.
The organisers expect that many participants will invest their creativity into reflecting on how urban environment can be made more friendly and safe in such extreme circumstances as the global pandemic. Solutions for safe and sound cities are more important than ever, and to highlight this urgency, the competition now includes the new Safe City prize.
Despite the difficult situation internationally, BE OPEN intends to continue working to promote people and ideas able to transform the world for the better, with competitions among other things. The third edition of the programme is in development, and will most probably focus on climate change.
"We do not intend to stop, as we are positive that creativity, or as we call it design-thinking, is integral in the shift to sustainable and circular future," Mrs Baturina concludes.
---
Unlike many news and information platforms, Emerging Europe is free to read, and always will be. There is no paywall here. We are independent, not affiliated with nor representing any political party or business organisation. We want the very best for emerging Europe, nothing more, nothing less. Your support will help us continue to spread the word about this amazing region.
You can contribute here. Thank you.