Emerging Europe, like much of the world, has big plans for 5G mobile technology and the benefits it will bring, which go far beyond faster data transfer speeds and extend to making a genuine Internet of Things (IoT) possible.
The row over who will build the region's 5G networks, however, has turned it into an unlikely battleground between the United States and the Chinese tech giant Huawei. The region itself is split: while some countries are moving to limit Huawei's involvement, others embrace it, and there is no clear consensus over how to proceed (something which goes for the European Union, too).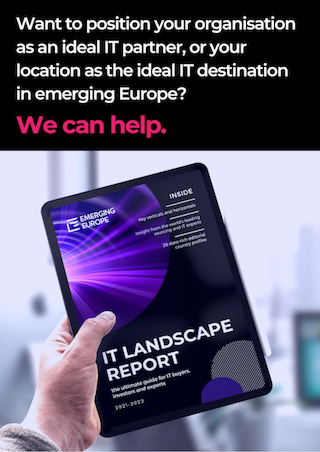 In the US, the House Intelligence Committee first raised concerns about Huawei and ZTE, another Chinese multinational telecommunications equipment and systems company, back in 2012, when it recommended that American companies should not buy equipment from them.
A ban – albeit with grace periods that are still being extended – was eventually put in place in 2019 when President Donald Trump signed an executive order giving the US government the power to block American companies from purchasing foreign-made telecommunications equipment that is deemed a national security risk.
The US is now pushing European countries to ban Huawei too, but much to Mr Trump's chagrin, most nations seem unwilling to commit to a full ban. In emerging Europe, Romania, Poland, Latvia, Estonia, and Czechia have signed memoranda of understanding with the US regarding 5G security. Huawei is not mentioned in the memoranda by name, but it is widely understood to be the target.
"Huawei technology represents a security risk because the ties between the company and the Chinese government are unclear," says Cameran Ashraf, co-founder of AccessNow and associate professor at the Central European University. "The fear is that the Chinese government may use Huawei technology to monitor our conversations, shut down communications networks, or harass democracy and human rights activists around the world."
Huawei has always denied these, and other allegations regarding a potential security risk and its relationship with the Chinese government.
"Not a single malicious cybersecurity incident has ever happened because of the use of Huawei equipment. Telecommunication networks in Central and Eastern Europe, many of them featuring Huawei equipment, are resilient," Abraham Liu, Huawei's chief representative to the EU and vice president of the European region at the company tells Emerging Europe.
Some are not convinced, however.
In emerging Europe, it was Czechia which first sounded the alarm about potential security issues regarding Huawei.
In December of 2018, the country's cybersecurity agency NUKIB issued a legally binding warning stating that Huawei is a threat to security. A year later, Czechia's cybersecurity chief Dušan Navrátil was sacked by Prime Minister Andrej Babiš.
Czechia is one of the signatories of the memorandum with the United States, and events in the country are a microcosm of the wider situation surrounding Huawei. While many countries in the emerging Europe region do not want to be seen as out of line with the interests of the United States, they are also reluctant to risk losing China as a trading partner and access to Huawei's cheap but high-quality equipment.
"There's a lot of reluctance to institute a ban because Huawei's technology is good, affordable, and has already been rolled out around the world. Many poorer countries can be easily persuaded by the cost-savings alone, not caring that they may be sacrificing their telecommunications sovereignty to China," adds Professor Ashraf.
Of the countries that have signed the memoranda with the US, Estonia and Poland seem to have gone the furthest, both taking measures that might make life difficult for Huawei.
In an interview with Politico, Polish Digital Minister Marek Zagórski said that the country will go beyond the current EU 5G toolbox when it comes to 5G security. The toolbox, introduced in early 2019, is a set of criteria that covers 5G implementation and safety and is supposed to help EU members standardise the technology.
In a statement to Emerging Europe, the ministry said that it is initiating the legislative process of drafting new and amending old laws so that they better reflect the country's security and safety needs.
It added that there are currently no vendor-specific measures in place and that all vendors will be judged equally under the new rules once they're fully implemented.
In 2019, Huawei announced plans to invest 700 million euros in Poland but warned that this investment could be scaled back if it ends up having no role in the development of the country's 5G network.
One of the elements that will be used to create a risk profile review is whether the supplier is subject, without independent judicial review, to control by a foreign government.
Estonia, on the other hand, seems a lot more resolute, with its parliament passing what many have reportedly dubbed the "Huawei Law" in May. This act did not mention Huawei by name either, but it does establish a way for the government to vet vendors and includes the security services in the process.
A 2019 report by the Estonian Foreign Intelligence Service states that it "the manufacturer has not convincingly proved that it does not rely on the Chinese National Intelligence Law".
Martin Hurt, a former Estonian ministry of defence official and research fellow at the International Centre for Defence and Security, says that there is more to the whole situation than just 5G network security.
"This is about China having increasing global ambitions; it is about the strong linkages between the Chinese authorities and private companies as set in Chinese legislation, and last but not least about how Estonia wishes to position itself between the US and other powers," he tells Emerging Europe.
He adds that the recent Estonian law was drafted taking into account information provided by the US, and steps taken by the EU.
"This is not only about Huawei but should be seen against the background of both China and Russia harnessing private companies to pursue national political goals and interests," he says.
"Realistically, I believe that it will become very difficult for Huawei and similar companies to be successful in Estonia. The company is unlikely to be officially banned but the technology will most probably not be widely used by telecom operators here."
In Romania, where Huawei has been present for many years, the situation is a bit more complicated. The country is one of the most important regional markets for Huawei, where it has invested around one billion euros. Now, however, its future seems uncertain as the country has postponed the opening of its 5G technology auction to the end of this year. Originally, it was supposed to happen at the beginning of 2020, but the signing of the memorandum with the US delayed it.
Romania's government is expected to eventually implement the 5G memorandum fully, which raises the possibility that Huawei will be excluded from the auction. The current ruling National Liberal party sought to ban Huawei in March of 2019 when it was an opposition.
A lack of other options may be what is holding Romania back from making a concrete decision. In January, President Klaus Iohannis supported postponing the auction.
"What tender for 5G? Huawei or Huawei," he said at the time.
A pattern emerges when looking at how emerging Europe is dealing with the Huawei situation. Those who want to maintain closer ties with the United States are moving toward if not a complete ban, then legislating and regulating 5G technology in such a way to make it very hard for Chinese companies to compete.
Then there are countries such as Serbia and Hungary which do not seem to have the same worries as the rest of emerging Europe.
In Serbia, it is a foregone conclusion that Huawei will build the 5G network. Speaking at an event in Beijing earlier this year, Serbian Minister of Trade, Tourism, and Telecommunications Rasim Ljajić expressed the country's eagerness to join the 'Digital Silk Road' with China and Huawei at the helm.
Serbia's 5G auction has been delayed to 2021 due to the coronavirus pandemic, but it is expected that Huawei, as one of the biggest tech suppliers in the country, will be a part of the eventual roll-out.
The ministry has already signed two memoranda with Huawei, one in 2017 concerning the roll-out of high-speed internet and one in 2019 relating to smart cities. Huawei has also opened a data centre in Kragujevac and has supplied the face recognition cameras that are beginning to be deployed around the country. This has caused grave concern among privacy advocates, but there hasn't been a true debate on the issue in the country.
Things have taken a surprising turn in Hungary, where Huawei's participation in the 5G implementation seemed a sure thing. Following a public auction on March 26, Magyar Telekom, Vodafone, and Telenor all received frequency bands to begin offering a 5G service.
However, the country's largest provider Magyar Telekom has since decided to opt for a partnership with Sweden's Ericsson instead of Huawei. Former executives at the company have told local media that this isn't related to worries about Huawei, but to the fact that Ericsson built its 4G network in a way that is upgradable to 5G.
Vodafone was the provider that brought Huawei to Hungary, but the company's position seems uncertain there as well. Vodafone's 4G network in Hungary is built with Huawei equipment and the company also used its products for a limited 5G roll-out last year. However, Vodafone is a UK-owned company so any decisions made there might influence what happens in Hungary.
Originally, the UK wanted to keep Huawei as a supplier of non-critical parts of its own 5G infrastructure, but a recent report by the UK National Cyber Security Centre raised concerns that new US sanctions announced in May will make Huawei's technology less secure. There are now indications that the UK might completely ban Huawei.
Meanwhile, the deadline for EU countries to produce a joint report on the implementation of the 5G toolbox passed on June 30, but it seems the region is nowhere near close to making a unified decision.
As the projected deadlines for 5G rollout draw closer and closer, it remains to be seen how emerging Europe will navigate a complex terrain of cybersecurity and opposing interests from two superpowers.
—
Unlike many news and information platforms, Emerging Europe is free to read, and always will be. There is no paywall here. We are independent, not affiliated with nor representing any political party or business organisation. We want the very best for emerging Europe, nothing more, nothing less. Your support will help us continue to spread the word about this amazing region.
You can contribute here. Thank you.