The huge difference in testing policies (and the ability of some countries to actually carry out large numbers of tests) across emerging Europe means that looking at infection rates is no longer – if it ever were – a particularly useful metric.
The number of actual deaths as a percentage of the population is therefore (possibly) a better gauge of how the countries are dealing with coronavirus across the region.
We have taken a look at the figures for the 23 countries of emerging Europe and compiled the following table, based on the number of deaths per one million inhabitants. It is noticeable that those countries where lockdowns were put in place early (Georgia and Slovakia in particular), and where they are strictly enforced so far have far lower death rates than those where they are not (such as Romania, whose relaxed approach to lockdown our editor wrote about at the weekend).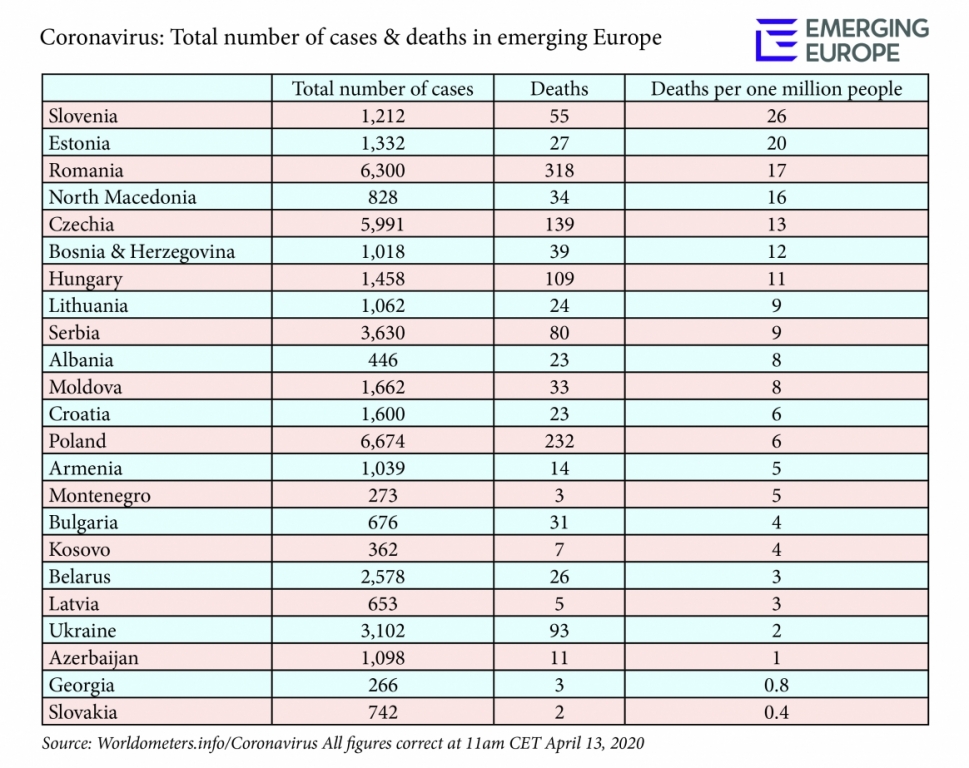 What's clear is that emerging Europe is – so far – greatly less affected by the pandemic than most countries in Western Europe (Spain's number of deaths per one million people is 374, Belgium's 337, Italy's 329 and the UK's 156).
There are a number of possible explanations, including the fact that Covid-19 arrived slightly later in the region than in Western Europe (far fewer global flight connections, particularly to China, played a role in the delay). This allowed the region's governments to learn from the experience of Italy and Spain, hence the quick implementation of lockdowns while there were just a handful of cases. There is also the BCG vaccination hypothesis, as yet not peer reviewed.
There are a couple of outliers in emerging Europe however, notably Estonia and Slovenia.
In the case of Estonia, a large cluster of cases of the island of Saaremaa was caused by the visit of a Milanese volleyball club, Power Volley, which participated in 2019–20 CEV Challenge Cup matches held on the island on March 4 and 5.
It was not until March 14 that the island was closed off to all except residents.
Slovenia's relatively high number of deaths can probably be attributed to its proximity to Italy. The border between the two countries remained open until March 10, long after Italy had become seriously affected by the pandemic. The country does now appear to be one of few in the region which is possibly over the worst: the rate of new infections has slowed in recent days to 0.6 per cent.
Things to watch out for this week include a likely explosion of new cases in Belarus, which now appears to be paying the price for all but ignoring the pandemic, and next weekend's Easter celebrations in the Orthodox world. There is a risk that many worshippers will ignore official advice to stay at home and instead attend church services and/or visit friends and family, thereby leading to a possible new spike in cases in subsequent days.
In order to combat the threat, Serbia is reportedly mulling plans to institute to total curfew – with people forbidden from leaving home for any reason except medical emergencies – from Thursday to Monday. Other countries may follow.
—
Unlike many news and information platforms, Emerging Europe is free to read, and always will be. There is no paywall here. We are independent, not affiliated with nor representing any political party or business organisation. We want the very best for emerging Europe, nothing more, nothing less. Your support will help us continue to spread the word about this amazing region.
You can contribute here. Thank you.