Invest Lithuania, emerging Europe's best investment promotion agency (IPA) scored just 65.55 out of a possible 100 in a major new report looking at IPA performance across the region. Invest Lithuania's winning score shows how much more work needs to be done to serve foreign investors better.
"When emerging Europe politicians travel abroad they always have the same message: our country is open for business," said Emerging Europe's head of content strategy and publishing Andrew Wrobel, presenting preliminary findings of the report at the inaugural edition of the Emerging Europe Awards, held on June 22 at the European Bank for Reconstruction and Development (EBRD) in London.
"Unfortunately, our research has shown that the reality is somewhat different. While we are happy to recognise the achievement of this year's highest-rated IPAs — including Invest Lithuania, which did very well at communications but worse at enquiry handling — all countries in the region need to do much more," he added.
Emerging Europe's research looked primarily at how IPAs communicate and handle enquiries. In a number of cases, contacting an IPA as a potential investor proved impossible. Under half — 48 per cent — responded to enquiries, usually offering generic information. Not one offered to set up a meeting with their UK representative.
The communications component of the research was carried out in February and March 2018, where the vast majority of macroeconomic data for 2017 was available. Yet, only 13 per cent of IPAs had data not older than 12 months. Only 26 per cent of them had relevant information about key sectors. Not a single agency provided such information about the labour market and available talent.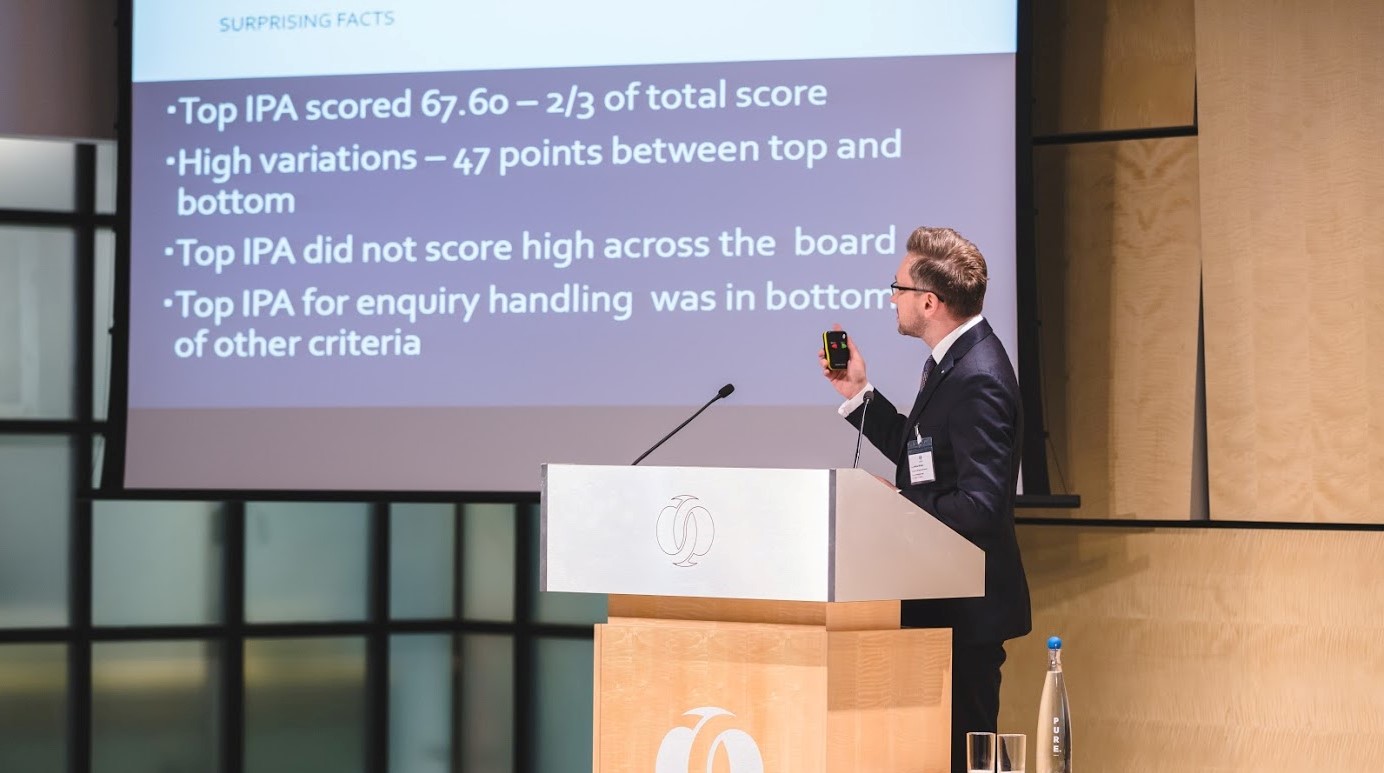 "Talent, then talent, then talent," said Olga Grygier-Siddons, CEO of PwC CEE, during a high-level roundtable discussion which followed Mr Wrobel's presentation, featuring senior business and political leaders, heads of IPA heads and diplomats. There was general agreement that more needed to be done to promote investment in emerging Europe.
"IPAs are not making public the fact that there is so much talent in our countries. We are missing a trick. Investors only know about this wealth of talent from anecdotes, from companies which have already invested in the region. Central and Eastern Europe should stick together. We have something to offer on the global stage," she added.
"I am not surprised by the results of the investment promotion agency survey," said Gunter Verheugen, the former European Commissioner for Enlargement, who did much to ensure that ten emerging European countries became EU members. "The survey is important because benchmarking is key to improvement. We need to make sure that we exchange information regarding best practices. Let's learn together and concentrate on such exchanges."
Another of the region's business heavyweights, Peter Stračar, the CEO of GE Europe, said that emerging Europe is at a crucial stage and that it needs to make sure it attracts the right kind of investors.
"We are at a crossroads," he said. "Job creation is no longer a priority. Some areas of the region have almost no unemployment. Attracting investors is now about creating value-added jobs. How do we do this?"
Mr Stračar believes that IPAs should be more ready to look outside of their home markets.
"They need to take a look at what they can do for their target markets," he said. "They need to ask themselves: What is our value proposition? Why should firms do business in our country? They need to remember that they are competing: with China, with India, with Western Europe."
"Let's focus on service," said Daniel Bilak, CEO of Ukraine Invest. "We need to identify the right people to staff IPAs. Sometimes IPAs are competing with the private sector for talent. We need to get people on board who are enthusiastic about promoting investment in their countries and who are ready to do it as a labour of love."
Mr Bilak also agreed that there should be more sharing of best practice. "I would love to see what has been successful, with less focus on what has been done poorly. But overall this is the first time I've seen anything that's tried to take a general and holistic view of IPA evolution. This private sector approach is extremely important."
Arturas Rtiscev, Invest Lithuania's head of business development in the UK, shared some of the changes that his organisation had made in order to improve its performance, and which led it to come out on top of this first IPA report.
"Invest Lithuania was restructured in 2012," he said. "We became proactive. We realised that each target market is different, and that each requires different strategies. We focussed on our talent, and we looked at where our main client base is: Scandinavia."
Armen Avak Avakian of Business Armenia also said that his own organisation was undergoing restructuring. "These initial findings are useful," he said. "They offer plenty of food for thought for the development of our agency moving forward. Everything needs to be put in the cultural context."
Tanya Koicheva, minister plenipotentiary economic and commercial at the Embassy of Bulgaria in London suggested that more progress could be made by combining forces.
"My experience is that if we promote Emerging Europe as a brand then we can go further. We can take the brand to Silicon Valley. We can take it global."
The Emerging Europe Alliance, which announced the appointment of its first senior executives during the Emerging Europe Awards, could be just the vehicle to achieve that.
"The CEE region brings together a rich talent pool of highly educated, multilingual resources, combined with an innovative and service orientated culture, making it an attractive BPO destination. I'm proud to be part of a group that is truly passionate about making a difference, and together we will contribute to unlocking the region's full potential," said Paula Kennedy Garcia, VP of EMEA markets at Convergys, and a member of the alliance's steering group.
While the challenges for IPAs are much the same across the region, there are differences and variations from country to country. This was a point that Aleksei Zenkov, counsellor, Trade and Economic Group at the Belarusian Embassy, was keen to put across. "How can we motivate IPAs?", he asked. "There are financial constraints, and there are sometimes limitations to an IPA's mandate. In Belarus for example efforts are still concentrated on privatisation, with IPAs looking to bring in strategic investors."
Last word went to Anne-Marie Martin, the CEO of COBCOE, which coordinates the efforts of British Chambers of Commerce throughout Europe. She was adamant that the new Emerging Europe IPA Report was a strong first step in the right direction.
"This survey has created a benchmark," she said. "It should now serve as a standard that IPA's can aim to reach."
Behind Invest Lithuania, the following IPAs all made the top three: the Development Agency of Latvia (LIAA) and the Polish Trade and Investment Agency (PAIH).
——-
Click here to access the Emerging Europe Investment Promotion report.