With a couple of notable exceptions, the countries of emerging Europe remain a long way behind those in the west of the continent when it comes to protecting the human rights of LGBTI people.
In its latest annual Rainbow Europe review, ILGA-Europe, an independent, international non-governmental umbrella group bringing together over 600 organisations in Europe and Central Asia, warns that even once-leading countries in Europe are falling behind in their commitments to equality for LGBTI people. Combined with the Covid-19 pandemic, which disproportionately affects the most vulnerable and is being used by some governments as an excuse to advance their agendas to curtail human rights, ILGA-Europe claims that Europe faces a make-or-break moment for LGBTI equality.
"This is a critical time for LGBTI equality in Europe," says Evelyne Paradis, executive director of ILGA-Europe. "With each year passing, more and more countries, including champions of LGBTI equality, continue to fall behind in their commitments to equality for LGBTI people, while more governments take active measures to target LGBTI communities. History shows that those who are vulnerable before a crisis only become more vulnerable after a crisis, so we have every reason to worry that political complacency, increased repression and socio-economic hardship will create a perfect storm for many LGBTI people in Europe in the next few years."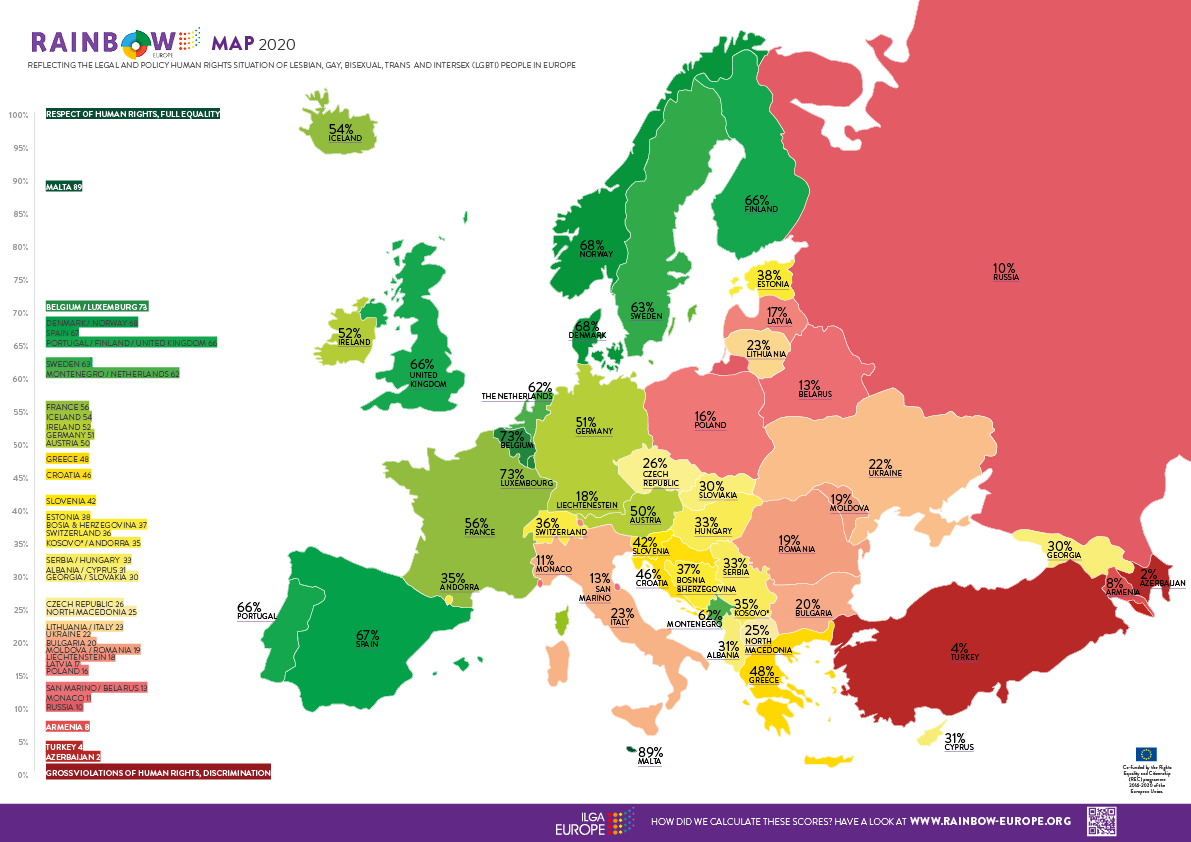 Rainbow Europe – ILGA-Europe's annual benchmarking tool – is comprised of the Rainbow Map and Index and national recommendations. ILGA-Europe has produced the Rainbow Map and Index, which ranks 49 European countries on their respective legal and policy practices for LGBTI people, since 2009.
In this year's report, Malta – for the fifth year in a row – occupies the number one spot, with a score of 89/100. Belgium comes second place for the third time with a score of 73. Luxembourg receives the same score as Belgium and occupies third spot in the ranking.
The three countries at the other end of the Rainbow Europe scale are Azerbaijan (with a score of just two), Turkey (four), and Armenia (eight). Turkey's score has been decreasing since 2015, due to restrictions on freedom of assembly and association. Azerbaijan has also lost points over the past two years due to irregularities on legal gender recognition.
However, it is Hungary which has seen the most dramatic drop in its score, losing 8.46 points in relation to suspended procedures for legal gender recognition and the lack of proper state protection at public events. Poland has also dropped by 1.9 points and is now the lowest EU member country in the index.
"Undeniably, looking at the country rankings of the 2020 ILGA-Europe Rainbow map, there is still unfortunately an East-West divide between European countries," Katrin Hugendubel, ILGA-Europe's advocacy director tells Emerging Europe. "When looking at the ranking, we need to take into consideration that in many cases the countries in the east of Europe started their journey towards the legal protection of LGBTI rights with a delay and as such still have a longer road ahead."
Hugendubel adds, however, that the differences are not as marked as we often tend to believe.
"The second LGBTI survey of the EU Fundamental Rights Agency, also published today, shows very clearly that rise of intolerance and hate is felt in countries both East and West alike. For example, in Poland and France, over 50 per cent of respondents said that intolerance has increased overall. Equally worrying is the stagnation in progress on LGBTI rights, identified in this year's Rainbow Europe across the board. With each year passing, more and more countries, including champions of LGBTI equality, continue to fall behind in their commitments to equality for LGBTI people. The results of this year's Rainbow Map show that equality measures are falling through the cracks in several countries, not because of lack of political and public support but because of widespread complacency about the need for LGBTI equality measures. As ILGA-Europe we thus call on all governments to learn from each other and show political leadership in progressing LGBTI rights at these critical times."
"Countries like Hungary, Poland and Turkey have been in the spotlight because of their policies targeting LGBTI communities prior to the pandemic," adds Darienne Flemington, co-chair of the ILGA-Europe Executive Board. "The proposed ban of legal gender recognition in Hungary, proposed laws to ban abortion and sex education in Poland, scapegoating of LGBTI people as the source of the coronavirus by Turkey's political leaders – these are all alarming signals of how governments with strong authoritarian tendencies are emboldened by the crisis to further limit the rights of vulnerable groups and minorities. If there was ever a time for European governments and institutions to stand firm on the rule of law and human rights, it is now."
There has been improvement in the region over the past 12 months, however.
Montenegro (emerging Europe's highest scorer with 69) and North Macedonia (25) are amongst those countries with the biggest jump in their scores. Montenegro has announced a comprehensive action plan for the next four years and prohibited discrimination based on sex characteristics, while North Macedonia has amended its equality and criminal codes, adding sexual orientation and gender identity as protected grounds.
—
Unlike many news and information platforms, Emerging Europe is free to read, and always will be. There is no paywall here. We are independent, not affiliated with nor representing any political party or business organisation. We want the very best for emerging Europe, nothing more, nothing less. Your support will help us continue to spread the word about this amazing region.
You can contribute here. Thank you.