The world is richer to the tune of several hundred good ideas, while five young, creative people are a little happier thanks to a recent international student competition co-organised by BE OPEN Foundation, a global initiative to foster creativity and innovation, and CUMULUS Association, a forum for partnership and transfer of knowledge and best practices, in order to support the United Nations and its sustainable development goals.
The competition called for innovative solutions that embrace the United Nations Sustainable Development Goals (SDG) programme, and was launched in October 2019 as way of discovering ideas from students and graduates of creative courses worldwide. Future creative professionals were encouraged to submit projects that demonstrate a design-oriented take on problems of sustainability, wiser production and consumption, formulated by SDG 12.
SDG 12 is one of 17 sustainable development goals adopted by UN member states to serve as the blueprint to achieve a more sustainable future for all. They address the global challenges we face, including those related to poverty, inequality, climate change, environmental degradation, peace and justice.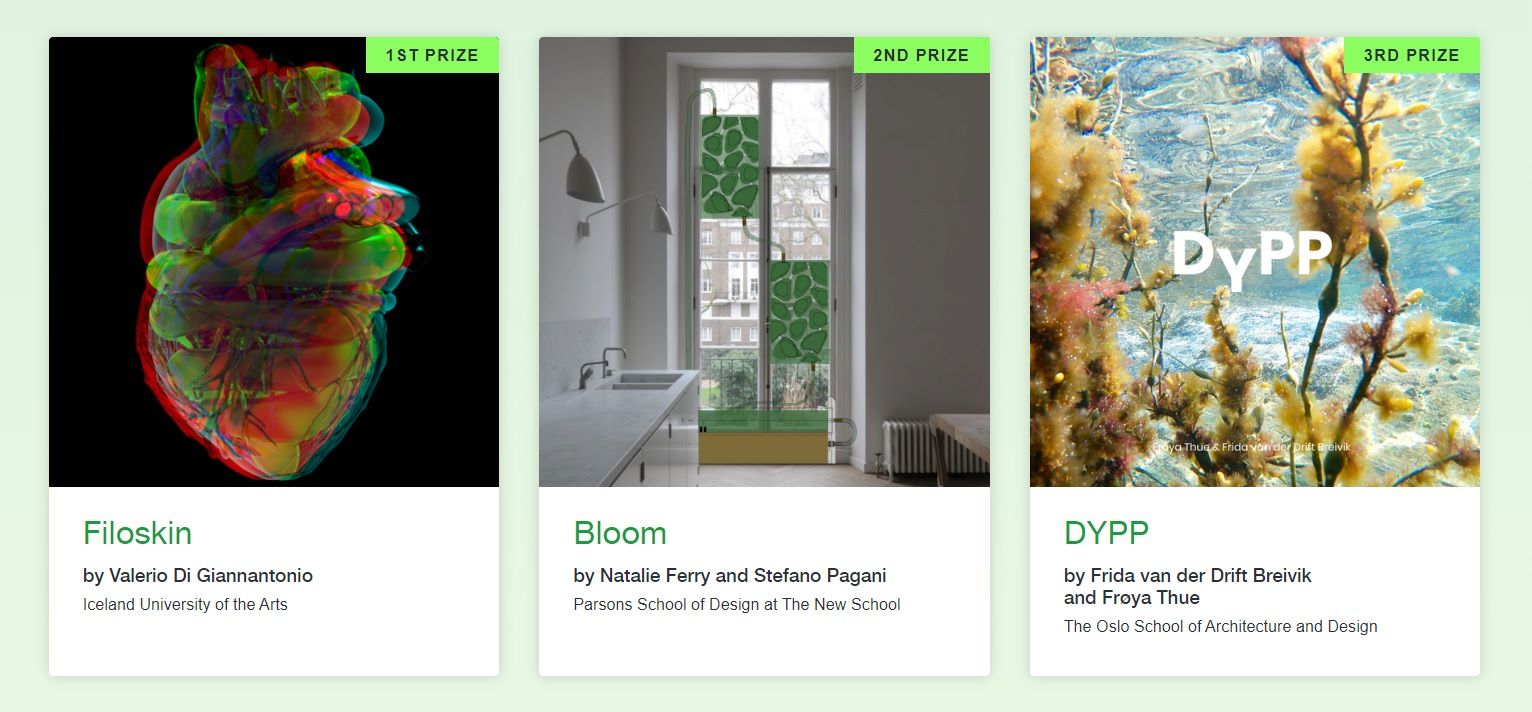 Altogether, the competition admitted 683 submissions from 44 countries, with the first prize, and 5,000 euros, going to Valerio Di Giannantonio, a Master's student at Iceland University of the Arts for his FiloSkin, a speculative product made of microalga capable of producing oxygen and filtering CO2. Filoskin might mitigate environmental problems while adapting humans to pollution conditions.
The second prize, and 3,000 euros, went to Natalie Ferry and Stefano Pagani, BFA students in Product Design at Parsons School of Design, The New School in New York, for their Bloom, a network of bio-reactors composed of an algae-based, 3D-printed structure that may make algae-based biofuel a reality.
The third prize of 2,000 euros went to Frida van der Drift Breivik and Frøya Thue, Master's Students at The Oslo School of Architecture and Design in Norway, for the concept of DYPP. It explores the potential of seaweed as bioplastic, from introducing a new biomaterial to challenging packaging as we see it today.
According to the founder and main visionary of BE OPEN, philanthropist and businesswoman Elena Baturina, the United Nations SDGs were chosen as a theme as she views them as being the most comprehensive action plan to battle the many problems humanity is facing.
"I totally agree with the United Nations Development Programme, that everyone is needed to reach these ambitious targets – the creativity, know-how, technology and financial resources from all of society," she says.
"Most people tend to think they have nothing to do with policies or economy of that scale, but here is a simple thing that we can all relate to: today, it takes 13-14 tons of natural resources to satisfy a person's needs a year, while in 1990 it was about eight tons. We just use these resources on a daily basis without contemplating on the fact that if the global population reaches 9.6 billion by 2050, which is very feasible, it would take three planets just like Earth to provide the natural resources for us to live the lives we are so used to. As you can see, the change in our consumption and production processes is absolutely essential."
Baturina says that the competition is similar to many of BE OPEN's other projects: it aims to promote people and ideas able to transform the world for the better.
"BE OPEN has held competitions for young creatives since 2012, with a particular focus on those in the transitional face between education and employment," she tells me. "This line of our work aims to scout out emerging designers, artists and architects to showcase their potential, bring their thinking to life and give them support whilst they develop their work."
Over the past eight years, BE OPEN has seen the participants of its competitions develop their ideas into products, set up studios, find employment, appear on the pages of fashionable magazines, and even have own exhibitions. "It makes us proud and happy to witness their success, and know that we have been a stepping stone in their careers," says Baturina. "We are grateful for their support and long-term friendship, as many become part of BE OPEN's creative community, alongside their professors, curators, industry professionals who are also involved in our projects."
While Baturina admits that achieving the UN's SDGs by 2030 is unrealistic, she is keen to point out that we should not be discouraged. "We must make the best effort, because, well, we don't have much choice, do we?", she says. "We must find the way to make economic development efficient, while being socially inclusive and environmentally sustainable."
"This imperative must become in-built into any activity, any project or industry," she adds. "I think it is quite obvious that the main principles of the SDG initiatives must be introduced into educational processes at all ages. We intend to continue our work in that direction, the details will be announced later this year."
Each of the projects which won prizes at this year's competition are "remarkable", she says, adding that, "I hope this competition will help drive more engagement with young designers from SDG-focused businesses, state and public bodies. I am very excited to see how far these projects will evolve."
As a result of Covid-19 restrictions, BE OPEN has had to cancel all of its offline events, with the largest being the competition's awards ceremony in Rome. "We know though, how important face-to-face appreciation and communication is for emerging creatives, so we promise that we will not only celebrate the winners, but do our best to showcase their ideas and talent to as wide public and as many stakeholders as possible," says Baturina reassuringly.
"Fortunately, we haven't been affected in any major way due to the fact that BE OPEN has always had a well-established online presence that helps us easily connect and engage with audiences from all over the world. We have a strong social media presence with thousands of followers we provide with content about the news and highpoints of the creative world, as well as our own initiatives and plans. We have for years run online challenges in social media to invite people reflect on the role of creativity in their everyday lives."
BE OPEN last year launched two major online projects: BE OPEN Art with an online gallery that helps promote emerging socially aware artists that need more visibility; and BE OPEN Academy that serves as a gateway to global creative education.
"Based on BE OPEN's multiannual research of traditional offline design and architecture courses, BE OPEN Academy has evolved into a universal source of information on both traditional and online educational opportunities, enriched with space for expert opinion, mentoring, discussion, special projects, and BE OPEN's own unique content," concludes Baturina. "And for during the pandemic we have expanded our online activity by setting up a directory of online galleries, tours and museums at BE OPEN's main website."
—
Unlike many news and information platforms, Emerging Europe is free to read, and always will be. There is no paywall here. We are independent, not affiliated with nor representing any political party or business organisation. We want the very best for emerging Europe, nothing more, nothing less. Your support will help us continue to spread the word about this amazing region.
You can contribute here. Thank you.