Individuals, businesses and organisations from across Central and Eastern Europe saw their work recognised at Emerging Europe's sixth annual summit and awards in Brussels.
The work of more than 60 NGOs, businesses and individuals from across Central and Eastern Europe was recognised in Brussels on November 8 at the 2023 Future of Emerging Europe Summit and Awards, the sixth edition of a programme that highlights best practice, innovation and courage across the region.
Winners, split across Emerging Europe's five pillars, based on the United Nations Sustainable Development Goals (People, Planet, Prosperity, Partnership, Peace), were in large part chosen by the global Emerging Europe community: in all more than 23,000 votes were cast for the various nominees.
The awards were handed out by the BBC's Kasia Madera, while the Future of Emerging Europe Summit, which precedes the ceremony, featured an appearance by Deputy Prime Minister of Ukraine for Innovation, Education, Science and Technology Mykhailo Fedorov, Emerging Europe's Public Figure of the Year.
Speaking via video link from Kyiv, Fedorov said that technology had been crucial to Ukraine's war effort, and that the country had proven its worth as a hub of innovation. "When we win this war, and we will win, we are ready to become a hub of technology and innovation within the European Union," he said.
His words came on the day that the European Commission confirmed that Ukraine—and Moldova—should begin EU accession negotiations, although it added that both countries must do more to speed up their reforms in key areas.
People & Planet
Among the winners in the People pillar was 500 Women in Tech, a Georgian initiative which provides free retraining in IT for women across the country. Participants undergo a six-month training course, after which the project offers them an internship and employment.
---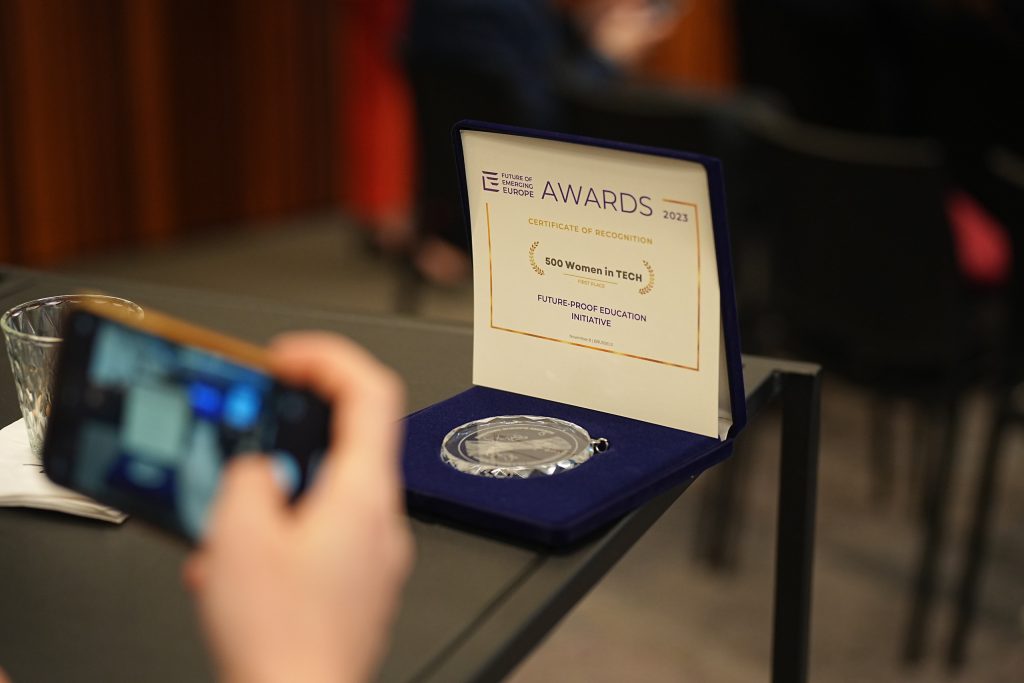 ---
Sunshine Cafe, a Ukrainian project raising awareness about the benefits of prevention over treatment, won in the Health and Social Care Initiative, while Vivita, from Estonia, was chosen as best Youth Empowerment Initiative. An international creativity accelerator network for kids and youths, Vivita has no teachers and no formal curriculum.
In the Planet section, Energy Act for Ukraine won the Green Energy Initiative of the Year award. Ever since the beginning of Russia's war on Ukraine, the project has been supplying clean energy to schools in some of the most war-affected regions of the country.
Littar, a Romanian start-up which uses waste materials in road construction, was named Sustainable Lifestyle Initiative of the Year.
Prosperity
There was more recognition for Ukraine in the Prosperity pillar, with Visionest Institute taking away the prize for People-First Economic Initiative. The Institute's export academy helps Ukrainian SMEs diversify exports away from Russia and confidently operate in new markets.
Inclusive Entrepreneurship Initiative of the Year was won by Econverse, a Polish project providing young people with the skills, tools, and ecosystem to become entrepreneurs.
Global Champion of the Year—an award given to companies from emerging Europe which have expanded outside of the region—went to Ukraine's Sigma Software, which despite Russia's war has successfully opened operations in more than a dozen new markets since 2022.
Two previously announced awards, for the region's most business-friendly cities, were handed to the representatives from the Lithuanian cities of Vilnius and Klaipeda, while Invest Estonia again won the award for leading investment promotion agency.
Partnership & Peace
Tech for Ukraine, a Polish initiative which has supported Ukraine by engaging relevant stakeholders from around the globe, won the award for Regional Collaboration, while a joint Polish-Ukraine effort, Diia.pl and mOBYWATEL, which is helping Ukrainian citizens rebuild their lives more easily in Poland and supporting collaboration between two digital solutions, taking the Future Proof Policy Making prize.
Ukraine's PR Army, which has been carrying out great work keeping Ukraine in the minds of global audiences through media relations, won the Media Freedom and Responsible Reporting award.
---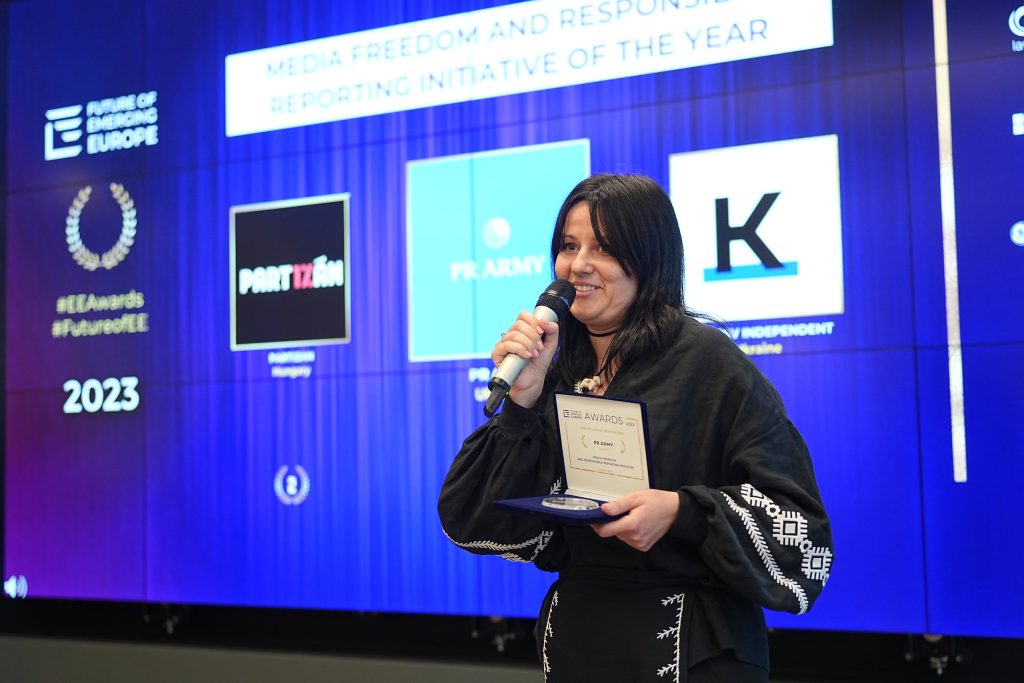 Julia Petryk of PR Army accepts her award
---
Recognising individuals
Several of Emerging Europe's 28 Architects of the Future were present in Brussels to collect their awards. These individuals come from diverse backgrounds and professions, including innovators, entrepreneurs, scientists, researchers, engineers, technologists, social activists, educators, artists, journalists, policy makers, environmentalists, and community builders. Each of them contributes to shaping a better tomorrow for the region in their respective domains.
The Princess Marina Sturdza award, given to eminent individuals from the region who have contributed to its prosperity, science, culture and peace, went to Bulgarian political scientist Ivan Krastev.
Throughout his distinguished career, which now spans three decades, Ivan Krastev has been a tireless advocate for the emerging Europe region, a champion of democracy, rule-of-law, and of civil society's role in creating open, prosperous countries.
Speaking at the event, Krastev said that Europe's centre of gravity "is shifting to the East", but warned that the demographic crisis being faced by several countries in emerging Europe could act as a slowdown on growth and stifle the region's potential.
Alona Andruk, a tireless campaigner for gender equality and sustainability in the fashion industry, was voted Female Business Leader of the Year.
Finally, Emerging Europe's Young Influencer of the Year is this year Elena Bozhinovska from North Macedonia (pictured, top), for her work driving societal and legal change for disadvantaged communities and students in North Macedonia.
---
Unlike many news and information platforms, Emerging Europe is free to read, and always will be. There is no paywall here. We are independent, not affiliated with nor representing any political party or business organisation. We want the very best for emerging Europe, nothing more, nothing less. Your support will help us continue to spread the word about this amazing region.
You can contribute here. Thank you.

---