Armenia, Azerbaijan, and Georgia all have large construction industries, with Armenia and Georgia's ranking in the top eight countries in Europe and Central Asia for their contributions to national gross domestic product (GDP). We take a closer look at the sector in each country.
Armenia
Armenia's construction industry—historically a key driver of national economic growth—has surprising parallels to Albania's construction sector. Both have been boosted by years of reconstruction after earthquakes—the devastating 1988 earthquake in Armenia destroyed 90 per cent of Spitak and half of the country's second largest city of Gyumri, at the time still known as Leninakan—and robust remittance flows from the large diasporas.
These factors, along with an increase in the volume of housing construction and private investments, caused Armenia to experience a construction boom in the mid- to late-2000s later. In 2005, the annual growth of the sector was about 40 per cent—significantly contributing overall GDP growth of 13.9 per cent that year. Construction accounted for 30 per cent of Armenia's economy in 2009, but construction volumes fell that year by 37.4 per cent as what former Armenian prime minister Tigran Sargsyan termed a "construction bubble" burst.
The sector declined for a decade but has begun to grow again. Today, the outskirts of Yerevan are filled with new apartment buildings, and construction accounted for 7.2 per cent of GDP in 2022—which, while much lower than its share in 2009, is still the eighth largest national construction sector in Europe and Central Asia.
Armenia's construction sector grew by 12.2 per cent in the first month of 2023 from the first month of 2022. In January, a tenth of construction was financed by the government (double the percentage for the same month last year), almost two-thirds was financed by organisations, and almost 19 per cent was financed by individuals.
---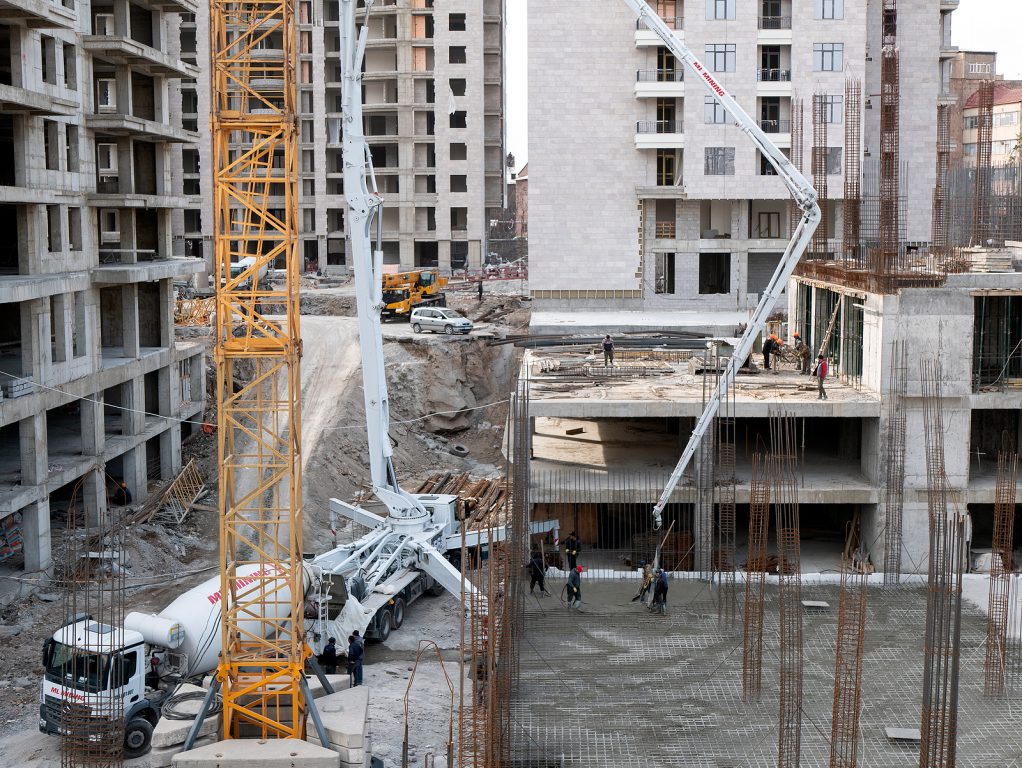 Apartment blocks under construction in Yerevan
---
Azerbaijan
The construction sector in Azerbaijan peaked in 2014 when it accounted for 13.7 per cent of national GDP but has since declined to 5.2 per cent of GDP as of 2022.
However, the Azerbaijan's State Statistical Committee says the construction industry's value add grew by 13.3 per cent year-on-year in the first nine months of 2022, and a new report forecasts the industry will grow by 2.9 per cent in real terms in 2023 and reach an annual average growth of 4.3 per from 2024 to 2027 due to the scale of government investments in the industrial, energy and utilities, and infrastructural sectors.
Many of these investments are in projects, which range from pipelines and hydropower plants to the restoration of historical structures, in territories in and adjacent to the Nagorno-Karabakh region that were brought under Baku's control from the Artsakh breakaway state in the Second Karabakh War in 2020.
Rural to urban migration continues to create demand for more housing in growing cities in the Greater Baku Area, and domestic and international tourism along the Caspian Sea coast and sporting events—notably the Azerbaijan Grand Prix in Baku—also drive construction to accommodate visitors.
Georgia
Georgia's construction sector is the largest proportionately in the South Caucasus, constituting at least 7.5 per cent of GDP every year since 2015. Between 2014 and 2017, the construction sector was the fastest growing sector (57 per cent) of Georgia's economy. It peaked at 9.1 per cent of GDP in 2017 and took a hit from the coronavirus pandemic, which saw the real GDP growth of the sector decrease from 0.7 per cent in 2019 to –eight per cent in 2020 and –21.8 per cent in 2021. In 2022, the sector comprised 8.0 per cent of the national GDP—the sixth largest national construction sector in Europe and Central Asia.
Construction is concentrated in the capital of Tbilisi—which contributed, on average, 67.9 per cent of total value-added annually between 2016 and 2020—and the Black Sea city of Batumi in Adjara—which accounted for 16.6 per cent of total value-added in the same period.
In 2021, before Russia's full invasion of Ukraine, 72 per cent of permissions granted for construction were for residential buildings. The war has caused many Ukrainian refugees and at least 110,000 Russians avoiding conscription to move to Georgia—increasing the demand for housing—and cost of construction materials to surge.
Georgia's construction sector relies heavily on materials imported from Russia and Ukraine; in 2021, it imported 26 per cent of its glass, 13 per cent of its wallpaper, and 17 per cent of its wood from Russia and 14 per cent of its wallpaper and 12 per cent of its iron and steel from Ukraine. The war has disrupted these supply chains, making materials from Turkey and Iran increasingly appealing.
---
Construction in Batumi, Georgia
---
However, the sector's long-term sustainability is threatened by weak regulation and serious corruption risks.
According to Transparency International-Georgia, before 2012, all large construction companies, except those that were linked with former prime minister Bidzina Ivanishvili, donated to the then-ruling United National Movement (UNM) party, but since the change of government, all have stopped donations to the UNM and many have shifted to donating to the new ruling party, Georgian Dream.
Transparency International-Georgia published a report in 2018 that highlighted many cases of companies that donate to the ruling party often winning lucrative public contracts through simplified procurement processes.
Nonetheless, with a high ease of doing business, stunning mountains, and scenic Black Sea coastline, Georgia remains a popular destination for foreign direct investment in real estate, and its construction sector seems set to continue its prominent role in the economy for the foreseeable future.
---
Unlike many news and information platforms, Emerging Europe is free to read, and always will be. There is no paywall here. We are independent, not affiliated with nor representing any political party or business organisation. We want the very best for emerging Europe, nothing more, nothing less. Your support will help us continue to spread the word about this amazing region.
You can contribute here. Thank you.

---