This was a week in which the managing director of the International Monetary Fund, Kristalina Georgieva, called for "a global response like no other to deal with a global crisis like no other", highlighting the sheer scale of the challenge that Covid-19 poses for the global economy.
Dr Georgieva has called the economic outlook "dire", saying that she expects global economic activity to decline on a scale we have not seen since the Great Depression.
"This year 170 countries will see income per capita go down – only months ago we were projecting 160 economies to register positive per capita income growth," she wrote, adding that to help lay the foundations for a strong recovery, the IMF's policy advice will need to adapt to evolving realities: "We need to have a better understanding of the specific challenges, risks, and tradeoffs facing every country as they gradually restart their economies."
One group of countries Georgieva highlights as being particularly at risk are those which rely heavily on remittances from foreign workers. The World Bank this week issued its own warning to emerging economies to brace themselves for a sharp drop in remittances, which it expects to reach around 28 per cent in Europe and Central Asia.
The European Council, during an online summit, signed off on a 540 billion-euro rescue package that will be released through existing mechanisms from June 1. Part of that agreement gives countries the right to borrow from the eurozone bailout fund, the European Stability Mechanism.
The European Commission meanwhile this week adopted a proposal for a macro-financial assistance (MFA) package worth three billion euros for 10 EU enlargement and neighbourhood partners to help them to limit the economic fallout of the pandemic. The proposal comes on top of the 'Team Europe' strategy, the EU's robust and targeted response to support partner countries' efforts in tackling the coronavirus pandemic. It represents an important demonstration of the EU's solidarity with these countries at a time of unprecedented crisis.
The proposal, following a preliminary assessment of financing needs, provides for the MFA funds to be distributed as follows:  Albania (180 million euros), Bosnia and Herzegovina (250 million euros), Georgia (150 million euros), Kosovo (100 million euros), Moldova (100 million euros), Montenegro (60 million euros), North Macedonia (160 million euros), and Ukraine (1.2 billion euros). Jordan (200 million euros) and Tunisia (600 million euros) are also included.
Notably absent from the list is Serbia, whose president Aleksandar Vučić was forced to explain why: "This is not EU aid, these are loans," he told reporters. "I am proud that Serbia is not on that list, the document states that it is given to countries that have significant disturbances in the balance of payments system, and we don't have them. We will have problems, but less than others."
The European Bank for Reconstruction and Development (EBRD) meanwhile is rapidly stepping up support for its regions in the face of the coronavirus pandemic and now expects to dedicate the entirety of its activities to helping the 38 emerging economies where it invests to combat the economic impact of the crisis.
EBRD shareholders agreed on April 23 to a comprehensive series of response and recovery measures that strengthen the bank's Solidarity Package, which was first unveiled on March 13. The bank now stands ready to provide support worth 21 billion euros over the 2020-21 period.
EBRD President Sir Suma Chakrabarti described Covid-19 as an unprecedented challenge to the world and to the EBRD regions. Announcing the new measures, he said, "The crisis is now so all‐encompassing that, in practice, it is expected that all of the bank's business over the next one to two years will contribute to the EBRD's crisis response."
Lockdown restrictions were eased in Czechia and Poland (where a new projection predicts the number of infections not peaking until July), while Hungary (May 3), Serbia (May 4), and Romania (May 15) all announced dates for the end of at least some restrictions. In the case of Serbia, it would appear to be a general return to work. "Shops will reopen next week, and everything else from May 4," said President Vučić on April 23. "Get ready, let's start working."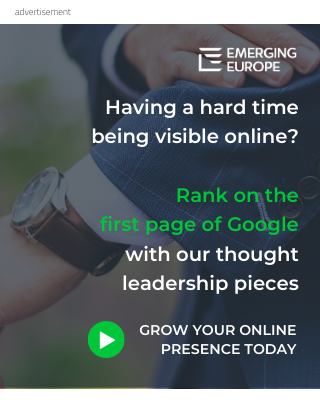 The number of coronavirus infections and deaths remained relatively low throughout emerging Europe in comparison with most western European countries.
There may be several reasons for the low numbers, but the decisive one seems to be the speedy move to enforce strict lockdown measures. Border closures and restrictions on movement and gatherings were introduced much earlier than in countries further west. A concerted effort to persuade citizens to wear face masks may also have helped.
On the medical front, new research has claimed that high levels of air pollution may be "one of the most important contributors" to deaths from Covid-19. The analysis, carried out by the Martin Luther University Halle-Wittenberg in Germany, shows that of the coronavirus deaths across 66 administrative regions in Italy, Spain, France and Germany, 78 per cent occurred in just five regions, and these were the most polluted.
"The results indicate that long-term exposure to this pollutant may be one of the most important contributors to fatality caused by the Covid-19 virus in these regions and maybe across the whole world," said Yaron Ogen, one of the researchers. "Poisoning our environment means poisoning our own body, and when it experiences chronic respiratory stress its ability to defend itself from infections is limited."
Finally, the World Health Organisation (WHO) on Thursday added three more candidates to its running list of coronavirus vaccines in human trials, bringing the total to six.
The half dozen vaccine candidates that are farthest along are in either Phase I or Phase II of clinical trials, which are aimed at evaluating whether a vaccine is safe and effective in humans. The clinical trial process has three additional stages: Phase III; regulatory review; and Phase IV.
In addition to the six vaccines in human trial, the WHO identified 77 others that are in the earlier, preclinical evaluation stage, seven more than last time the agency updated its list.
—
Unlike many news and information platforms, Emerging Europe is free to read, and always will be. There is no paywall here. We are independent, not affiliated with nor representing any political party or business organisation. We want the very best for emerging Europe, nothing more, nothing less. Your support will help us continue to spread the word about this amazing region.
You can contribute here. Thank you.