Ukraine is home to the cheapest mobile data plans in emerging Europe, with one gigabyte (1GB) of data costing an average of just 0.46 US dollars. Indeed, Ukraine offers the fifth cheapest mobile data plans in the world, behind only India (the cheapest, at 0.09 US dollars), Israel (0.11 US dollars), Kyrgyzstan (0.21 US dollars) and Italy (0.43 US dollars).
The next cheapest mobile plans in the region are in Poland and Belarus, followed by Georgia and Romania.
"Many of the cheapest countries in which to buy mobile data fall roughly into one of two categories. Some have excellent mobile and fixed broadband infrastructure and so providers are able to offer large amounts of data, which brings down the price per gigabyte. Others with less advanced broadband networks are heavily reliant on mobile data and the economy dictates that prices must be low, as that's what people can afford," says Dan Howdle, consumer telecoms analyst at Cable.co.uk, which compared 5,554 mobile data plans across 228 countries.
In the case of emerging Europe, the presence of good network infrastructure throughout most of the region helps the majority of countries to appear in the less expensive half of the table.
Czechia, where providers charge an average of 7.95 US dollars for 1GB of data, has the most expensive mobile data plans in the region, and – ranked 187th globally – amongst some of the most expensive in the world.
Not that it comes anywhere near Saint Helena, the priciest place in which to buy mobile data. The average cost of 1GB there is 52.50 US dollars – 583 times the average cost in India.
Kosovo was not included in the research.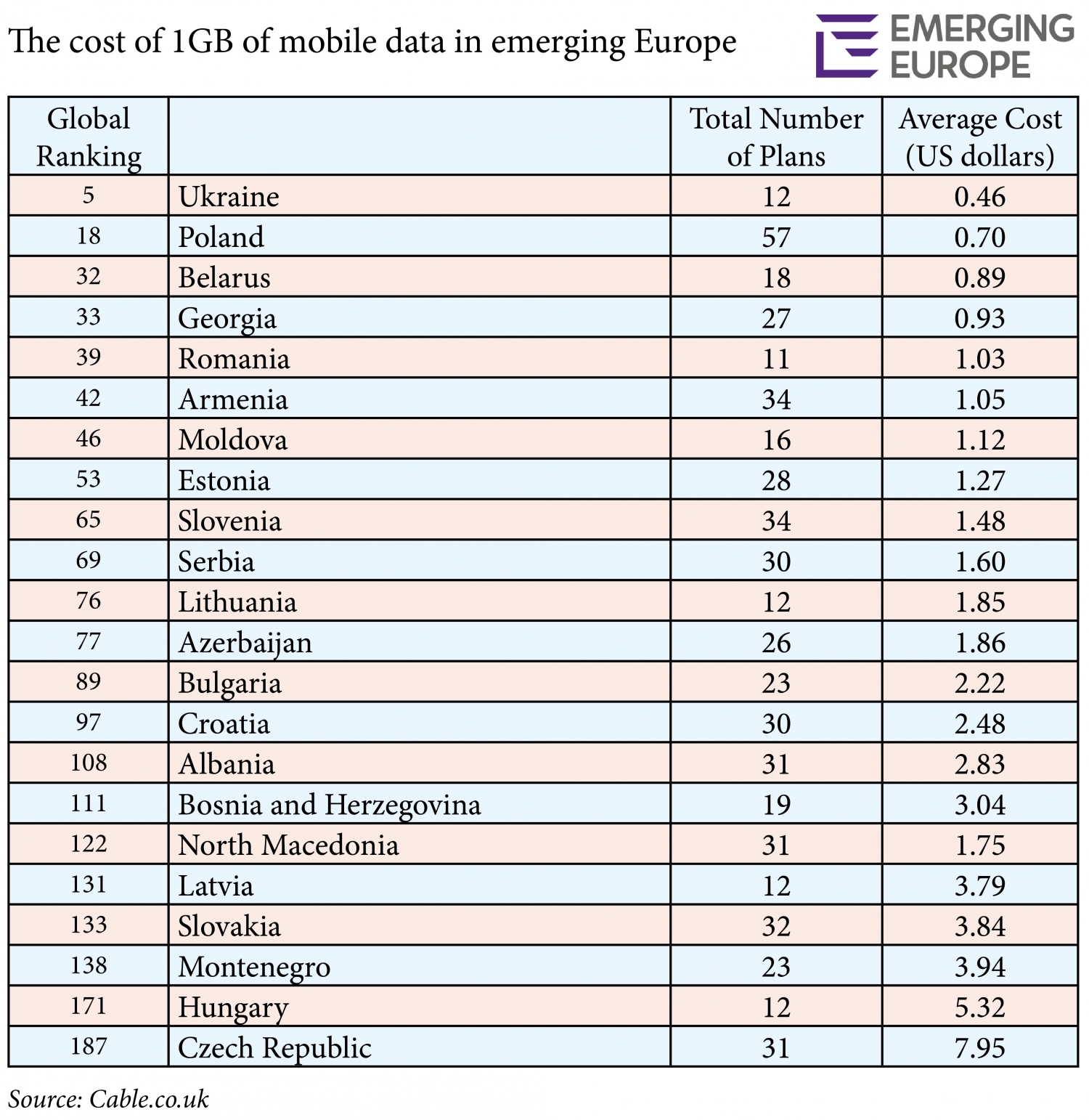 —
Unlike many news and information platforms, Emerging Europe is free to read, and always will be. There is no paywall here. We are independent, not affiliated with nor representing any political party or business organisation. We want the very best for emerging Europe, nothing more, nothing less. Your support will help us continue to spread the word about this amazing region.
You can contribute here. Thank you.